A fine glass of scotch deserves to be displayed and poured from a quality decanter. Unlike red wine, which improves in taste when aerated in a wine decanter, decanting whisky does not change its taste.
The purpose of a whisky decanter is purely aesthetic, and can make a great gift for any whisky connoisseur. Below are thirteen of our favourite whisky decanters and decanter sets currently on the market.
1. CRYSTALITE BOHEMIA QUADRO DECANTER SET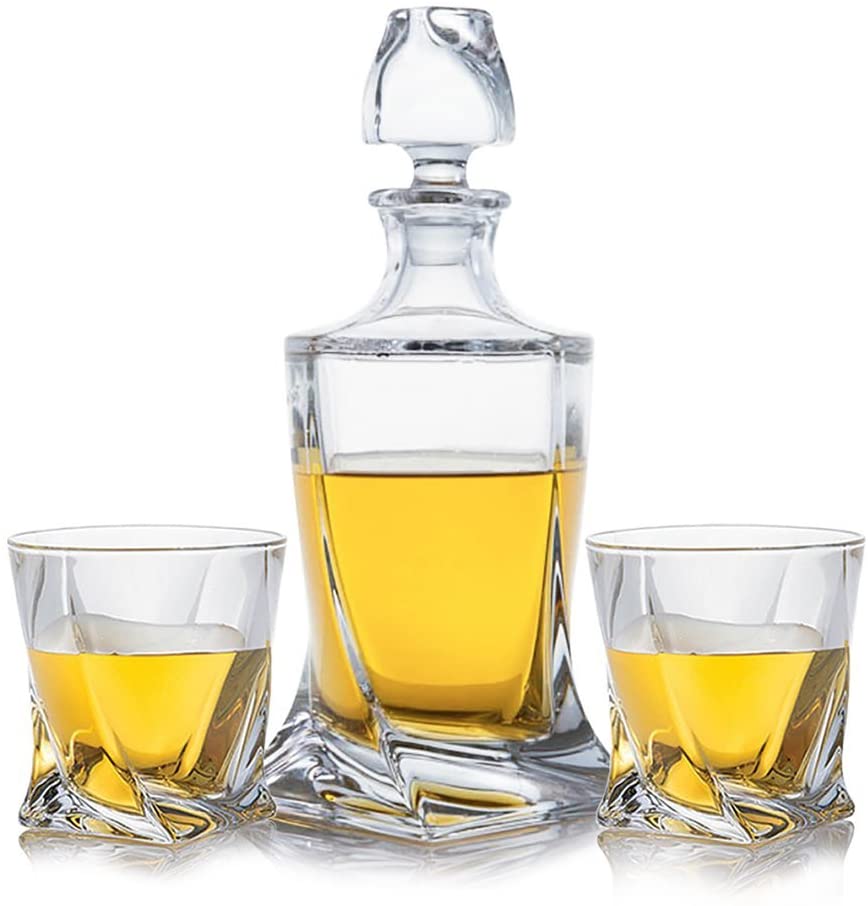 This piece effortlessly accomplishes the successful fusion of traditional design with more modern elements. As the eye tracks down the decanter it takes in a form typical of fine stemware, before expectations are thoroughly subverted by the twisted square base.
Six matching tumblers make this set a purchase that offers tremendous value for money.
2. CUT CRYSTAL DECANTER AND WOOD TRAY SET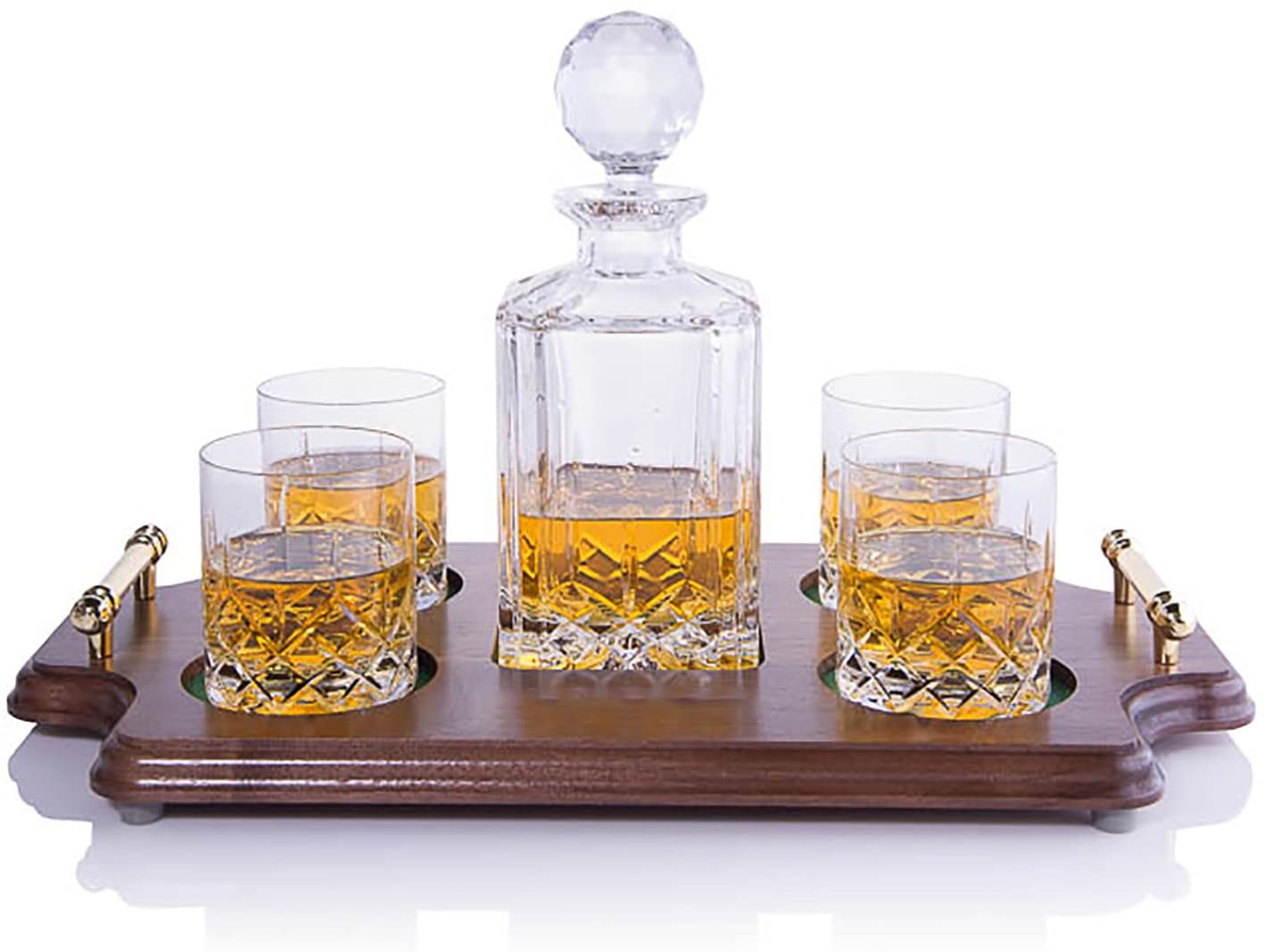 The decanter itself is a particularly stylish offering crafted from lead-free crystal and etched with a star pattern that matches the four accompanying glasses. The refined wooden tray completes a set that excels in whisky presentation.
3. ROGASKA CRYSTAL MANHATTAN DECANTER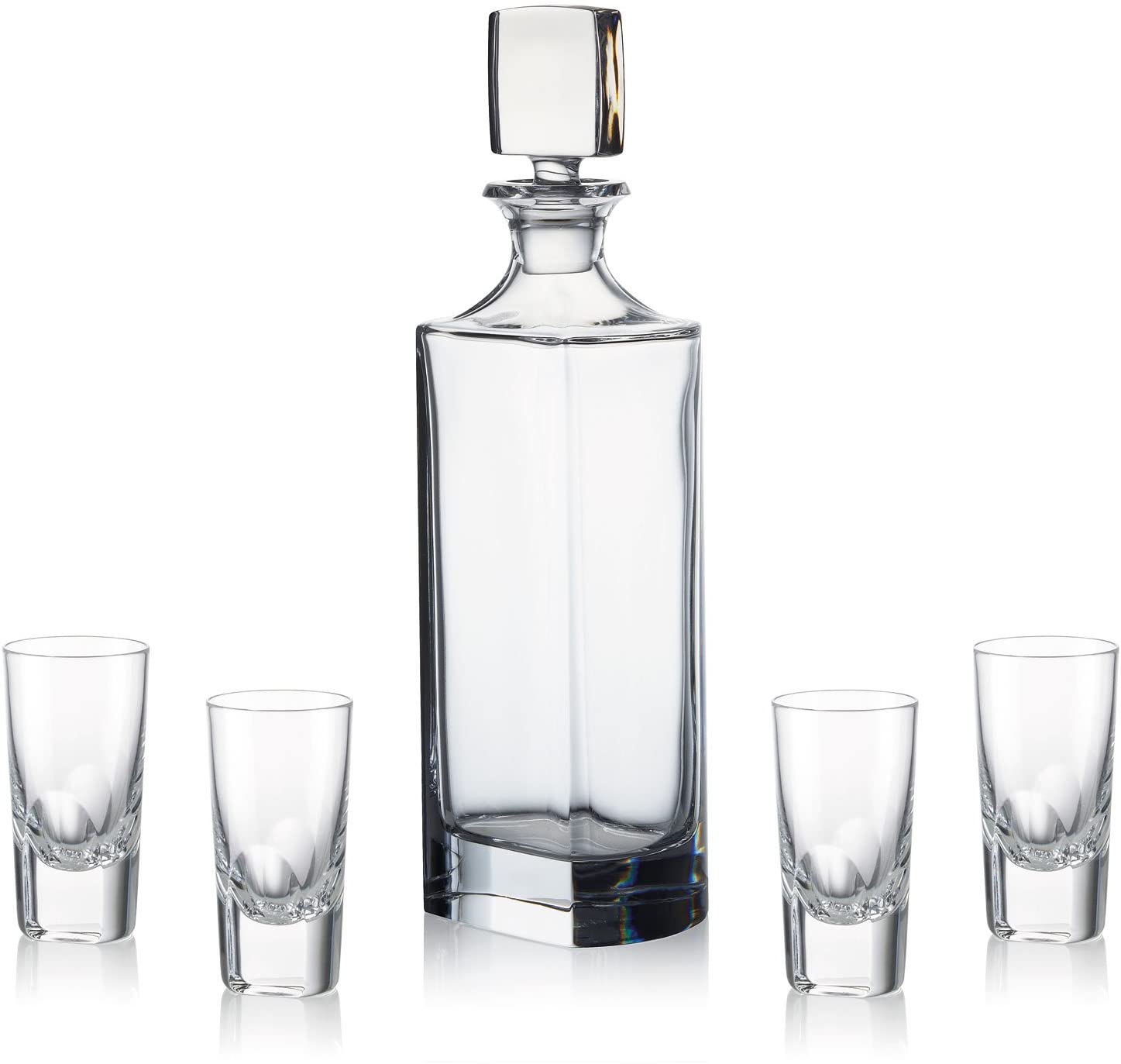 Crafted from full-lead crystal for a real feeling of weight and hand-polished for maximum clarity, this modern take on the typical decanter shape positively exudes sophistication. With a heavy base and a 25 ounce capacity ensuring practicality alongside style, this offering is the perfect accompaniment to a fine whiskey.
4. RAVENSCROFT CRYSTAL DECANTER SET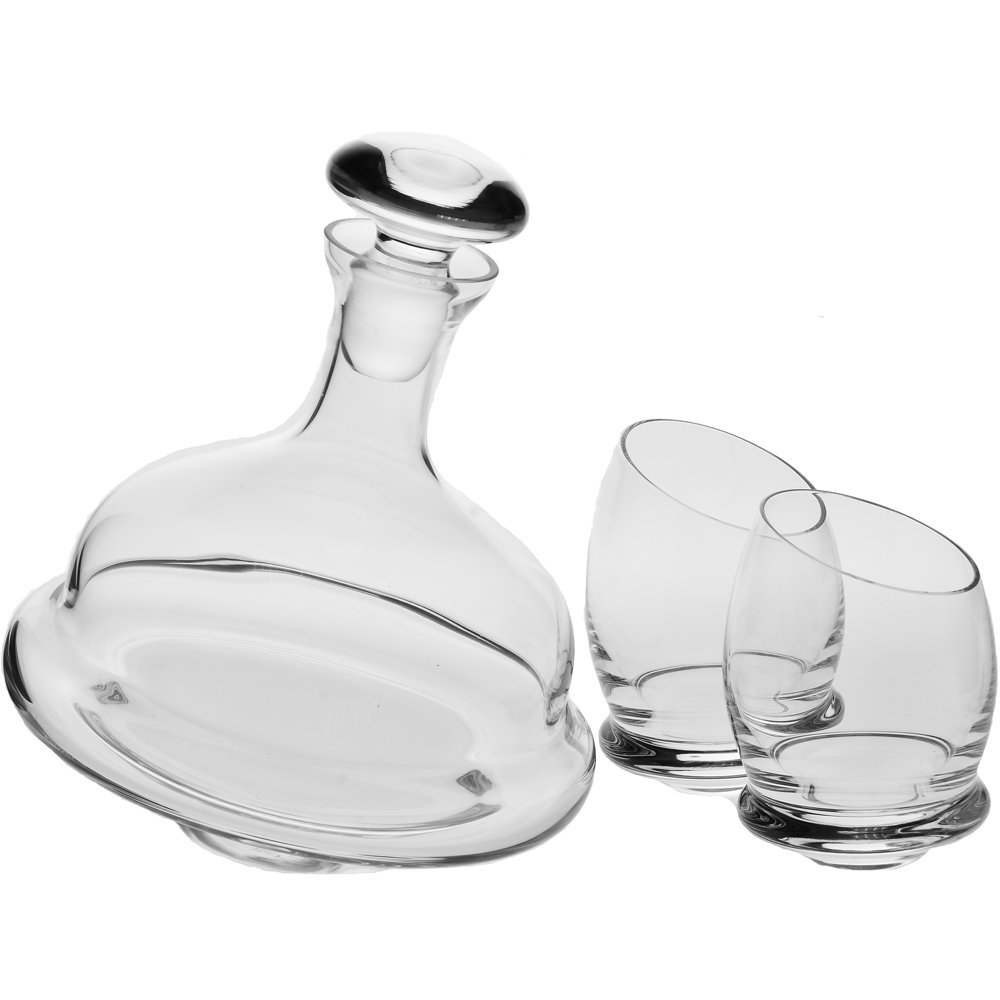 Proving that effective decanter designs don't need to be rooted in the stereotypical, this fashionable and contemporary offering from Ravenscroft is as much a statement of your creative mindset as it is a practical and functional part of your home bar set-up.
Sure to spark conversation whenever it is brought out, this is ideal for those looking for something a little different.
5. BRILLIANT VILLANDRY DECANTER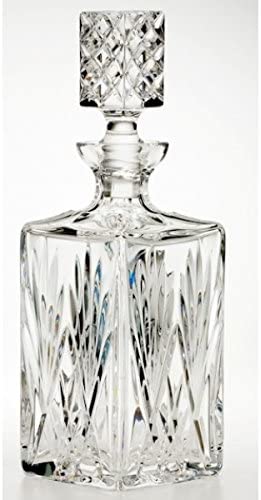 Another decanter keen to dispel the notion that true sophistication is only achieved through transparent crystal, this Polish-made piece opts for an etched pattern that is easy on the eyes without compromising on the clarity of the crystal.
The result is a vibrant and eye-catching design that any owner would undoubtedly be keen to show off.
6. GLOBAL VIEWS ROUND GLASS DECANTER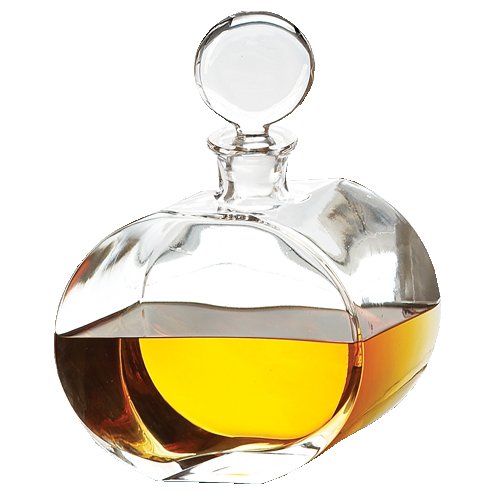 It's not uncommon to see things a little differently after a couple of drinks, but with the innovative design of this glass decanter from Global Views you'll be questioning what you see before you've even poured the first one out.
The offset shape creates a brilliant optical illusion that brings a new dimension of enjoyment to the whiskey experience.
7. WATERFORD LISMORE BOTTLE DECANTER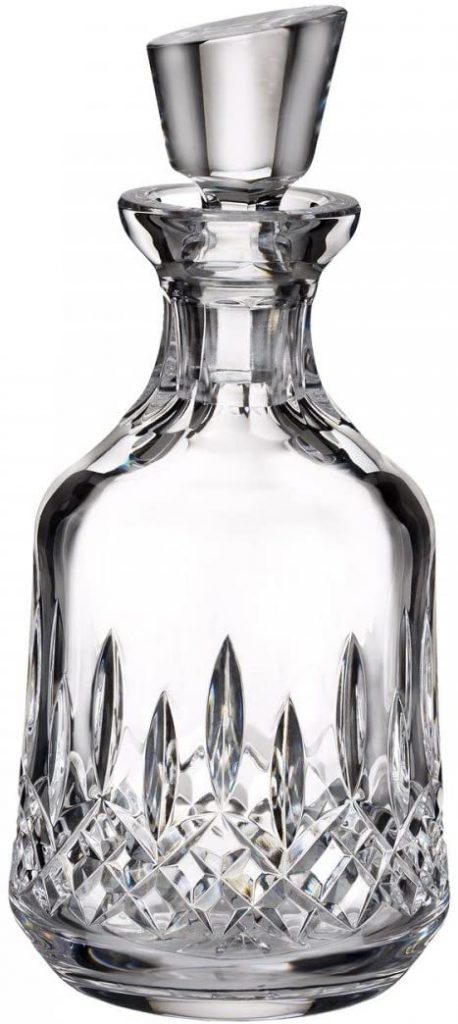 Waterford have been an eminent name in all things whiskey for decades, and their years of experience combine with a time-honoured design here to create a stunning piece that will rightfully complement the finest beverages in your collection.
In terms of pure traditional elegance, there are few pieces than can match this one.
8. WATERFORD LISMORE DIAMOND DECANTER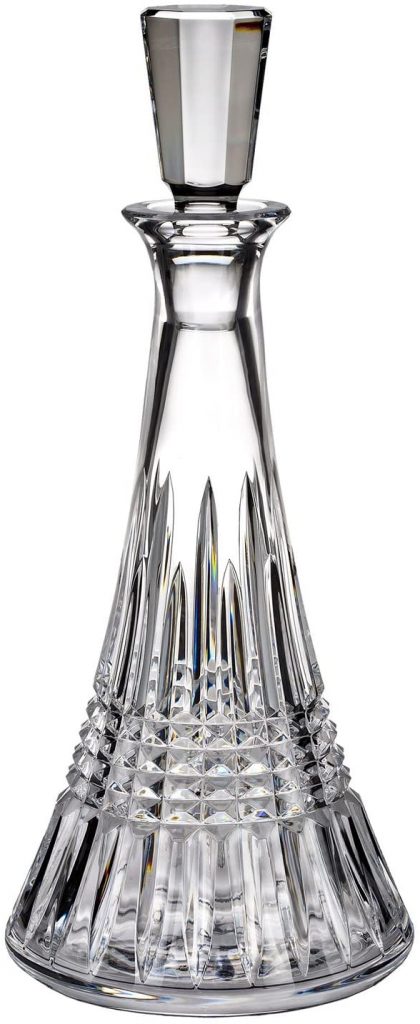 Another entry from Waterford, we feel that the Diamond further emphasises their strength and creative vision when it comes to the production of a truly high-quality decanter.
Their gift is clearly not limited to the typical approach, as this striking and uniquely-shaped offering – all the while retaining their trademark sophisticated patterning – proves.
9. TIPPERARY IRISH CRYSTAL TRANQUILITY DECANTER AND TUMBLER SET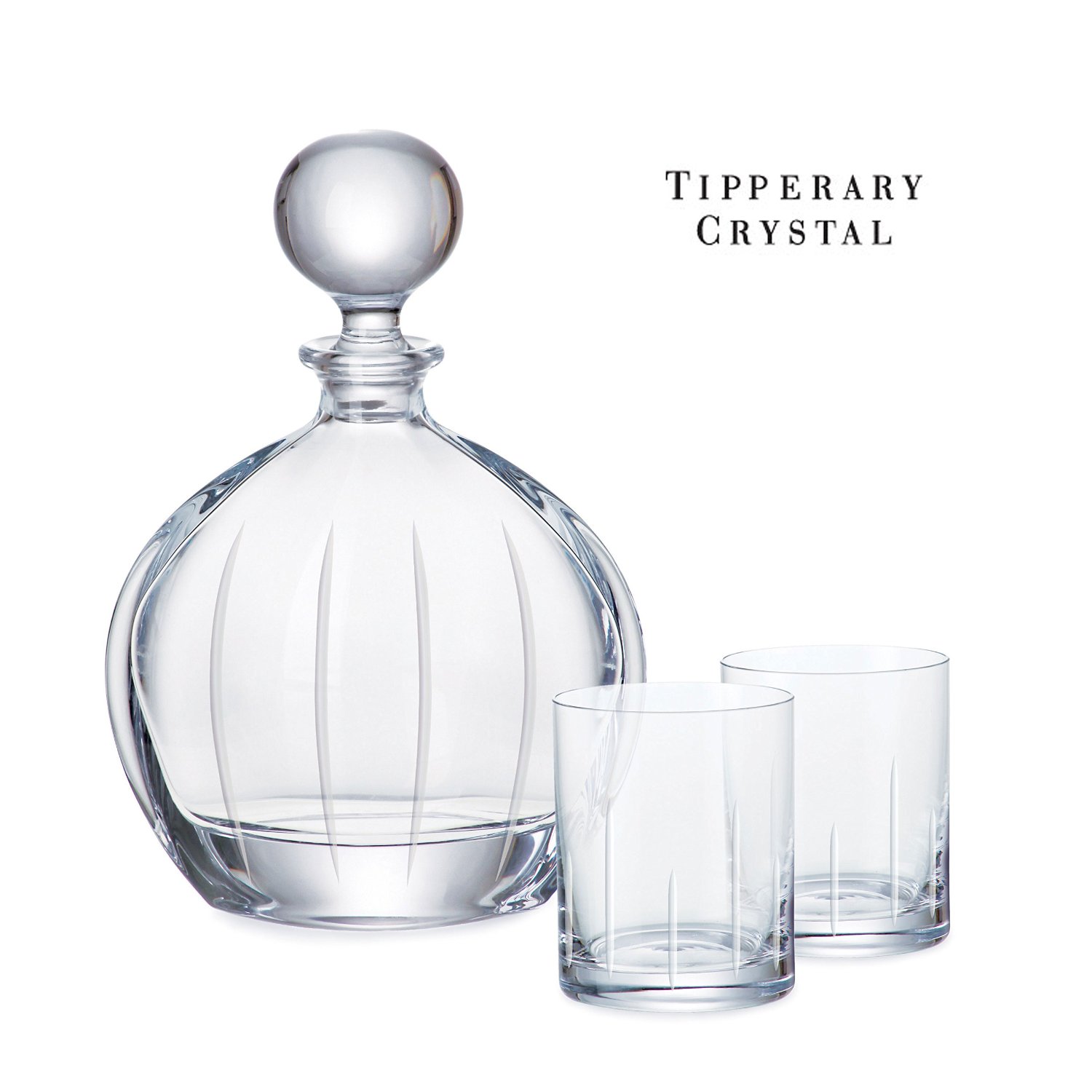 With a rounded design that flirts with the idea of entering carafe territory, this timeless decanter honours the Irish heritage of whiskey in an excellent fashion.
Hand-crafted in Tipperary by artisans revered for their prowess at working with crystal, this piece is presented in an elegant gift box alongside two matching tumblers.
10. BACCARAT CRYSTAL VEGA DECANTER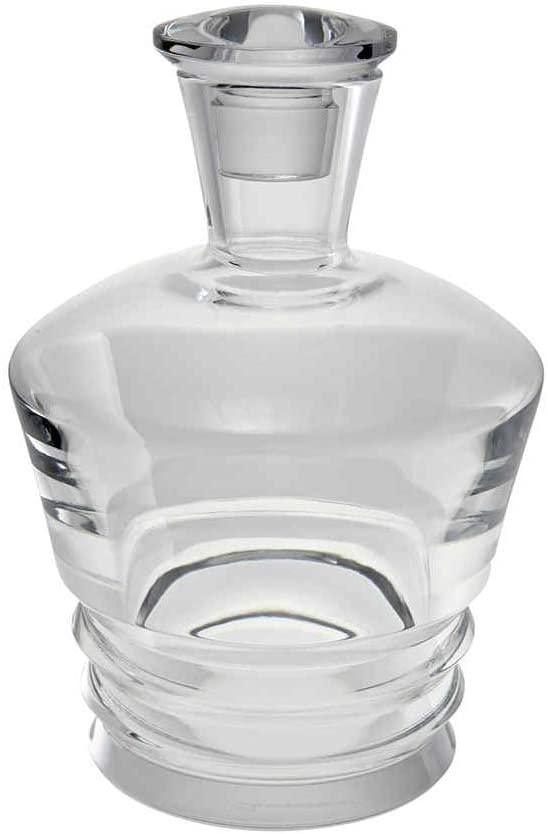 With an interesting and bold design that fuses traditional decanter conventions with more contemporary abstract geometric approaches, the creative minds at Baccarat Crystal have crafted a product that would not look out of place in any home bar, irrespective of what kind of decorative aesthetic you have opted to employ there.
11. RAVENSCROFT CRYSTAL TAYLOR DOUBLE OLD FASHIONED DECANTER SET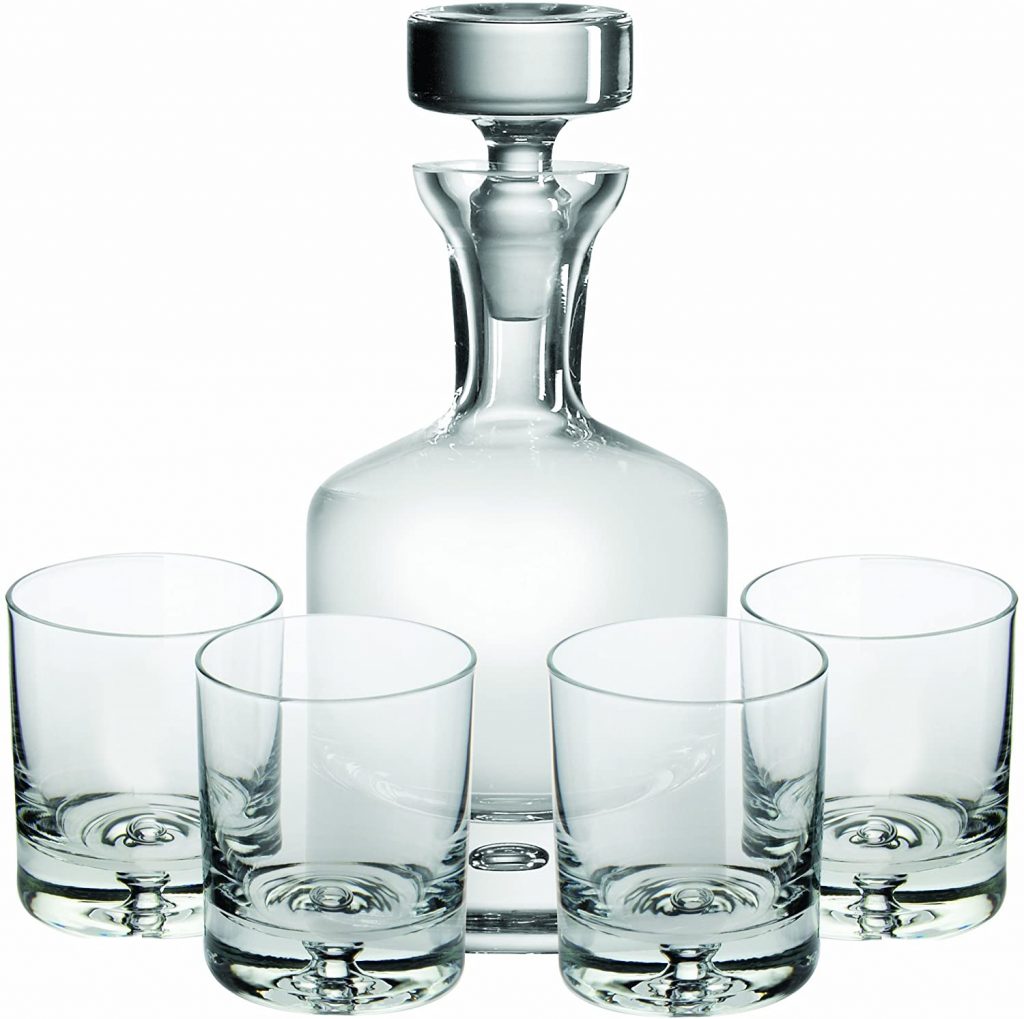 With a hand-made decanter mouth blown from lead-free crystal, this set goes down the traditional design route to great effect; the decanter will look just as elegant on your shelf as it will whilst in use, and the inclusion of four glasses adds an extra layer of value to what is a simple yet hugely effective set.
12. RAVENSCROFT CRYSTAL BUCKINGHAM DECANTER 5-PIECE SET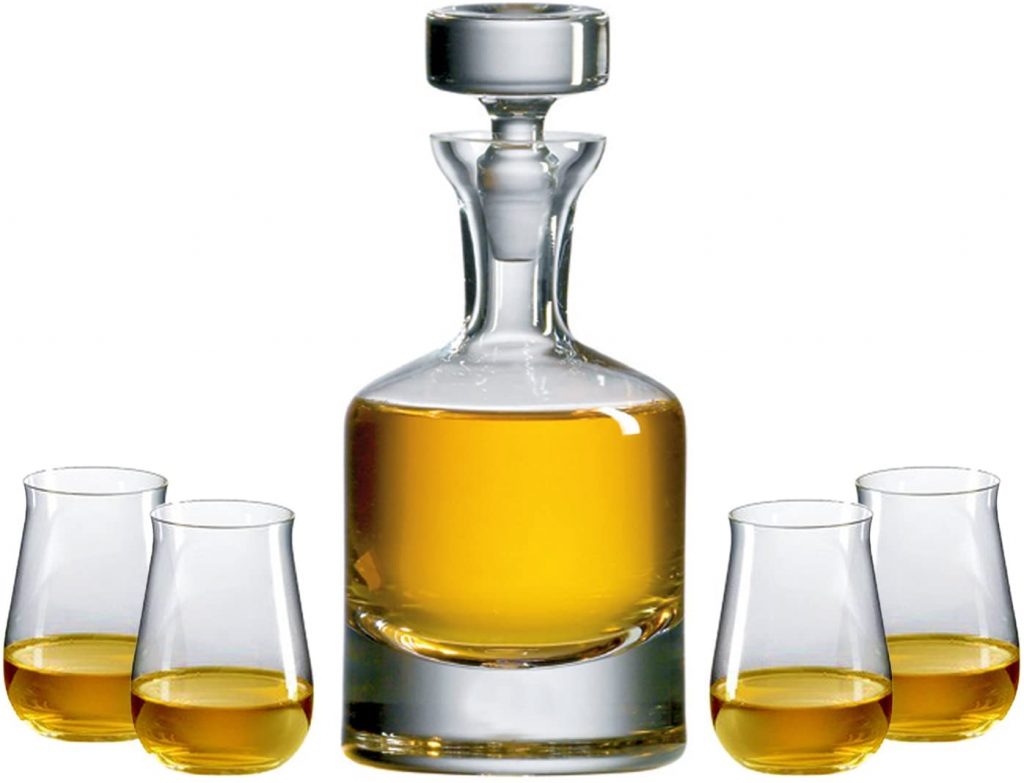 Yet another entry from Ravenscroft really should tell you all you need to know about how we feel about their work. The Buckingham set is worth your attention largely for the set of simply elegant tumblers that are included with your purchase, although the decanter itself has also been produced to the Ravenscroft standard.
13. RAVENSCROFT CRYSTAL BEVELED BLADE DECANTER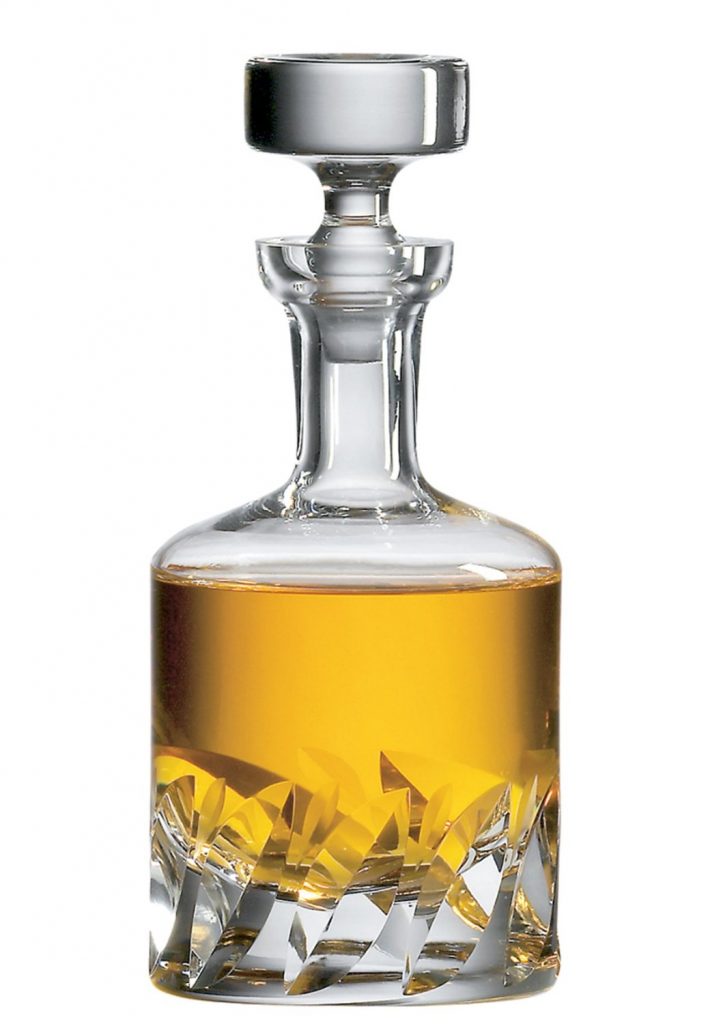 Closing out our list is another offering from Ravenscroft. A simple and elegant shape with striking hand-cut beveled blade patterning makes this decanter rather eye-catching.