A spa bath should offer the ultimate in relaxation, and it's made all the better if your significant other can get in the bath with you.
Many spa baths available today offer features like massage, LED lighting, and built-in radio or television to make the experience even more luxurious; All in the comfort of your own home!
Spa baths are a great investment that can add value to your home. However, before buying one you need to consider what impact it will have on your bathroom space, what options are included with it, and whether it will fit in with your existing bathroom design.
Here are seven of the best, most attractive spa baths.
1. WHIRLPOOL MASSAGE HYDROTHERAPY BATHTUB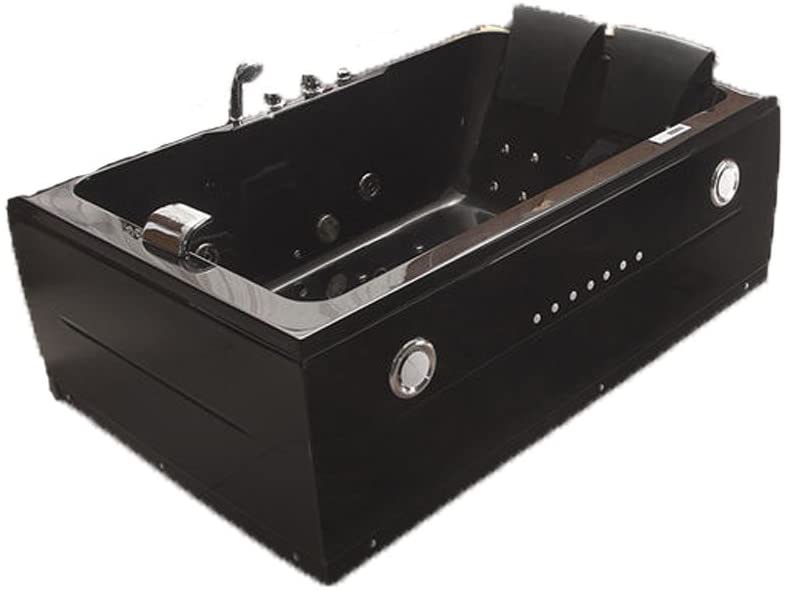 This black bathtub with its modern design looks striking and dramatic in any bathroom.
It comes with a water level sensor and a heat pump already installed, and features underwater lighting effects and an FM radio as snazzy extras to help you get an all-round relaxation experience.
You can relax next to your spa partner on the soft waterproof headrests whilst the water does its work – you barely have to move a muscle, as it also comes with a remote control!
2. DESIGNER SYLVIA BATHTUB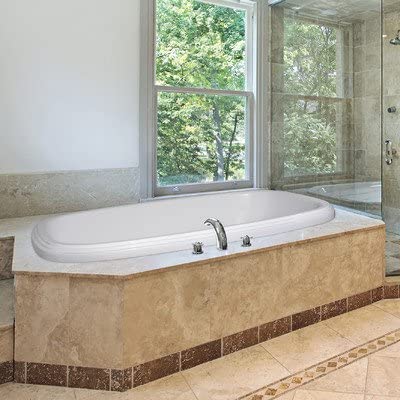 A great tub for simply soaking your cares away, the Sylvia bathtub was designed for ultra-deep bathing in relaxing surroundings.
It has six fully directional adjustable jets activated with an electronic control switch, and a 30 minute integral timer. Its contemporary design makes it a great fit for any bathroom, no matter the existing decor, and it comes in four different colors.
The drain is located in the middle, so when two people are in the tub neither will have to sit on the drain!
3. TWO PERSON WHIRLPOOL CORNER FITTING MASSAGE BATHTUB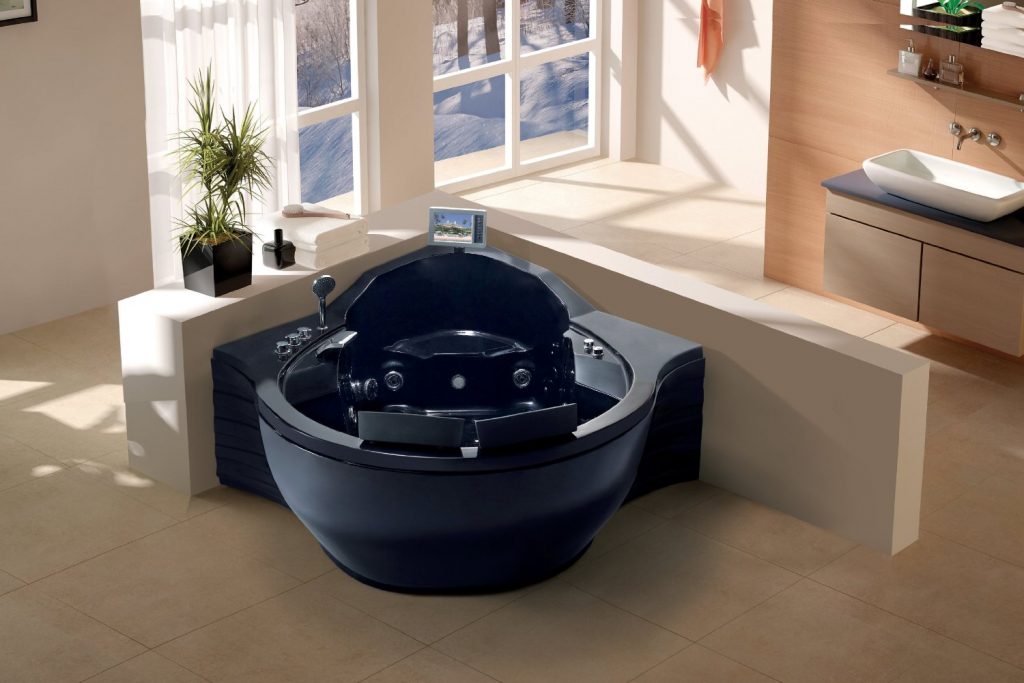 A stylish black bathtub that features underwater LED lighting and no less than 30 jets, providing you and your partner with a great massage experience from the comfort of two waterproof headrests.
It's corner-fitted, saving space in smaller bathrooms. Best of all, it comes with a built-in waterproof 8.4″ LCD TV and the ability to play both CDs and MP3s through a high-quality speaker system – you'll never have to worry about dropping your iPad in the bath again.
JACUZZI TWO PERSON COMBO BATHTUB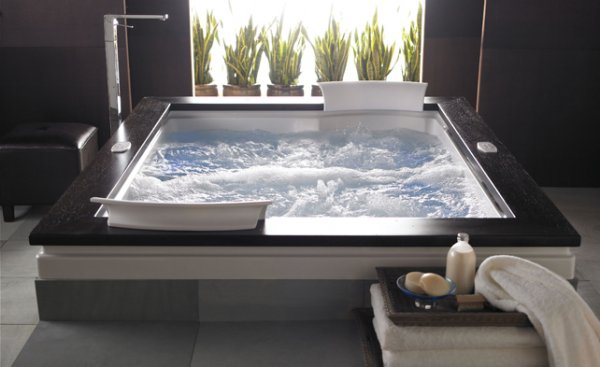 An elegantly designed bathtub that comes in four different colors: white, almond, oyster and black.
The optional wood deck is likewise available in a variety of styles, and adds a touch of even more luxury to proceedings.
This jacuzzi has fifteen jets – four adjustable TheraPro ones and eleven AccuPro – to massage your neck whilst you soak in the water. It also has a Chromatherapy lighting system, which uses soft lights to soothe you into the most relaxed state imaginable.
The full spa experience, for use again and again and again!
5. DESIGNER SAVANNAH SALON SPA TUB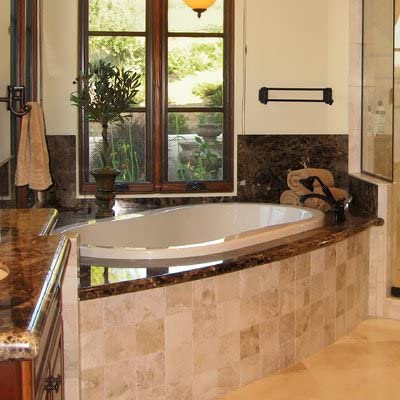 This beautiful designer tub can, and should, be the focal point of any bathroom.
It has molded armrests designed to comfortably suit two people and the sixteen water jets can be activated with a simple control/timer switch for quick and easy massage therapy.
It can hold 80 gallons of water in its simple oval shape, and it comes in multiple stylish colors including almond and bone. It may be expensive, but what a luxury it is.
6. ARIEL BATH WHIRLPOOL TUB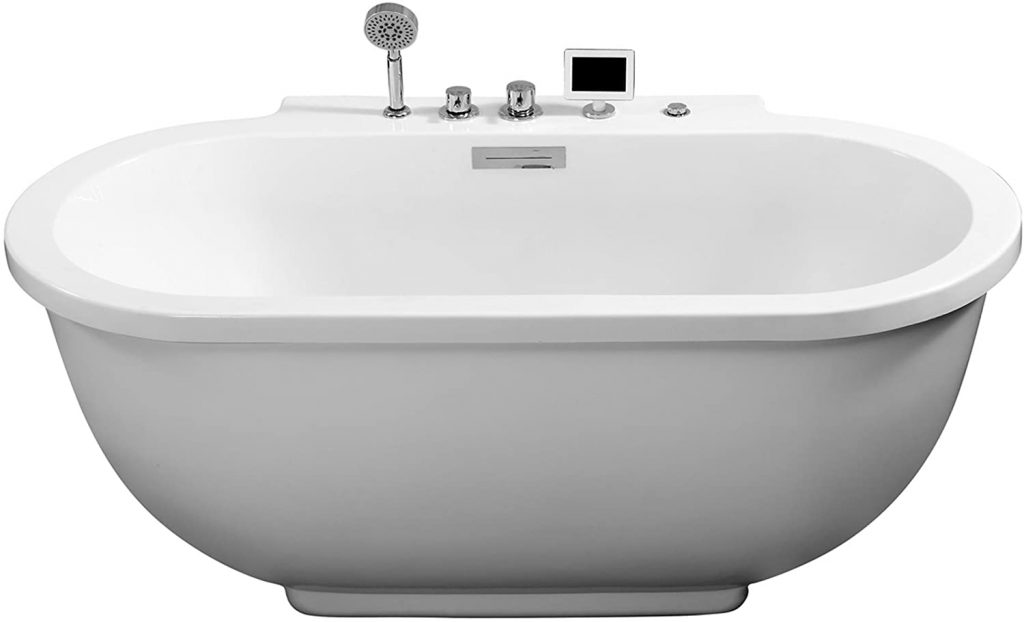 This freestanding platinum white bathtub comes with a handheld shower and thermostatic pump, plus a chemotherapy lighting system and FM radio.
Two average-sized adults can easily fit inside the deep tub and enjoy the lights, the music, and the hydro-massage jets specifically designed to target pressure points and relieve stress and pain.
It's controlled by a touch-sensitive LCD panel so it's super easy to use, and its design is modern, simple and clean.
7. CARVER TUBS WHIRLPOOL II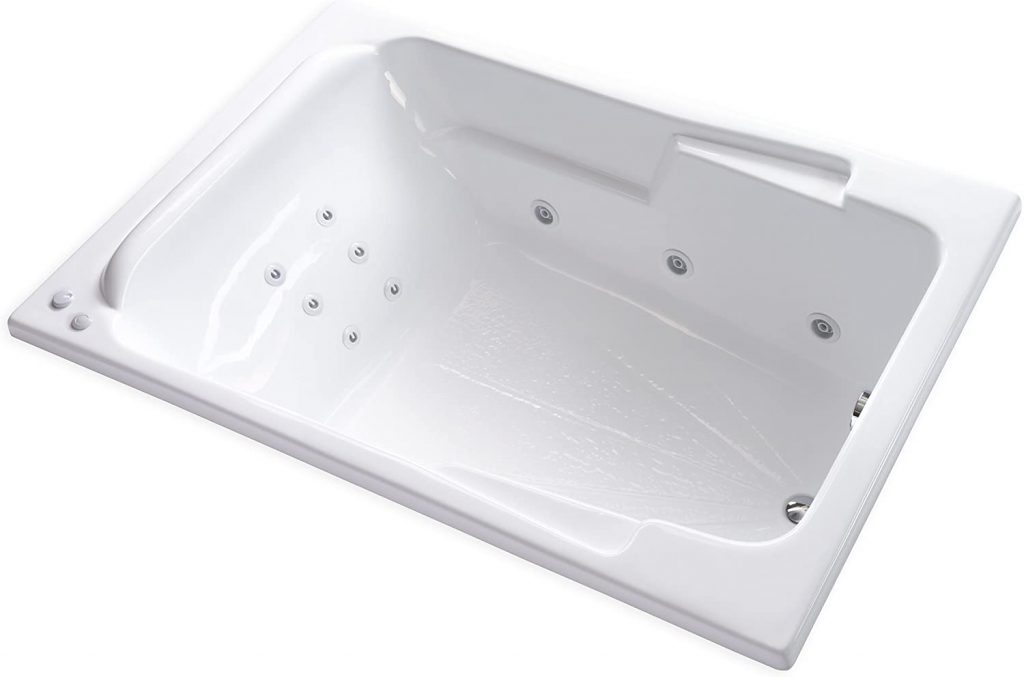 This easy-to-install deep bathtub is thoroughly tested with sterile water before it ever reaches stores, and its pipes are formed by hand to match the contour of the bath.
It's an incredibly well-made and sturdy tub, and its clean design ensures it looks great in any bathroom too.
Relaxation-wise, it has a twelve-jet whirlpool system with three pressure settings (low, medium and high) and built-in armrests to help you and your partner reach a sense of ultimate calm.