If you have a large or open-plan living space, room dividers – also known as partitions or Shoji screens – are a beautiful and easy way to either separate and distinguish 2 sections within that space, or to provide a chic, decorative focus point within the room. Alternatively, room dividers can also be used to provide a private area in an otherwise open space, screen off an unseemly area or shield an open fire. Very versatile, room dividers provide an easy solution to so many household problems, and they look great!
We have scouted around for what we believe are some of the best quality, and best looking room dividers out there. We've found metal dividers/fire screens, Shōji style room dividers, Traditional wooden room dividers, Photo Room Dividers Carved Ornate Room dividers and Printed Canvas Partitions. Our list will provide you with inspiration for any kind of home.
METAL ROOM DIVIDERS:
Metal room dividers are often referred to as metal fire screens, due to the common use of them for safe guarding an open fire and making a fireplace more aesthetically pleasing. We still think that metal dividers can look beautiful elsewhere around the house and have multiple functionalities.
VICTORIAN METAL PRIVACY SCREEN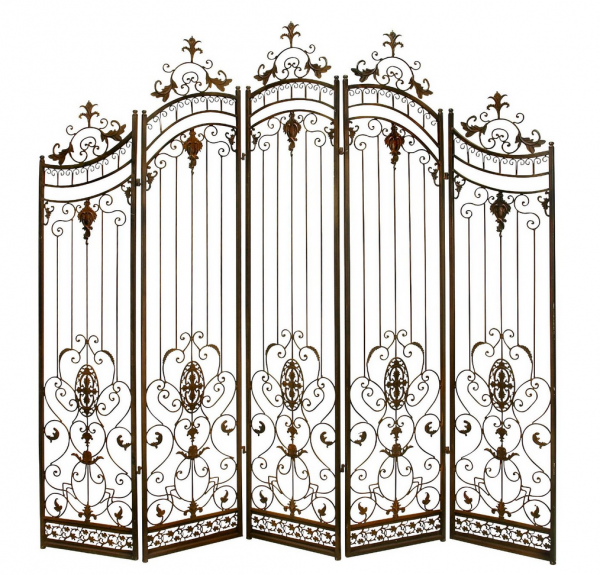 This delicate 5 Panel Victorian Screen is absolutely stunning. Whilst not recommended for homes with small children or pets, this divider works to separate areas within a room or block an entrance without blocking any light to maintain an open, airy feel. Made from rust-free metal, this divider could also be utilised on a porch or deck area.
SHABBY CHIC DECORATIVE FIRE SCREEN WITH 12 TEA LIGHT HOLDERS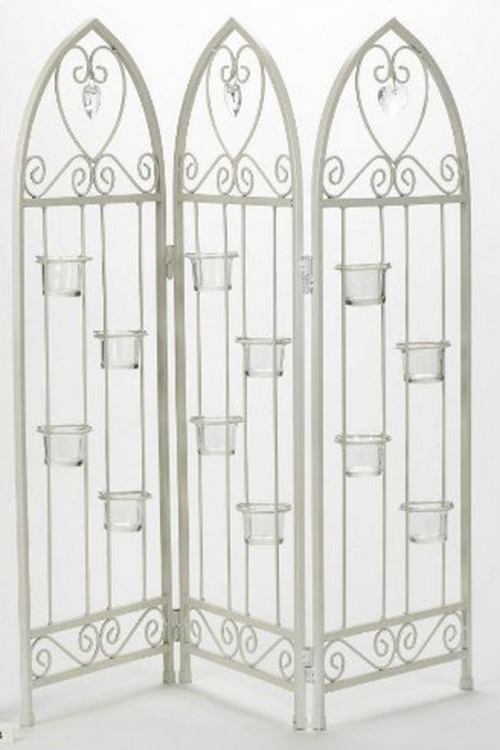 Whilst intentioned for use to guard an in-door fire, this divider with 12 tea light holders would also work well on it's own as an indoor ornament. In any case, full of tea tights and with jewelled hearts hanging from the arches to reflect the flames, this would make a very pretty decoration in your home at night.
MEDIUM SWIRL TEALIGHT SCREEN – BROWN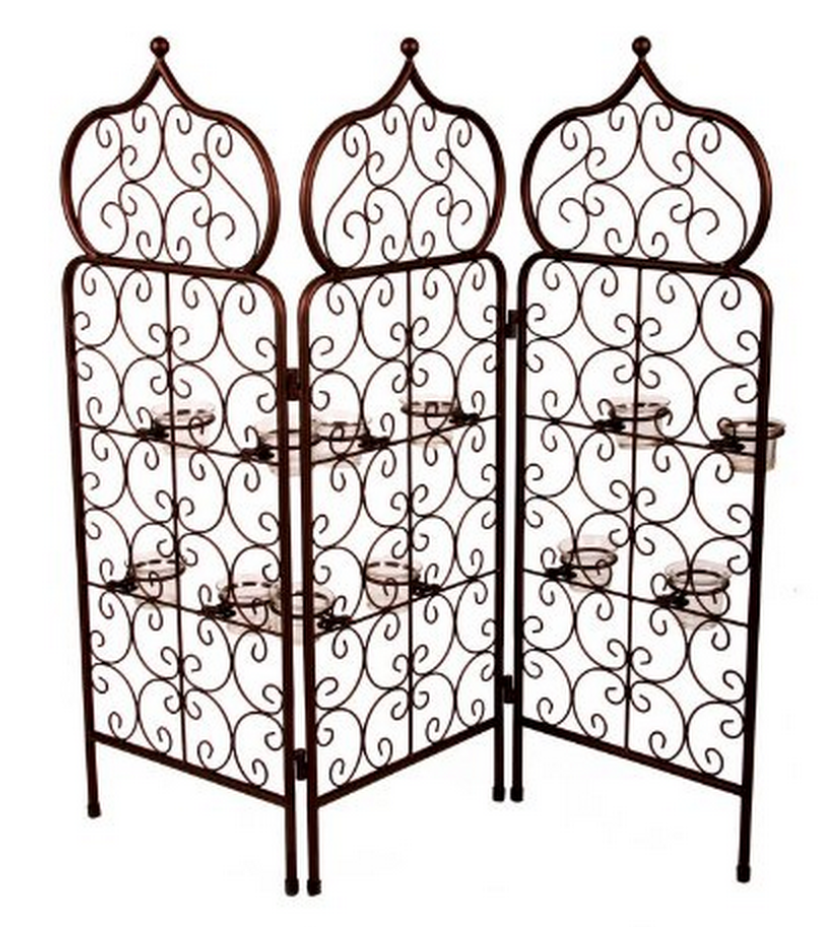 Similar to the white divider shown above, this Swirl tea light screen is appropriate for those with a darker, mahogany or oak styled home. With dedicated space for 12 tea light holders (which unfortunately aren't provided), this swirly screen would either make a beautiful fire guard, or a stunning decorative piece.
ARTHOUSE ROOM DIVIDER – ETHNIC PAISLEY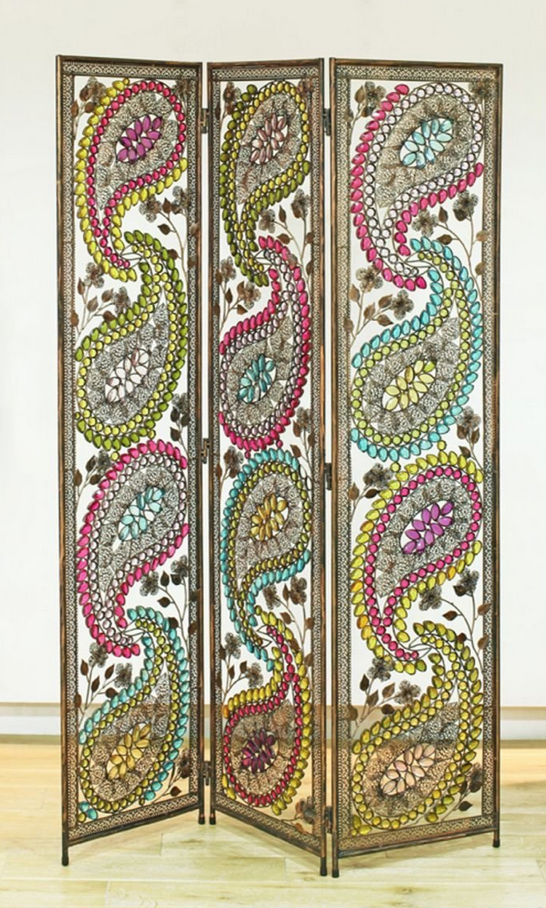 For anyone wanting a bit more of a splash of colour and wow factor to a contemporary home, this vibrant, paisley divider will bring great contrast to block colours or hues around the house. Use either as a room divider or closer to a wall for more of an art statement.
SHŌJI STYLE SCREENS:
Shōji screens are a form of traditional Japanese architecture, consisting of translucent paper over a frame of wood holding together a lattice (usually of bamboo). Whilst not all these screens are traditional Shōjis, they're all reminiscent of this oriental style.
CLASSIC AUTHENTIC ZEN DOUBLE CROSS JAPANESE SHŌJI SCREEN ROOM DIVIDER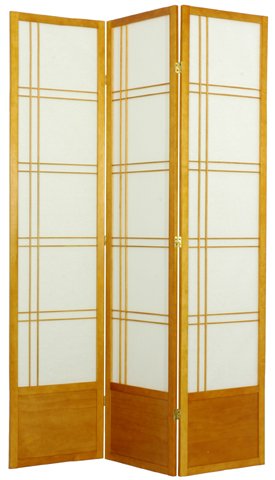 Very basic yet beautiful in its simplicity, this shōji screen divider comes in a variety of sizes and colours to provide the perfect fit for your home. An added element of privacy with the screens that metal dividers don't provide, the screens still let light through to maintain an open and bright space.
BLACK BAMBOO PRINT ORIENTAL SHŌJI SCREEN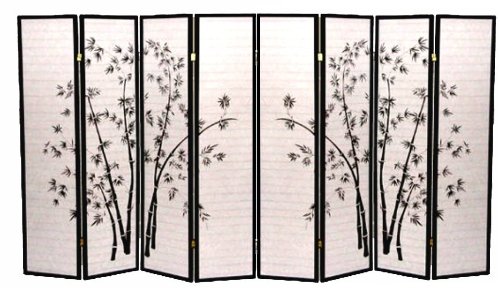 This oriental Black Bamboo print shōji screen comes in 3 – 8 panel sizes. The 3 and 4 panel options tend towards a more decorative piece, whereas the 6 and 8 panel screens provide better functionality towards privacy and complete room division.
LOW CHERRY BLOSSOM SHŌJI ROOM DIVIDER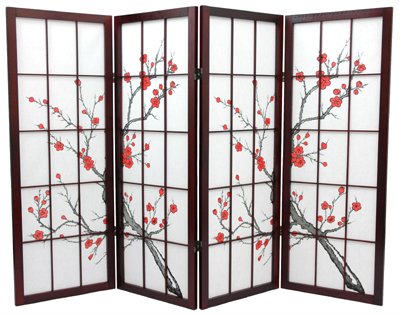 If you're after a slightly lower room divider, this cherry blossom shōji style screen stands 48″ (1.2m) tall and is available with either 4 or 6 panels in a variety of coloured frames. Whilst not tall enough to provide complete privacy, the functionality of this screen lies in its ability to provide a separation of space and in its beautiful design.
ORIENTAL AKITA SCREEN ROOM DIVIDER IN CHERRY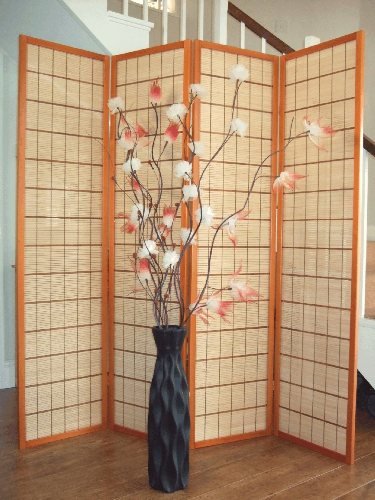 This room divider is constructed with Cherry finished hardwood framing, and finished with flat bamboo slatting. Giving a greater air of privacy than the paper-screened shōji screen above, this divider still allows some light through the slats.
GRIFFIN CANVAS 4 PANEL ROOM DIVIDER – ROSEWOOD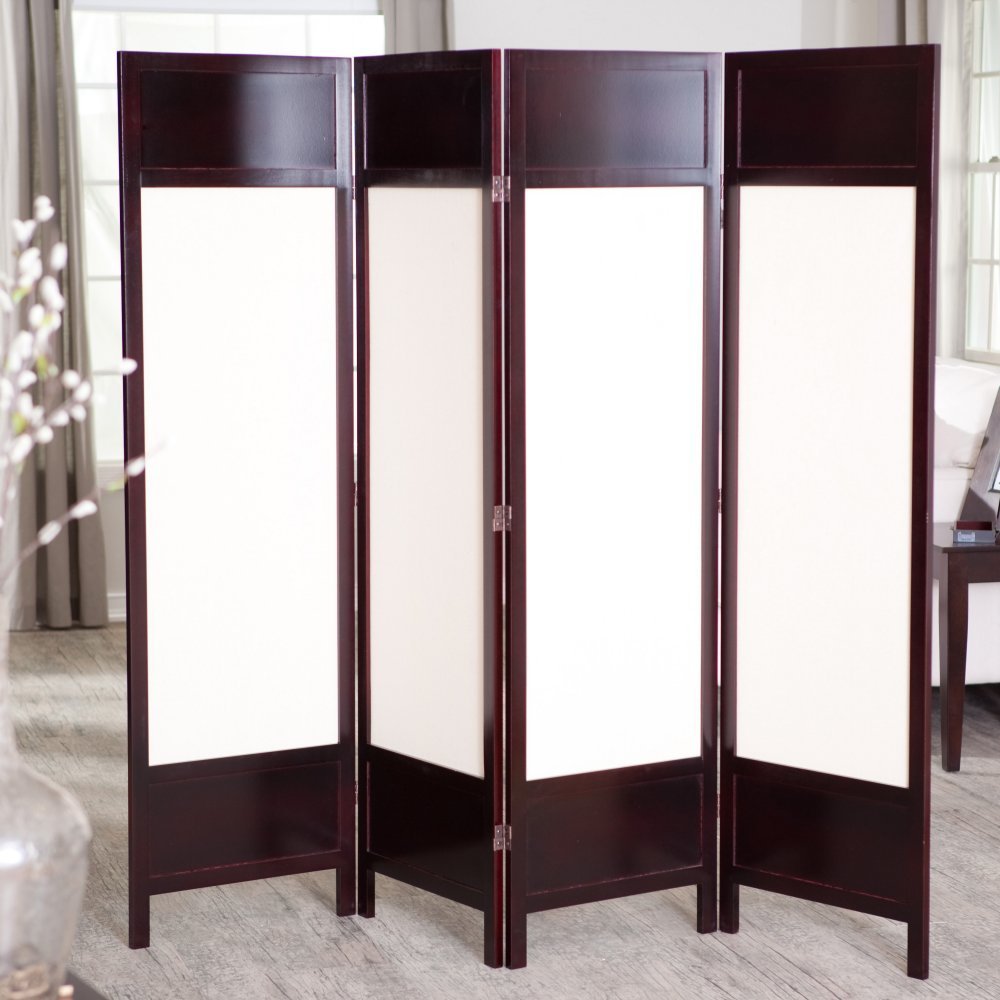 Classy and modern, this chic room divider takes the premise of traditional shōji screens and combines it with modern elegance to create a contemporary and versatile divider which will blend in with most home decors.
WOODEN ROOM DIVIDERS:
For an understated and timeless addition to your home, classic wooden room dividers may be what you're looking for to maintain a traditional look…
TRANQUILITY WOODEN SHUTTER SCREEN ROOM DIVIDER – WALNUT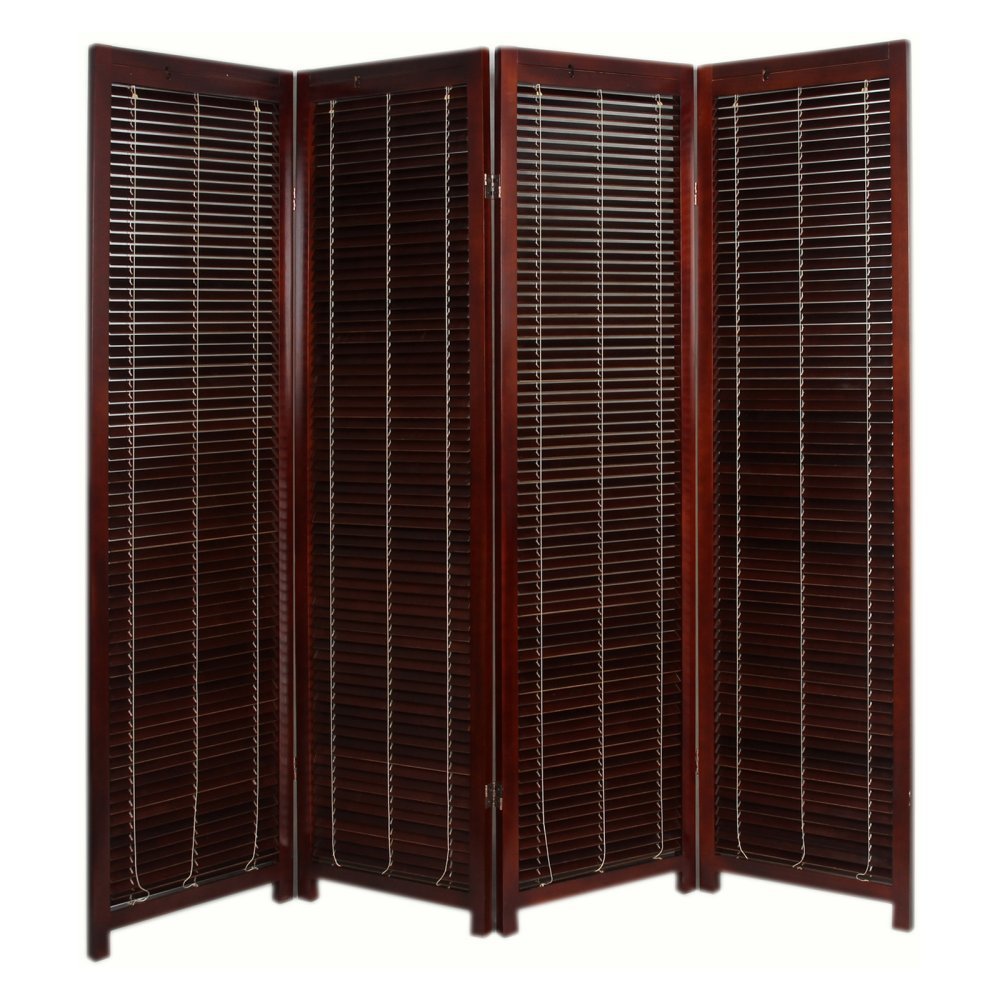 Crafted from durable brasswood, this 4 panel screen features independently adjustable blinds on each panel for added ambience and versatility. As such, the screen can be used as a privacy screen, and when not in use the panels can be adjusted and opened to maintain a spacious feeling within a room.
DARK BROWN 4 PANEL WOOD DIVIDER WITH UPHOLSTERED FAUX LEATHER DESIGN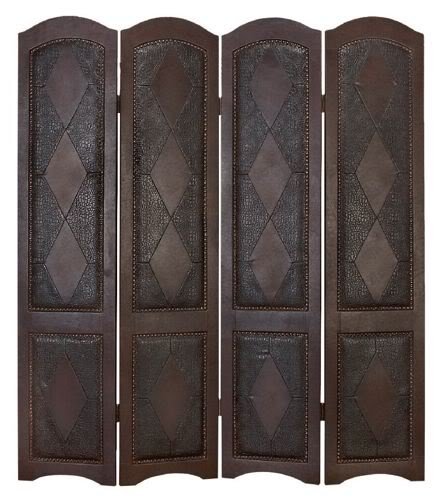 This partition is a great option for dividing spaces in a large living or multi-purpose space. Functional in its sturdiness and solidity, the faux leather panel details compliment the wooden finish to create a rich, traditional design.
WOOD SCREEN 4 PANEL BEST OF DECORATIVE PROTECTION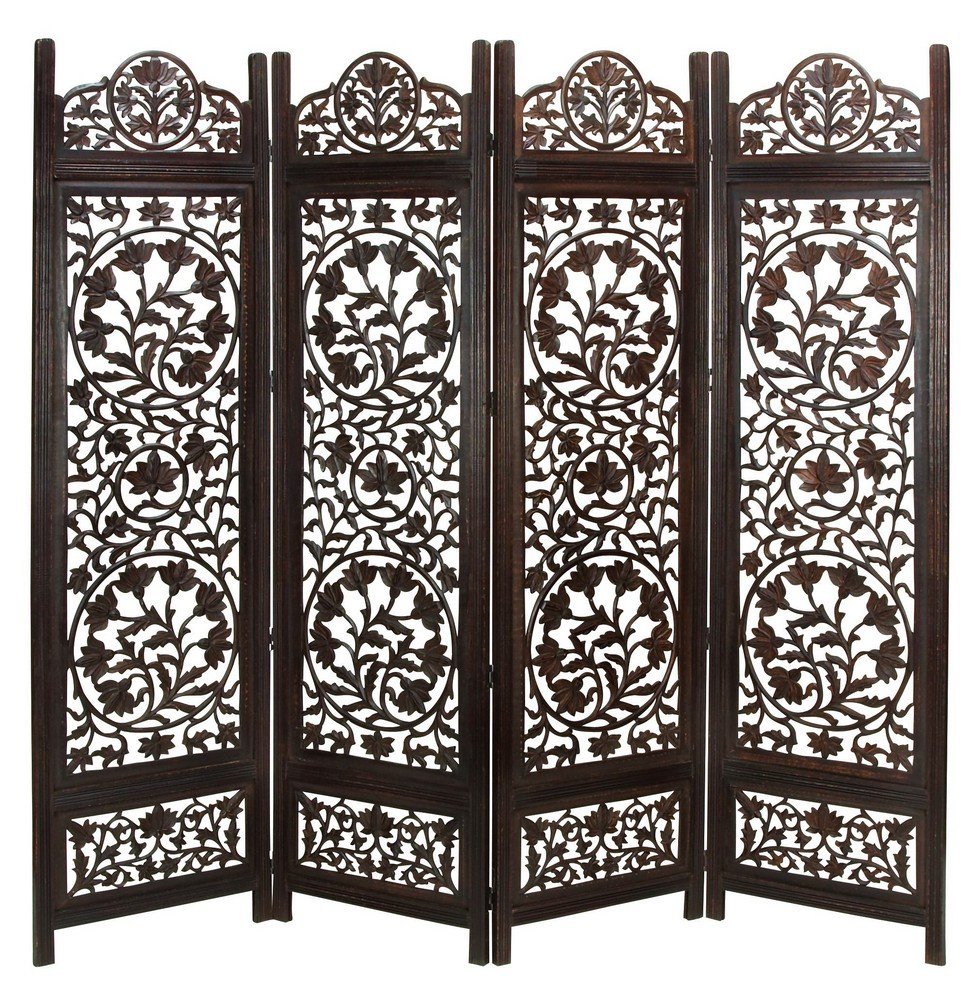 With a similar look to the metal screens listed above, this intricately carved wooden room divider makes a stunning addition to your home decor. The panels are fragile, so not recommended for constant readjustment or for homes with small children and pets.
PHOTO ROOM DIVIDERS
If wanting a divider to function more as a focus point in the middle of a large open plan space, a brilliant idea is to use the divider to showcase some beautiful photos and memories of your family and friends.
PRESTON SERIES FLOOR STANDING TRIPLE PANEL PHOTO SCREEN WITH MIRROR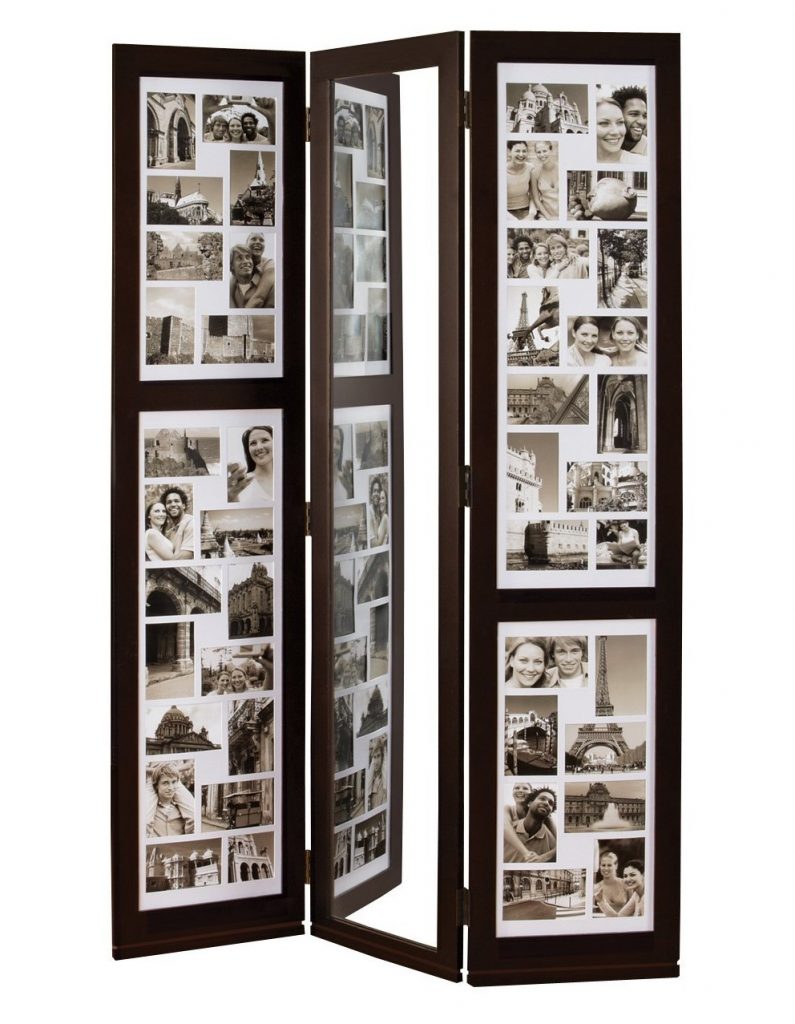 This three panel screen features two side photo panels with space for two 4″x4″ photos and forty-two 4″x6″ photos. Between the two side panels is a full length mirror. This screen would make a brilliant focal point in any living space, either to divide the space or as a stand alone decoration. Keep in mind the designs are only on one side of the panels, therefore the screen could also work well against a wall.
MEMORIES DOUBLE SIDED PHOTO FRAME ROOM DIVIDER – ROSEWOOD 3 PANEL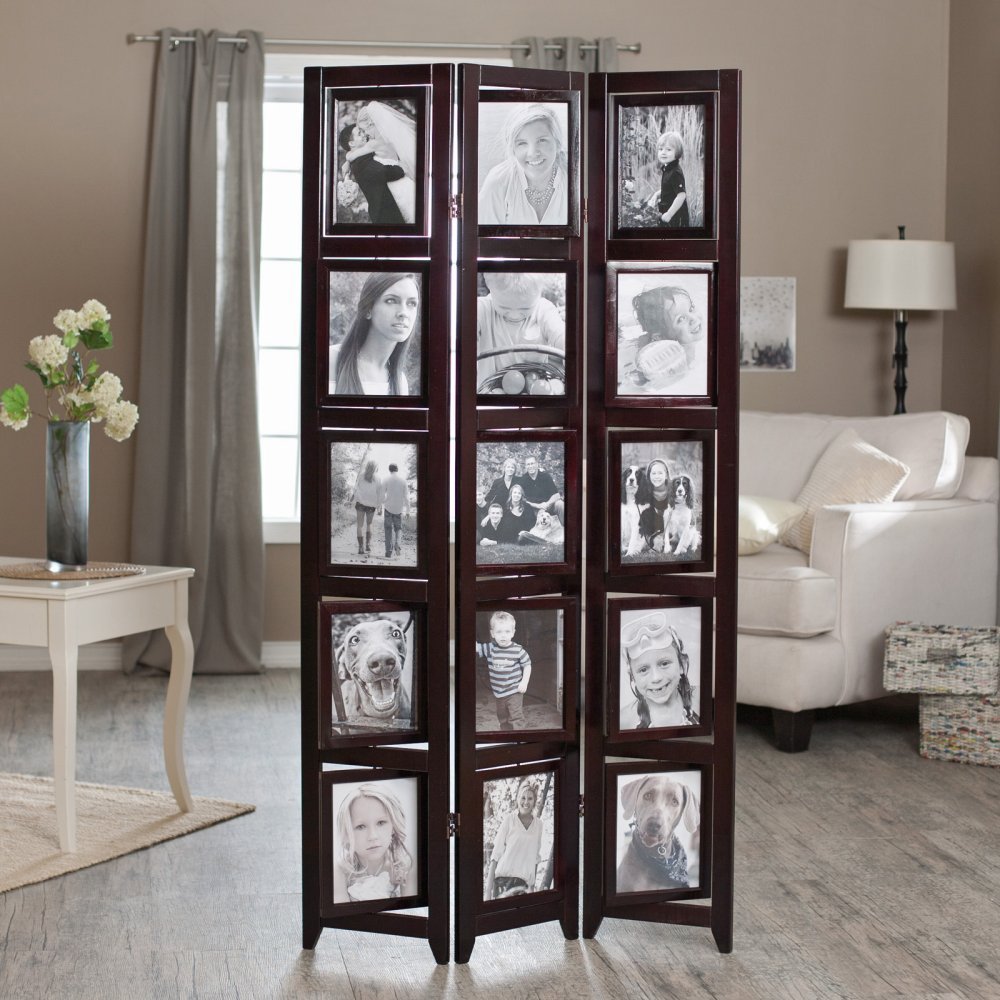 This 3 panelled rosewood finished room divider holds 30 8″x10″ photos in rotating frames for easy adjustment. A beautiful way to utilise space and showcase family memories at the same time.
MEMORIES PHOTO FRAME ROOM DIVIDER – BLACK 4 PANEL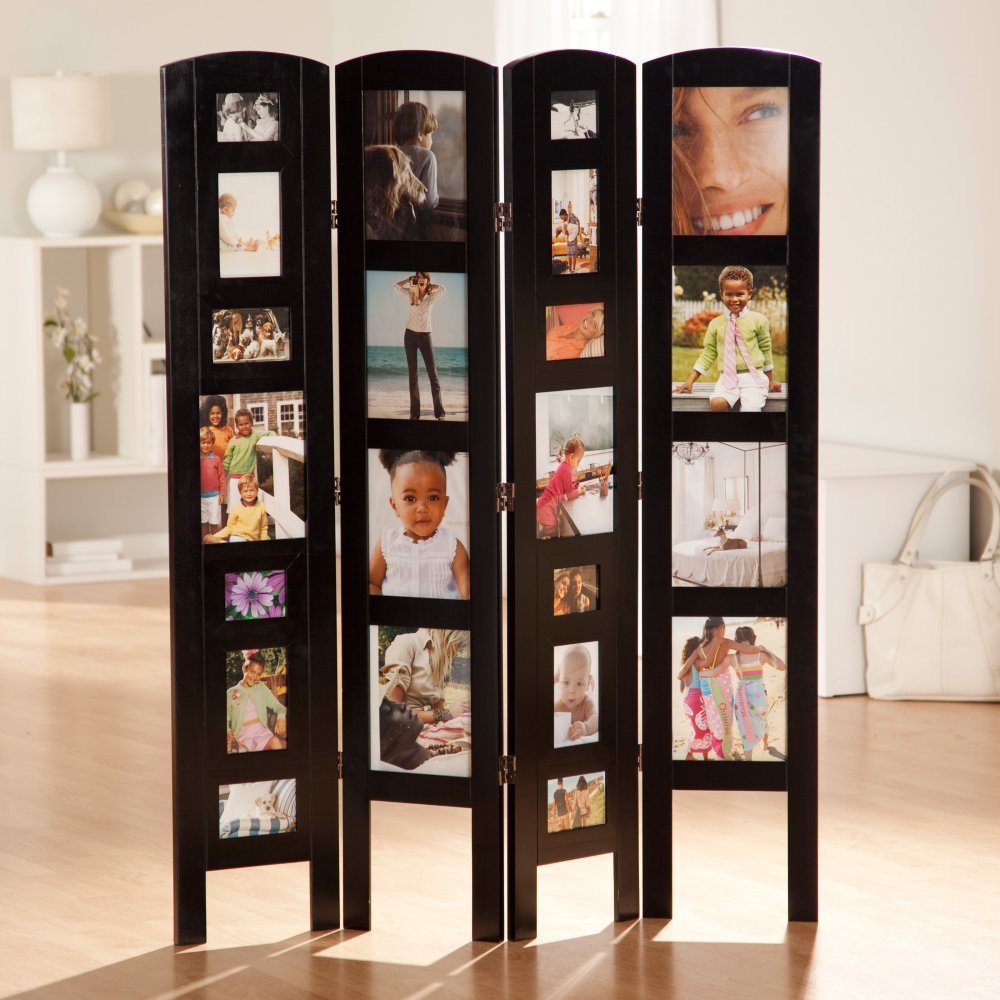 A 4 panelled design in black wood finish. Whilst this wooden photo screen is only one sided, the collage effect of various sized photos creates an iconic and unique addition to your living space, whether used as a divider or simply a sentimental focal point.
CARVED ORNATE ROOM DIVIDERS
Carved ornate dividers are arguably more decorative and detailed than plain metal or wooden screens. In the right setting, these dividers might just provide that missing wow factor to your home.
MOTHER OF PEARL 4 PANEL SCREEN WITH CHINESE LADIES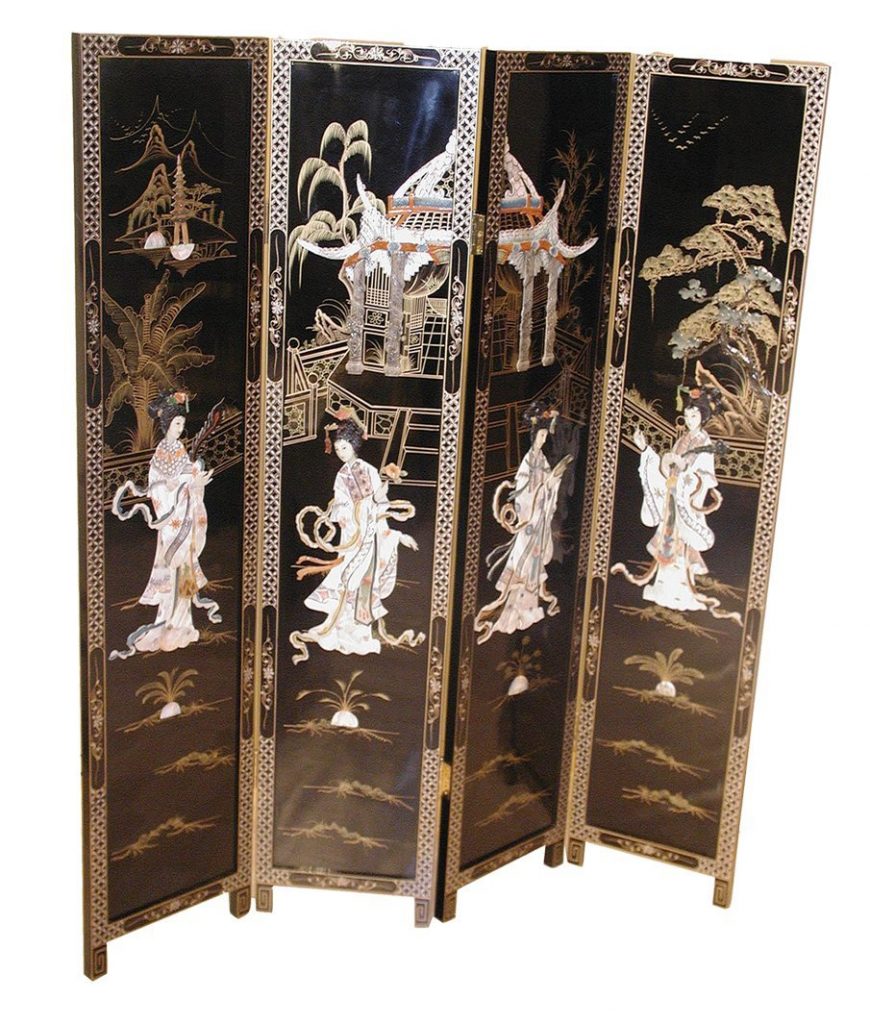 This room divider is absolutely breathtaking in its detail and design. Featuring mother of pearl carved figurines which have been in-laid into the screens and finished with lacquer, this oriental divider would make a timeless addition to the right home.
WOODEN CARVED SCREEN/ROOM DIVIDER WITH ANTIQUE SAILING MAP PATTERN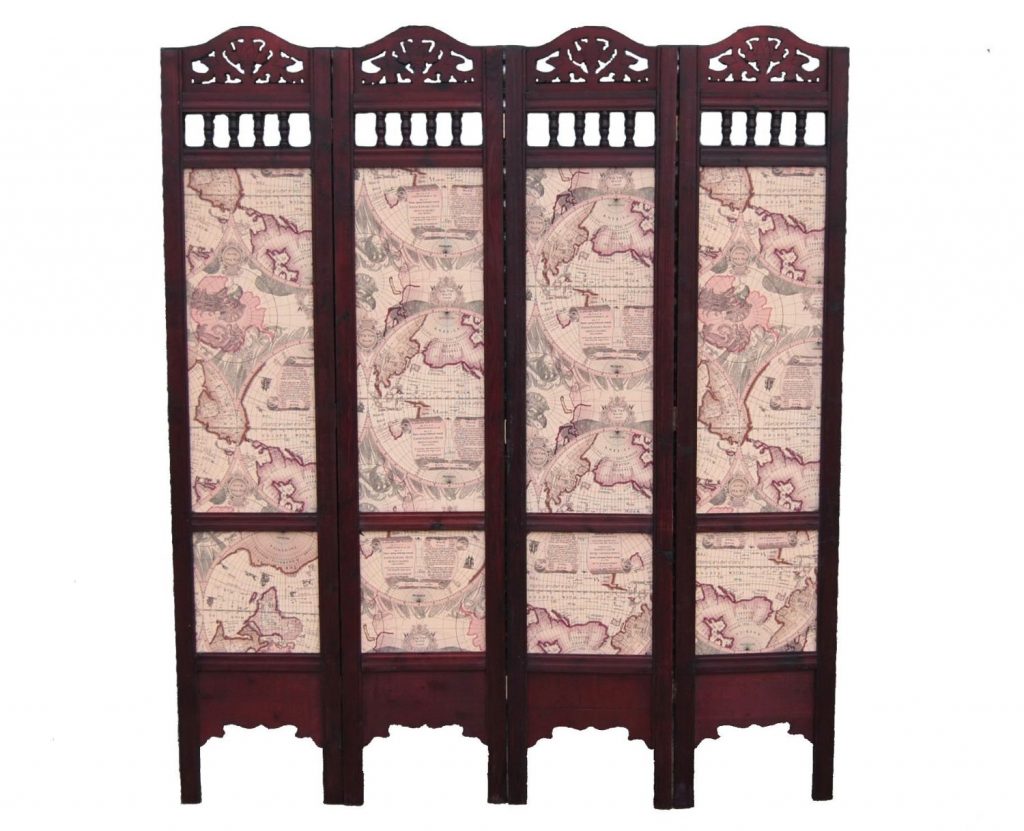 This room divider features an antique sailing map set within the carved wooden frame in a traditional mahogany finish. For a more traditional styled home, this divider would make a practical and beautiful addition as a focal point in a living space or to distinguish a study area.
PRINTED CANVAS ROOM DIVIDERS:
For something which makes a bit more of a statement, our selection of printed canvas room dividers should provide inspiration for a splash of colour and culture in your home.
EUROPEAN DOORS & DOORWAYS DOUBLE PRINT CANVAS FLOOR SCREEN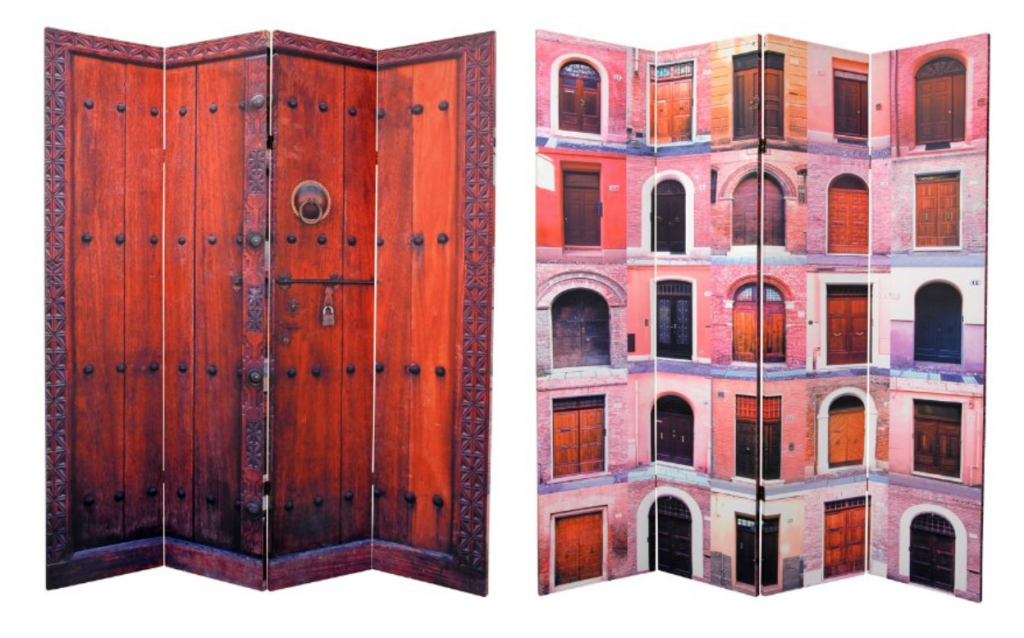 This double sided print canvas screen stands 6 ft tall and showcases an old-world European door print on one side, and a gallery of European door-ways on the other.
VAN GOGH ART PRINT CANVAS ROOM DIVIDER – STARRY NIGHT & SUNFLOWERS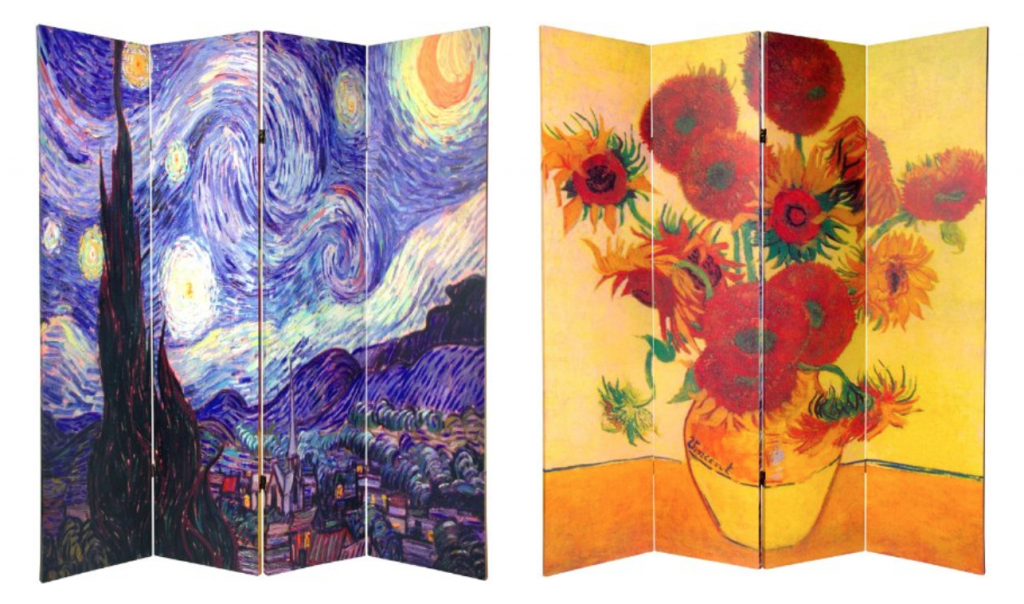 Show your appreciation for art by bringing a bit of Van Gogh into your home. This 6 ft tall room divider displays 2 of Van Gogh's most iconic pieces, Starry Night and Sunflowers. It's available in either 3 or 4 panels.
DOUBLE SIDED CANVAS SCREEN ROOM DIVIDER – BEAUTY FACE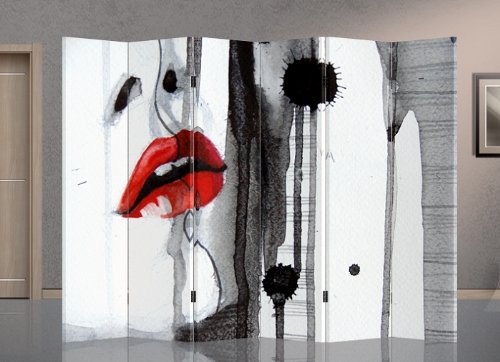 For the fashionistas and beauty fans out there, this striking canvas adds immediate character and style to a contemporary living or office space. Large, standing 6 ft tall and spanning 6 panels wide, this divider will effectively separate spaces and provide a sole focal point in a living space. Alternatively, use the divider akin to a feature wall as a backdrop.
3 PANEL DOUBLE SIDED PAINTING CANVAS ROOM DIVIDER SCREEN, EUROPEAN STORE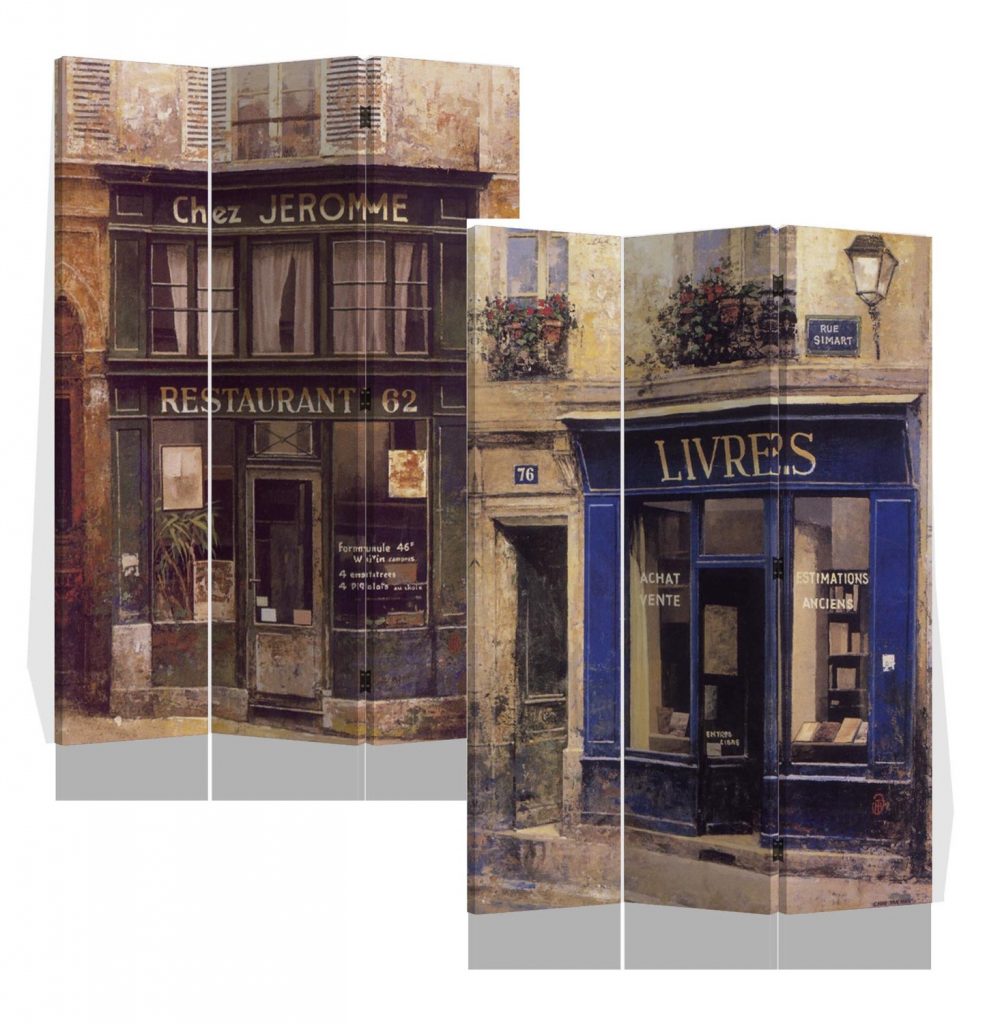 Bring European ambience to your home with this 3 panelled print canvas screen featuring quaint European store fronts on each side.
IMPRESSIONIST PAINTING FRENCH CAFE DOUBLE ART PRINT CANVAS ROOM DIVIDER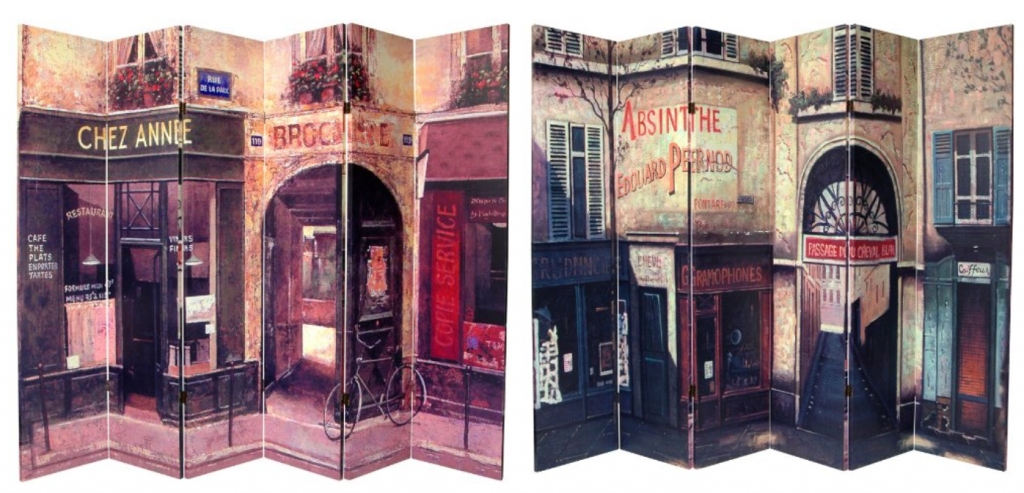 With a choice of either 4 or 6 panels, this canvas featuring 2 impressionist paintings of Parisian streets will bring an element of Amour to your home that the city is famous for. Whilst beautiful, the paintings use a subtle colour palate to be unobtrusive in most homes.
DOUBLE SIDED BUDDHA AND GANESH CANVAS ROOM DIVIDER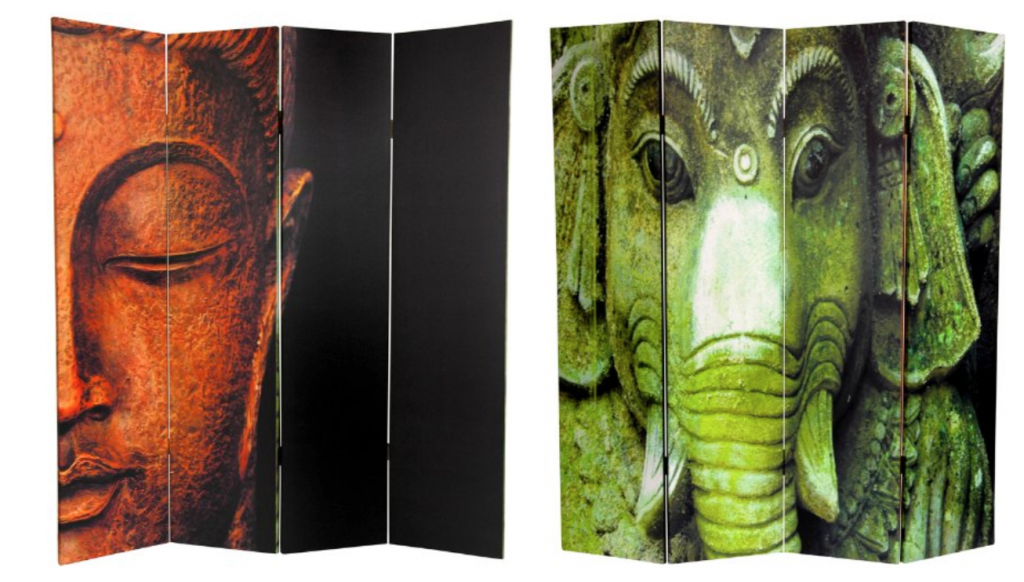 This room divider features a contemporary bronzed Buddha design on one side and green Ganesh on the other. An appropriate choice for homes with oriental themed decor, or for those wanting a little bit of Karmic influence.
TREE SILHOUETTES ROOM DIVIDER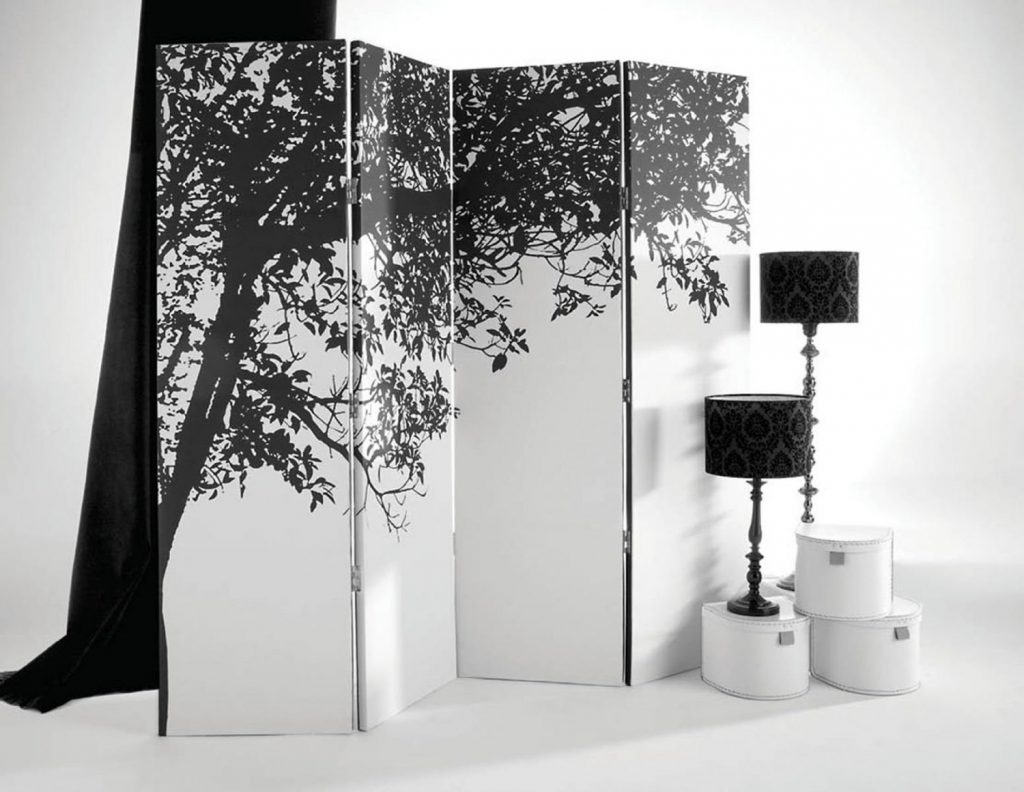 Another contemporary piece. This black and white silhouette designed divider will add the wow factor to a modern chic home.