Nothing is more satisfying than a good night's sleep in one of the most sumptuous and luxurious bed linens available. Many would indeed love to wake up like royalty, and the experience is not out of reach should you wish to grasp it.
Here are 19 of the most extravagant bed-sets available, which should interest those who want something more interesting than just simple linens for their bedroom.
FRETTE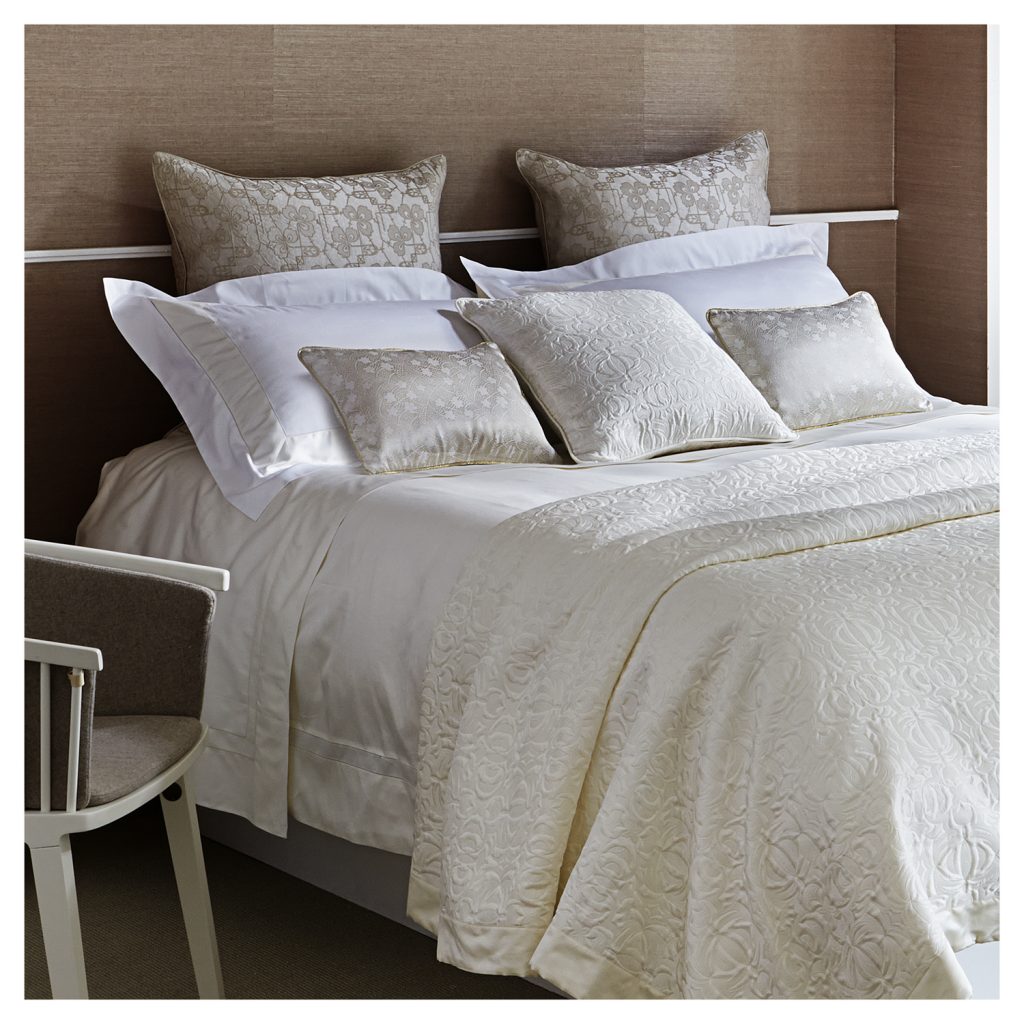 This is undoubtedly one of the most prominent and recognised manufacturers worldwide, and will offer an unparalleled experience if what you are seeking is splendour in a bedset. Frette's history dates all the way back to the 1860s and is often a feature of many 5-star beds worldwide.
Frette sets include anything from pillowcases to duvets, and will be made of only the finest fabrics available with intricately weaved designs unique to the brand. For a uniquely rich set you will not go far wrong by choosing a design by Frette.
JACQUARD BLUE & GOLD BEDDING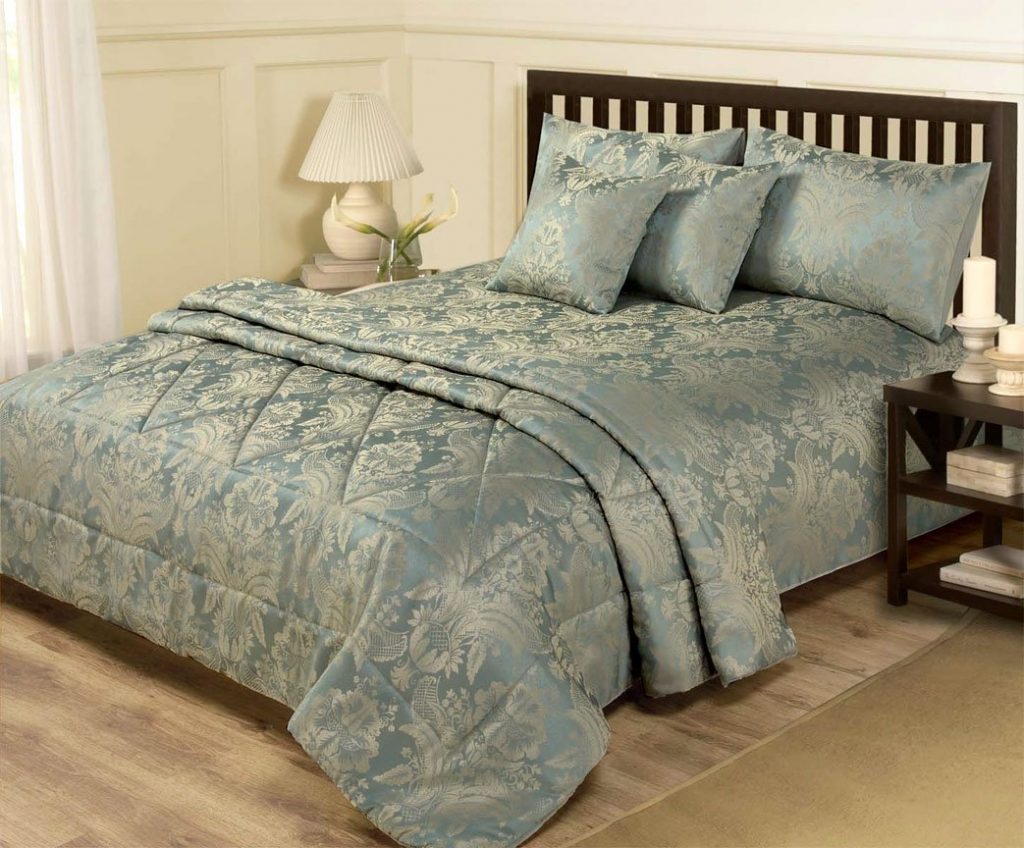 This is a 6 piece comforter set with some ornate floral design, featuring gold and light blues which will surely make you feel relaxed and comfortable. The Jacquard sets will be ideal for spring or summer, and will reinvigorate your bedroom, and add a modicum of style and luxury to awaken passions during the coming warmer seasons.
The strong yet subtly weaved gold accents add something of a sombre touch, creating a welcome contrast with the floral patterns which are the set's prominent feature.
LILI ALESSANDRA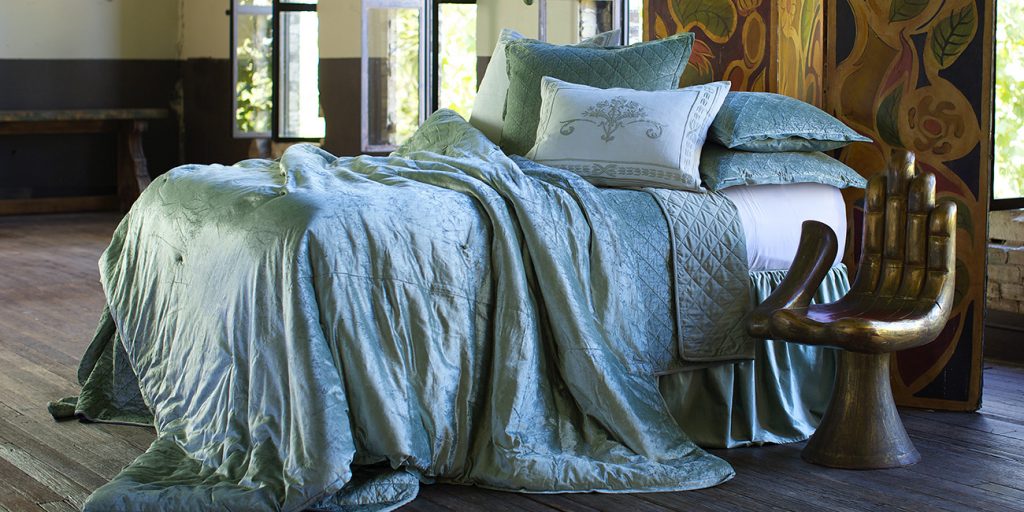 Lili Alessandra is not as well known as some of the brands which will be mentioned here, but it certainly has received much positive attention for its silks, velvets and for its designs. Particularly notable are the pillows which are featured in many Lili Alessandra bed-sets, which are greatly embellished with incredible hand-weaved patterns.
Some of these decorations feature glass crystals which add a touch of the opulently unique in many of their designs. The brand has existed since 2002 and definitely finds a legitimate place among the most luxurious bed-set designers.
WAVERLY RUSTIC RETREAT 3-PIECE QUILT SET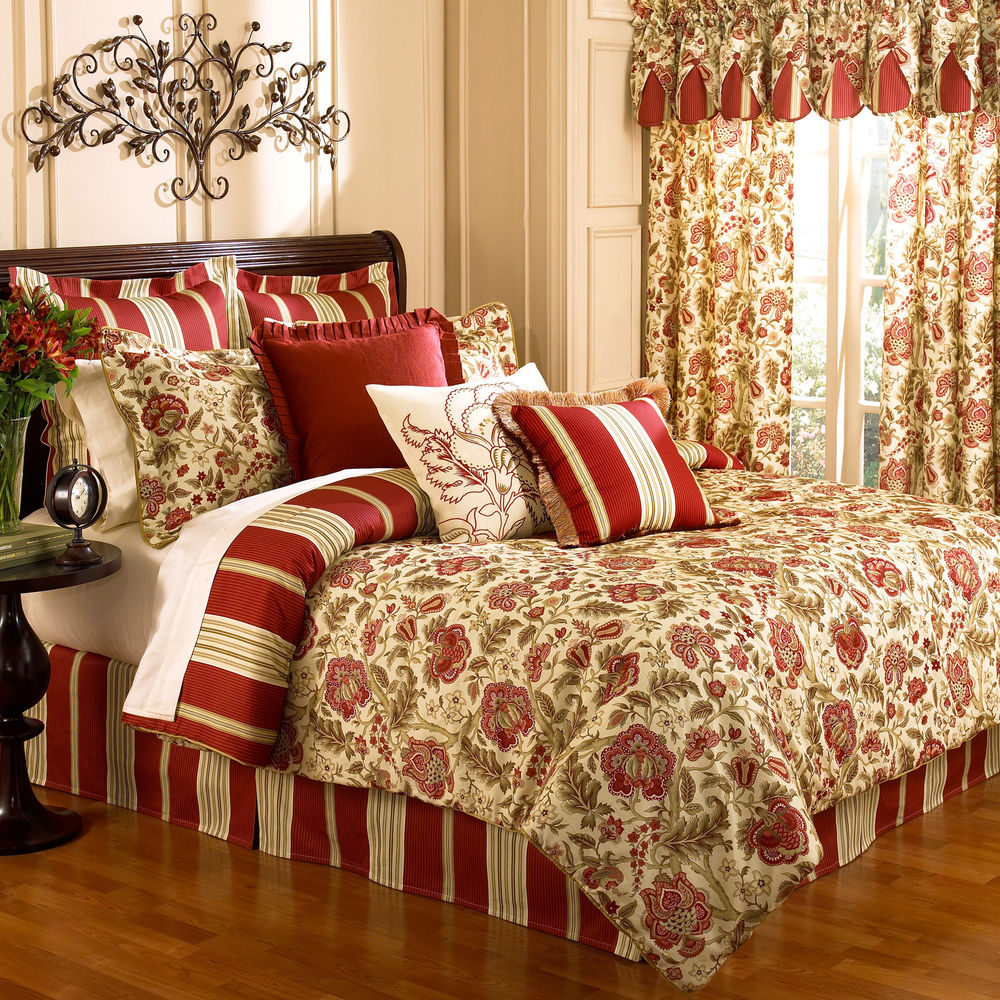 This rustic retreat set features soft beige palettes in detailed and intricate floral and Jacobean paisley designs. This set is pre-washed to make it more durable and also to considerably soften the fabrics used.
The Waverly rustic set will suit any plush bedroom and complement the surroundings in great fashion, particularly during the autumn and winter months. The soft tones featured in this design will suit similarly relaxing surroundings, such as cream-toned walls and a generally softer ambience.
PEACOCK ALLEY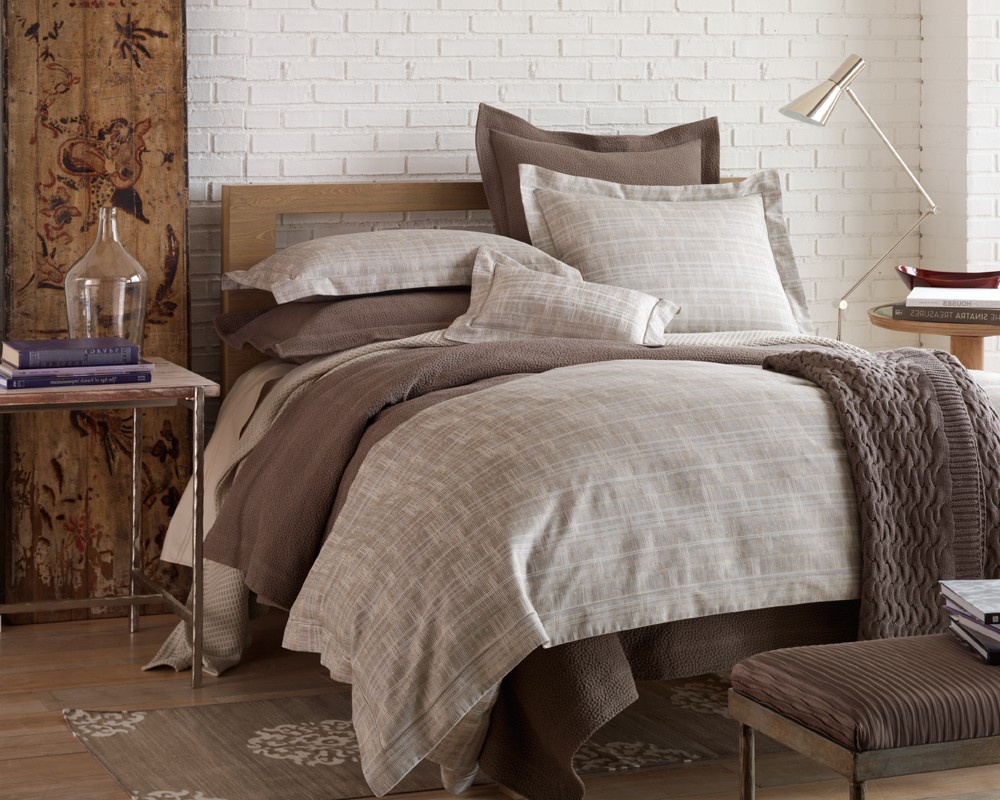 Traditional, classic, sobre: all adjectives which amply suit this brand which, in any instance, maintains somewhat of an elitist stance where bed-set design is concerned. This brand was founded in 1973 by Mary Ella Gabler, and features the best of traditional patters, the highest quality natural fibres and luxuriously elegant colours.
Always with something of a purity of design in mind, Peacock Alley will also provide some custom tailored sets and some unique designs specifically requested by clients. Only the most luxurious will do when Peacock Alley is involved.
BELLA NOTTE
Bella Notte is another eco-friendly company, which is born in America and creates some wonderfully rich designs. These sets are mostly made from organic materials, which can be anything from hemp to a more traditional cotton. Somewhat decadent, these designs are ideal for Bohemian designs or French-oriented interiors.
Bella Notte will evoke something of the artistic in any home, with colourful yet tasteful designs unique to the brand.
EASTERN ACCENTS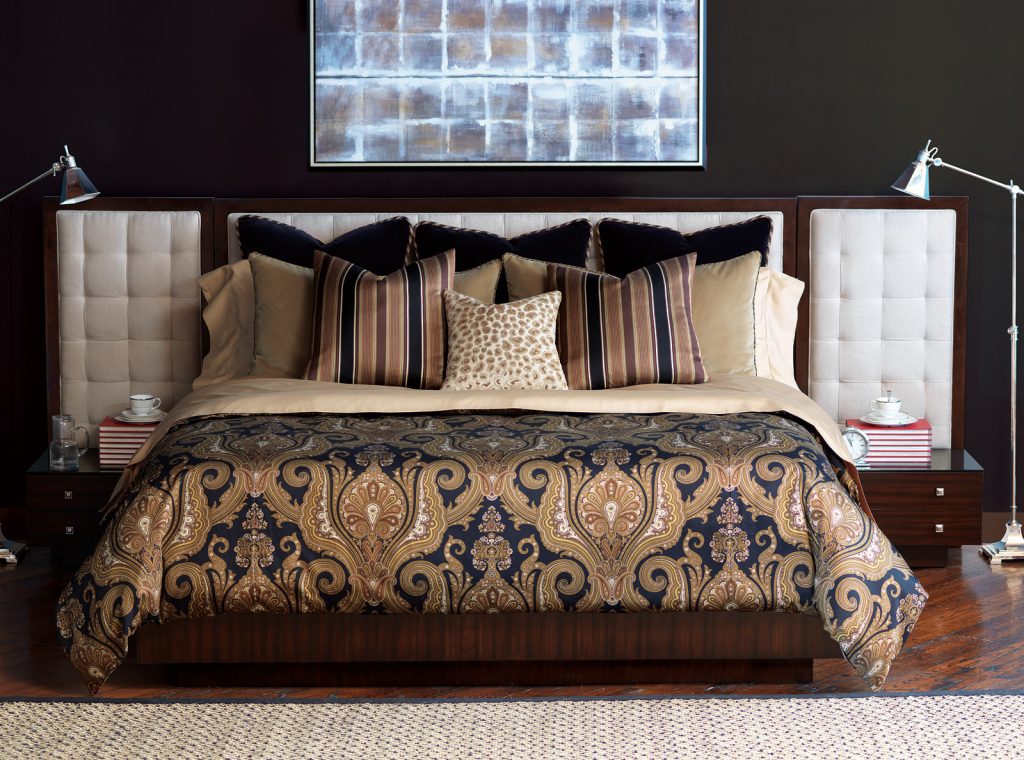 A novel and stylish brand which has featured some notably unique designs, some dubbed eccentric while others innovative. Easter accents is all about flexibility, whether in their visibly iconic sets, perhaps featuring zebra patterns, crimson reds or some more sombre floral designs. The brand is a fusion of many different brands including Marquise, Studio 773, Holiday and more.
Undoubtedly this fusion of brands is what makes Eastern Accents so sought after and unique, and this will likely ensure the brand's success for many more years to come.
SDH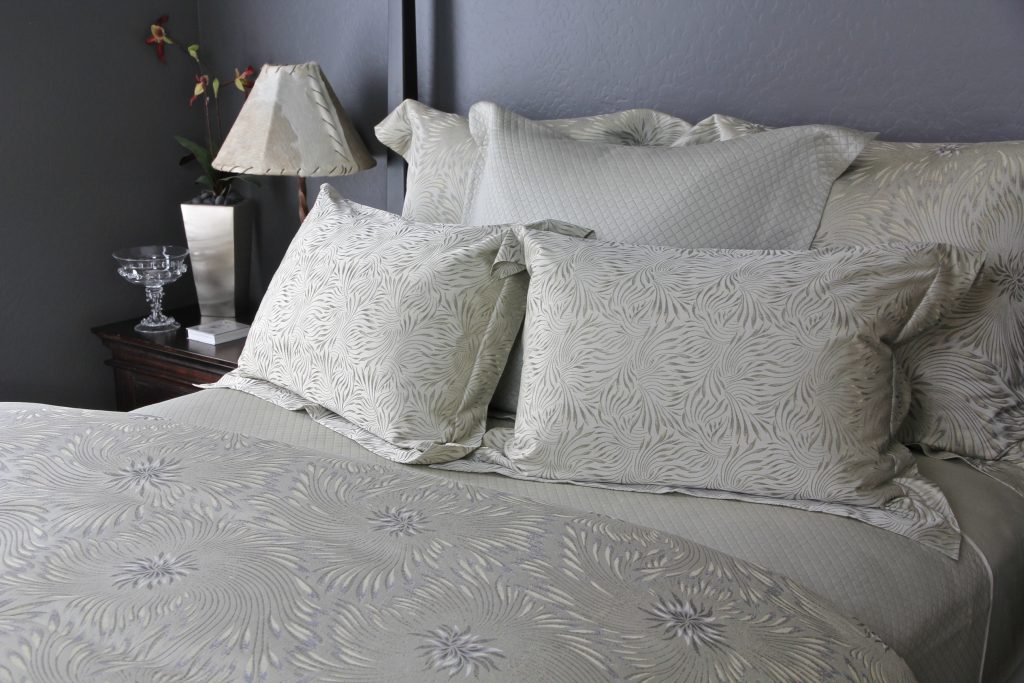 SDH are definitely suited to the environmentally conscious and their sets aren't at all lacking in the design aspect. Born in America, SDH features "Legna" which is the name given to their wood fiber line, which has been their unique specialty for over 25 years.
SDH is ideal for those who enjoy classic designs and traditional patterns, and will enrich any classicist's bedroom.
YVES DELORME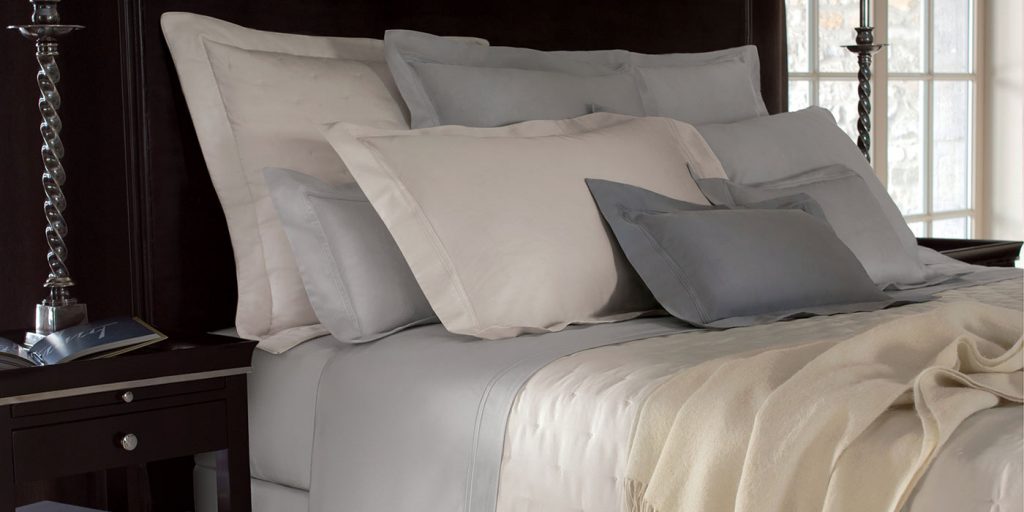 This is one of the many luxury designers which hail from France, another country which is well known for its style and exquisiteness in all facets of life. These linens are made of pure Egyptian cotton, light fabrics which are ideally suited to the warmer months or country's with hotter climates. The elegance and durability of these sets is certainly unparalleled, and Yves Delorme shows how to fuse the aesthetic with the pragmatic.
Design are not overly complex, but perhaps this is exactly what makes these luxury sets so appealing.
ANICHINI
Anichini is born in America and it makes full use of local artisans to create some beautiful sets with more than an oriental touch to them. From Muga silks to Tibetan cashmere, Anichini is bound to evoke the distant orient in the palettes, from dark browns to sparkling golds, and in the labyrinthine designs featured which are as involved as a linen allows.
Anichini sets will include sheeting, quilts, pillows, blankets and much more, and it is definitely a brand which will add something tasteful and stylish to any bedroom.
SFERRA
As you may have guessed this is a brand which was born in a country which is renown for its tasteful and distinctive style, being Italy. This Italian brand was created originally by Gennaro Sferra in the city of Venice, dating all the way back to the year of 1891. Many embroideries come from countries such as Switzerland and Belgium, but Sferra will also employ Irish and French embroideries. Sferra only features the best fabrics and most sumptuous linens in the world, and the bed-sets available here are certainly a sight for sore eyes.
Any bed-set from Sferra, whether featuring double damask or Alencon laces, will change the bedroom into something royal.
DEBORAH SHARPE
This brand was born in Los Angeles and is highly inspired by the local Californian colours seen in the flora and fauna. These are not the only elements which inspire Deborah Sharpe designs however, as they feature strong renaissance and contemporary elements in a design mix which is flexible above all else.
Intricate details, strong colours and luxurious elements form the basis for this brand, which may appeal to a variety of tastes.
AU LIT FINE LINENS
This brand is a family owned business originally founded by Peggy Byron and Joanna Goodman, and features designs which are almost exclusively sourced in Mediterranean countries like Italy or Portugal. These bed-sets feature 100% Egyptian cottons and will be particularly suited to those who wish for a light ambience in their bedroom, without compromising on luxury and style of course. Au Lit Fine Linens also place emphasis on high durability, and their designs essentially remain simple and not overly intricate, but are still quite unique.
This brand is also about comfort, so those who want a little more style in the bedroom will not need to completely abandon the idea of a good night's sleep.
LIBECO
Originally founded in 1858 in Belgium, Libeco are a brand which feature stylish yet highly functional designs suited to anyone's desires for a royally luxurious environment. Featuring mostly linen fibres, these bed-sets are definitely suited for the summer months, and will evoke something of the middle-eastern in the bedroom. Libeco is a firmly established brand and will not disappoint in terms of style and design, but will also promise the highest quality materials which ensure a durable and long-lasting high-end product.
Again, highly suited to those who not only enjoy a modicum of style, but also those who require a highly durable product and something functional at the heart of the design.
COYUCHI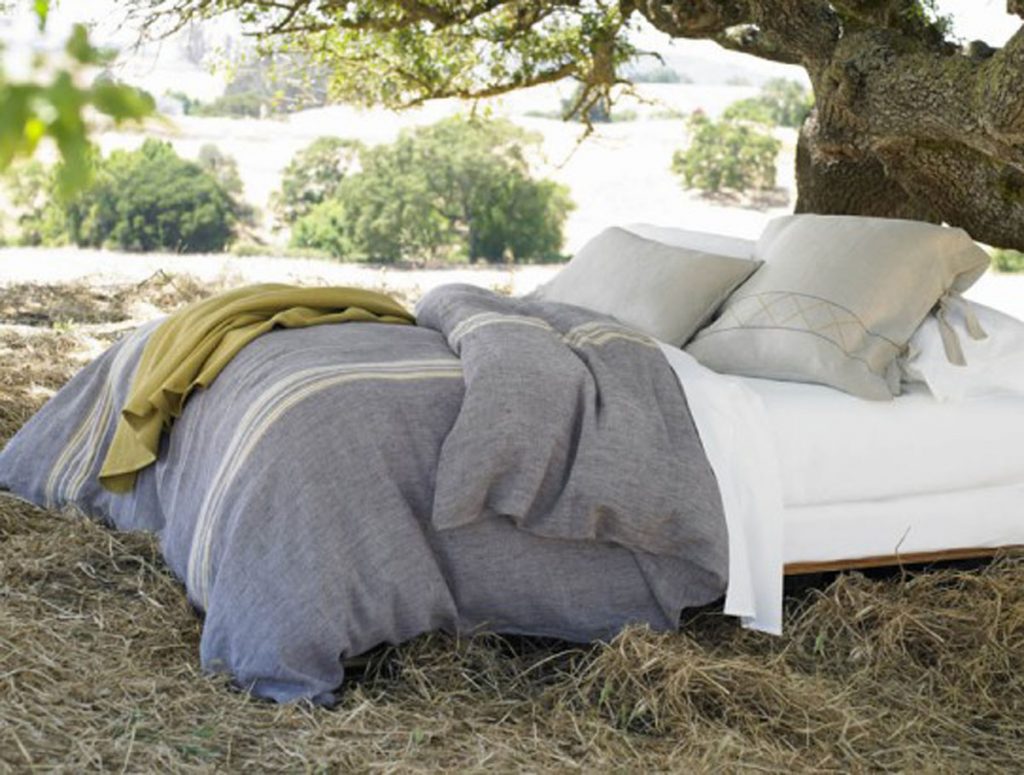 Another California-based company, which offer a variety of nature-inspired bed-sets. Luxurious sets which are built for comfort, and only the highest quality cotton which make up some unique designs.
Coyuchi promises balance above all, with particular focus on comfort and rejuvination in the designs provided. If you are seeking both a plush and zen experience in the bedroom, then Coyuchi is the product for you.
MATOUK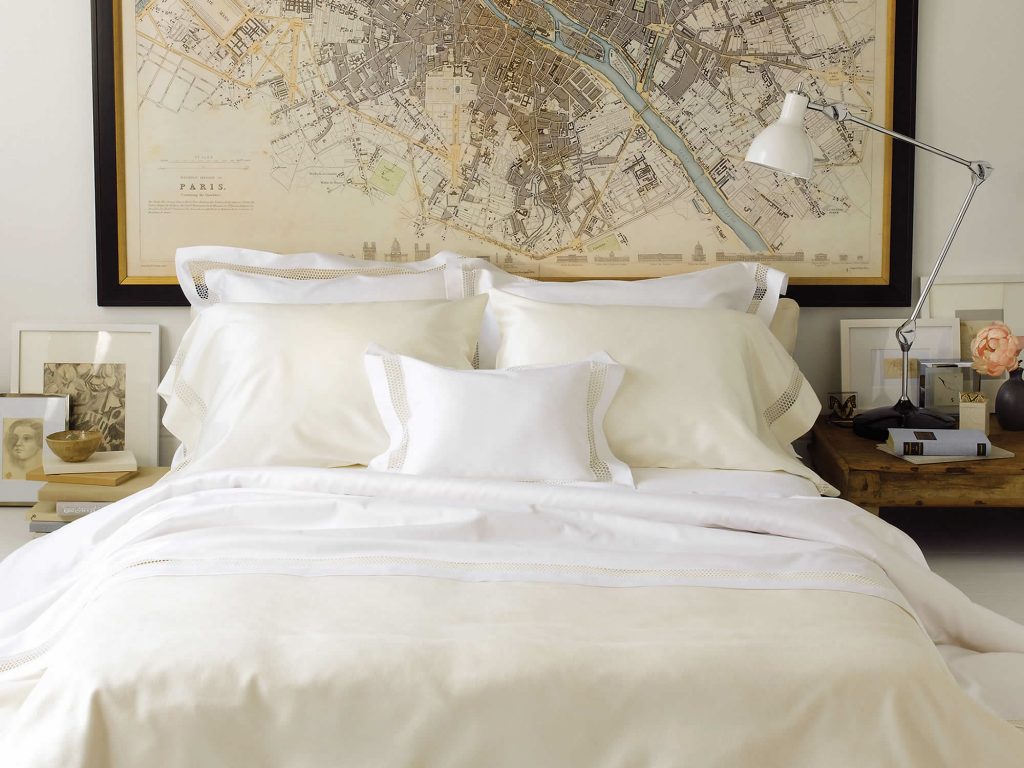 This brand has existed for over 80 years and has always provided the highest quality of designs and value combined. This does not mean that the brand is any less luxurious as Matouk strongly remains some of the most exclusive and best loved bed-sets in the world. Mostly featuring traditional designs and light palettes, these bed-sets are ideal for those wishing for some sparkle and positive ambience in their bedroom.
Matouk designs are born from a collaboration between Lulu de Kwiatowski and John Matouk & Co, and will amaze many clients seeking the most exclusive and best designs around.
ANNE DE SOLENE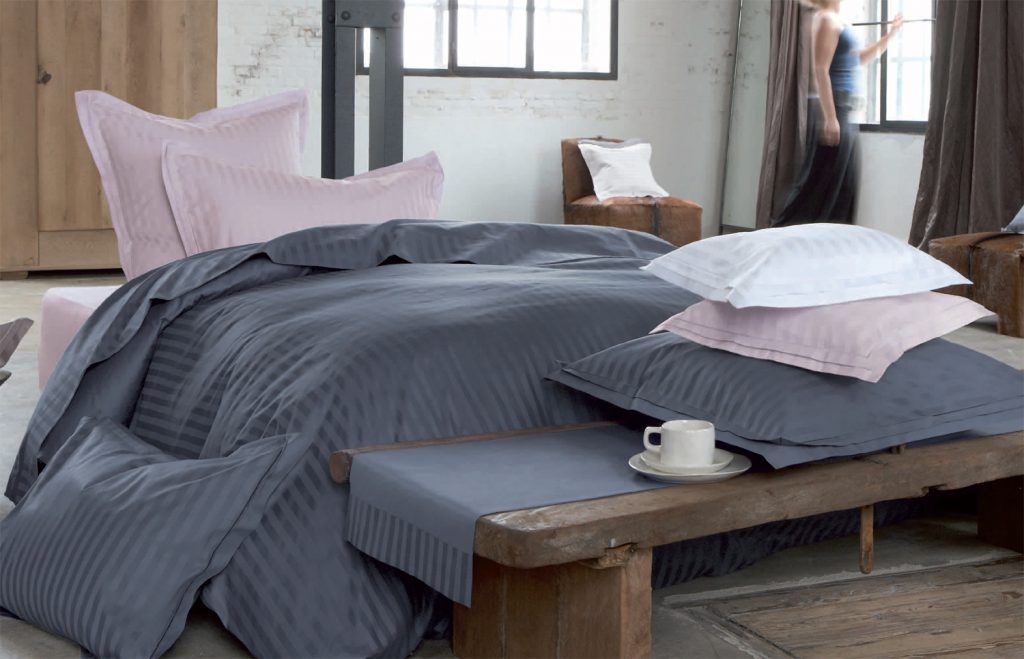 A brand which was established in 1967 by Baron Riston and his wife, which promises all the glamour and stylish feature you'd expect of a brand born in the hear of France. Born in Les Vosges, this brand promises quality, excellence and exclusivity with a great variety of bed-sets and linens which cover the entire spectrum. Whether you are looking for embroided linens, plain colours, intricate design or a more sober style, Anne de Solene will be sure to provide it.
Anne de Solene promises only the highest quality fibres, whehter you are looking for exquisite silks or cotton, with some of the most notable lines including Illusion, Numero 3, Echappee Belle and more.
JALLA
Another brand based in France which brings all the colour, vibrancy and spirit of the Mediterranean in its designs. Jalla designs are all about energy and will reinvigorate your bedroom if it lacks in style and is looking particularly drab and bland. From impacting bright yellows to soft pinks, the palettes here at spectacular and the designs iconic.
Featuring notable designs like Cadix, Calypso, Collector and more, this brand which exists since 1881 will be sure to provide you with the stylish touch that is needed in your bedroom.
OLIVIER DESFORGES
Three is the magic number, so we thought we'd end with another French designer which promises traditional designs and the highest quality cottons in their bed-sets. Contemporary designs which make any bedroom thrive, and a number of memorable lines like Mandoline, Basile or Lumieres sure to bring your bedroom to life in an instant.
We hope you now have at least some vague idea of what to look for in a luxurious linen, so that your bedroom will look sumptuous and plush once again.