When revitalising your bathroom, a luxurious shower panel can add unique style, striking aesthetics, as well as creating an indulgent shower experience that you can enjoy every day.
Shower systems provide various spray settings for a more relaxing shower, as well as massage jets and enhanced temperature control, making them a practical as well as attractive choice to liven up your bathroom.
Luxury panels recreate the experience of a spa within the comfort of your own home, and are guaranteed to please the whole family. As well as being attractive and enjoyable, the shower systems we've featured below are durable and long-lasting, meaning you can be reassured that your money is well spent.
So don't just dress up your bathroom; transform it with a new shower system that will leave you wondering how you ever lived without it.
1. BLUE OCEAN THERMOSTATIC SHOWER PANEL WITH RAINFALL HEAD IN BAMBOO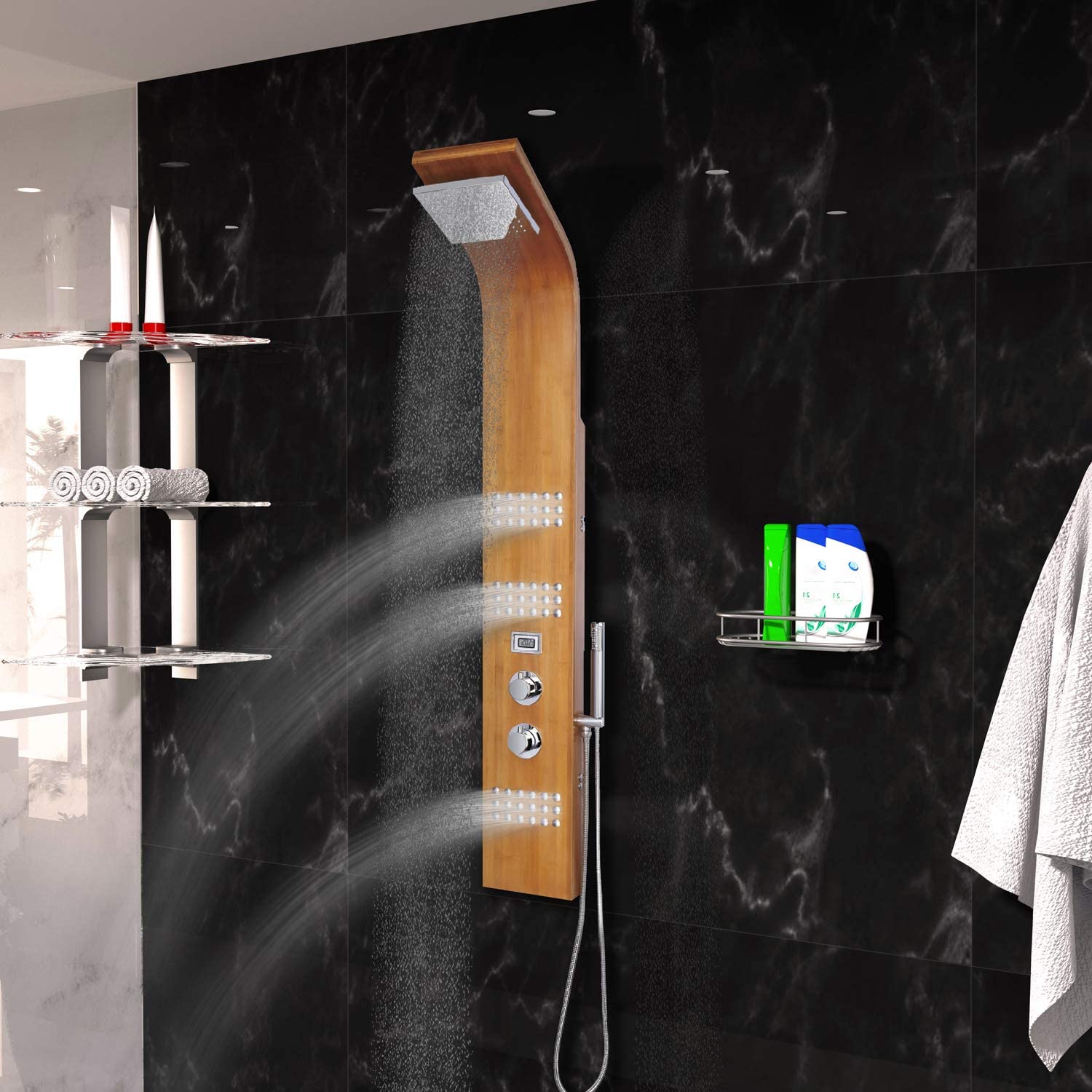 This unusual panel is sure to make a talking point in your bathroom. Made from natural bamboo, this sleek modern design features a rainfall head, three body nozzles and a handheld attachment.
A temperature display helps you to select your optimal water heating, and the rainfall head is adjustable for the ultimate control over your showering experience. This durable and attractive shower set is perfect for those wanting to step outside of classic chrome and steel features.
2. DREAMLINE RAINFALL SHOWER PANEL

Available in a beautiful satin silver finish, the DreamLine shower panel offers a rainfall head, massaging sprays and a convenient handheld attachment for the ultimate in shower control.
The classic and elegant design of the DreamLine is sure to look great in any bathroom, and is the perfect choice for a tasteful upgrade to your current shower.
3. DYCONN THERMOSTATIC RAINFALL AND WATERFALL SHOWER PANEL

Available in a stark and dramatic black, the Dyconn shower panel is perfect for adding a modern twist to your shower suite. Featuring both waterfall and rainfall settings, the Dyconn shower panel also offers a handheld attachment and is made from a durable aluminium alloy. Perfect for those seeking a more unusual shower panel, this model is guaranteed to make a statement.
4. BLUE OCEAN THERMOSTATIC SHOWER PANEL WITH RAINFALL HEAD

With 8 adjustable body nozzles for a massage feature, this shower panel from Blue Ocean promises a powerfully relaxing shower for a spa-like experience within your own home.
A small bonus to this shower set is the built-in mirror and shelf it provides, and its stainless steel finish will look beautiful in any bathroom. For added control, this shower panel also offers a handheld multifunctional showerhead, making this panel the perfect choice for those seeking plenty of options in their showering experience.
5. ATLANTIS BRUSHED NICKEL RAIN SHOWER SYSTEM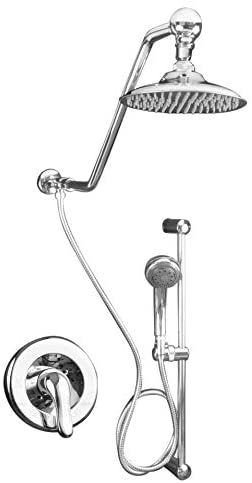 Featuring 160 spray jets, the luxurious Atlantis Faucet System offers the option of both a rainfall head and a handheld attachment. The classic silver brushed nickel of this system is sure to look stylish in any bathroom, and is durable and long lasting. This product is perfect for those seeking a more antique or classic looking fixture.
6. ASTON STAINLESS STEEL SHOWER PANEL WITH RAINFALL HEAD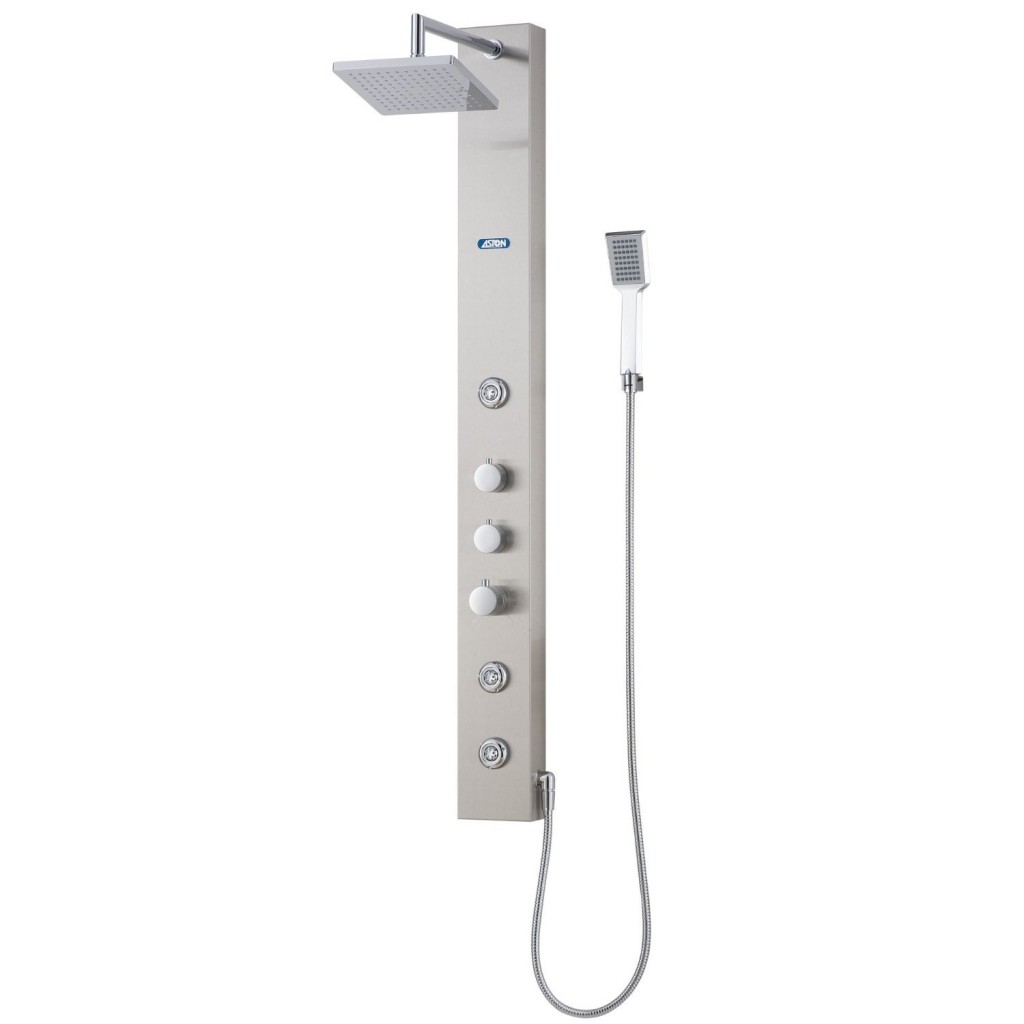 Made from stainless steel with chrome accents, the Aston shower panel features a rainfall shower head and three directional body jets perfect for recreating a spa experience at home. This shower set is durable and attractive whilst still remaining understated; the perfect accessory for a tasteful and simply decorated bathroom.
7. BLUE OCEAN STAINLESS STEEL SHOWER PANEL WITH RAINFALL HEAD

Offering the option of a waterfall or rainfall shower head, the Blue ocean stainless steel shower panel also comes with six body nozzles and a detachable handheld head for the ultimate convenience.
This lightweight and durable system features a unique and stylish curved design for a modern twist on the shower, perfect for livening up your bathroom.
8. FONTANA LED CEILING MOUNT RAINFALL SHOWER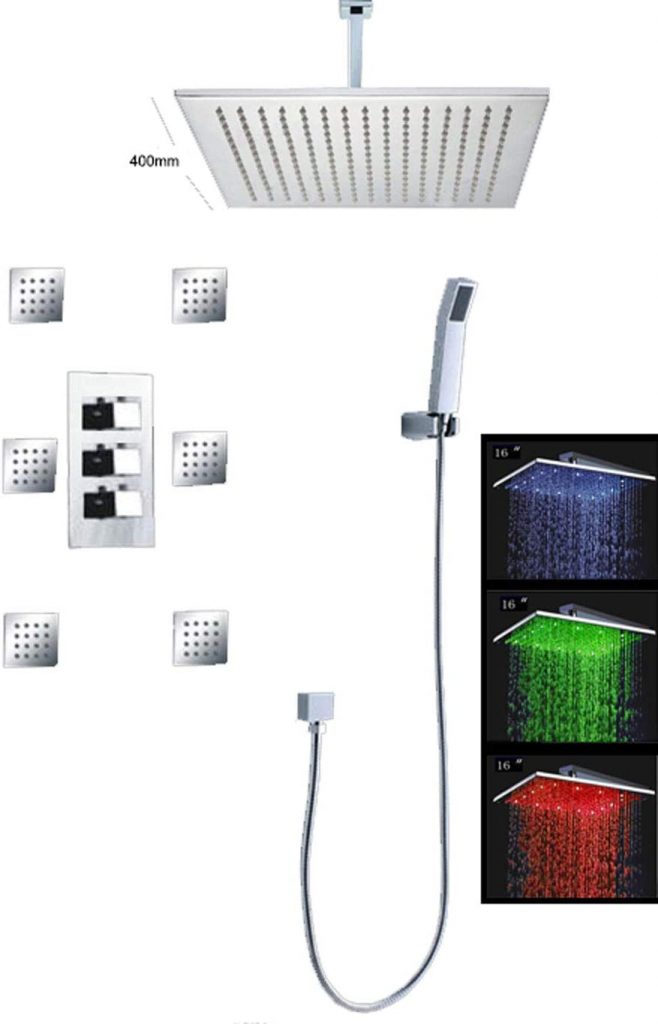 The Fontana LED shower set is guaranteed to add the wow factor to your bathroom. Measuring 16 square inches and mounted to your ceiling, this rainfall shower head comes with red, blue and green LED lights for a truly immersive and exciting experience.
As well as temperature sensitive lighting, the Fontana shower set also boasts six massage jets and an attractive stainless steel finish guaranteed to look perfect in any bathroom.