Bio ethanol fireplaces offer a number of practical advantages over log and gas fireplaces and still provide homes with a superb aesthetic quality. They are easy to use, produce clean emissions and do not require a chimney or flue, as they do not give off smoke.
This allows for easy installation and, in many cases, provides the flexibility to move the fireplace around when necessary.
When purchasing a bio ethanol fireplace, a number of things have to be taken into consideration, including its appearance, size, price, safety features and primary function.
For example, some fireplaces are free-standing while others are wall mounted. Those with small burner capacities are primarily decorative, providing ambience while those with larger capacities are better for instances where a quality heat source is needed.
Below, we have included the 12 best luxury bio ethanol fireplaces, with a range of different styles to suit all tastes.
1. BIO-ETHANOL FIREPLACE HORUS ZEN BLACK
This sleek fireplace has a tank capacity of 2 litres and gives out 3.5kw of thermic power per hour. The sections to the side of the white stones act double up as a shelf or table top.
Dimensions: 120 x 45 x 34 cm
2. LA HACIENDA BIO ETHANOL CURVED FIREPLACE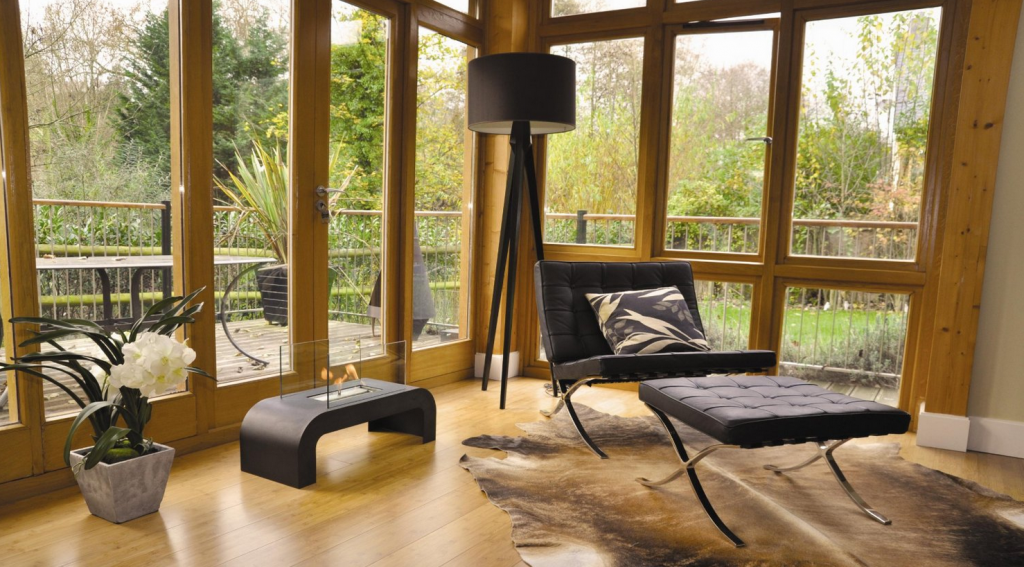 The cheapest fireplace on our list and one of the smallest, the main advantage of this table-style option is its portability.
Indeed, it can be moved around the house with ease and used in any room, or in a garden or conservatory. It has a modern design, is made from powder coated steel and its fires are able to burn for more than two hours at a time.
Dimensions: 75.5 x 45.5 x 30 cm
3. IMAGIN MARLOW BIO ETHANOL FIREPLACE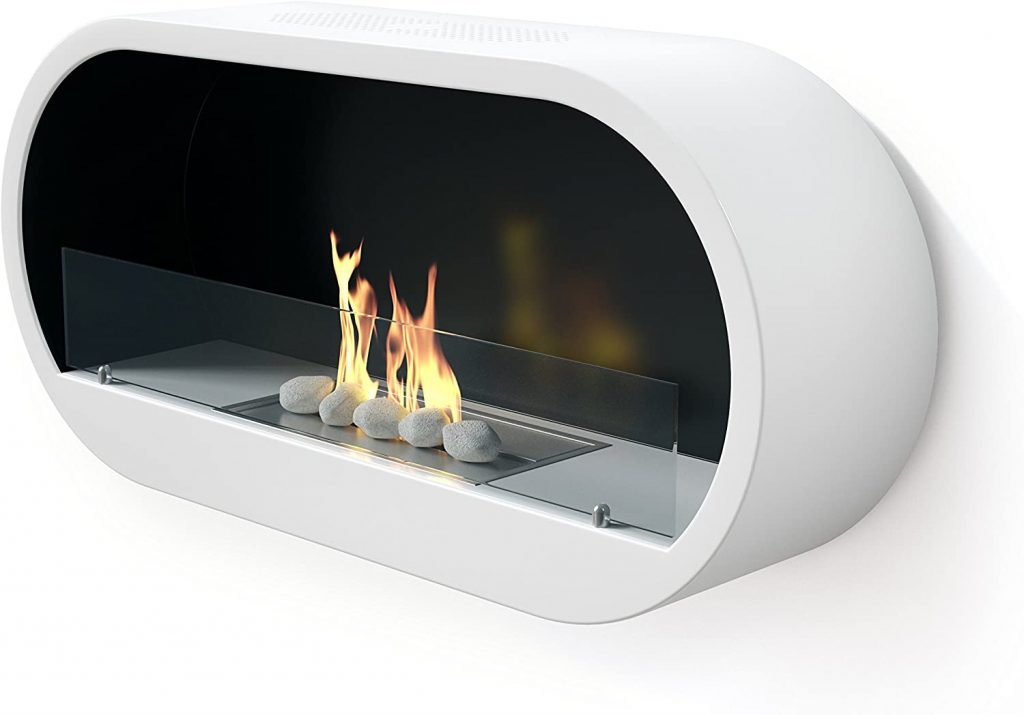 A stylish, modern-looking fireplace, this wall-mounted offering from Imagin has a glossy white finish and a curved appearance, helping it to fit in well with many contemporary living rooms.
Its twin burners can be used individually or in conjunction with one another, allowing for excellent temperature control. The fireplace makes use of high-quality safety glass, has a vent on the top and the burners' 1-litre capacity will last for around 3 hours.
Dimensions: 108.6 x 47.6 x 25.6 cm
4. MODA FLAME DEVANT VENTLESS BIO ETHANOL WALL MOUNTED FIREPLACE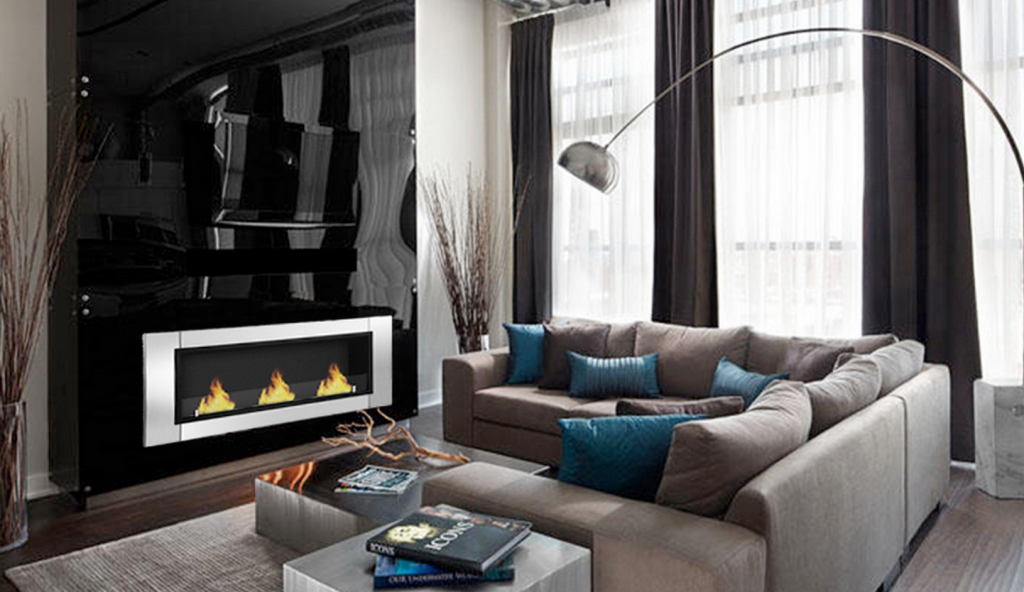 The most expensive of our listed options, this indoor ventless fireplace is able to bring a sense of elegance to any living room. Constructed from stainless steel, with a safety glass covering, it can be wall-mounted or fitted into a recess. Its three 1.5-litre burners provide a great level of warmth and are able to burn continuously for 4-6 hours.
Dimensions: 136 x 54 x 14.5 cm
5. BIONL24 3 BURNER BIO ETHANOL FIREPLACE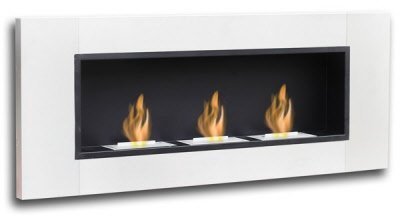 This fireplace can be used either indoors or outdoors and is made from a durable sheet steel material. Its three separate burners, each with a 1.5-litre capacity, ensure that a high level of heat can be generated and with a width of 136.5cm, it is ideal for placing on a large wall space.
Dimensions: 136.5 x 55 x 15 cm
6. CELIN DELUXE BIO-ETHANOL FIREPLACE

Made in Germany, this easy-to-install bio ethanol fireplace has an open front and is ideal for wall-mounting or fitting into a recess. Its two adjustable burners provide a heat output of 3.5 kw and are able to burn for around six hours on a medium heat.
Additionally, the fireplace is available in six different colours, making it easy to match to an existing colour scheme.
Dimensions: 110 x 40 x 15 cm
7. BBT ORIENTAL FIREPLACE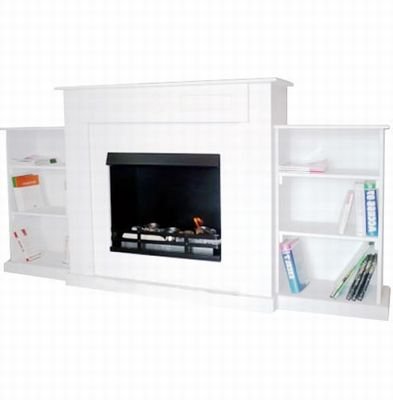 Made from white-painted MDF wood and packaged complete with two sets of shelves, this oriental bio ethanol fireplace can be moved around easily, allowing for rooms to be reorganised whenever necessary.
The fireplace comes pre-assembled, can be used with bio ethanol fuel or gel and its classic design allows for ornaments or other decorative items to be placed on top.
Dimensions: 200 x 102 x 38 cm
8. ETHANOL24 PERLA DESIGN BIOFIREPLACE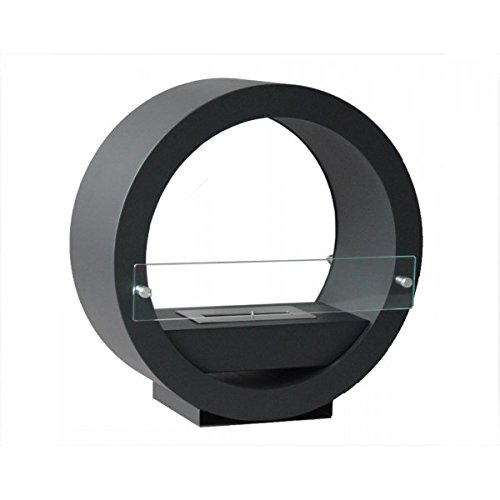 Ethanol24's Biofireplace has a modern design, is free-standing and is smaller in size than many of the other fireplaces on the list, making it ideal for use in smaller rooms, with more confined spaces.
It arrives pre-assembled and can be used with standard bio ethanol fuel, or with bio ethanol gel. Moreover, the fireplace's INOX steel burner has a 1.5-litre capacity, allowing it to burn continuously for hours.
Dimensions: 62 x 62 x 25 cm
9. RGE DESIGNS MDF / GLASS WALL-MOUNTED ETHANOL FIREPLACE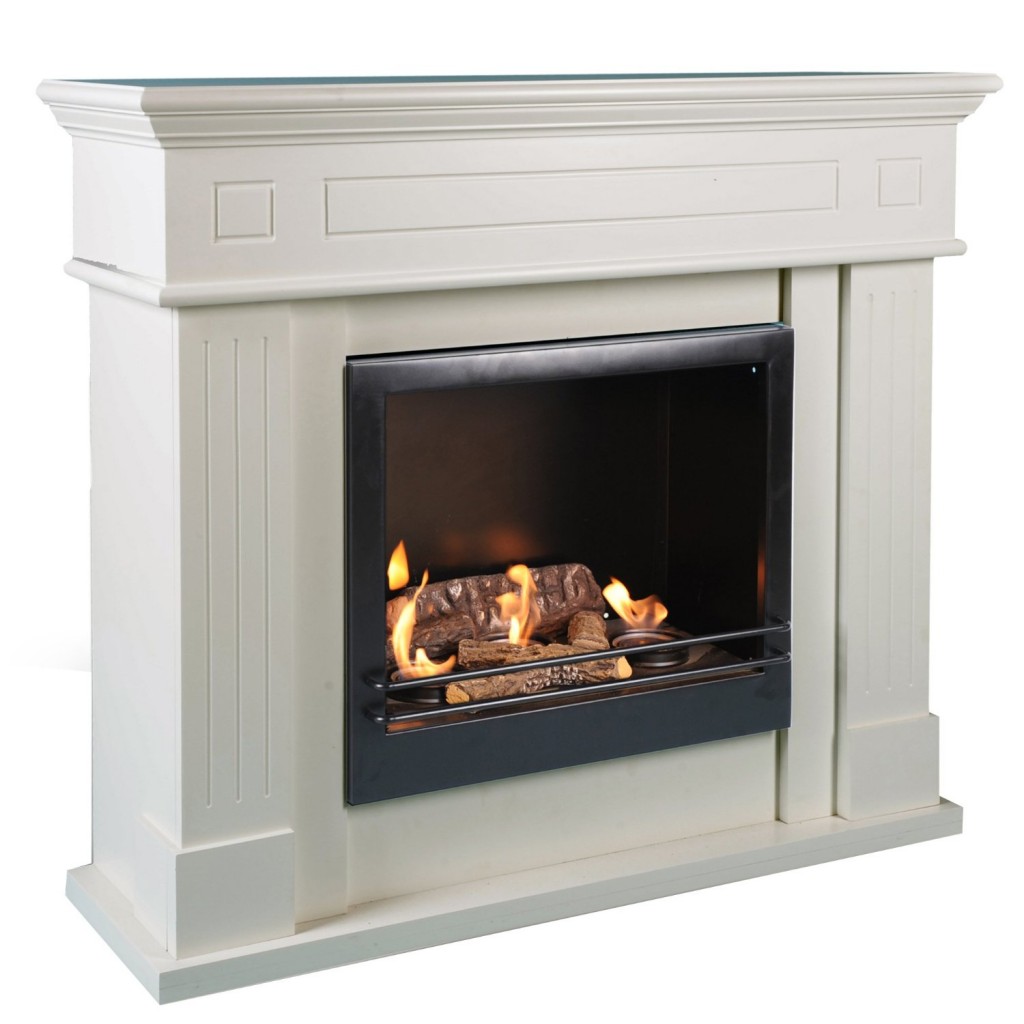 This classy, wall-mounted bio ethanol fireplace has a Georgian-style design, with a durable, white lacquer finish. It comes flat-packed, but can be assembled easily and a ceramic log pack is included.
In addition to its aesthetic quality, the fireplace is able to provide a decent amount of heat, and its 3.3-litre capacity allows it to burn for approximately 15 straight hours.
Dimensions: 115 x 100 x 54 cm
10. FUEGO BIO ETHANOL FIREPLACE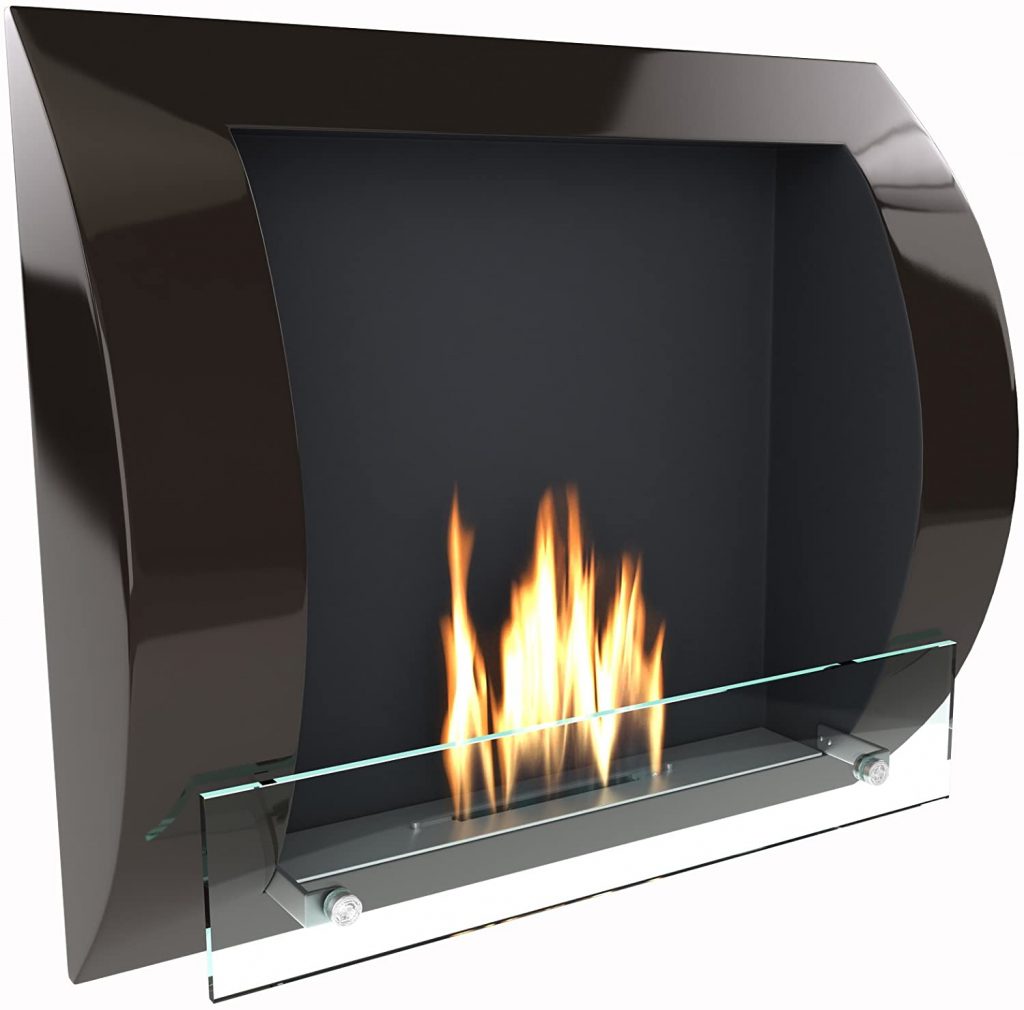 Beautifully designed, with a black, glossy matt finish, this is a superb option for those looking for a fireplace with a classy aesthetic appeal. Its burner is made from high grade materials and produces a good flame and its 1-litre capacity is enough to keep it burning for around three hours at a time.
Dimensions: 66.4 x 51.7 x 18 cm
11. GARDECO BIPFP2 CELINA BIO-ETHANOL FIREPLACE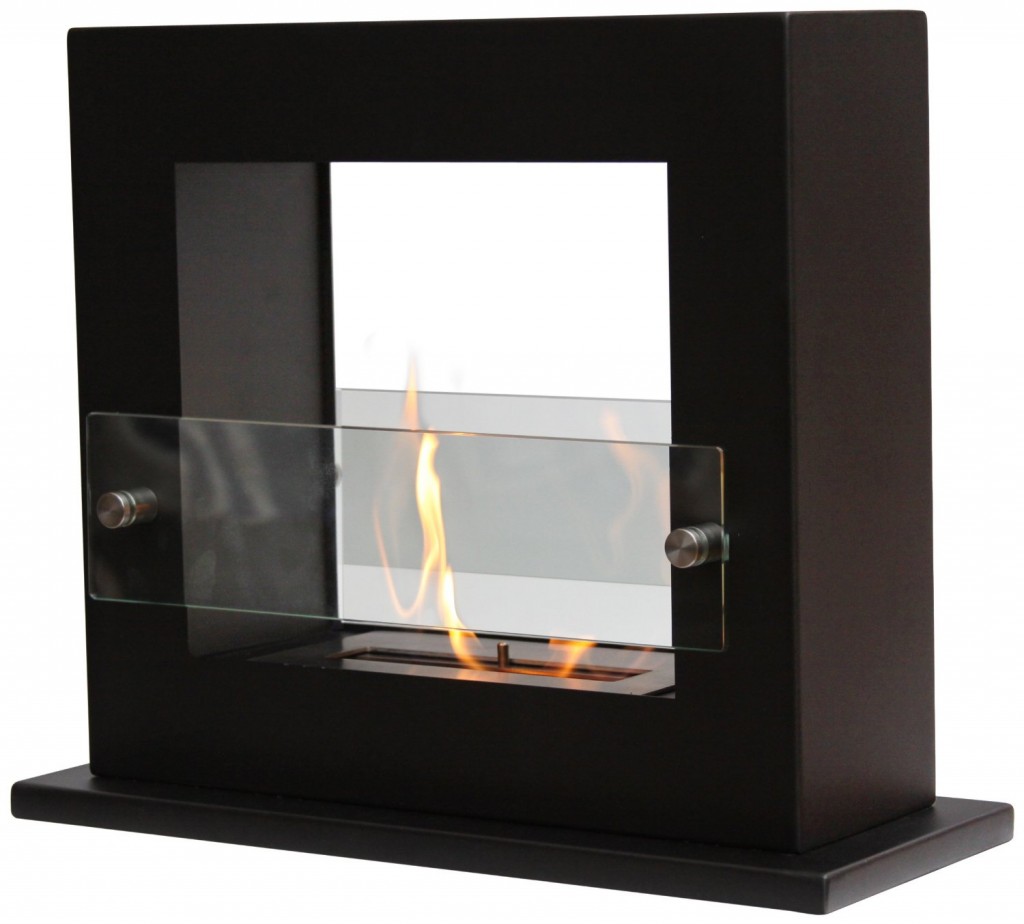 This free-standing black fireplace is another great option for when portability is a priority, as it can be easily moved around the house to wherever heat is needed. Capable of instant lighting and extinguishing, its burner has a capacity of 1.3-litres and is able to burn for several hours, even outside.
Dimensions: 59.4 x 47.4 x 24.8 cm
12. ETHANOL FIREPLACE LUXUS GLASS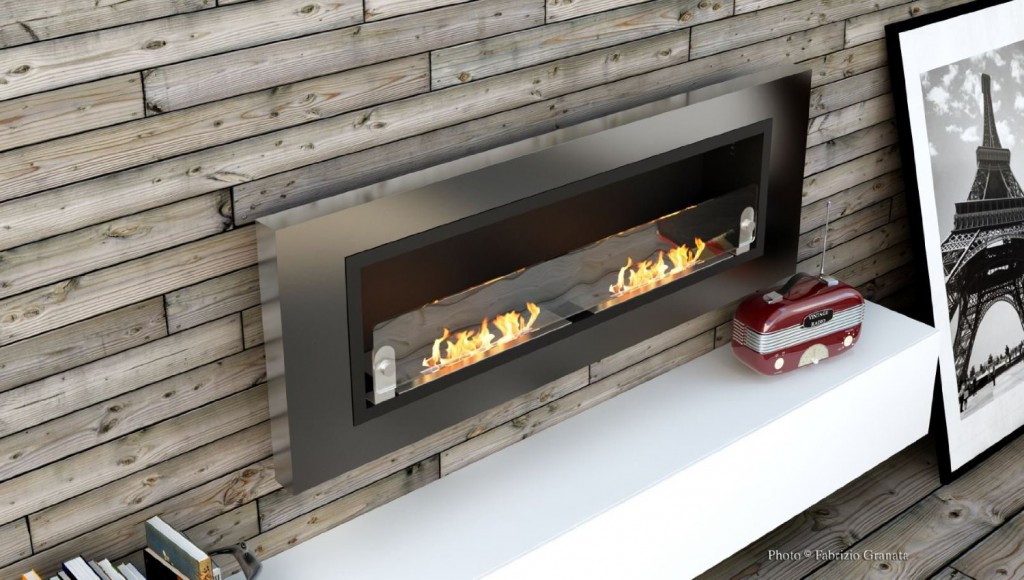 This fireplace comes in three colours each with an anti-rust metal coating. It includes two 1.5 litre bio-ethanol burners, a protective glass shield, and is easy to install in any home.
Dimensions: 110 x 54 x 15 cm