Vanity units offer increased function and storage over classic sinks. Having a second sink available for "Him" or "Her" can be a real time saver in the mornings or when getting ready of an evening.
The wealth of extra storage space over single vanities also means belongings and toiletries can be kept separate and better organized.
With the array of styles, sizes and finishes, there is sure to be a double vanity unit that will catch the eye of anyone seeking added luxury for their bathroom space, with a generous helping of practicality.
Classic sink and pedestal options, while easy to maintain, simply don't compare in terms of luxurious style and functionality.
Here are twelve of our favorite double vanity units.
1. VERSAILLES BATHROOM VANITY UNIT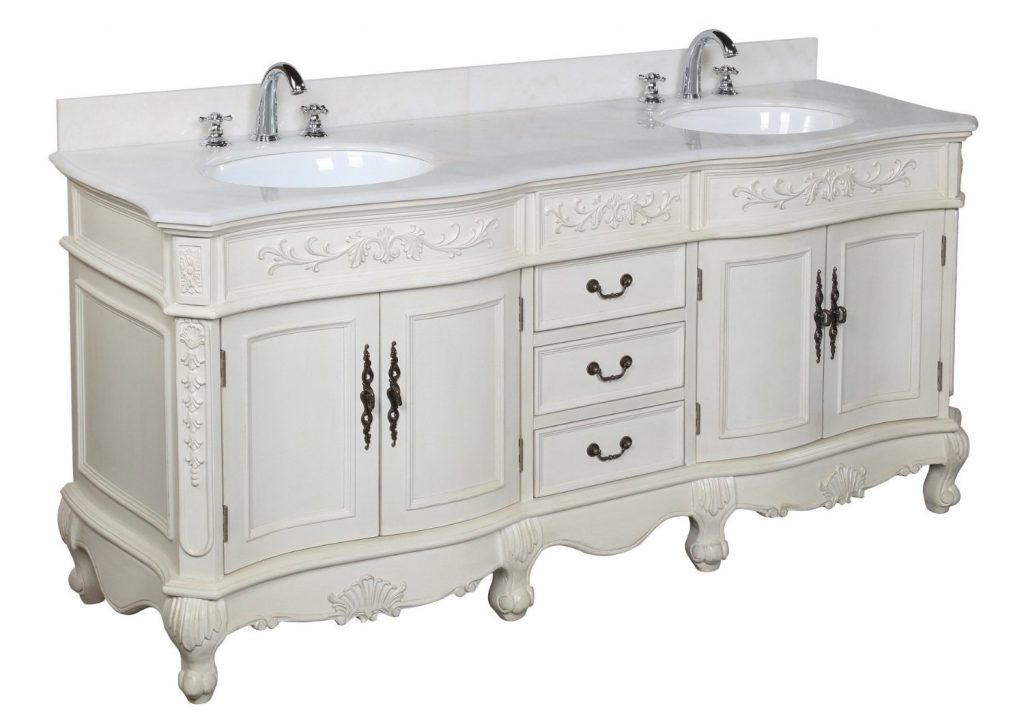 The Versailles unit offers neoclassical luxury styling, sure to lend itself to any space. The piece includes soft-close drawers and ceramic sinks, along with a solid wood construction.
Its white marble countertop is complemented by the glamorous detail of the panelling. Also offered is a matching backsplash and beautiful faucet set.
Size: 35"H, 72"W, 23"D.
2. MADISON VANITY UNIT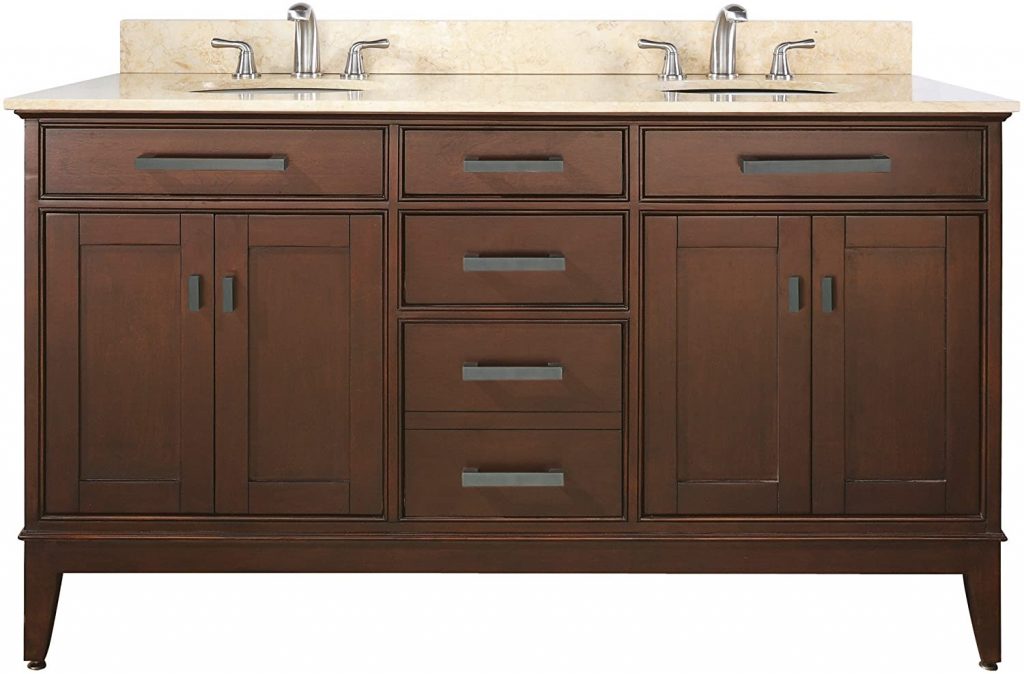 This unit is offered in a tobacco finish with a Galala beige marble countertop wrapping beautiful white sinks.
A classy feel is provided by both soft-close drawers and doors while practical elements include the adjustable interior shelves and leg levers; the perfect solution to those more cumbersome storage requirements or irritating uneven floor problems.
Size: 35"H, 61"W, 21.5" D
3. MOSCONY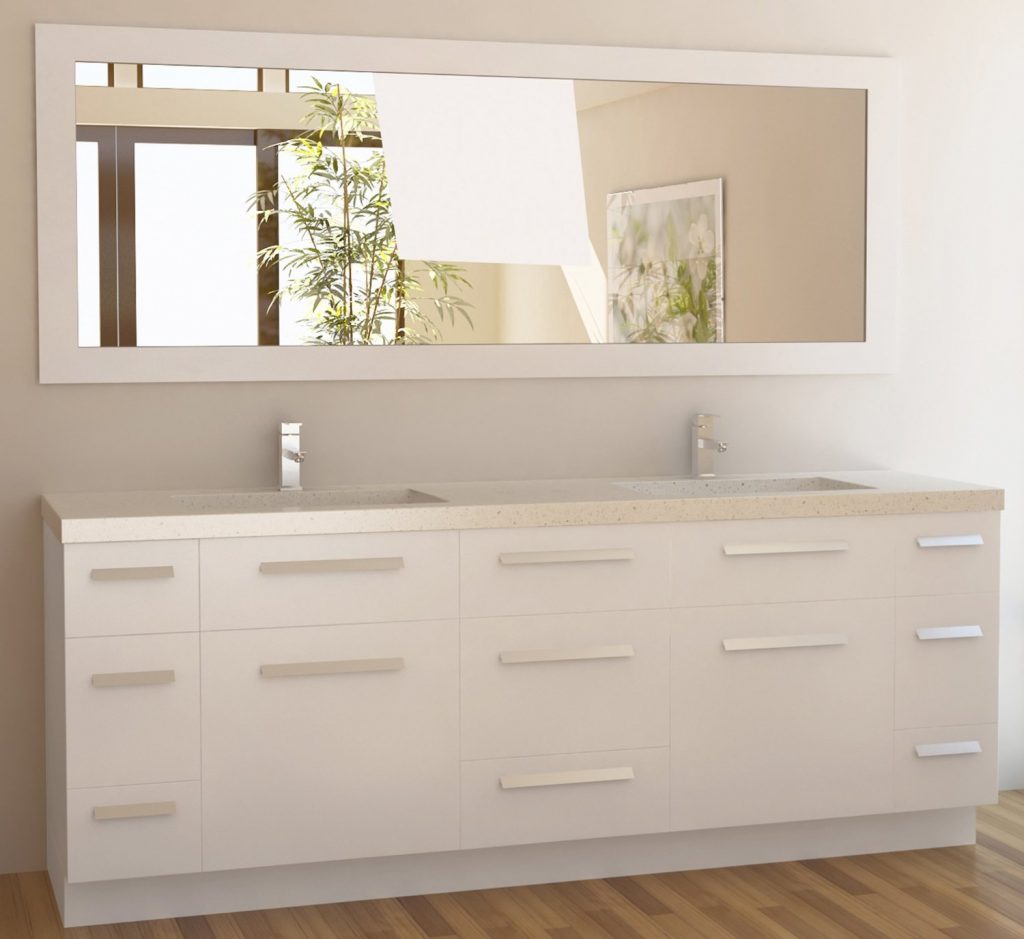 This beautiful example of modern design, finished in a satin nickel effect, offers a tasteful styling option for any bathroom. A large amount of storage is offered in its five soft-close doors.
The vanity unit is offered with a white quartz top while the large mirror is sure to accent a wonderful sense of space in a smaller sized room.
Size: 40"H, 84"W, 22" D
4. LONDON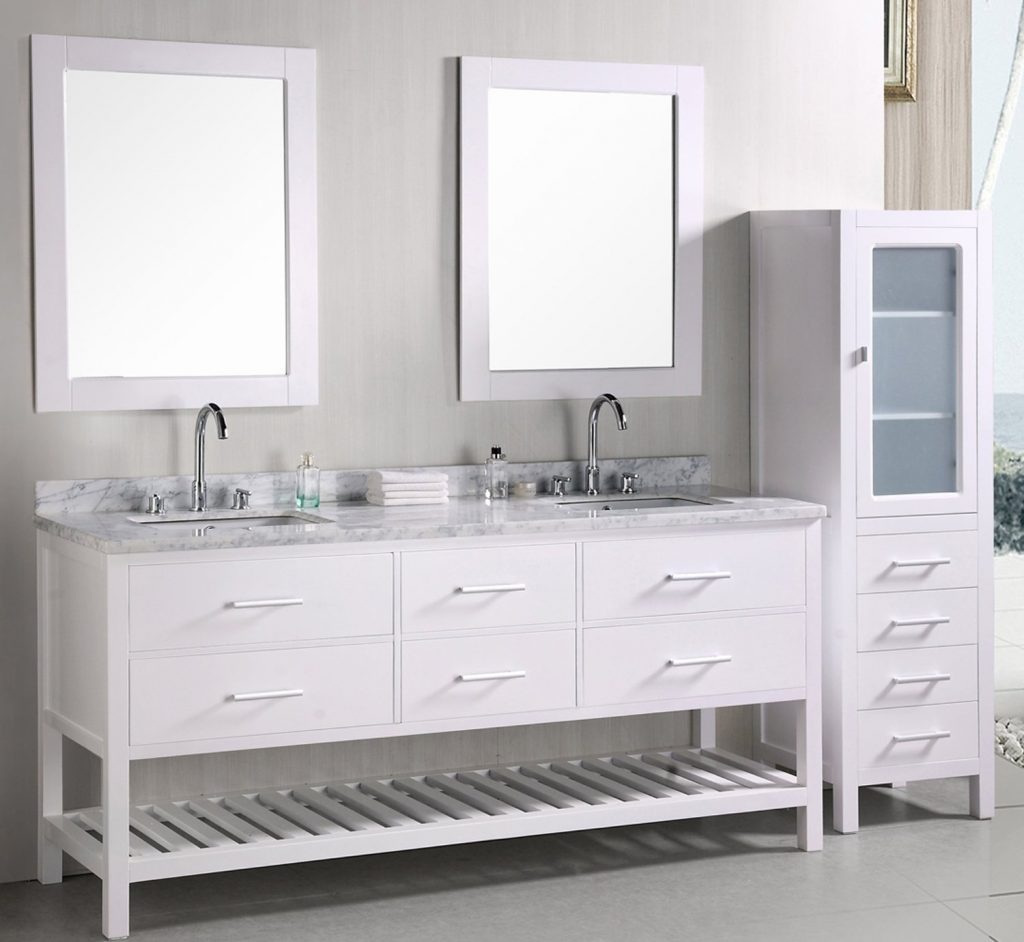 The London boasts a solid oak cabinet construction support a stunning Carrara marble counter-top, sure to impress all comers.
The contemporary styling of the cabinets, coupled with the ceramic sinks and chrome drains scream "chic" while the classic nature of the marble offers an equally sophisticated, if differently inspired touch.
Add to that the generous storage and you have not only a centerpiece for your bathroom, but a utility that you are sure to come to love.
Size: 35.5"H, 72"W, 22" D
5. AUSTELL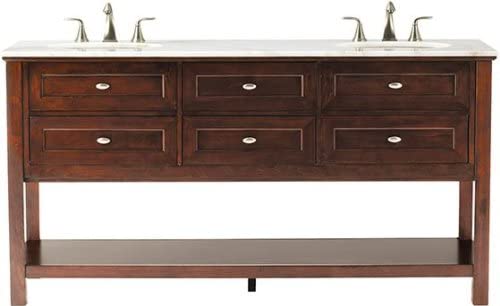 A classic basin in ceramic combined with marble top make the Austell an eye-catching and charming unit.
The poplar construction is solid, while the extra-large counter surface make it a practical and refined addition for those larger bathrooms.
The piece offers storage in four drawesr with adjustable dividers, depending on requirements, as well as an open shelf for anything from toothbrushes to potpourri.
Size: 35"H, 67"W, 22" D
6. VINCENTE ROCCO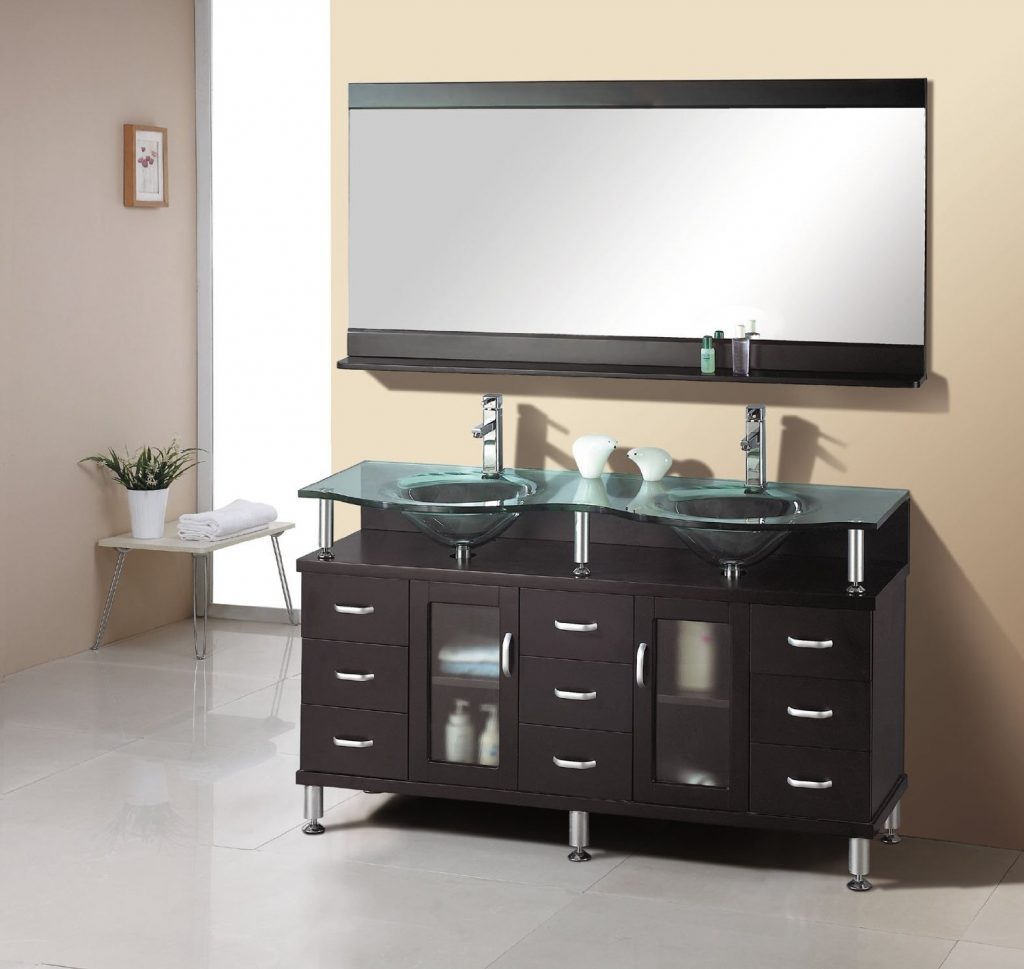 A stunning tempered glass construction sets this double vanity apart from the rest. The styling gives one the feeling of space-age design, while also exuding a timeless aura.
A solid oak construction assure it will be as reliable as it is luxuriously fashionable, while its European sliders and soft-close hinges complement the chic style.
Size: 34.48"H, 59.06"W, 21.65" D
7. OPAL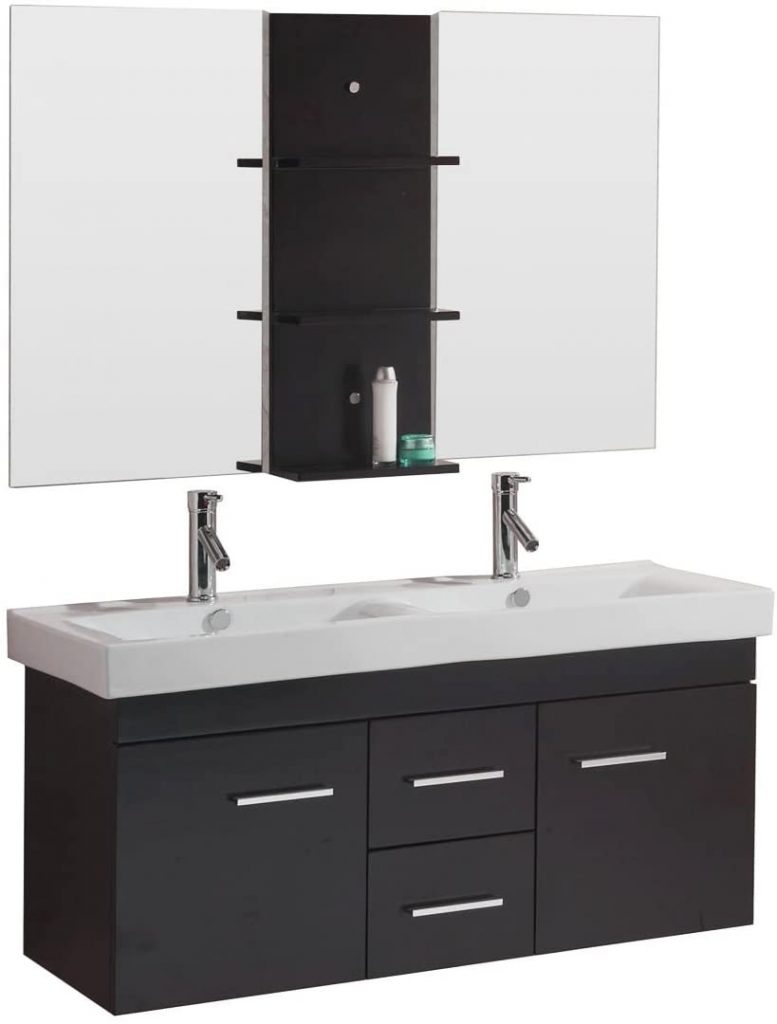 The Opal double vanity unit is finished in an espresso effect, coupled with clean lines and chrome fixings for a modern, efficient look.
The unit construction is Rubberwood, making it ideally durable for the bathroom environment, while the ample storage in its two shelved drawers and drawers ensure the Opal is as practical as it is stylish.
Size: 26.8"H, 47.2"W, 18.8" D
8. DAVENPORT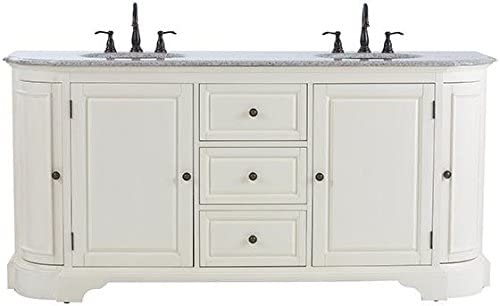 A distressed white finish sets the tone for this wonderful double vanity. Styling is clean and chic on the Davenport, employing scallops and curves to great effect.
Crown molding enveloped the distressed countertop, while a further touch of class is provided by the bronze-finish hardware.
Plenty of storage is offered in the units side-cabinets and shelving, while a total of four doors and three drawers mean you are unlikely to be found wanting for space.
Size: 35″Hx73″Wx22″D
9. HATTON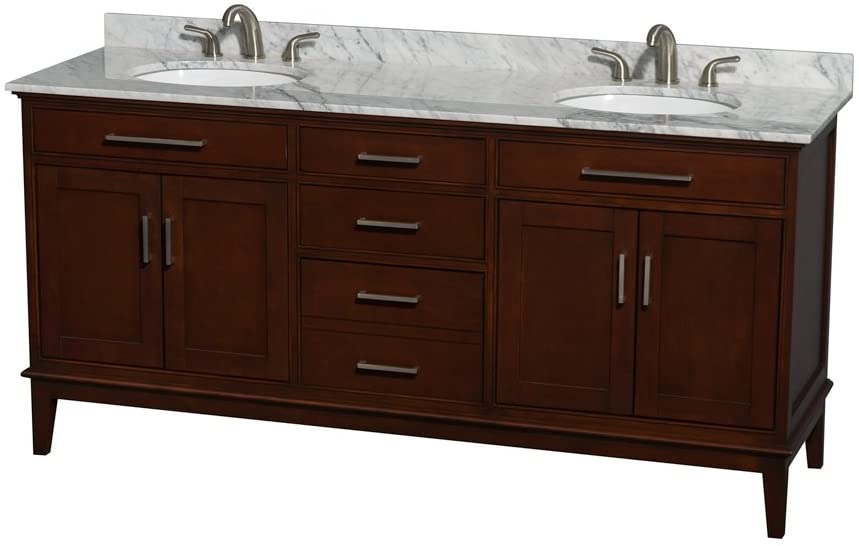 The Hatton, from the Wyndham collection offer a classic and simple double vanity design, complete with soft-close doors and a solid birch construction.
Both simple and elegant, this unit is aimed at a discerning audience, offering a classic look finished in chestnut, with plenty of storage space.
Size: 35"H, 72"W, 22" D
10. MANHATTAN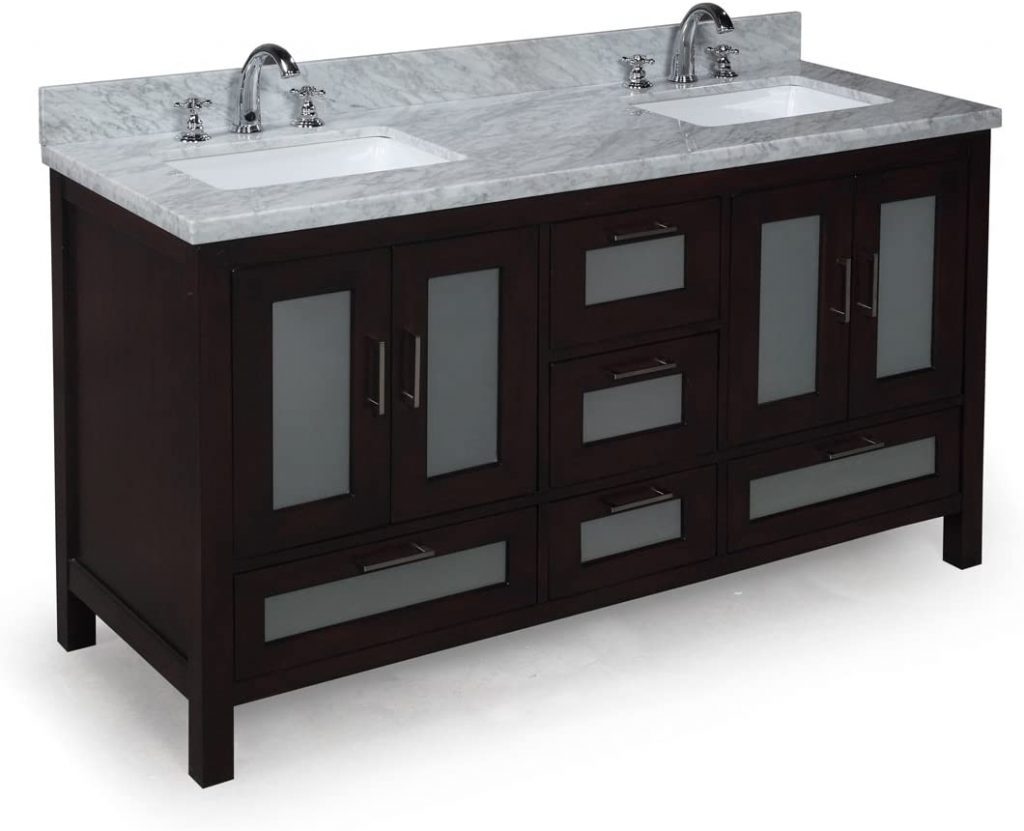 A beautiful addition to any bathroom, the Manhattan is finished in chocolate, accentuating the Carrara marble countertop.
Storage is both generous and included stylishly in the design, while complementary chrome fittings are included.
Size: 35"H, 60"W, 23" D
11. NEWPORT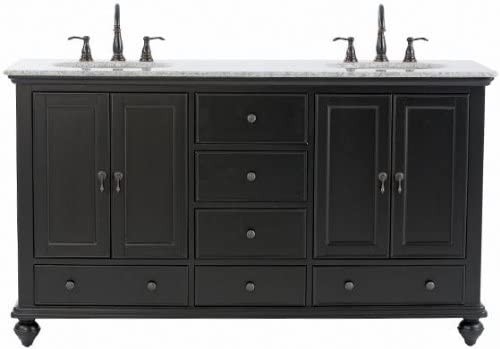 This beautiful double vanity comprises twin white sinks mounted over two-door cupboards, amongst the many storage options.
A close attention to detail in design is evident, from the panelling of the doors to the molding accentuating the feet and counter of the piece, teardrop door openers and the ball feet.
The granite top itself is sure to catch anyones eye, as will the bronze-finish hardware, while the raft of storage.
Size: 35"H, 61"W, 21.5" D
12. HALIFAX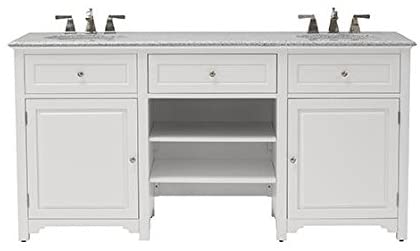 The Halifax Double Vanity is a perfect combination of style and practicality. A faux-drawer is fitted for each basin to add a decorative flair, while scalloped corners and crown molding adorn the counter surface.
Recessed panelling and white ceramic sinks complete the look. Meanwhile, storage is offered in a combination of adjustable open shelving, two under-sink cabinets and a central drawer for extra convenience.
Size: 36"H, 72"W, 22" D