When choosing an indoor furniture set for a conservatory or other living space there are multiple considerations. You need to find a set with the right dimensions to fit you particular space, and one that will match the existing style of your home.
The material of the set should also be a key consideration, as some materials age better than others. Indoor furniture sets may not be exposed to the full rigours of the weather like patio furniture but it must be able to cope with daily exposure to sunlight, dust, moisture, wear, and tear.
The beauty of natural materials like rattan is that it ages well and is available as UV resistant, which means it will not fade, even in strong sunlight.
There are numerous luxury rattan and wicker furniture manufacturers now, and it is possible to choose from a wide selection of colours and styles. Here are our pick of the best indoor rattan furniture sets currently available online:
1. OUTSUNNY'S 6 PIECE DELUXE RATTAN FURNITURE SET
Comprising of one corner modular section measuring 80x80x50 cm and two middle modular sections with the same dimensions, this corner wicker and aluminium frame sofa, coffee table and footstool consist of hand-woven PE rattan that is durable and looks very chic.
Able to cope with all weather conditions, indoors and outdoors, the set comes with comfortable scatter cushions. It's a great set for casual family living rooms and is ideal for families with children because any stains inflicted by small hands can easily be wiped off.
2. RATTAN BERMUDA DOUBLE SOFA SET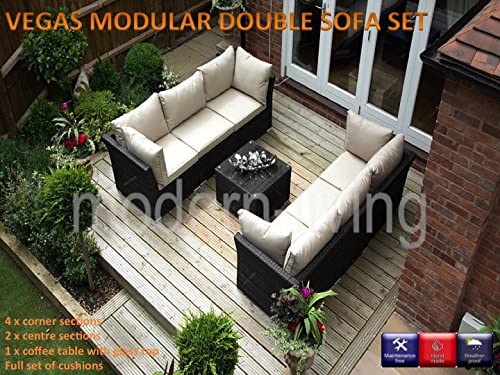 This chocolate brown weave set by Modern Living comprises of a Vegas modular double sofa set that will never rust thanks to an aluminium powder coated frame.
The rattan weave is UV resistant, so the colour will remain as lush as it was on the day the furniture set was installed in your living space.
Elegant and timeless, this type of rattan furniture can easily be added to over time.
3. NEW ALGARVE RATTAN WICKER WEAVE CONSERVATORY SOFA SET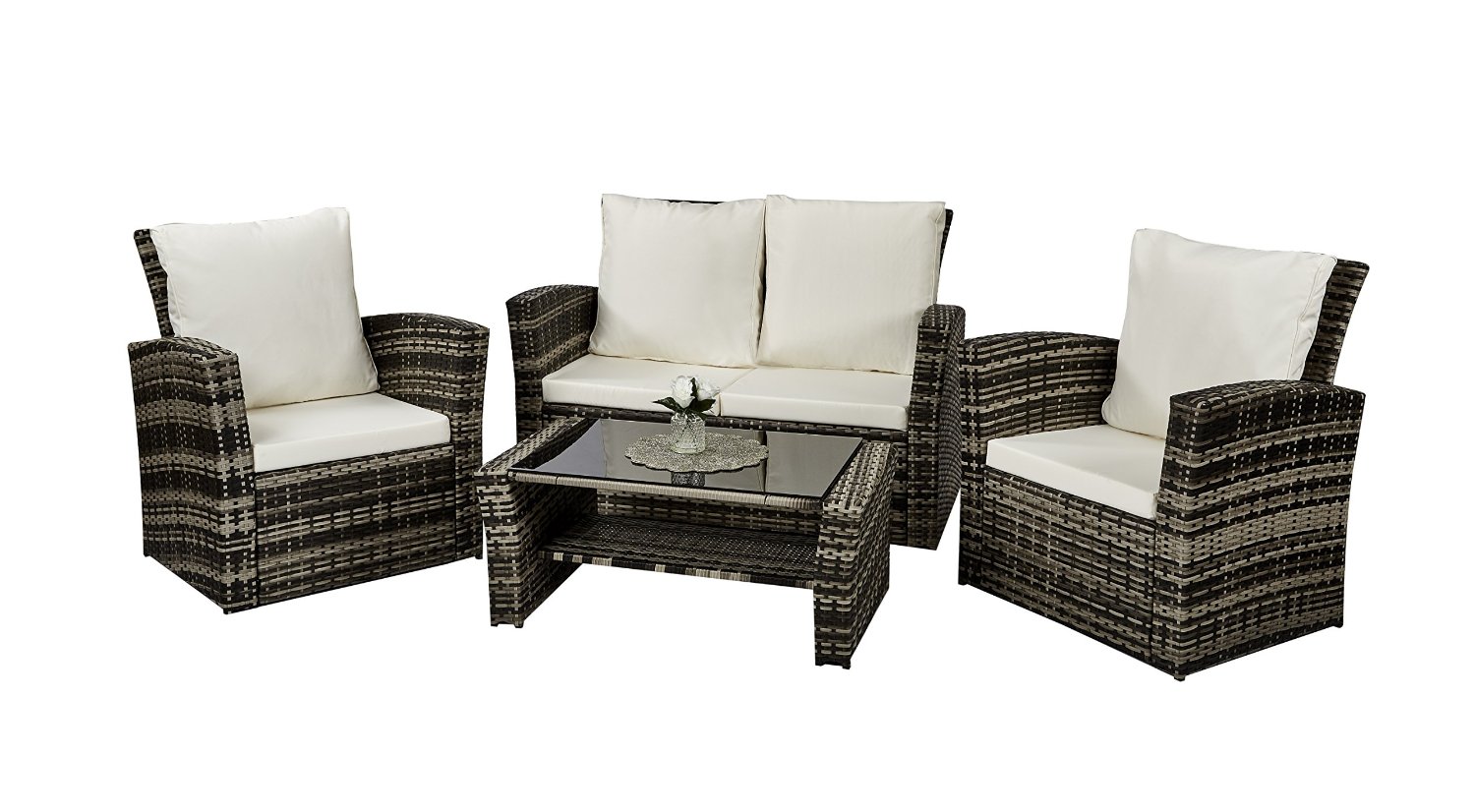 This gorgeous wicker weave conservatory set is comprised of a two seat sofa with additional two chairs and a coffee table with tempered safety glass.
Available in black, natural and multi-toned weave, there is flexibility afforded in choosing a tone which best matches the decor in your home.
The set is low maintenance and easy to clean, with showerproof cushions which have a convenient zip fastening for easy removal to wash if necessary; ideal for homes with kids, or in the case of a splash of wine.
4. SICILY RECTANGLE 8 SEAT RATTAN GARDEN FURNITURE DINING SET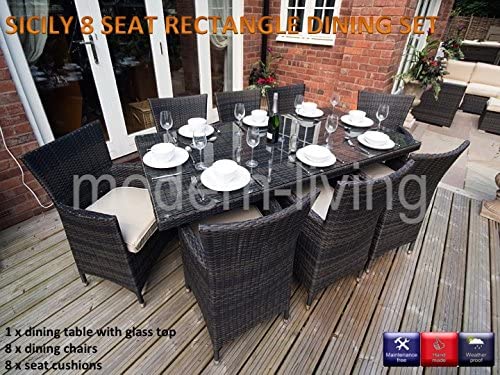 Modern Living's Sicily rectangle eight-seater rattan furniture dining set comprises of eight fully woven rattan dining chairs with comfortable seat cushions.
Constructed with aluminium frames that are light but strong, these chairs' dark chocolate rattan will never fade in the brightness of conservatories or sunny dining rooms, because of the rattan's UV resistant weave.
Ideal for informal dining rooms used by families, this rattan dining set is durable, yet stylish and easy to maintain.
5. SAVANNAH RATTAN FURNITURE DINING SET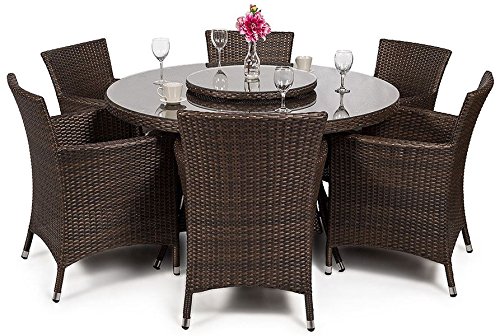 Ideal for entertaining, this Oak Furniture King set of table and six chairs comprises of one rattan woven glass top Lazy Susan, six fully assembled high-back dining chairs, and one 3 meter aluminium parasol.
Stylish and easy to maintain, the set can be used indoors and outdoors and come with a free parasol base and free weather proof dust cover.
6. MILAN 4 PIECE RATTAN CONSERVATORY SOFA SET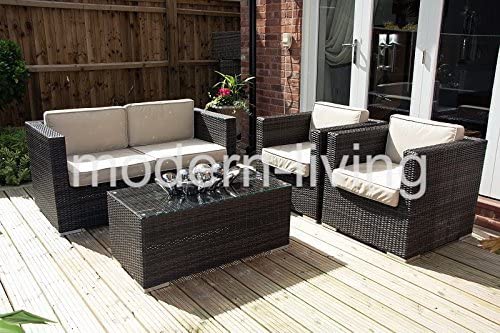 Dispatched and sold by Modern Living, the four-piece solid black set can be used both indoors and outdoors.
Consisting of UV resistant rattan weave that will never fade in sunshine, the furniture is fully assembled and has a timeless appeal. It is more formal in design and a good choice for sunny front rooms.
7. JARDER'S LUXURY RATTAN FURNITURE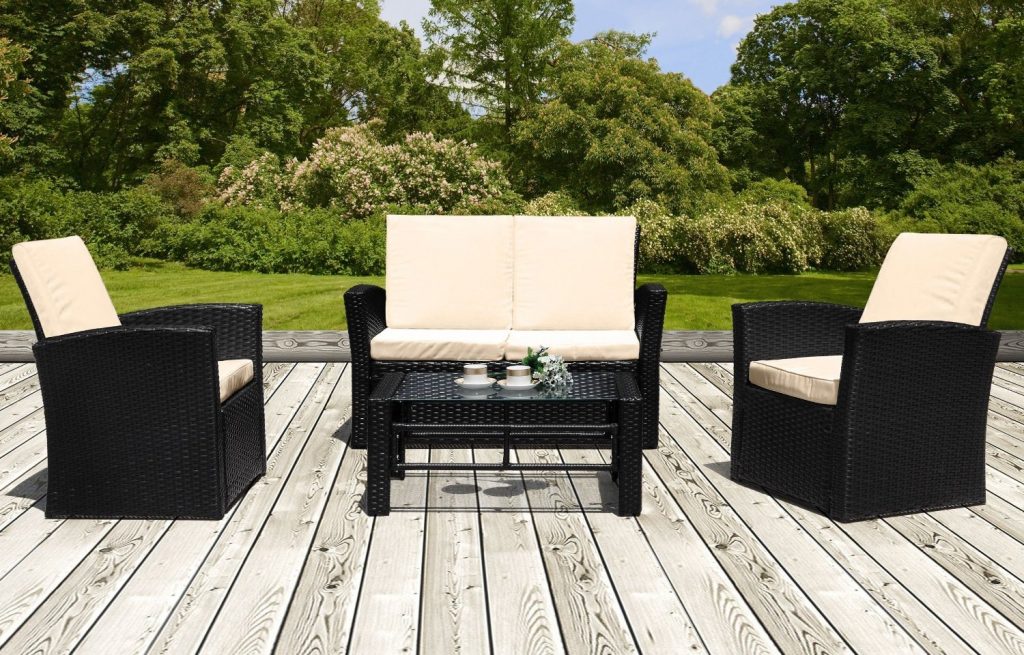 While this luxury rattan set has not been designed specifically with indoor use in mind, it is a great looking set that will look fabulous in conservatories and bright and sunny living rooms decorated in an informal style.
Made with a lightweight steel frame, the furniture is easy to move around as required, has very comfortable and handsome cushions and a chic glass-topped coffee table that compliments the two single sofas and one double sofa rather well.
UV protected, the furniture can cope with heavy usage. Cushions are shower proof and dirt resistant, ideal in living spaces where children rule the roost.
8. MIADOMODO® SET OF 4 RATTAN CHAIRS & SEAT CUSHIONS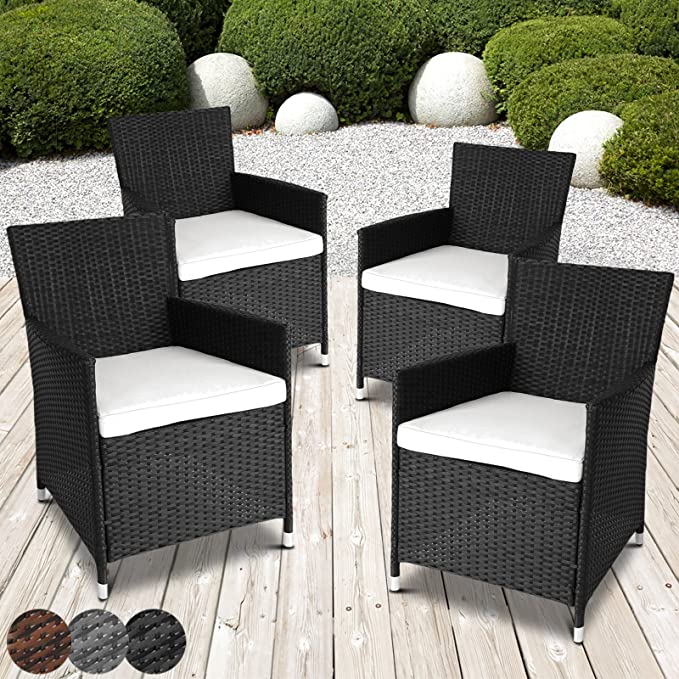 This four-piece set is available in different colours, which is a bonus, since many manufacturers seem to produce only chocolate brown or solid black these days.
Using a light-weight construction method, this furniture is easily moved from indoors to outdoors when needed for garden parties or barbeques.
Supplied complete with comfortable cushions, the seats are made of poly-rattan and are easy to keep clean.
9. VERANO® CARRIBEAN PREMIUM RATTAN FURNITURE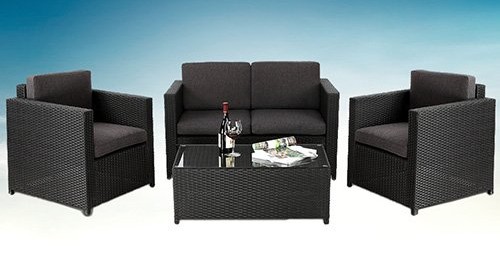 Comprising of a sofa, chair and coffee table, this black wicker weave set comes with comfortable 100% premium waterproof cushions that are ideal for usage in conservatories, where summer parties with friends may see the occasional spillage of beverages.
Dispatched and sold by topchoice.eu, these UV treated PE rattan items of furniture will not fade over time.
It is an elegant set constructed with a galvanized heavy duty frame that can bear weights of up to 150 kg.