Each year, we shine the spotlight on fifty of the best luxury travel, lifestyle, food, fashion, and interior design blogs for the Qosy luxury blog awards. Below are our hand-picked selections for 2015.
You can scroll down to see the full list. Alternatively, if you're looking to contact these bloggers, you can download this handy list of 50+ luxury blogs, including contact information and media preferences.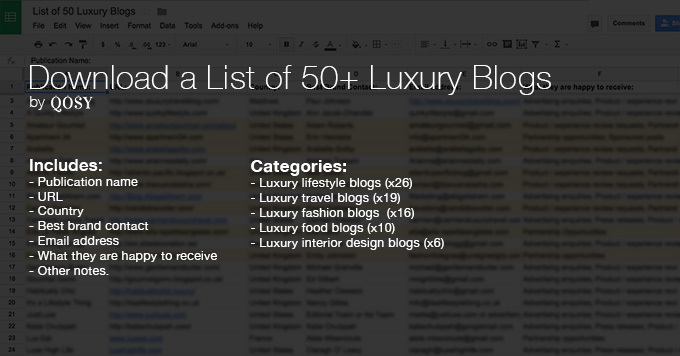 Want to save time finding and contacting luxury bloggers? We've put together this handy spreadsheet, which includes 50+ luxury bloggers' contact information and preferences.
BEST LUXURY LIFESTYLE BLOGS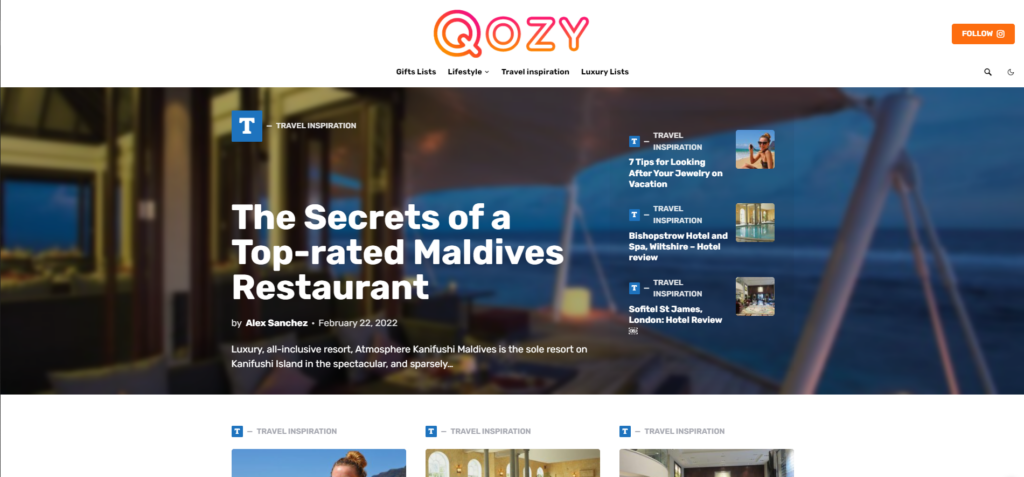 Qosy is a luxury website or, as they call themselves, a digital journal that covers luxury lifestyle, travel, food, and more. Qosy is an independent online publication that is highly influential in the luxury travel and lifestyle industries. Qosy specialises in providing in-depth, un-biased and trusted reviews of luxury experiences and accommodation. Each year Qosy reaches over a quarter of a million highly targeted, affluent individuals who enjoy reading about & indulging in luxurious experiences and products.
TRULY

TRULY is a unique lifestyle blog that specialises in offering luxury experiences as gift inspiration. Linked to their own eCommerce site, the blog showcases some of the exceptional experiences available to share with, or to offer with that loved one.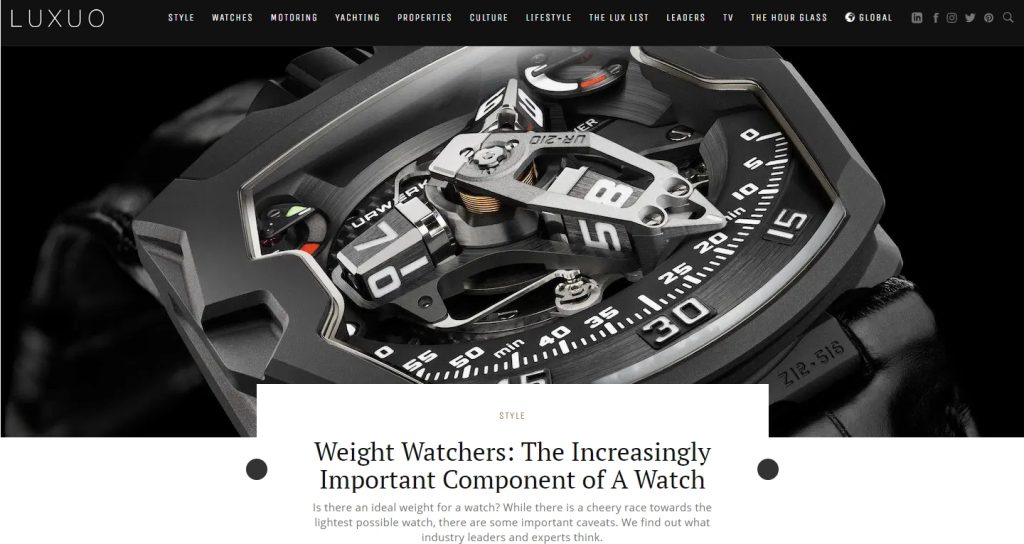 Beautifully presented and a visual delight that is also informative, too. A good variety of posts on property, fashion, celebrity, travel and luxurious goods.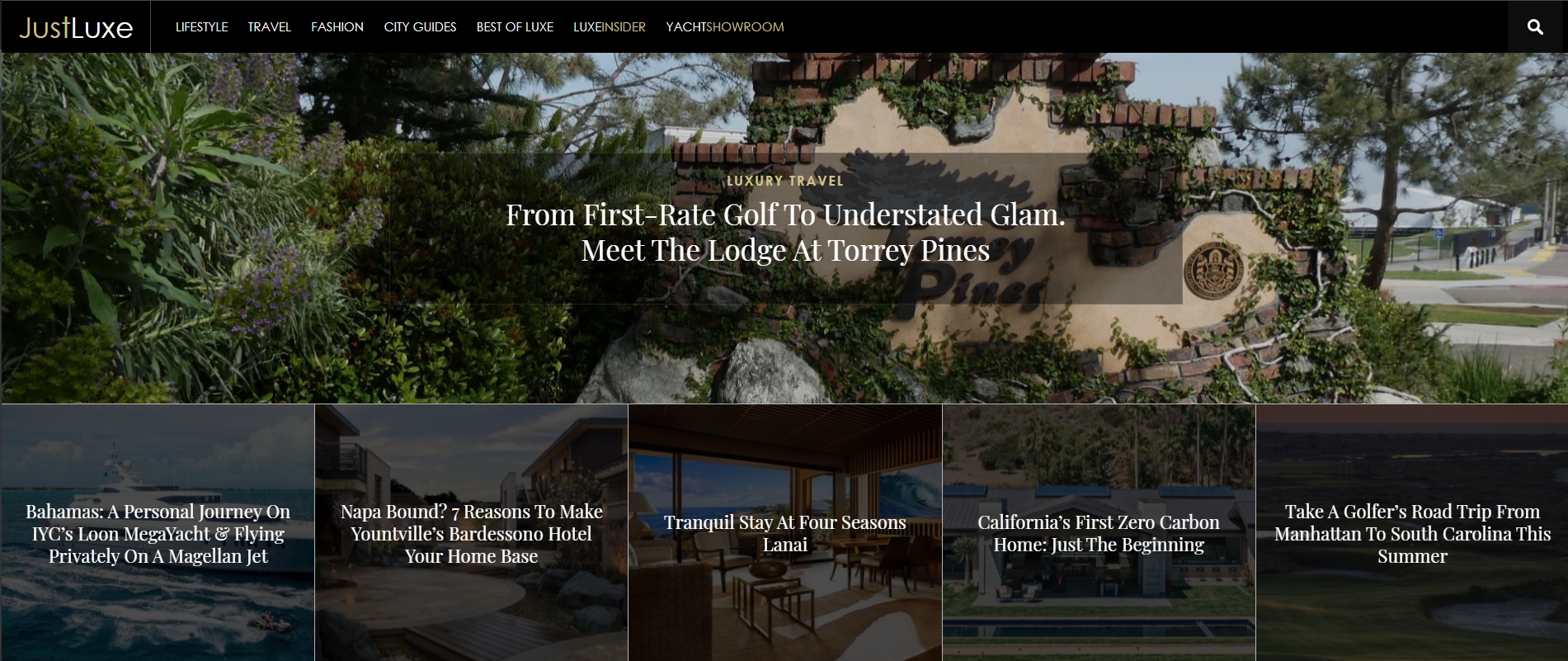 News done right. Just Luxe makes it easy to stay informed on the latest in the world of luxury with their fabulous guides and blog posts.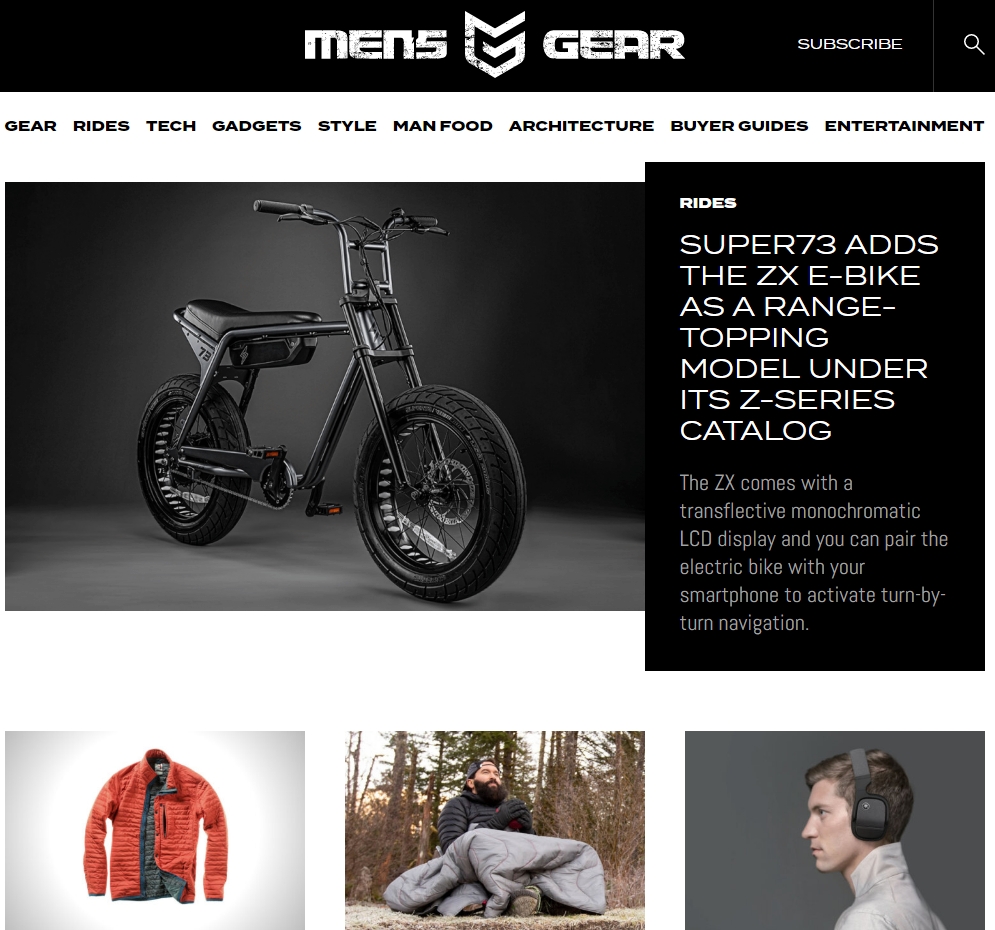 Men's Gear is a digital magazine for "guys who love awesome stuff". Content includes the latest in tech and gadgets, architecture, design, fashion, food and gift ideas for men. It also covers travel and entertainment.

The Future of Luxury is aimed more at brands than consumers, with a range of articles about the industry, the meaning of luxury, and the future of the sector. The articles are well written, and provide a great resource.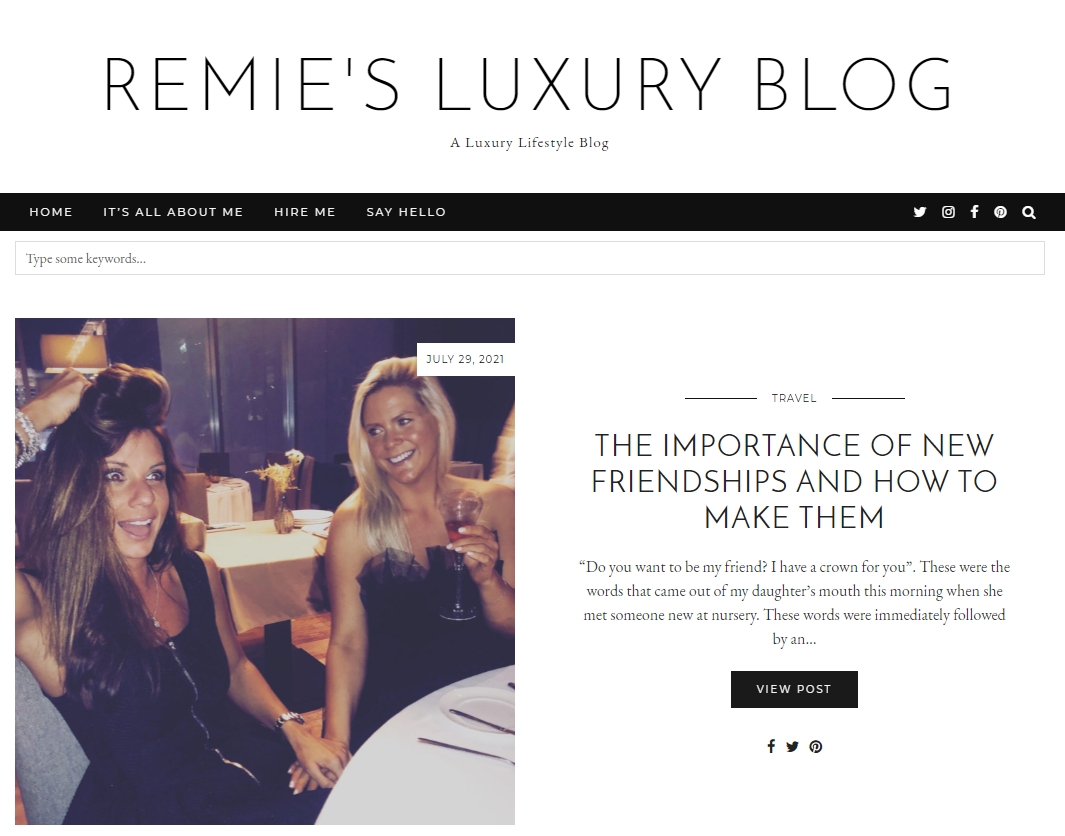 Remie's Luxury Blog documents Remie's journeys and experiences with life's little luxuries. From reviews on cupcakes to couture clothing and coveted locations, Remie leaves no stone unturned.
An edgy and original lifestyle blog which capitalises on the theme of the deadly sins of greed, gluttony, sloth, vanity and lust. The London Sinner is a lifestyle guide with tips on how and where to indulge in some serious sinning (of a non-dangerous and luxury nature) within London and beyond.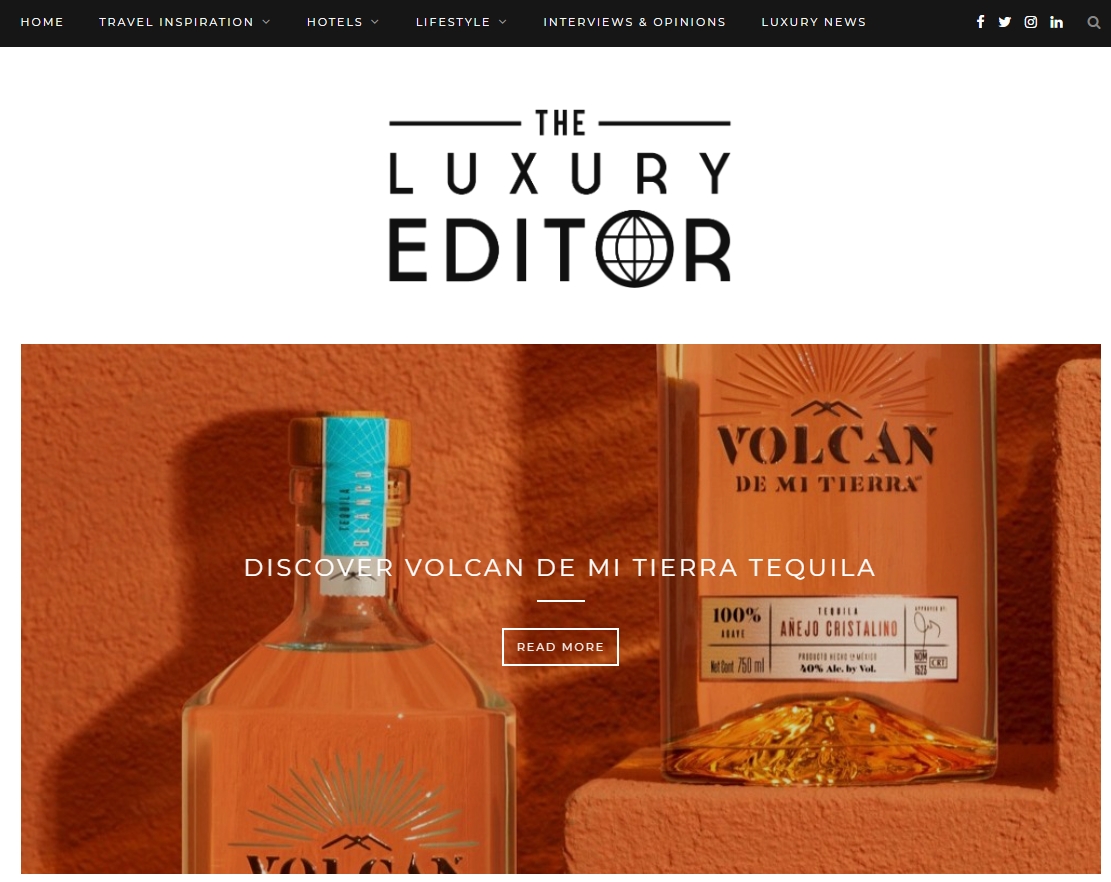 Fitting somewhere in between travel and lifestyle is the Luxury Editor. This blog is based in Edinburgh, but documents its authors' adventures around the world, reviewing and blogging about places, experiences, products and hotels in Edinburgh and further afield.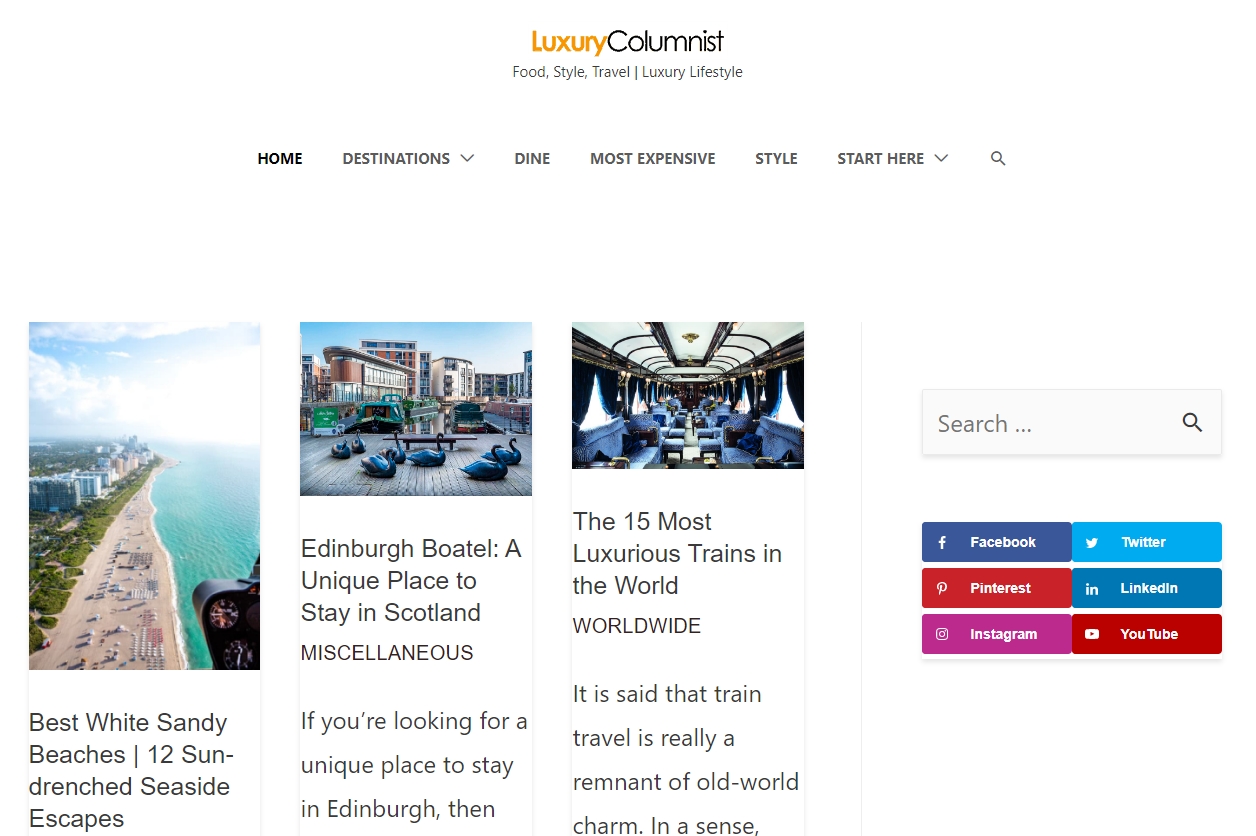 The Luxury Columnist provides insights into luxury trends as well as tips and reviews of restaurants, travel, products and experiences.
With a high readership, author Suze works closely with brands to help bring a little bit of luxury into everyone's lives.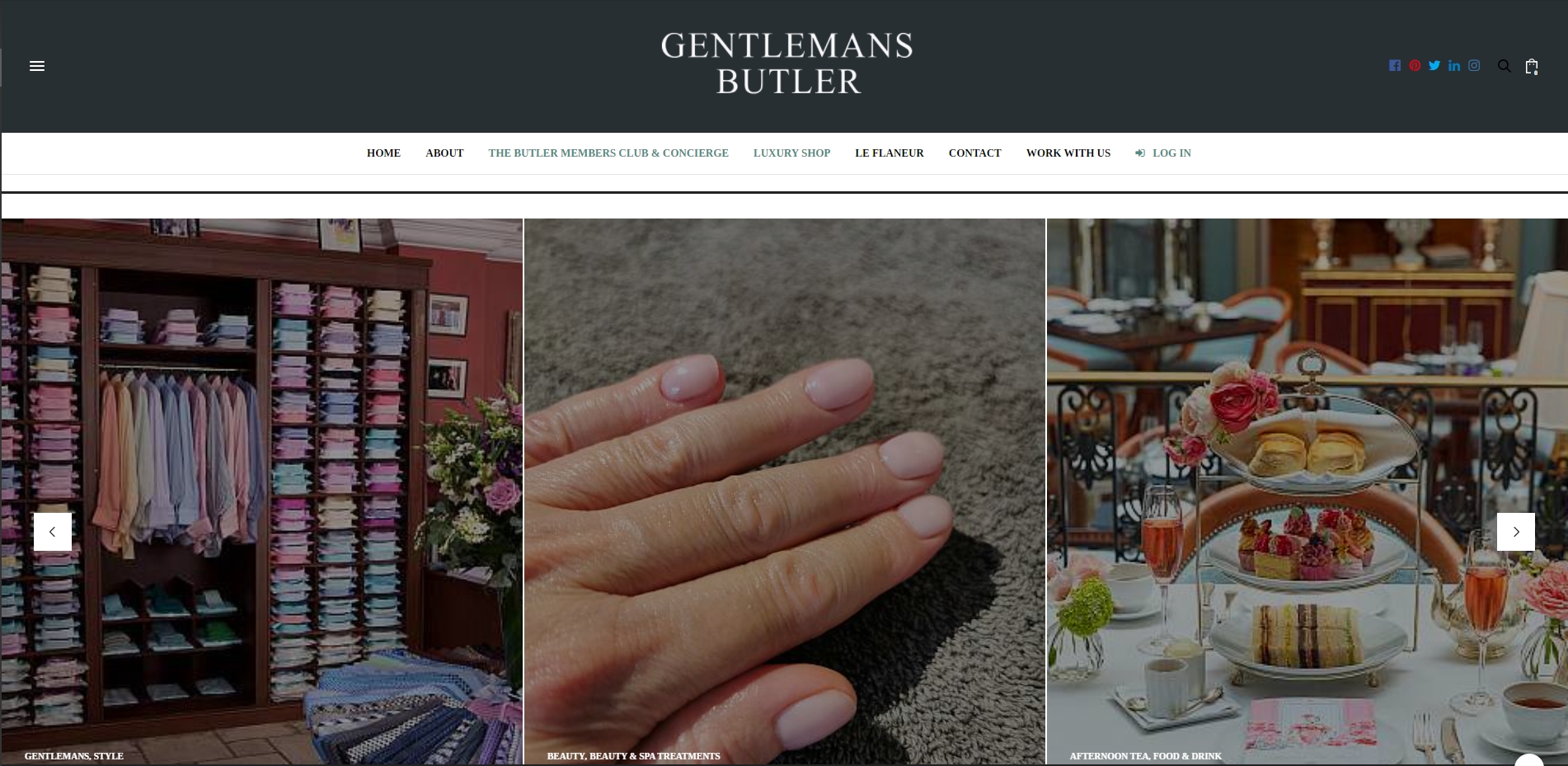 Gentleman's Butler is a male lifestyle blog for the discerning gentleman that brings features and offers concierge services for high net worth individuals. The features on the site evaluate complete experiences, endorse brands' offerings and focus on six key areas: Arts & Entertainment, Beauty, Fashion, Food & Drink, Luxury Living and Travel.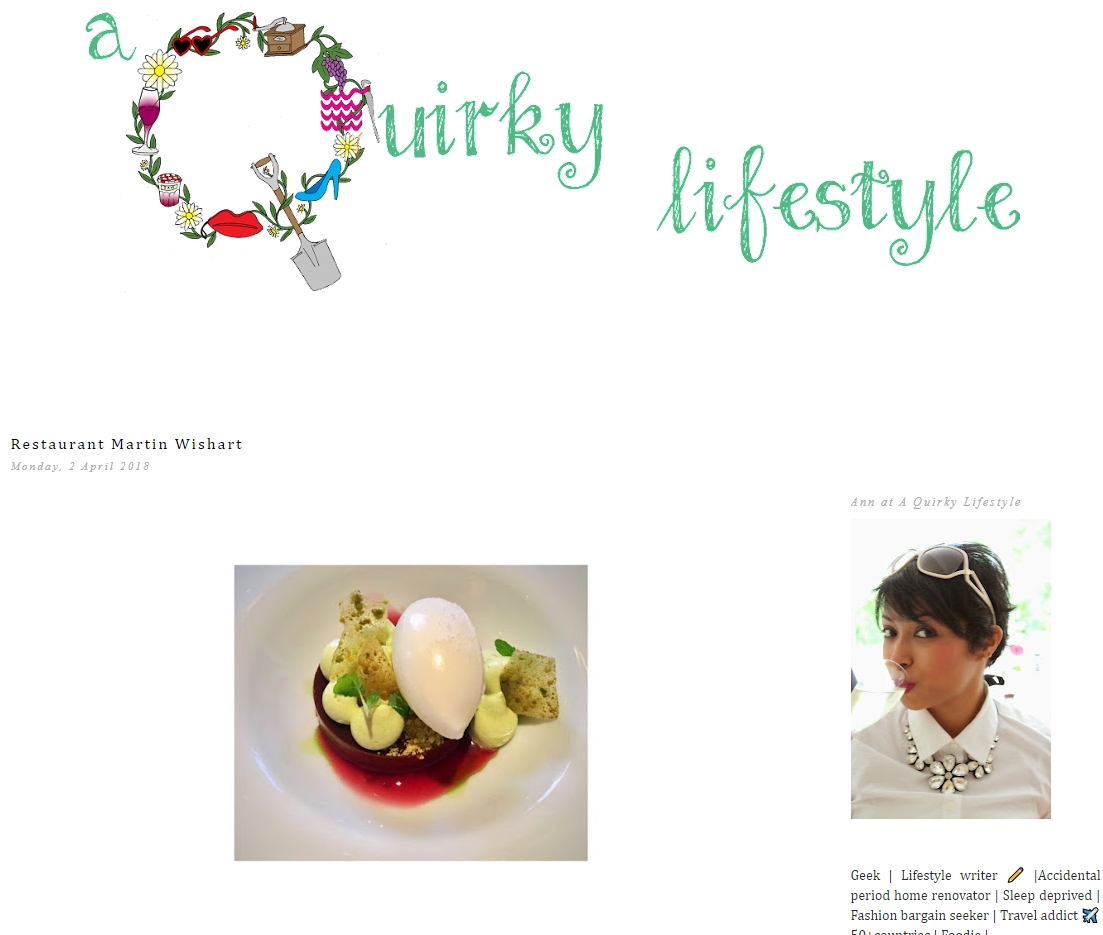 With an adorably authentic voice, A Quirky Lifestyle follows the lifestyle of author Ann, currently based in Edinburgh. Ann blogs about quirky and ethical fashion, independent travel, cool eating and drinking joints, experimental cuisine, craft & DIY projects and other lifestyle related subjects.
Bon Vivant is a leading advisory and concierge service in London. The Bon Vivant journal
acts as the site's blog of sorts, it documents the team's travels, musings, tips and must-sees; mainly throughout London but also further afield.
The blog of Shannon Ables with a core philosophy that everyone has the capacity to life a luxurious life if they strive for quality over quantity, sensitivity over frivolity, personal style and a life of fulfilment.
The luxe life is a lifestyle blog written by Lucy, living in London. Lucy covers fashion, food, beauty, restaurants, hotels, technology, spas and everything in between.
A luxury lifestyle blog detailing the hottest trends in premiere travel, leisure, food and style. Pursuitist has contributors from multiple countries including France, England and the US.
This blog takes luxury items to a whole new level. Sections of the site document the rich and famous, as well as showcase some of the world's most luxurious and expensive items.
Author Nancy Gibbs takes readers on a whirlwind of a journey in It's a Lifestyle thing. Nancy is a full-time photographer who travels the world working with brands and people from all walks of life, she uses the blog to share things and experiences she enjoys focusing around her magic 3 ingredients – food, fashion & travel.
BEST LUXURY TRAVEL BLOGS
This super sleek site on culture and luxury travel is as smart as it looks. Authored entirely by an enthusiastic and worldly American expat who has lived and worked everywhere from Africa to New Dehli and Europe, it's about as genuine as you can get when it comes to authentic and trustworthy travel advice and recommendations based on firsthand experience.
Destination guides and some helpful tips on how you can make some cash while living it up abroad.
City guides to help you find luxury wherever you are, with nightlife, eating out and hotels being the main focus.
One of the most popular travel blogs in the world, A luxury travel blog is run by Paul Johnson. Paul has worked and immersed himself in the travel industry for over 25 years. The blog explores luxury aspects of travel and adventure and recommends hotels, resorts, restaurants and experiences from around the world.
An adventure travel blog with a difference. Author Monica knows how to have a wild time and stay classy and stylish at the same time, and all is documented here.
This blog follows the footsteps and travels of "Mrs O", also known as Ana Silver O'Reilly. It's fun and authentic, opening a window into Ana's world, and the places she loves.
Aimed at men and providing inspiration to #EscapefromLondon, The Gentleman traveller is a blog curated by David Hamilton. Travel is a main focus, but the blog also covers lifestyle.
Fashion and travel collide in this colourful blog by Bonnie Rakhit. A unique spin on traditional travel and fashion blogs, The Style Traveller is packed with posts on gorgeous destinations along with advice for any fashion conscious traveller on what to wear, where!
A lady in London is run by Julie (aka "lady"), a Californian expat living in London. Lady not only blogs about both London and her travels, but also offers travel planning services, amazing photography, and boasts a brilliant Instagram channel.
The Luxe Insider features reviews on luxury hotels, airlines and lounges and provides readers with honest opinions, without commercial or brand-defined content.
Candidtraveller is a luxury-oriented travel blog contributed to by a group of avid travellers. The blog includes reviews and write-ups of great places to visit, stay and eat around the world.
Let Misha take you on an adventure into the wild… luxury style. This unique blog is about getting out into nature, exploring, and getting out of your comfort zone, whilst not leaving behind all creature comforts. There's always a place for luxury.
Carmen's Luxury Travel blog highlights luxury destinations and experiences around the world. Carmen has also included some style tips as well as information on her favourite places to wine and dine.
BEST LUXURY FOOD BLOGS
Gourmet Gorro is full of reviews of gourmet restaurants all over the UK, and written by a foodie with an awful lot of eating out experience under his belt, you know they're opinions you can trust.
SilverSpoon London explores restaurants and nightlife around London, as well as food and delicious finds from the author's travels around the world. While the blog also covers lifestyle and travel, food is certainly a central focus on the blog.
Written by veteran top fashion model Aisté, this food blog is mouth-watering material. Aisté is passionate about good food, fine cuisine, and the blog documents her travels in pursuit of "great restaurants, gourmet landmarks and gastronomical trends".
Written by a brainy law graduate and self-taught cook with an unrelenting passion for gourmet food, The Amateur Gourmet is a recipe blog with a comical twist. With recipes, 'foodie' essays and restaurant reviews aplenty, it oozes personality thanks to its offbeat creator Adam Roberts, who now also works on the Food Network.
As the name suggests, this site is an homage to all things fine dining. From interviews to recipes and roundups and reviews, Fine Dining Lovers will get your tastebuds tingling.
BEST LUXURY INTERIOR DESIGN BLOGS
Designer, stylist and author Abigail Ahern is globally renowned for her unique take on interiors and uncompromising taste.
Based between Italy and the UK, Arianna is an interior designer & stylist. Her personal blog is a place for inspiring interior design, along with a touch of food, travel and fashion inspiration for good measure.
Full of advice, reviews, journaling, and inspiring photography of stunning places, gorgeous interiors, and stylish clothes and accessories, Habitually Chic is what it says on the tin.
The only Scandinavian interior design blog on the list, Em's design blog is all about the cornerstone of Scandinavian style, soft minimalism and beautiful functionalism. A veteran site, it's been running since 2005 and is full of inspirational and aspirational images from all over the world.
Apartment 34 offers inspiring ways to add sophisticated style to everyday life making every day that little bit better. Whilst interior design and inspiration is at the core of the site, Apartment 34 shares creative ideas from modern décor, classic fashion, recipes, to travel.
The Art of Bespoke is a one site solution to provide information, inspiration and contacts for the ultimate high-end home. The site showcases some of the best in interior design and modern architecture, along with a sourcebook of curated services.
BEST FASHION BLOGS

Katie Chutzpah is an independent fashion, beauty and lifestyle blogger. Her site is a place where she shares her favourite fashion and beauty advice, and reviews.
This gorgeous blog is the personal style blog of Charlotte. Charlotte is from the Netherlands, living in New York after a few years in London, so she's seen her fair share of fashion trends around the world. A popular blog for fashion conscious mothers not letting motherhood get in the way of their style.
Luxe high life is a blog which shines the spotlight on jewellery and watches. It provides style advice, store locations, auctions and round-ups.
Pronounced "bee-zoo", bisous is an affectionate term for "kisses" in French. Bisous Natasha is a personal style blog of Natasha Ndlovu, a model, blogger and photographer based in London, England. She writes about fashion, photography, beauty and travel and shares her experiences working in the fashion industry. She has collaborated with popular brands and her photography has been featured in leading lifestyle magazines.
Bridging the gap between Eastern and western styles, Five Five Fabulous is the stylish brain child of Lebanese sisters Reem and Natalya. Living between London and Dubai, the sisters use to blog to document their adventures in the world of fashion, style and travel.
Atlantic pacific is the personal style blog of Blair Eadie. With a very engaged social following, Blair's blog showcases her fresh and feminine looks as she goes about Californian life.
Fashion Foie Gras is one of the UK's most popular fashion blogs. The woman behind the blog, Emily Johnston, has written for numerous women's magazines and has collaborated with the likes of Ralph Lauren, Tommy Hilfiger and Victoria's Secret.
La Petite Anglaise is a critically acclaimed, London-based fashion, lifestyle and beauty site launched by Ella Catliff back in 2010. With a global reach, Ella also covers fashion weeks and runs multiple projects with partners including Chanel and Yves Saint Laurent.
Arabella is a personal style blog of Oxfordshire-based blogger, Arabella Golby. The blog showcases fun, feminine and stylish outfits with a series of photographs in picturesque surroundings.