For a truly indulgent and relaxing experience, no patio should be without a garden day bed.
Generally speaking, the ideal piece of furniture for your garden will be constructed from organic rattan for the highest quality manufacturing, as well as being completely weather-proof in most dimensions (naturally, it is recommended that cushions are stored inside when not in use but an aluminium frame with proper rust-proofing is highly desirable) to ensure a long life of frequent and enjoyable use.
Here we take a look at 12 of the best garden day beds that are currently available to help you make an informed choice.
MAZE RATTAN VICTORIA PEACH DAY BED
This gorgeous day bed is hand-woven from the highest quality rattan and boasts two detachable coffee tables.
The canopy adds an element of privacy, whilst the weather-resistant material allows you to leave it outside all year long. The unique peach-shaped design channels the freshness of summer fruit for a simply luxurious and wholly comfortable user experience.
HANGING ROUND GARDEN DAY BED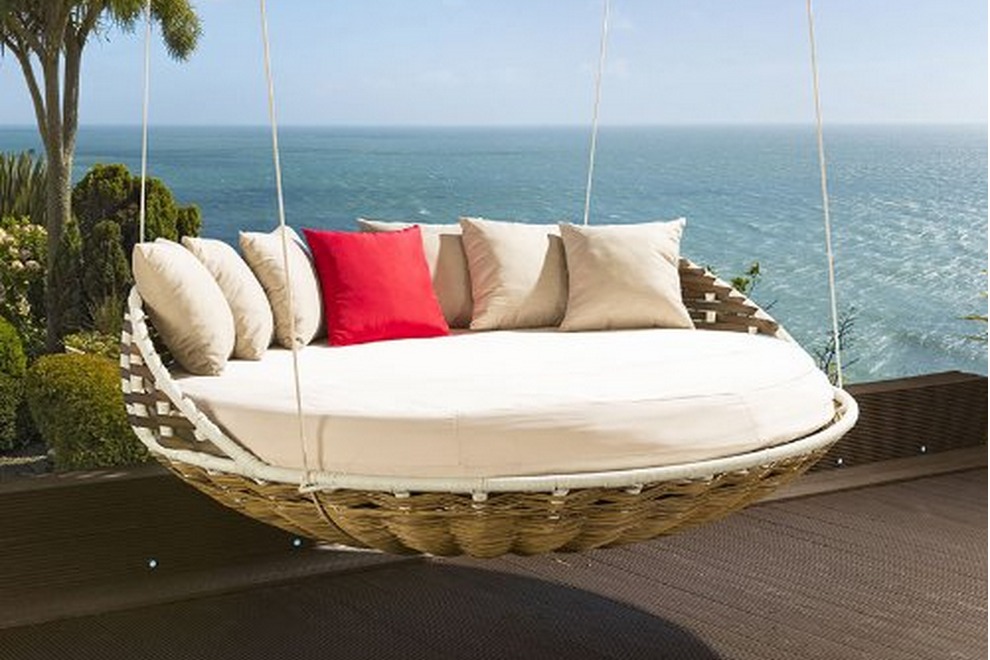 An ideal choice for those looking to enjoy a gentle rocking motion as they unwind beneath the setting sun, this stylish rounded day bed comes in calming crème and beige colour scheme and can be floor-mounted if swinging isn't quite your thing.
Priced at £999.00, this is an item that looks absolutely fantastic sat on either a patio or decking.
AVANT GARDE LARGE OVAL DAY BED
Priced at £899.00 and constructed with a rust-resistant frame and weather-proof rattan body, this sleek oval day bed is also packing a high-tech hydraulic canopy for those evenings when you need to keep the summer breeze off your backs.
OAK FURNITURE APPLE DAY BED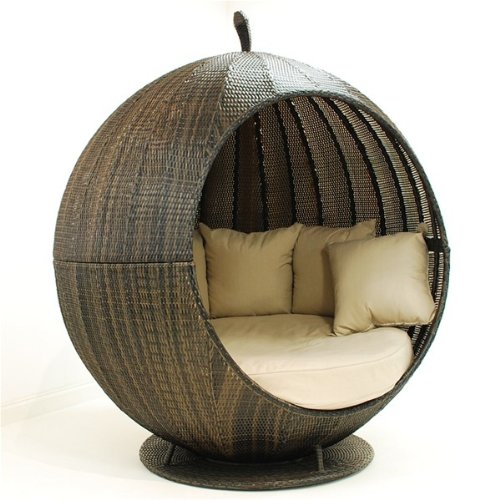 Drawing inspiration for its shape from the fruit of the same name, this innovatively-designed day bed is the ultimate combination of privacy and comfort. Available in a choice of black or brown, the upper half can be removed for those warmer afternoons. Priced at £1847.00.
MILAN EXTRA LARGE DAYBED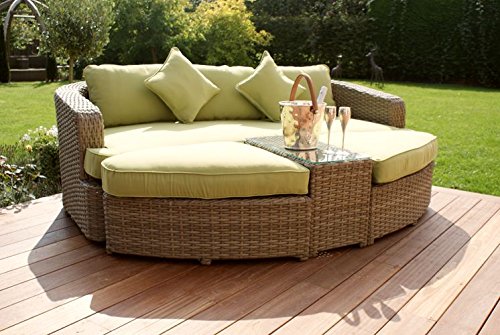 Serving a dual purpose, this lavishly comfortable day bed can be broken down to provide seating for up to six people. With a choice of beige or green cushions it can be suited to a wide variety of gardens, whilst the weather-proof construction preserves its high quality.
Priced at £899.00, this is a more affordable choice that doesn't sacrifice quality in the pursuit of a slightly lower price tag.
WOVENHILL LOVE SOFA / DAY BED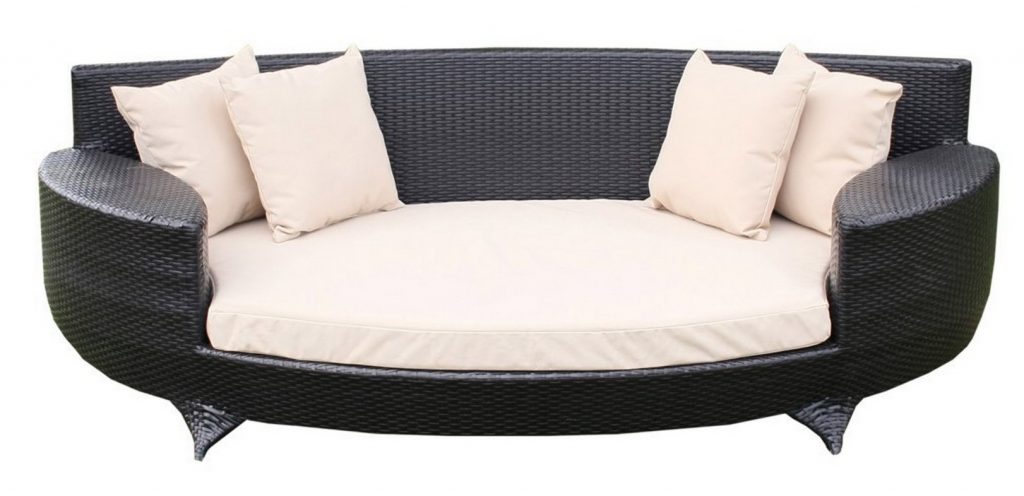 With a particularly spacious design and a soothing natural colour scheme, this combination day bed and love sofa is the ideal solution for those looking for a comfortable piece of garden furniture capable of withstanding the elements through an eco-friendly and weather-resistant construction.
The £695.00 price tag belies the true quality of this stylish piece, as you'll quickly find it more closely resembles an item priced at twice as much.
MAZE RATTAN TORONTO DAY BED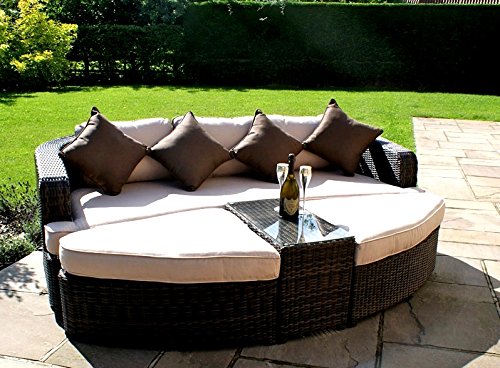 Priced at a very affordable £799.00 without compromising on quality, the versatile design of this day bed means it won't look out of place on decking, patio or garden. The spacious seating area is ideal for unwinding after a tiring day, and the detachable glass coffee table adds an extra element of sophistication.
ESSELLA HONOLULU DAY BED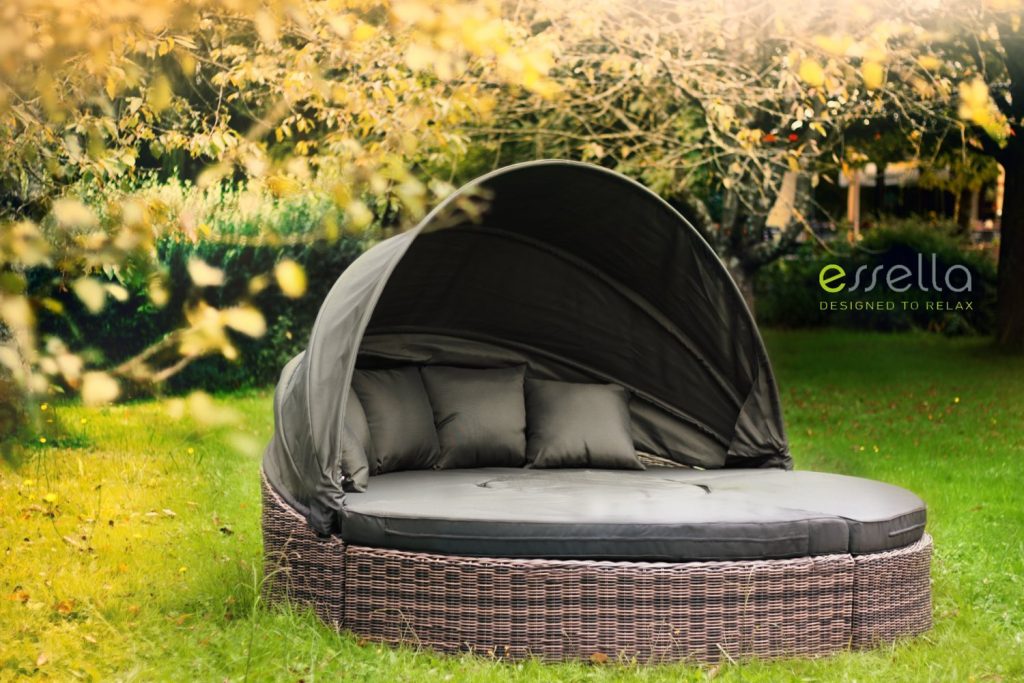 The rounded shape is certainly a popular one with day bed manufacturers and looking at this elegant example it really isn't hard to see why.
The sun sail ensures protection from the winds as you bask under the clear summer skies, and a choice of three colour schemes means something for everybody regardless of aesthetic sensibilities.
ESSELLA MAURITIUS DAY BED
Essella have a real pedigree when it comes to garden furniture, and for those for whom a rounded shape isn't the ideal they have the Mauritius.
Channelling traditional sofa designs whilst keeping the chic and contemporary sun sail for maximum elemental protection, Essella have produced yet another graceful and sophisticated day bed.
OCEAN DAY BED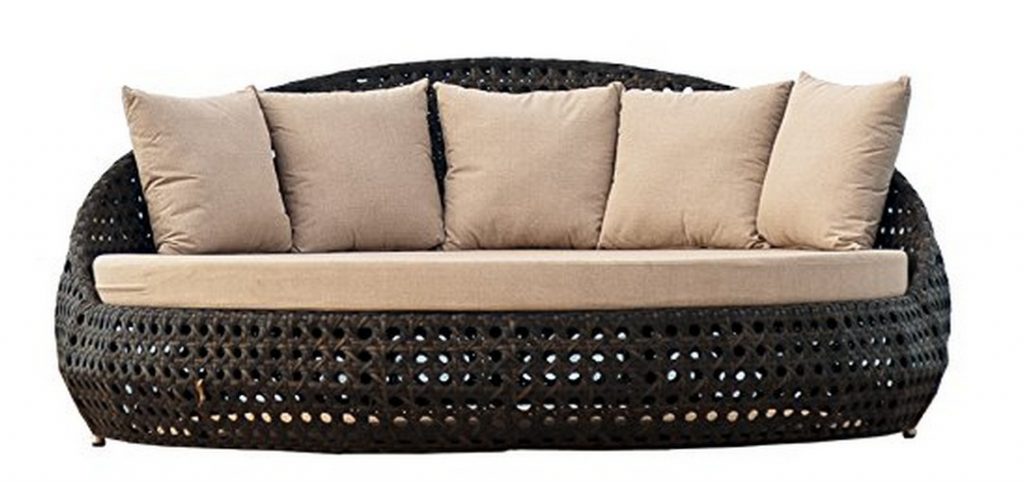 With a stylish wicker-effect design in combination brown and beige, this day bed evokes the feeling of a Caribbean beach resort whilst you unwind in your garden on a lazy afternoon.
Thick cushions you can really sink into over a sturdy construction offer maximum comfort and longevity. Priced at £1899.00.
DECO ALFRESCO MODULAR DAY BED / SOFA
The true strength of this day bed lies in its versatility; the modular construction offers three distinct arrangements that are exceedingly simple to switch between.
Converting from a bed to a corner sofa or five-seater conversation set can be done in mere seconds, while the contrasting greys give it an almost futuristic aesthetic. A price tag of only £790.92 makes this one a particularly bargainous purchase given its wide range of potential uses.
SIGNATURE WEAVE LILY DAY BED
Another day bed offering multipurpose functionality, the Lily by Signature Weave can be quickly and effortlessly converted to a love seat as required. With a thick yet stylish canopy offering optimal protection from the sun and the wind, you can bask away those hazy afternoons in peace as you sink into its thick, shower-safe cushions. Priced at £1199.00.