A chandelier is a stunning addition to any home. Not only can this fixture offer a bespoke sense of immortal beauty, but these chandeliers are available in a wide variety of sizes, designs and lighting methods. Some of the basic concerns include the space required, the weight of the unit and choosing the decor that matches a unique environment. Any chandelier is a very real investment that can add a great deal of value to any home through their visual presence alone. So, et us examine some truly stunning examples of this scintillating allure.
THE SAVOY HOUSE 6-LIGHT CHANDELIER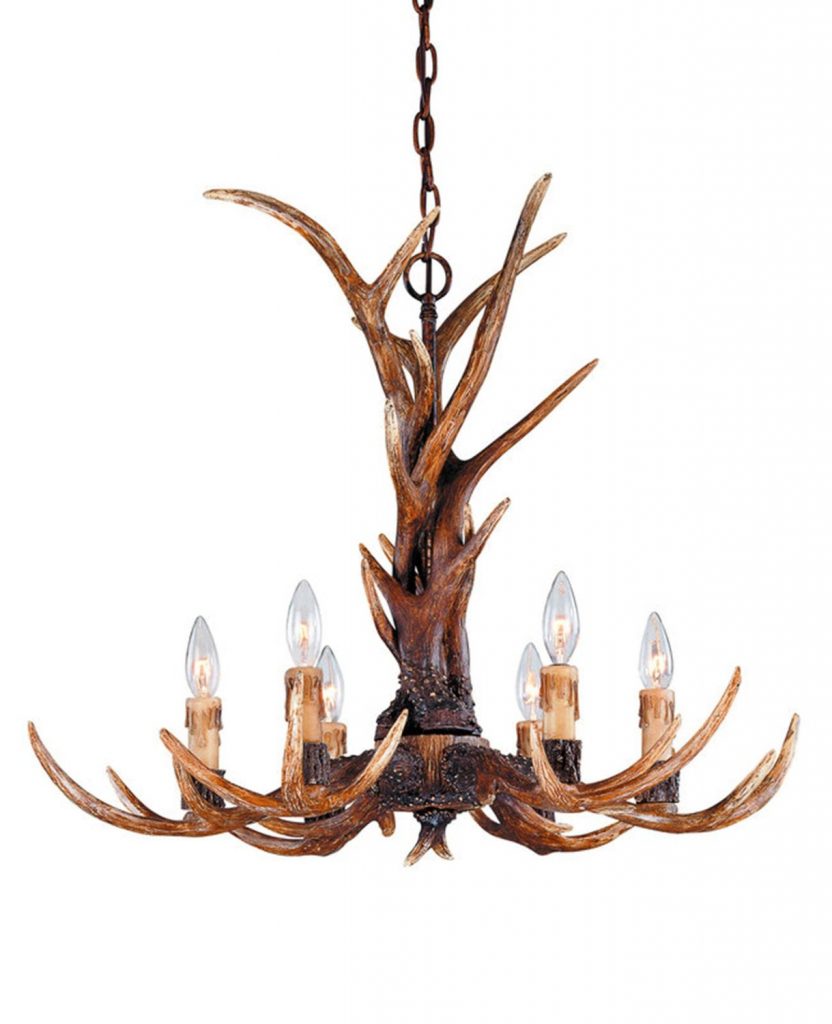 This stunning chandelier employs curvaceous deer antlers which boast a high-gloss tortoise shell finish. Six individual 60-watt incandescent bulbs provide a soft light while a rustic support chain adds an extra air of a rural appeal.
QUOIZEL FOUR-LIGHT FOYER CHANDELIER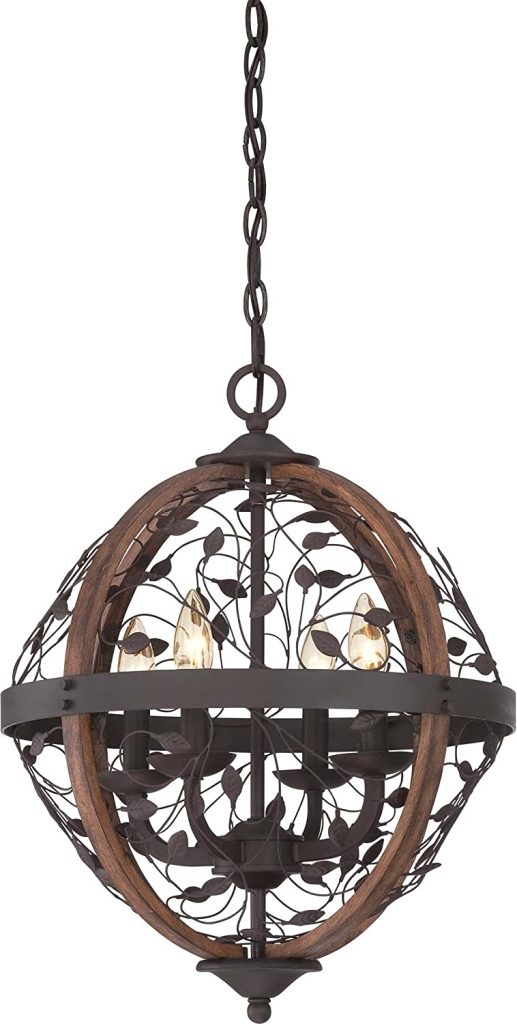 Those who enjoy an ancient and even Gothic taste will not be disappointed with this impressive design. A curved wood enclosure is punctuated by a dark bronze finish. Stylish metallic leaves provide a further sense of mysterious beauty.
KICHLER FIVE-LIGHT CHANDELIER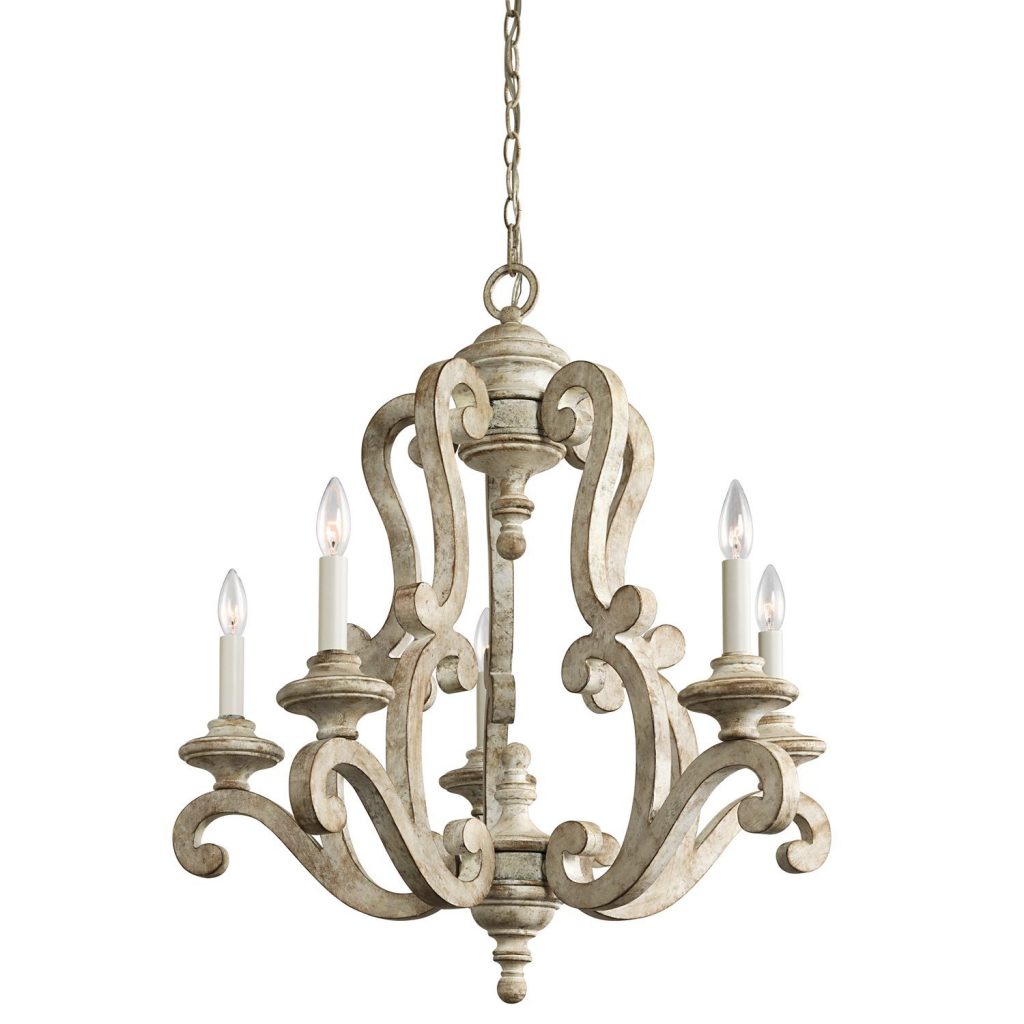 One of the pronounced features of this classic fixture is a distressed white antique finish. Five individual bulbs will help to highlight the slight Baroque appeal of this unit while its mottled off-white tones are perfect for more traditional homes or when matched with similar accessories.
FEIST ADAN RUSTIC CHANDELIER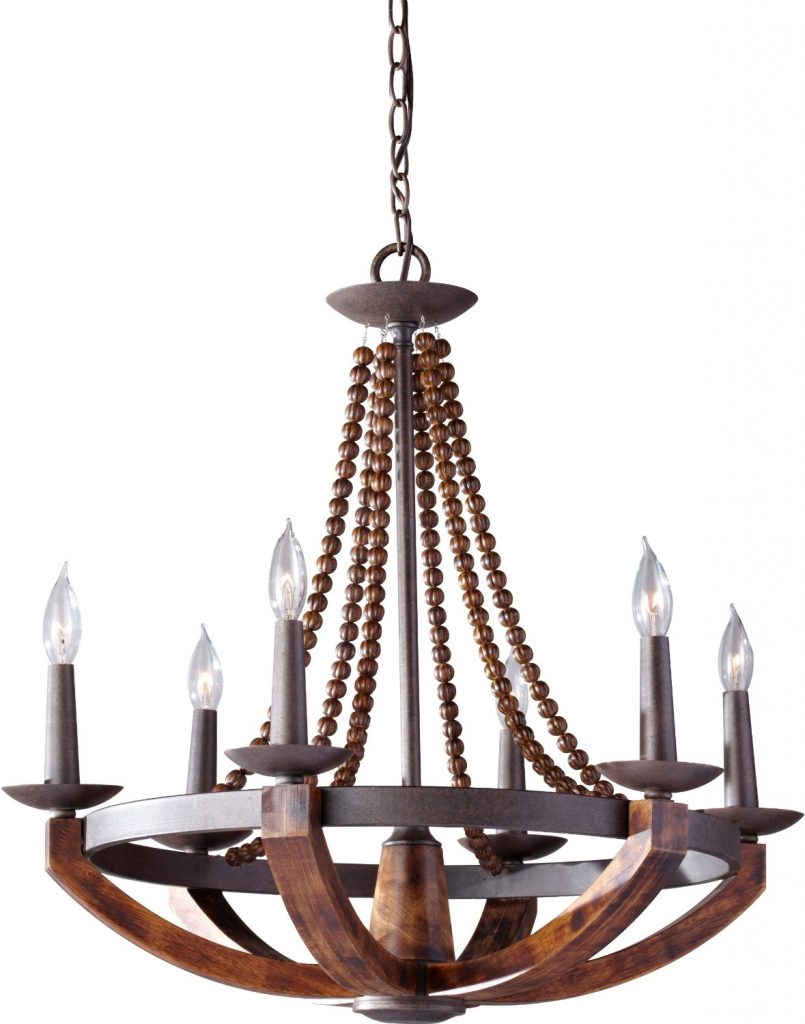 Wrought iron and burnished wood are two aspects of this chandelier which immediately catch the eye of the beholder. Six lights are arranged in a circular fashion and whimsical wooden beads that are draped from the top further accent the timeless nature of this piece. No less than 60 inches of electrical cord is supplied as well.
KICHLER ANVIL IRON SIX-LIGHT CHANDELIER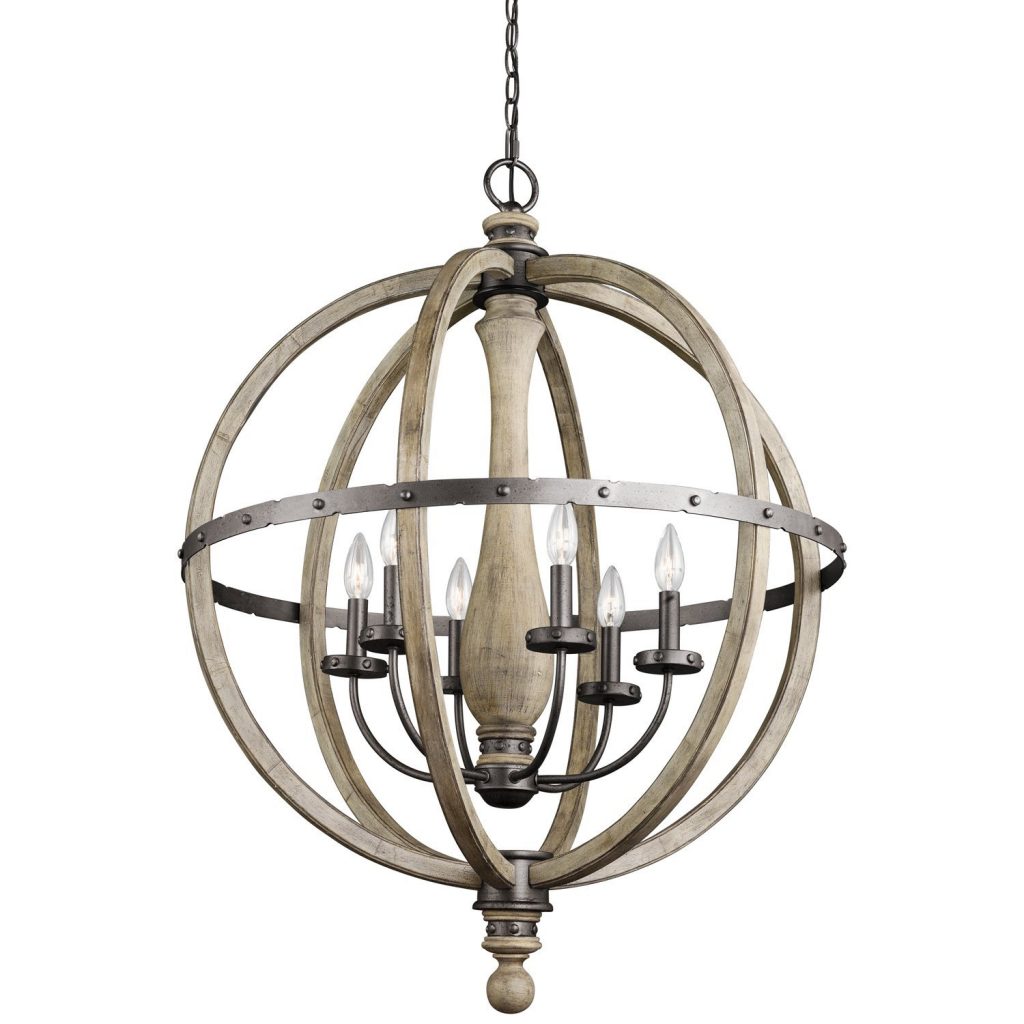 Slightly mirroring a globe that would have been seen in old-world paintings, the distressed gray finish of this chandelier is enhanced by a central wooden pillar and a handmade iron band around its circumference. Six candelabra bulbs complete the aesthetics of this piece.
FREDERICK RAMOND MIDDLEFIELD CHANDELIER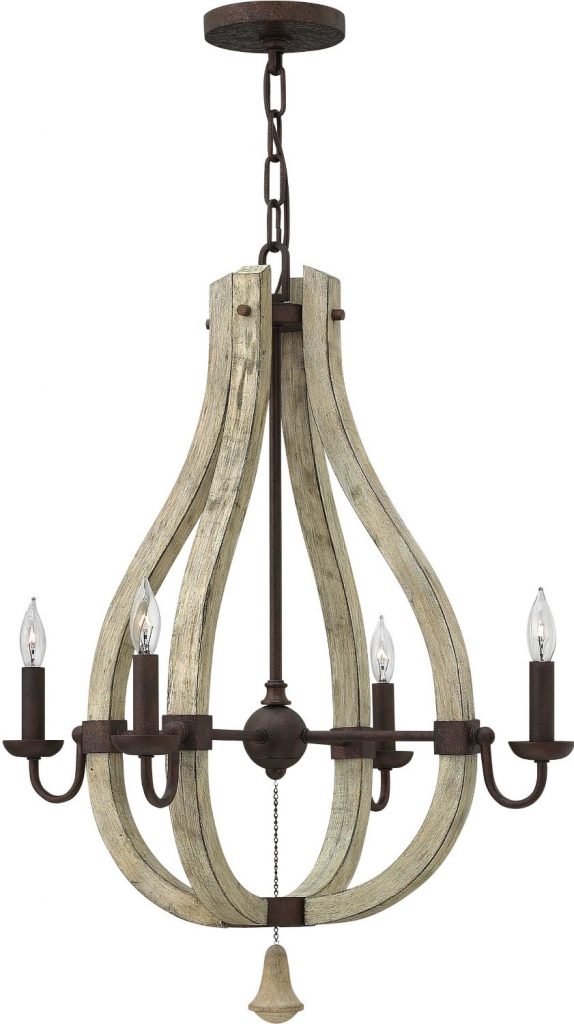 A rusted iron appeal is offset by the hand-painted gray finish displayed on wooden curves seen within its center. A height of 27 inches is ideal for those who wish for this unit to be the central attraction of any room. Four bulbs provide 240 watts of power and a handy toggle cord is found at its base.
CAPITAL LIGHTING CHASTAIN SIX-LIGHT CHANDELIER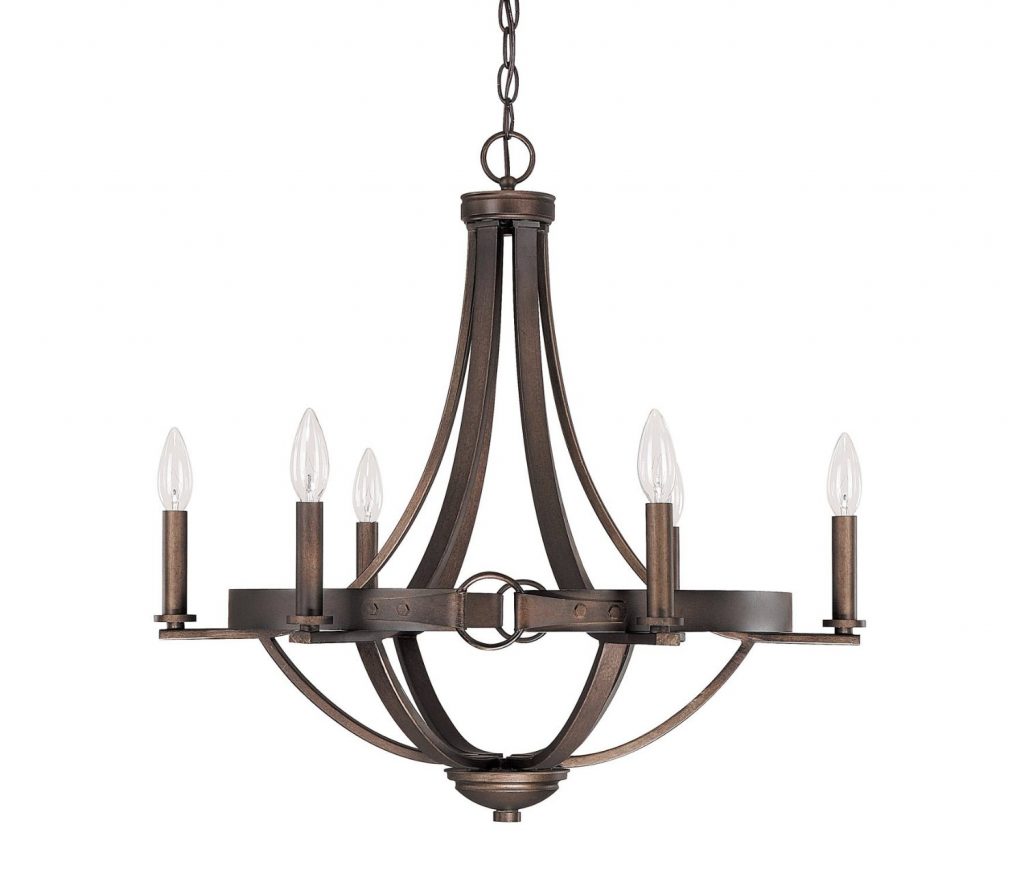 The minimalistic beauty of this chandelier is complimented by an impressive wrought iron lower band and a tobacco finish. Unique rings and clasps form the center of this piece and it should be noted that this model is able to coordinate with other items within the Chastain Collection.
MURRAY FEISS 3-LIGHT CHANDELIER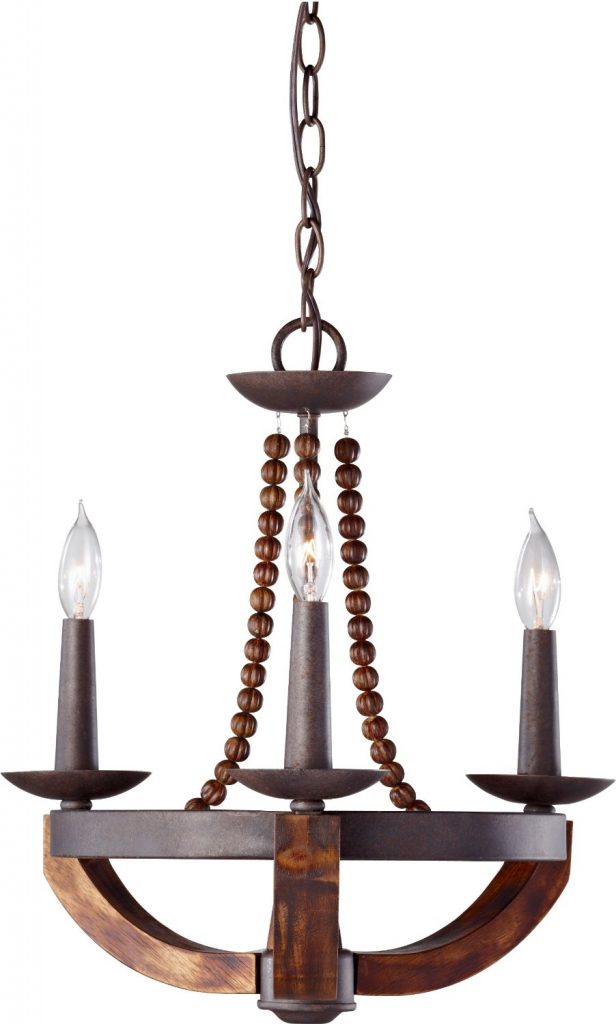 Slightly exhibiting the qualities of an anchor, this design employs a hand-painted burnished finish that brings out its magnificent natural grains. Three separate candelabra lights provide a sense of balance and these are matched by strings of beaded wood that descend from high above. Wrought iron completes the allure of this chandelier.
A&B WOOD AND METAL CHANDELIER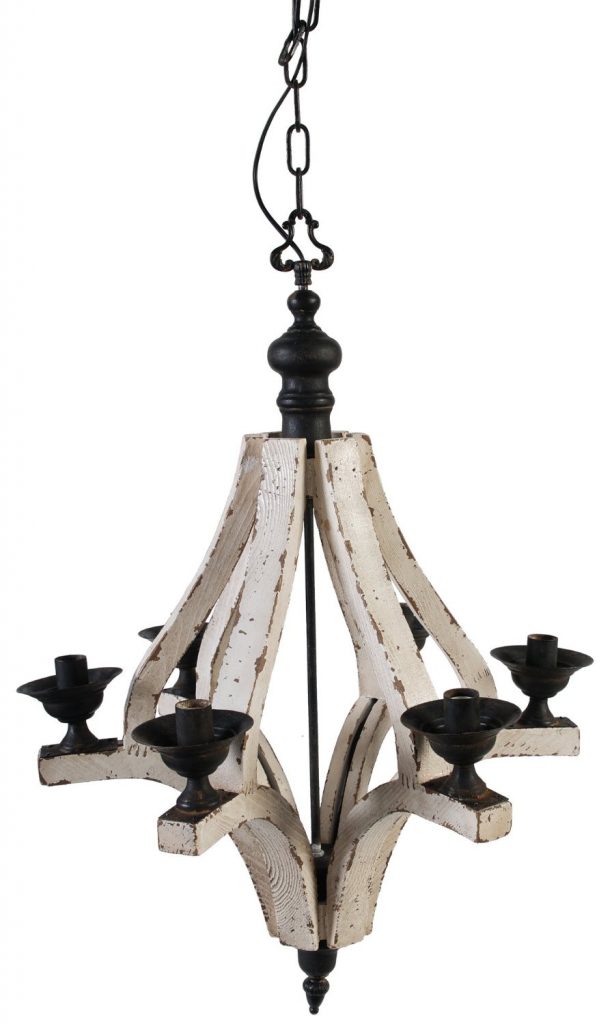 The antique wood and the angular design of this chandelier allow it to appear as if it were taken directly from the entranceway of a castle. The metal itself is aged as well while six individual lights will cast dramatic shadows down from above. A gray finish further adds to its universal appeal. Untreated areas of the wooden frame allow for a unique weathered appearance that is popular in modern times.
WINDSOR SIX-LIGHT WOOD AND METAL CHANDELIER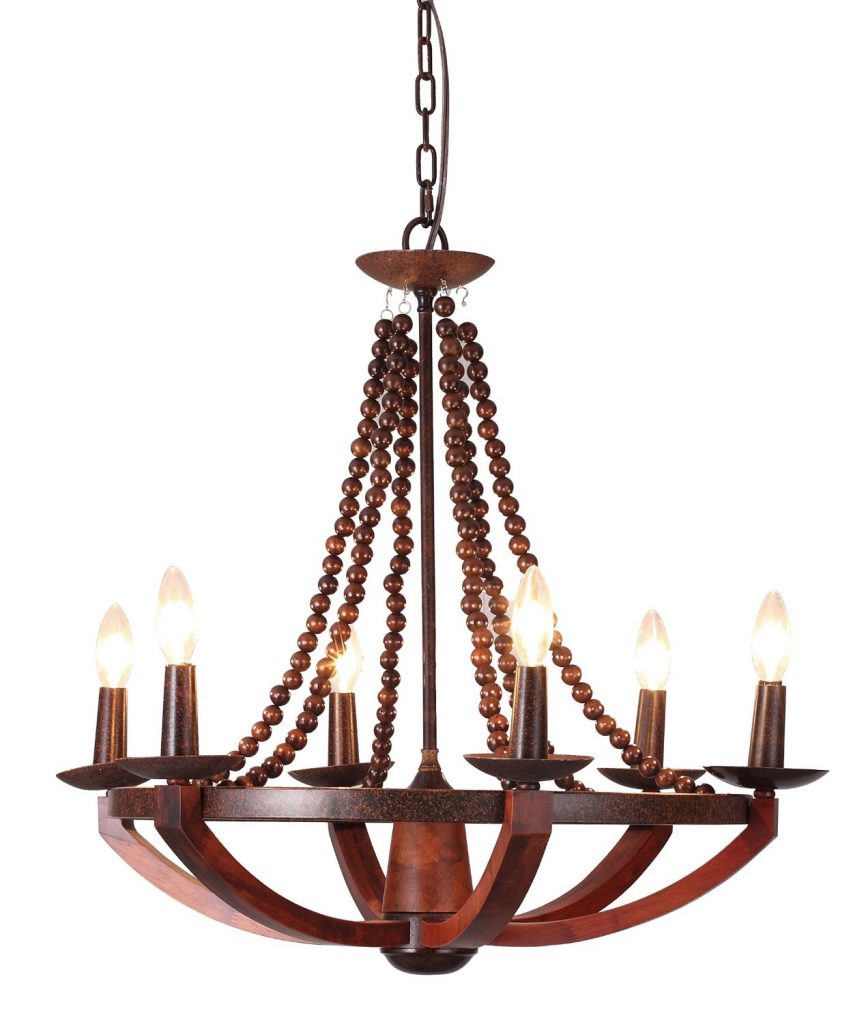 Boasting a stunning combination of rusted metal and aged wood, the rich hues of this six-light chandelier are certainly not to be overlooked. These are punctuated by beaded slings and wooden support arms that are found below each stylish candle. An iron band around its circumference "rounds out" such wonderful craftsmanship.
TUDOR 8-LIGHT WROUGHT IRON CHANDELIER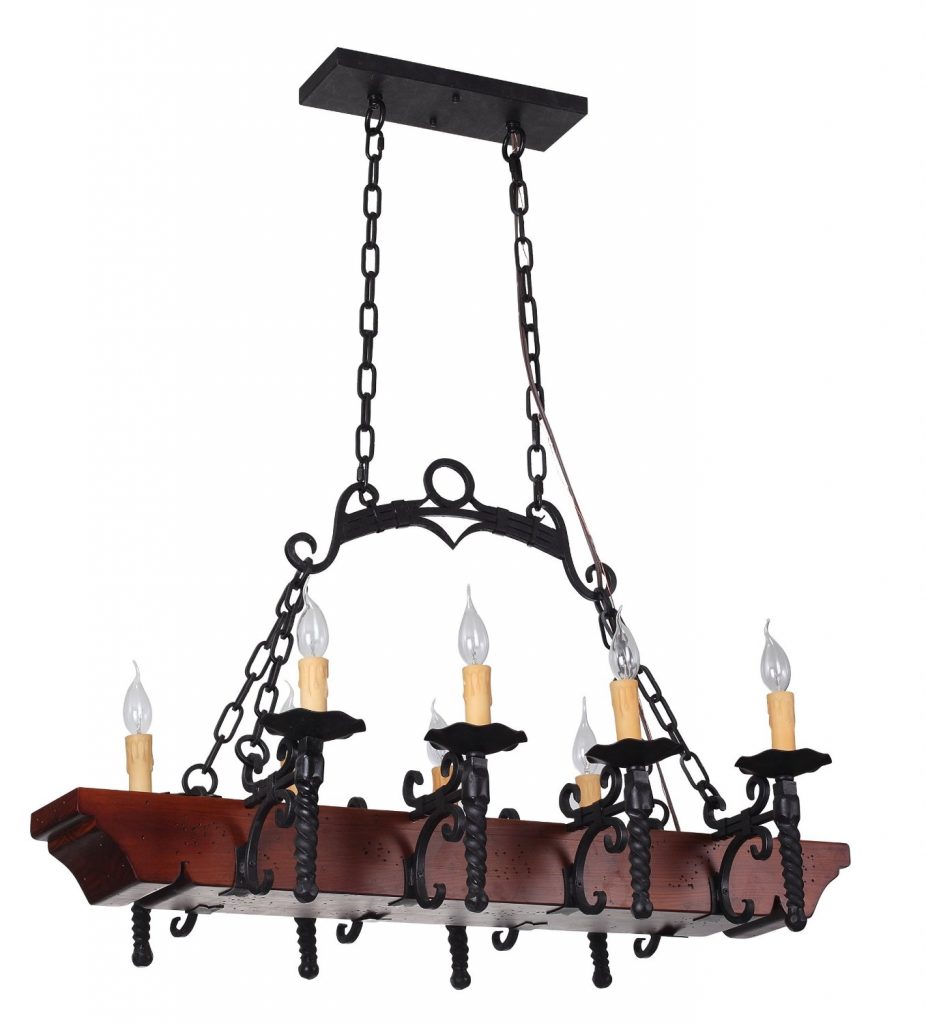 Those who wish to embrace the appeal of traditional Tudor lighting will be impressed by the side-by-side configuration of this fixture. Complete with two upper chains and a stylish wooden trestle foundation, the aesthetic beauty and raw beauty of this chandelier are worth a closer look. Such a unit is ideal for a dining room or a foyer.
RUSTIC 6-LIGHT WROUGHT IRON CHANDELIER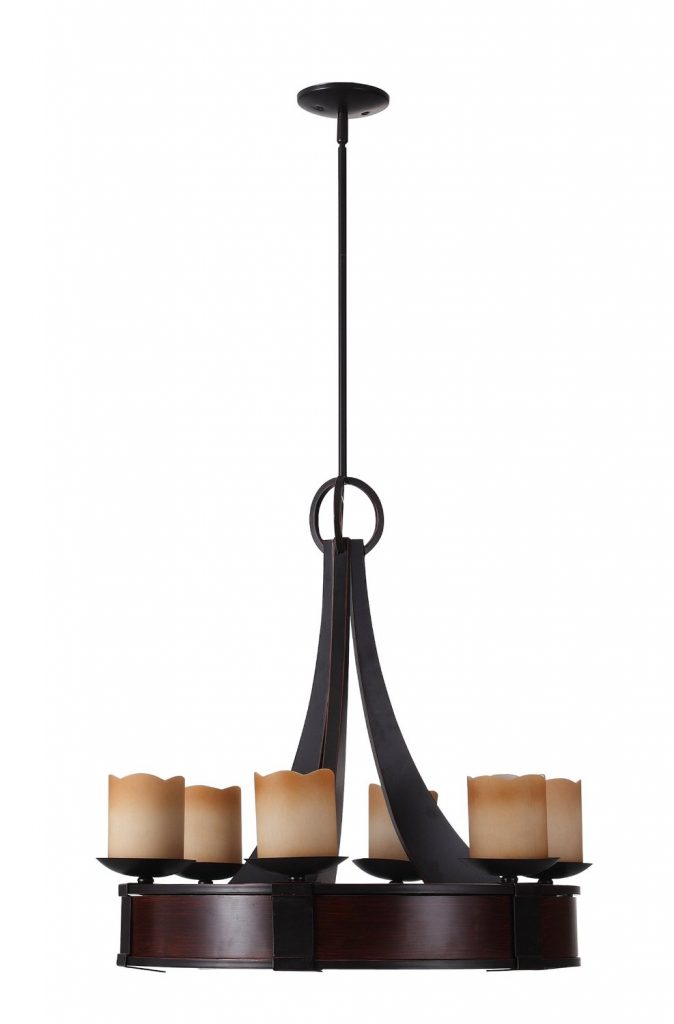 This unit displays all of the aspects of what many would envision a traditional chandelier to espouse. Its robust circular wooden base supports six faux candles; ideal for a more rustic look. A heavy-duty upper iron ring is attached an equally thick curved iron frame. The burgundy-like hue of the wood is perfect for those desiring a darker finish while glass cups found below the candles make an added punctuation within this masterpiece.