Floor vases are typically tall vases that stand on the floor of a room in the home, rather than a table or mantlepiece. The vases can range from simple styles to very ornate and elaborate pieces.
Often, they'll contain flowers, plants, branches or twigs, but some vases are striking enough to serve as a decorative feature all on their own and can be left empty if desired.
Floor vases can be made from a wide range of different types of materials such as ceramics, wood and even metal and are usually placed in one corner of the living room to fill space, add some colour, and create a feature.
Below you'll find nine luxurious floor vases, in a range of colors, shapes and sizes, that we hope will inspire you.
POLIVAZ MOSAIC OCEAN BLUE TRUMPET VASE

This striking blue vase is covered with intricate mosaic tiles that really shimmer in the light. Each of the tiles has been cut by hand and delicately applied individually to mimic the unique shades and tones of the sea.
This helps to ensure that no two vases from this line look exactly the same and people who select this vase will have their own unique work of art. The vase is very durable and stands 40 inches tall and can be filled with water if desired.
DECO 79 POLYSTONE MIRRORED MOSAIC VASE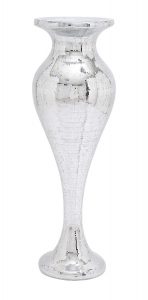 This silver floor vase from Deco 79 features an elaborate textured finish that makes it the perfect talking point in a stylishly decorated living room.
The vase is created from polystone that is covered with tiny mirrored tiles to create a mosaic look. Lovers of modern design are sure to adore this vase, which features a flat bottom base combined with a tapered pedestal and a wide opening.
ASPIRE METAL FLOOR VASES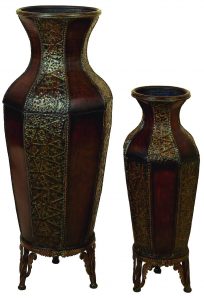 This pair of metal floor vases from Aspire are the perfect twins and can be set at either side of a room or sofa to create an appealing exotic look.
They are reddish brown in colour and are adorned with green accents that are very striking. The vases stand at 46 and 33 inches high, and add a touch of the Orient to a room.
GOLD LEAF DESIGN GROUP ZSA ZSA FLOOR VASE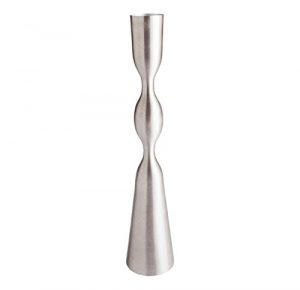 This beautiful brushed silver floor vase is made from aluminium and features a weighted base. The vase stands at 43 inches high and a liner can be placed inside so that flowers and other decorative elements can be placed inside the vase if desired.
However, the design of this long, thin vase is so striking that it looks great unadorned and served as a unique piece of art that looks appealingly modern.
JOZEFINA ATELIER RED TEKNO MARBLE FLOOR VASE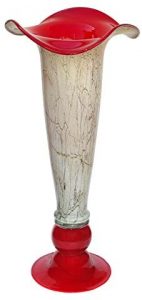 The bold red glossy base of this striking floor vase is perfectly complimented by the uniquely styled top. This floor vase does not hold water and is intended solely as a gorgeous piece of artwork that can stand in any room.
Jozefina Atelier is one of the world's leading designers of artistic vases and this piece is no exception. The vase measures 30 inches high and features a impressive marbled body.
LEEWOOD WOODEN FLOOR VASE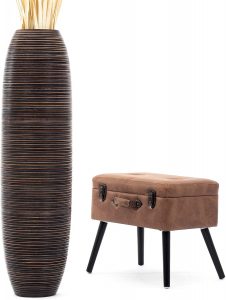 This beautiful floor vase has been carved from mango wood and measures 45 inches high. Although it is not designed to hold liquids, dry rushes and flowers can be placed in the vase to add the perfect finishing touch.
The natural tones of this vase make it the perfect addition to a soft toned room and will provide an extra finish touch that is sure to attract a lot of attention.
IMAX ENIEDA FLOOR VASE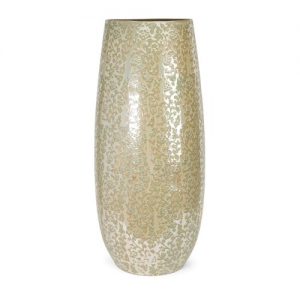 This beautiful beige handcrafted ceramic floor vase is covered with an enchanting vine pattern. It stands at a little under three feet tall and can be filled with a wide range of different types of decorative elements such as tall features or reeds.
JOZEFINA ATELIER RED ATLANTIC FLOOR VASE

Add a bold and bright tone to your room with this fiery red floor vase. It features a distinctive bulbous shape that expands outwards from the tapered base. This is one vase that is sure to attract lots of attention and can be used as a focus piece in a living room to really bring life and a flare for the dramatic to the room.
CLASSIC LARGE FLOOR VASE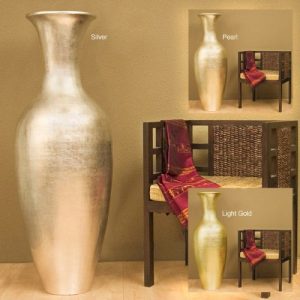 This luxurious floor vase has been crafted from bamboo by talented artisans in Southeast Asia and measures 47 inches high. the classic shape of this floor vase has been created from thin strips of bamboo that are carefully placed around the frame.
The vase is coloured with silver leaf on top of the bamboo to give it a really decadent and luxurious appearance.
The silver leaf can then be coloured in a selection of different ways such as light gold, natural to enhance the silver colour or a soft pearl glaze that changes slightly with the light.