A wine decanter is an essential companion for any wine connoisseur, and makes a beautiful yet practical gift for any wine lover, and a stunning addition to any crystal collection.
Whether you are after a practical classic design, or something more inspired, we have collected our favourite 14 wine decanters on the market, from ship's decanters to decanters inspired by a pig's tail, we've got them all.
RIEDEL CRYSTAL DRAGON DECANTER, TWENTY TWELVE (RED/BLACK)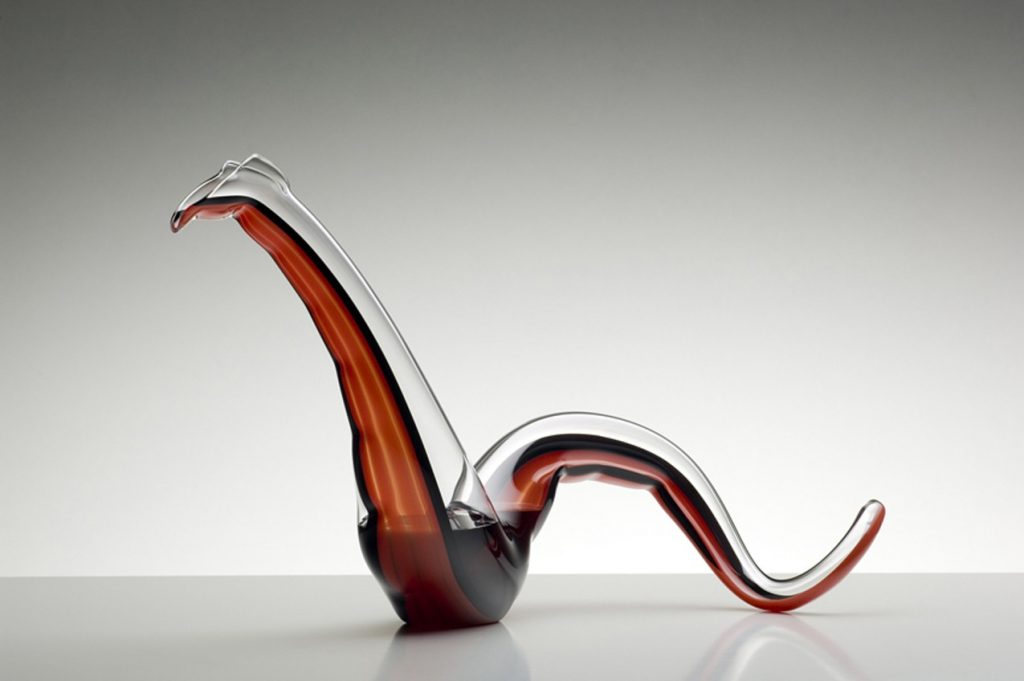 Add this unique and exclusive dragon decanter to your crystal collection. Prepared by Riedel especially for the year of the dragon a couple of years ago, this decanter won't be on shelves much longer.
This mouth blown, hand-crafted piece is designed to open up young red wines whilst impressing guests with its stunning aesthetics.
AMADEO DECANTER: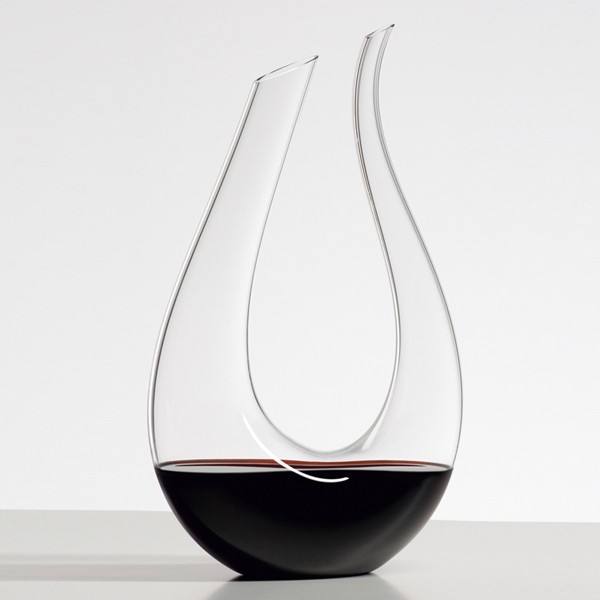 The Amadeo decanter is perfects the signature decanter from Riedel. Designed and initially produced in 2006 it remains one of their most popular decanters, perhaps due to its simplicity of function and its elegance.
Shaped like a Lyre, the decanter is easy to use; the wine is poured into the decanter through the larger opening where it is then given time to aerate prior to being poured into a glass from the more narrow opening.

A timeless piece, this decanter is the one who wish to make a statement, without the fuss.
RIEDEL BOA DECANTER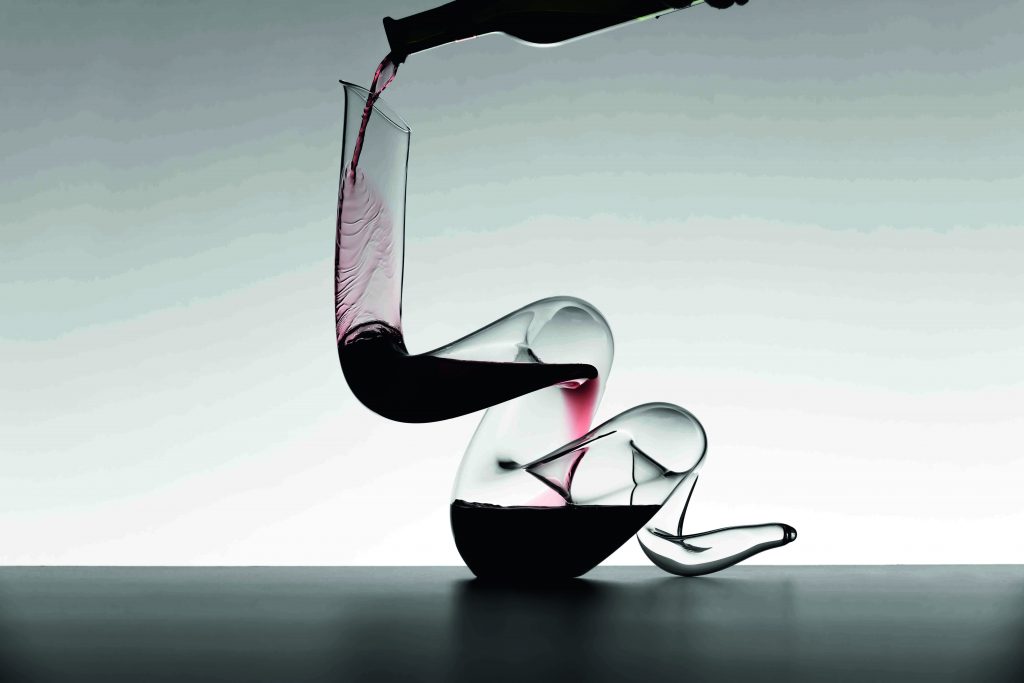 To celebrate the 2013 year of the Snake, Riedel produced a new addition to its serpentine family of decanters.
This hand-made, mouth blown decanter features tight coils, enabling the wine to "double-decant", producing the desired, "open" effect in seconds.
RIEDEL CURLY DECANTER: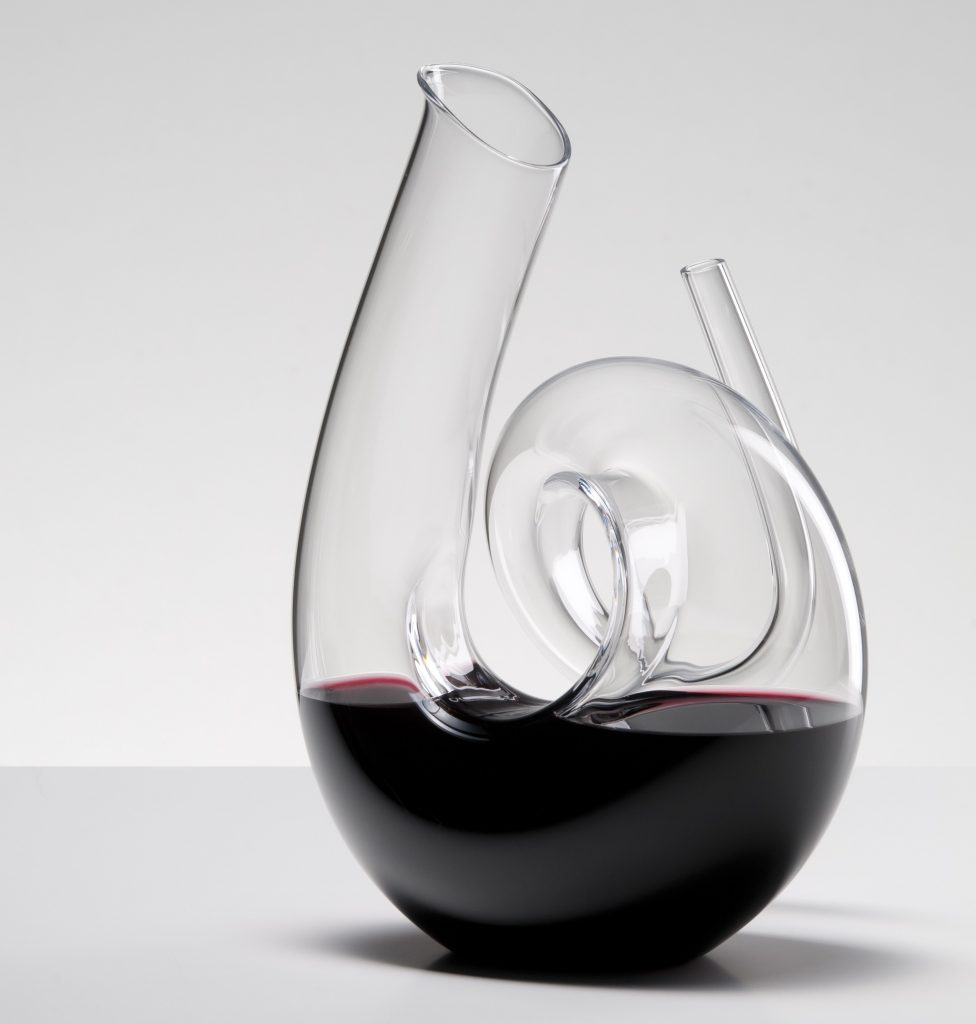 Fun Fact: This elegant design was inspired by a pig's tail.
Finding it "intriguing" Georg Riedel used the concept of a pig's curly tail, to create this functional, and beautiful design.
The curls in the hand made and mouth blown decanter create multiple oxygen pockets which aerate the wine at a much faster rate than a standard decanter, and enables the bouquet and flavour of the wine to enhance as the liquid passes through the decanter toward the opening where it can be poured into a glass and enjoyed.
All thanks to a pig and his tail.
FINAL TOUCH TRAD. STYLE DECANTER: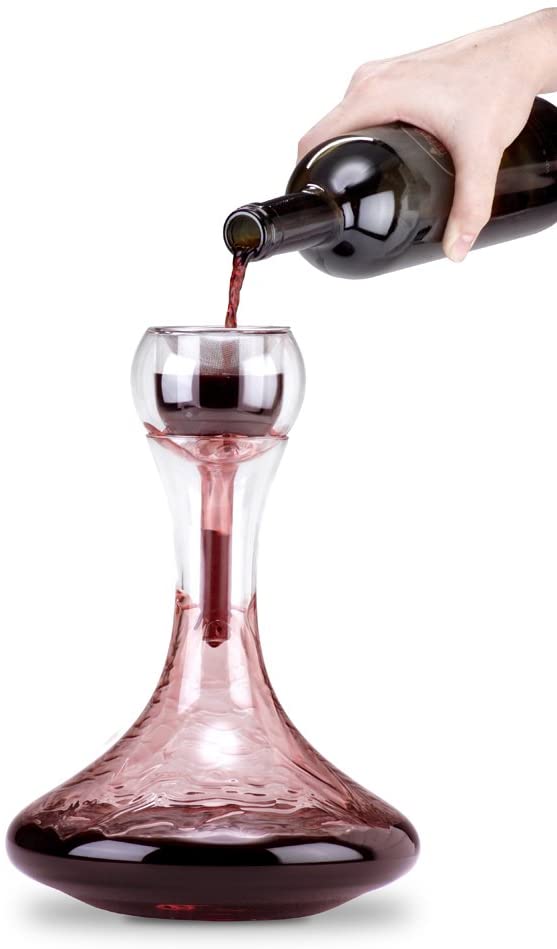 The Final Touch Traditional Style decanter set enhances flavour and scent in its three phase decanting process.
The set comes complete with a blown glass decanter, stainless steel sediment filter and a unique double wall aerator; the aerating wall oxygenates the wine to improve both its taste and aroma.
To use, pour your wine into the stainless steel filter which will capture any sediment before the rest of the wine flows freely into the first of the double wall aerator.
Phase two sees the wine gently distributed into the sides of its unique globe design, and the final phase sees the wine continue into a final enhancer before resting in the decanter ready to be poured.
CENTELLINO AREADIVINO WINE AERATOR & DECANTER: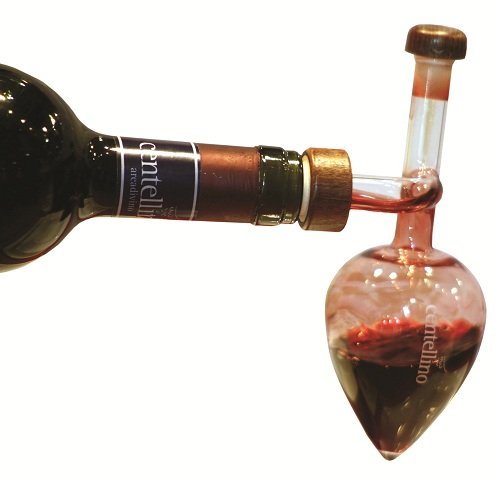 This aerator would have to be the most practical of them all.
Unlike other large and time consuming decanters, the Centellino Areadivinio is beautiful in its simplicity, featuring a handblown decanter which attaches to the top of a wine bottle-neck, making the aerating process easy and efficient.
To use, simply fit the Centellino into the bottle and fill the glass amphora by tilting the bottle.
The wine will aerate gently, releasing the beautiful aroma and bouquet of the wine. The wine can then be poured directly into your glass to be enjoyed.
The decanter acts as a bottle stopper and will preserve your wine. What's not to love?
PROPASSIONE BALLOON: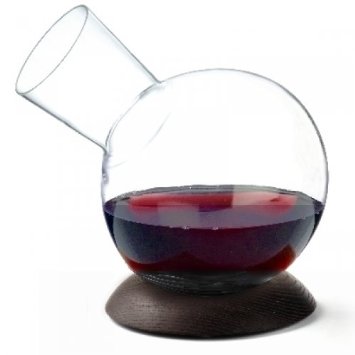 This Scandinavian balloon decanter, or "balloon du vin" allows red wine to breathe freely and further develop in flavour.
The wide space within the balloon decanter allow full bodied wines to reach their full potential and also breath from the wide opening. The decanter's capacity is 1.5 litres and rests on a gorgeous base of ash wood.
Perfectly suited for rich, mature wines.
WINE ENTHUSIAST'S ETCHED GLOBE DECANTER: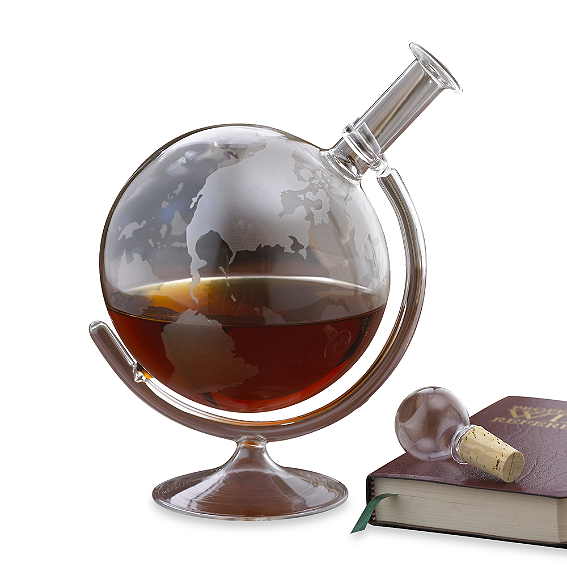 A stunning centre piece, this decanter features an inspired globe design. Appropriate for Cognac, Port or wine, the Globe decanter may be spun to aerate the contents; opening up their flavours and aromas.
The globe is heat resistant, and features a glass stopper and base.
PROPASSIONE DECANTER SET: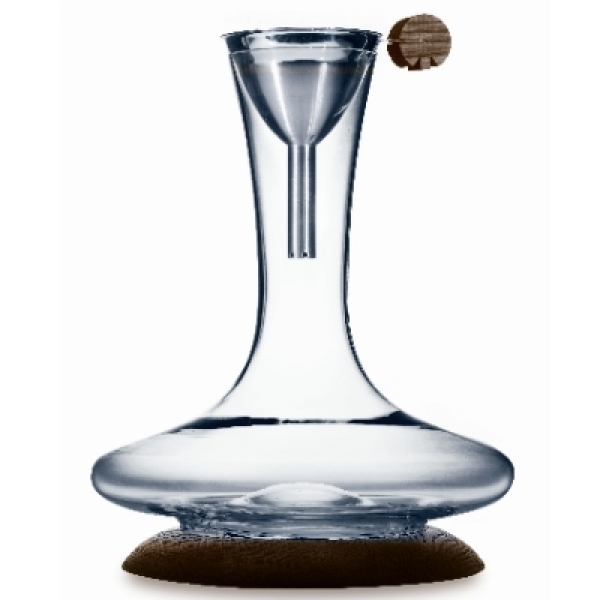 Set upon a natural ash wood base, this wide discus decanter provides wine with plenty of space to breathe and develop.
The beautiful mouth-blown carafe comes with matching stainless steel funnel with ash wood handle and incorporated sieve to capture any sediment.
A beautiful and functional gift or addition to the collection.
HALLMARKED STERLING SILVER WINE DECANTER:

This beautiful decanter features a sterling silver collar which has been hand made by Broadway Silversmiths of Birmingham.
The classic cut crystal design will make a stunning counterpart to your dining and drinking experience or will make a gorgeous gift, presented in its high quality, gift presentation box.
HAND CUT LEAD CRYSTAL SHIPS DECANTER ON WOODEN TRAY WITH GALLERY RAIL: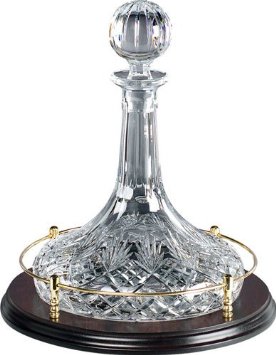 When many of us think of wine decanters, the image we picture in our mind's eye is that of the classic "ships decanter" design.
Historically designed for port, the ships decanter design features a wide, shallow base, making it stable on the high seas, whilst also allowing the port (or wine) to breathe and open up, releasing its full flavour and bouquet.
The resilience of this design is a testament to both its form and function, and this stunning Crystal decanter, set upon a Wooden tray with Gallery Rail definitely speaks more than function.
A gorgeous addition to any crystal collection.
RIEDEL BLACK TIE BLISS DECANTER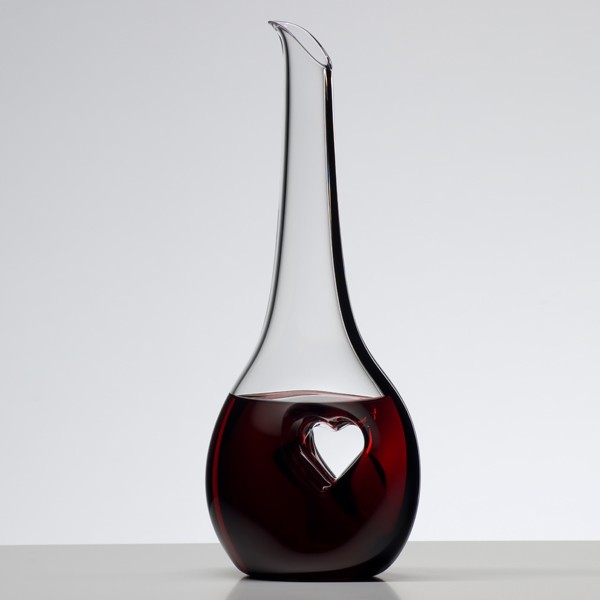 This romantic Riedel decanter is truly a work of art. The third in the Black Tie collection, the Bliss decanter is hand made and mouth blown, featuring a heart shape crafted out of its bowl and a beautiful black stripe, blown and incorporated into the glass blowing process to complete this stylish piece.
Standing 14-3/8 inches high, the lack of moulds used when creating these decanters ensures each is unique, and each stands alone as a work of art.
VILLEROY & BOCH VINOBILE BORDEAUX FRENCH RED WINE DECANTER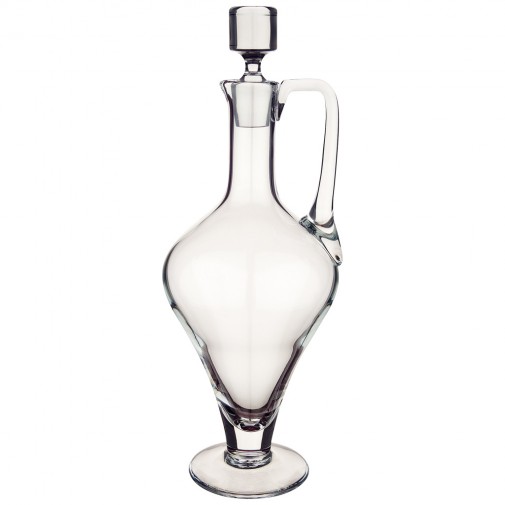 The French love their wine, so leave it to them to design and create stunning and practical decanters such as this one.
Doubling as both a decanter and carafe, the crystal glass is shaped in a way to open up middle-aged wines in its blossoming body, whilst a restricted neck and base are cleverly utilised to control the oxygenation process.
A stopper and handle enable both preservation and easy pouring.
HALLMARKED SILVER TRIANGULAR ATLANTIS DECANTER: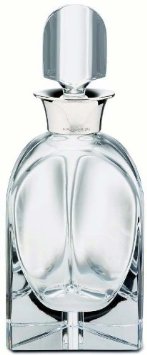 This breathtaking decanter is made from Atlantis crystal, one of the purest forms of crystal, known for its greater resonance. It's unique, triangular design with internal globe to aerate the wine creates a beautiful aesthetic experience.
The decanter features a silver collar, hand crafted by Broadway Silversmiths of Birmingham. This decanter makes a unique centrepiece to any table, and is the perfect accompaniment to a fine drinking and dining experience.