A blend of Italian style with Swiss craftsmanship, Panerai watches were born out of a request from the Italian royal navy in 1936 for reliable, water-resistant watches.
The initial watch was the Radiomir, which was followed by the Luminor. Loved for their bold sizes, unbeatable quality and distinct styling, Panerai watches have created a league of their own with a harmonic blend of quality, luxury, and personal expression.
We've listed below our eight favourite men's Panerai watches, all available online.
PANERAI LUMINOR MARINA MEN'S AUTOMATIC WATCH – LIMITED EDITION 2000 PIECES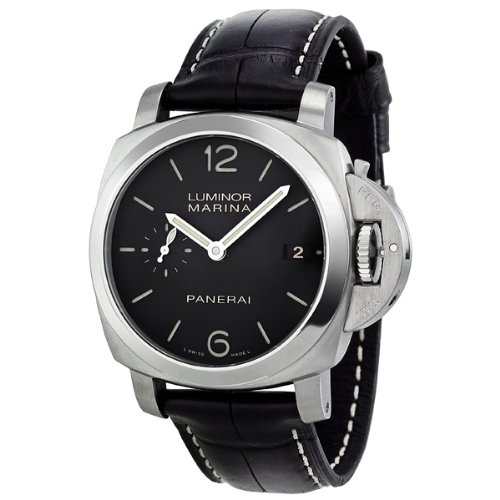 This stunning timepiece has a stainless steel case alongside a calfskin leather, buckle-style band.
The white stitching on the band contrasts with the black watch face and subtly matches the metallic finish on the numbers and hands. Protecting the watch face is scratch resistant sapphire.
The crown protector is also stainless steel. One watch from the excellent Marina collection, the 2000 parts watch is water resistant up to 100 metres and comes with its own collectors box.
PANERAI MEN'S FERRARI SCUDERIA CHRONOGRAPH WATCH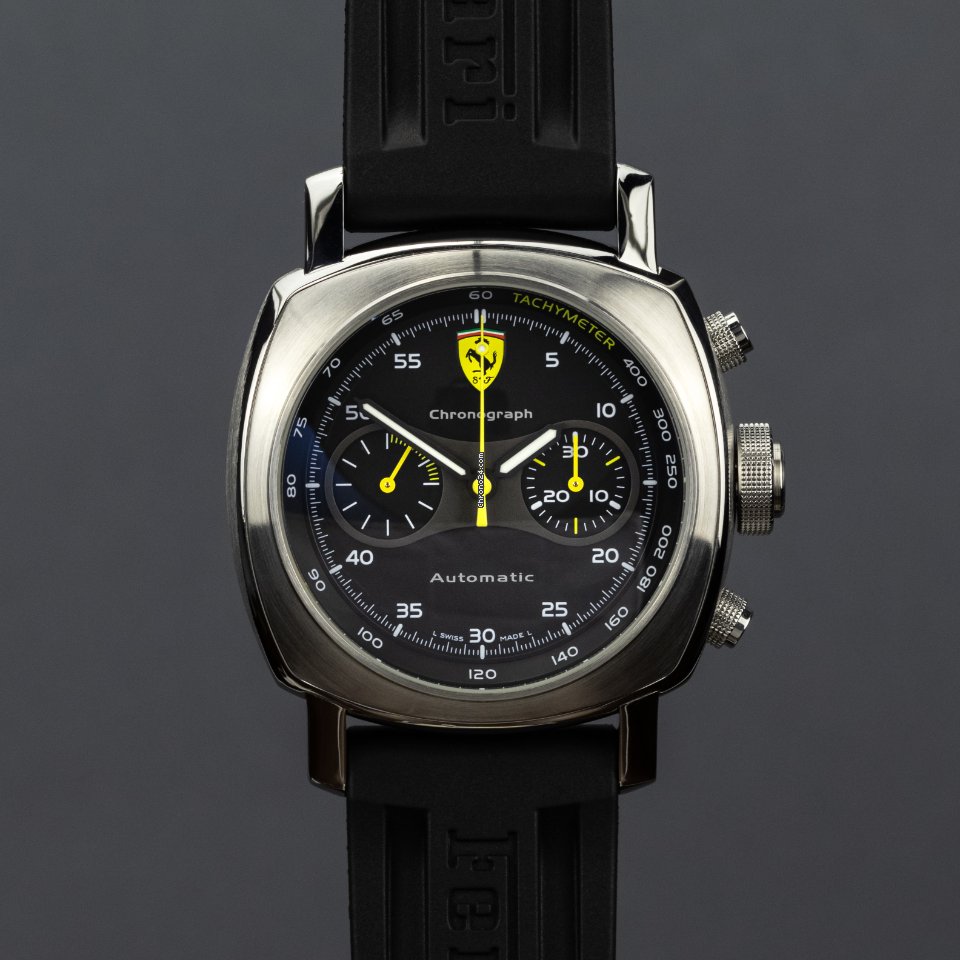 his sporty style watch offers a twist on more common, corporate styles. The watch has a nice stainless steel case with the Ferrari logo on the back. The band is ebony calfskin leather and contrast colour stitching with yellow on the inside matches the Ferrari colours and logo.
The watch face is framed by a rounded square and features a black background with white numbers and dials along with the yellow Ferrari crest logo in the twelve o'clock position.
Scuderia sounds a bit like scuba and in fact; this model offers water resistance to 100m. It has a chronograph with two sub-dials at 60 seconds and 30 minutes as well as a tachometer scale along the outside edge.
Built to be anti-reflective, the watch face is a low reflection sapphire crystal.
PANERAI MEN'S LUMINOR GMT – BLACK DIAL WATCH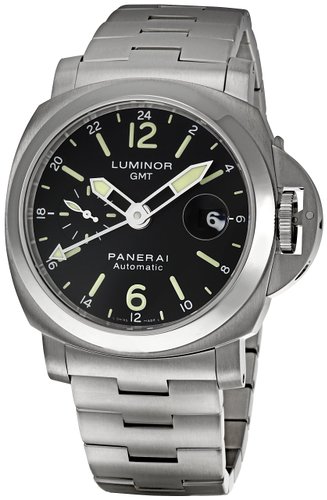 This watch features a stainless steel front and back with a winding guard and tool included, the band is a stainless steel, adjustable bracelet.
It has luminous hands and numbers, a black watch face, and date display at the three o'clock position. A no-nonsense watch, this timepiece is very practical and masculine.
The watch is water resistant to 990 feet and built for scuba diving to 30 metres for up to two hours at a time.
Designed and produced since 1934, this timeless classic will always be in style.
PANERAI RADIOMIR 8 DAYS WATCH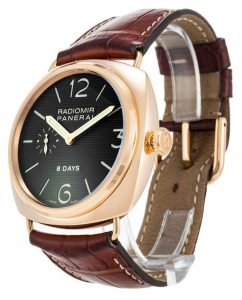 Panerai Radiomir 8 days men's watch says "style", "luxury", and "good taste". The case is 18k rose gold with an 18k rose gold bezel.
The face is black with a small square pattern and luminous numbers and hands. The hours are marked with sticks except for the 12, 3, and 6. The 9 is where the seconds are displayed.
This watch is hand wound with an 'onion' shaped 18k rose gold crown. The display case back and front are made from sapphire crystal.
PANERAI MEN'S LUMINOR MARINA 1950 BLACK DIAL WATCH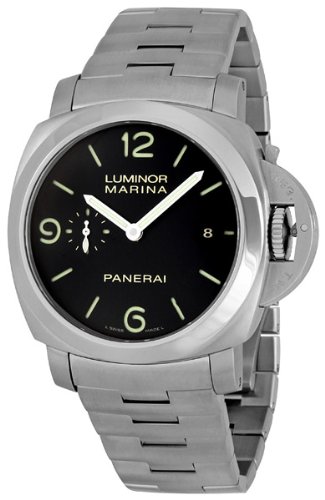 A stainless steel watch and band with black face and clear back cover to view the movement, the Luminor Marina 1950 offers that little bit of sophistication in a steel watch.
It is water resistant to 330 feet and can be worn while snorkeling or swimming. 44mm in diameter with an automatic movement, the hands and numbers are luminous.
The date can be viewed in the three o'clock position, and there is a small second hand. The face cover is sapphire crystal, a gemstone which helps prevent the front from easily becoming scratched.
A crown protector comes as standard along with watch tools and 72-hour power reserve. This model is also known as the 1950 Marina 3 Days Automatic Men's watch.
PANERAI RADIOMIR COMPOSITE BLACK SEAL – 3 DAYS AUTOMATIC WATCH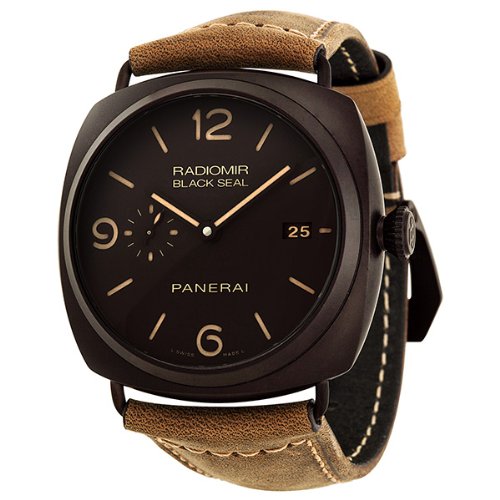 The Radiomir Black Seal watch from Panerai has 28 jewels and a skeleton back for viewing the workings which perform automatically within the black Panerai composite case.
The band and watch case are both brown and have contrasting numbers and stitching as well as the small seconds and date functions. It contains the patented Incabloc® anti-shock device, and its wire loop strap attachments are removable.
The Radiomir Black Seal is water resistant to approximately 100 metres or less.
The name Black Seal which is imprinted on the watch is a reminder of its rich Florentine history; it is one of the names whom the commandos of the Italian Navy called the slow-speed torpedoes.
This watch commands attention from the eye and offers an easy to read format. It could shift from everyday wear to appropriate evening attire as a modern accessory.
PANERAI LUMINOR BASE LOGO MEN'S HAND WOUND WATCH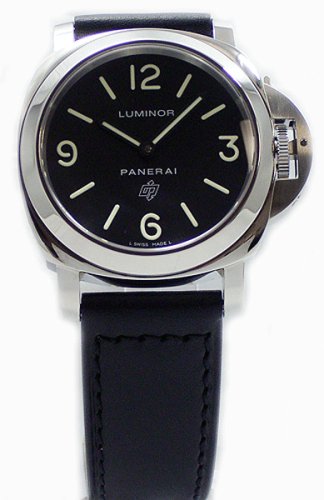 This simple yet stylish timepiece is one of the types which Panerai once designed for the Italian Navy.
It comes with a stainless steel back and brushed stainless steel case, winding knob guard and tool, and a jet black leather stitched strap and stainless steel buckle.
The black face and white dial numbers and hands pose a striking contrast with the stainless steel, and its weight is 15.8 ounces. The dial window is made of sapphire.
It is a basic model which is good for everyday use, although for evenings out something a little different may be required.
PANERAI RADIOMIR COMPOSITE MARINA MILITARE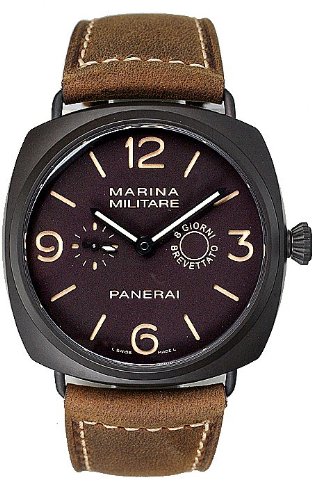 Sporting a diamond-shaped crown, the Panerai Radiomir composite Marina militare watch is 47 mm and resembles a watch going back to the original military collection beginnings.
Its case is manufactured of Panerai composite material, a technology which makes it practically un-damageable. An electrochemical process is used where the aluminum goes through a ceramization giving it a case harder than zirconia, steel, or titanium but lighter than any of those.
This is the sort of watch containing elements previously used only by the aeronautics industry, where tough and precise materials are a requirement.
It is a smart-looking chocolate brown-faced watch stamped with the Giorni Brevetato and featuring luminous dials and a small seconds hand. The band is a chocolate brown calfskin.
The Radiomir composite Marina Militare offers a retro look, pairing innovation with a bit of nostalgia in one.