Glamping (glamorous camping) is a form of specialised camping that exposes you to the outdoors, yet allows you to take advantage of the amenities, style and comfort you'd expect from a hotel. Originally a form of camping practiced by American and European travellers on their journeys to Africa in the 1900s, glamping has become a global phenomenon.
It will come as no surprise to you that glamping goes by other names such as posh camping, boutique camping or luxury camping, considering glampsites (glamping sites) are usually yurts, tree houses, safari tents and pods, considerably more lavish and imposing than the run-of-the-mill camping tent.
For the city slicker who appreciates nature but dislikes the idea of foregoing life's little luxuries, we've put together a list of some of the most interesting glampsites on the planet. Keep in mind that the distinction between camping and glamping is vague when it comes to British glampsites, but the more you roam the world and explore the myriad glamping destinations, the clearer it becomes that honest-to-goodness glamping is head and shoulders above traditional camping.
As such, our list comprises glampsites from across the globe, which bring the splendours of nature to the limelight, while honouring the richness of local culture. Still, our list is by no means comprehensive and its intention is simply to reveal some of the most interesting glampsites on the planet, not to promote or to find fault with any of the destinations mentioned or excluded herein.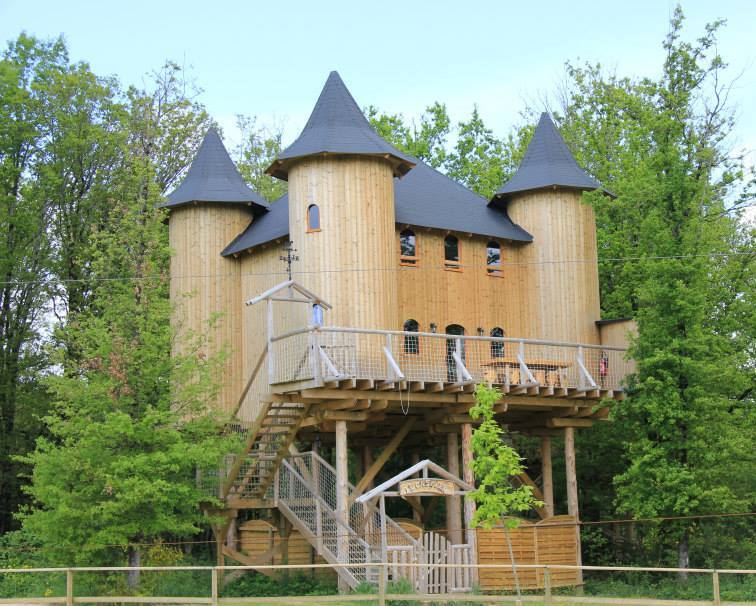 First on our list, Défi Planet is a charming natural park resort in the French domaine of Dienné which offers the quirkiest glamping accommodations imaginable, including tree houses, yurts and the one-of-a-kind mushroom and snail houses. The most attractive of them all, the "Castle in the Trees" is a magical chateau perched in the tree tops, which offers breathtaking views, access to playgrounds, fitness areas, sports grounds, hiking trails and all the necessary amenities for groups of up to ten people.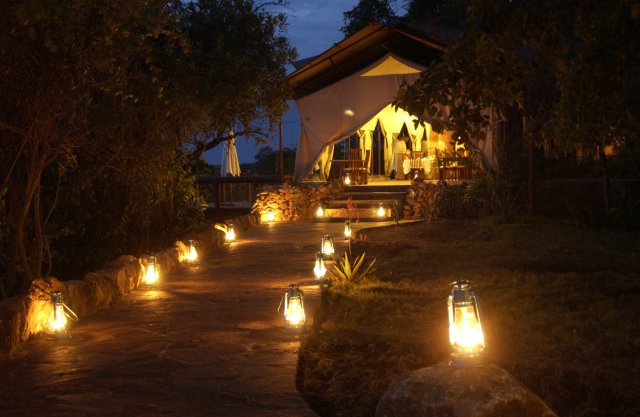 If you're an animal lover and you've always wanted to find the ultimate real-life wildlife show, nothing compares to the experience that the Serengeti Migration Camp in Tanzania offers its visitors. Each of the 20 luxurious tented rooms comes with a 360-degree veranda that literally exposes you to nature's daily battles for survival. The annual migration of countless animals is a sensory feast that few of us will ever have the pleasure of participating in and sharing with the family.

Hintok River Camp at Hellfire Pass in Thailand is a luxurious tented hotel between the River Kwai and the Hellfire Pass cliff in the province of Kanchanaburi. This glampsite is perfect for those who have always wanted to go elephant riding, bamboo rafting, caving or kayaking, but it is also an ideal getaway for those who want to relax, warm up next to the campfire, bath in natural spring pools, or try a Thai massage every now and then.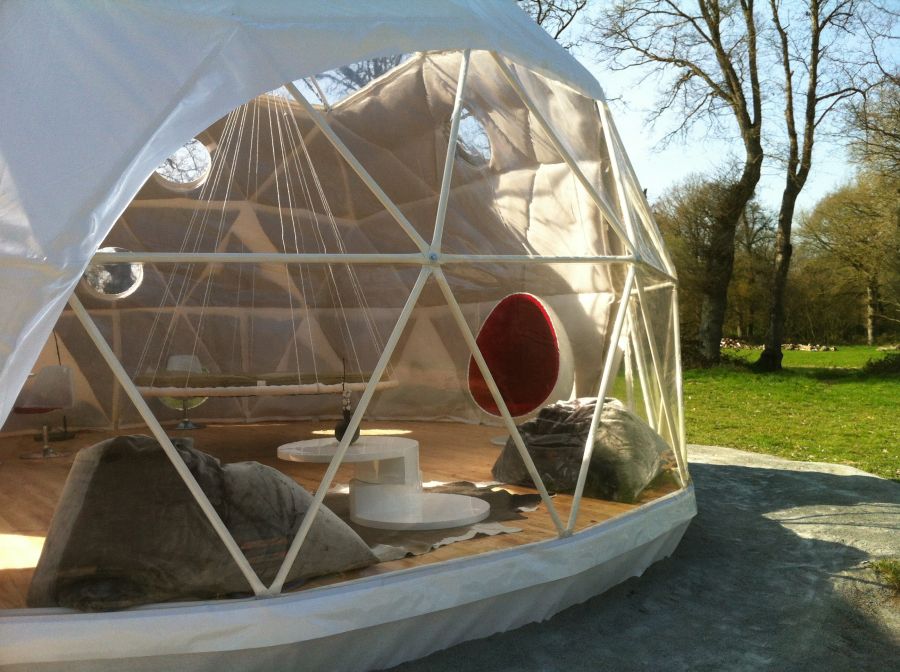 This singular geodesic dome in Brittany's domaine of Arvor, in France, is nothing short of splendid. A suspended bed under the stars, a hot tub to be used at one's leisure, contemporary furniture and complete privacy, as well as a range of amenities and outdoor facilities, make this glampsite the ideal honeymoon escape.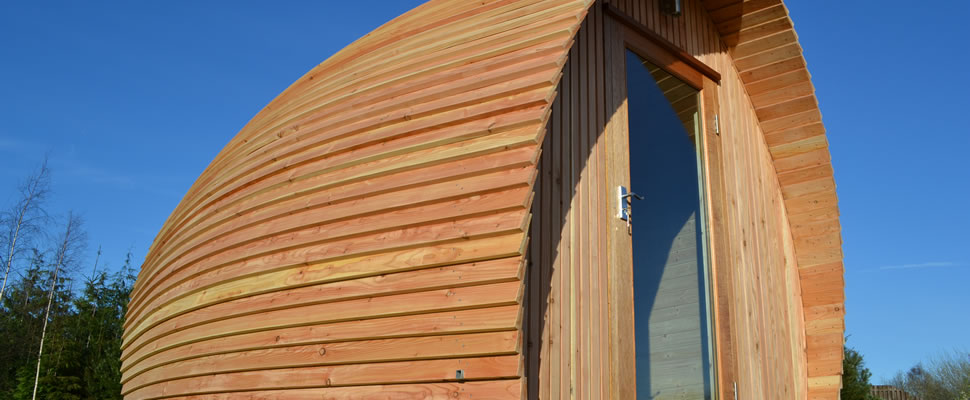 Armadillas in the Great Glen, by Loch Ness, don't sound like the most enchanting glampsites, but if you'd give them a chance, you'd see that they cater to your every whim. The Armadillas pods sleep two people, they come with iPod docking, free WiFi, underfloor heating, private barbeque or fire pit and all the general utensils and amenities you could possibly need. An even more luxurious accommodation is the suite, fully equipped and resembling a hotel room.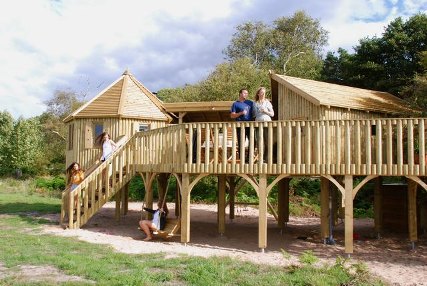 A relaxing stay at on of Lochhouses Farm's tree houses could be just what your family needs. Not only is the farm located close to Edinburgh, near Dunbar, in Scotland, and accessible by car and train, but it is also right next to a sandy beach. The tree houses are fully furnished, with spacious living area, a deck for romantic lunches by the sea and even a swing for the children.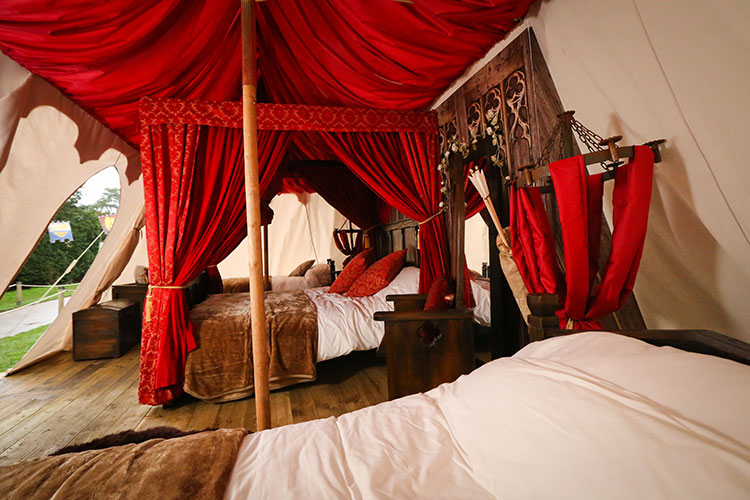 Decidedly not to everyone's liking, historical glamping is nonetheless an experience every Medieval life enthusiast should try, and Warwick Castle offers some of the best glamping packages. The medieval tents are elegantly furnished and if the decor doesn't blow you away, then the all-you-can-eat medieval feast and the evening entertainment surely will.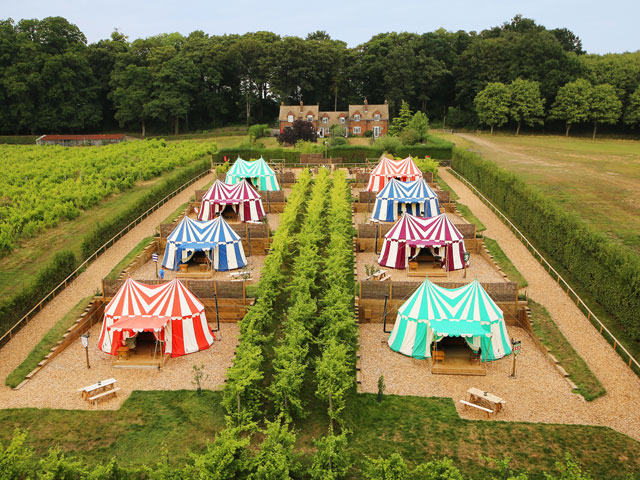 Another historical glampsite with an array of awards and testimonials is Leeds Castle's pavilion village. Eight striped pavilions with Medieval design are neatly tucked away in the heart of the castle vineyard. Guests can snuggle into a four poster bed, feast on open fire pit meals and bathe like the knights of yore.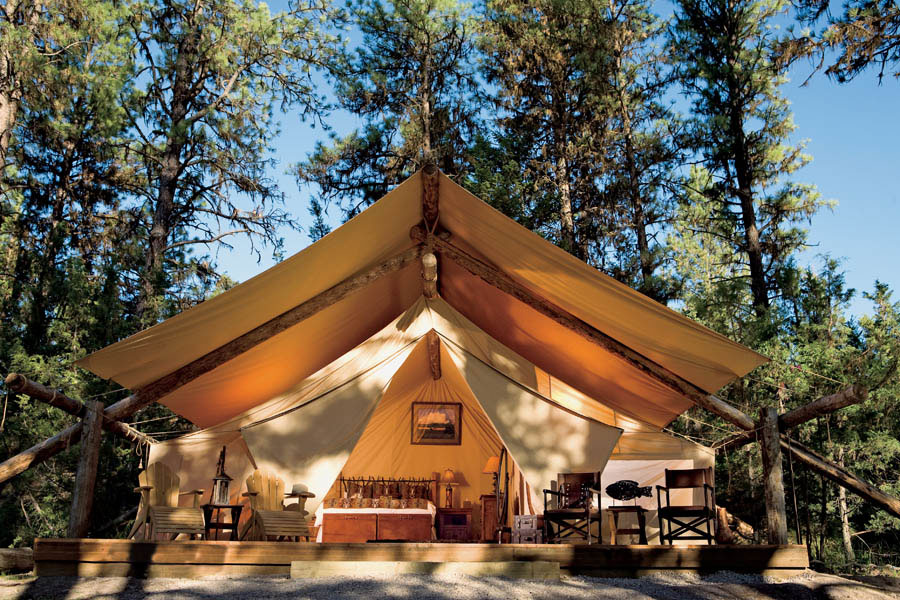 Cliffside Camp features four spacious two-bedroom tents and two romantic one-bedroom tents with en-suite bathrooms, decks, dining pavilions, butler, chef, housekeeping cell and internet service, and bonfires. Honeymooners can enjoy the claw-foot copper tub for two, while families have outdoor soaking tubs.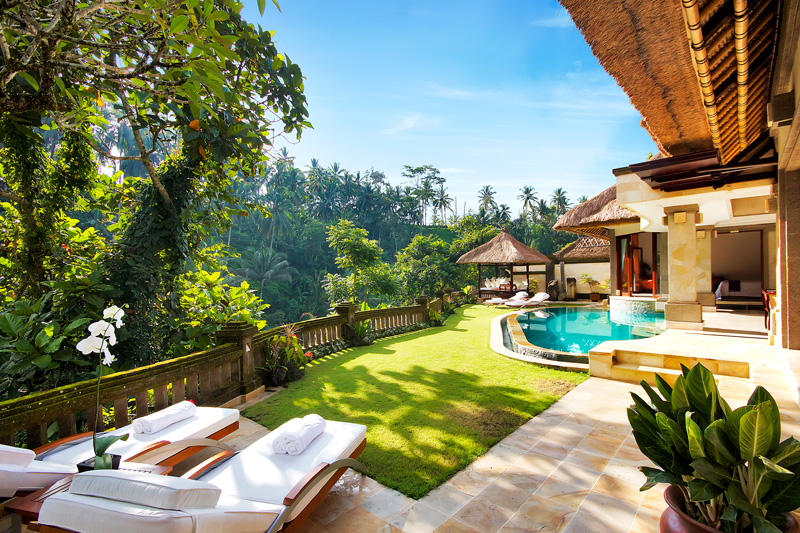 If you'd like to soak up the splendours of nature and admire breathtaking sunrises every day while living in the lap of luxury, then something along the lines of Viceroy Bali's terrace villa would suit you nicely. Daily à la carte breakfast, spa, wireless internet, satellite TV, espresso machine, 24-hour room service, outdoor pool and gazebo, extensive amenities and 5-star hotel service are what makes this luxurious glampsite an elite accomodation for honeymooners.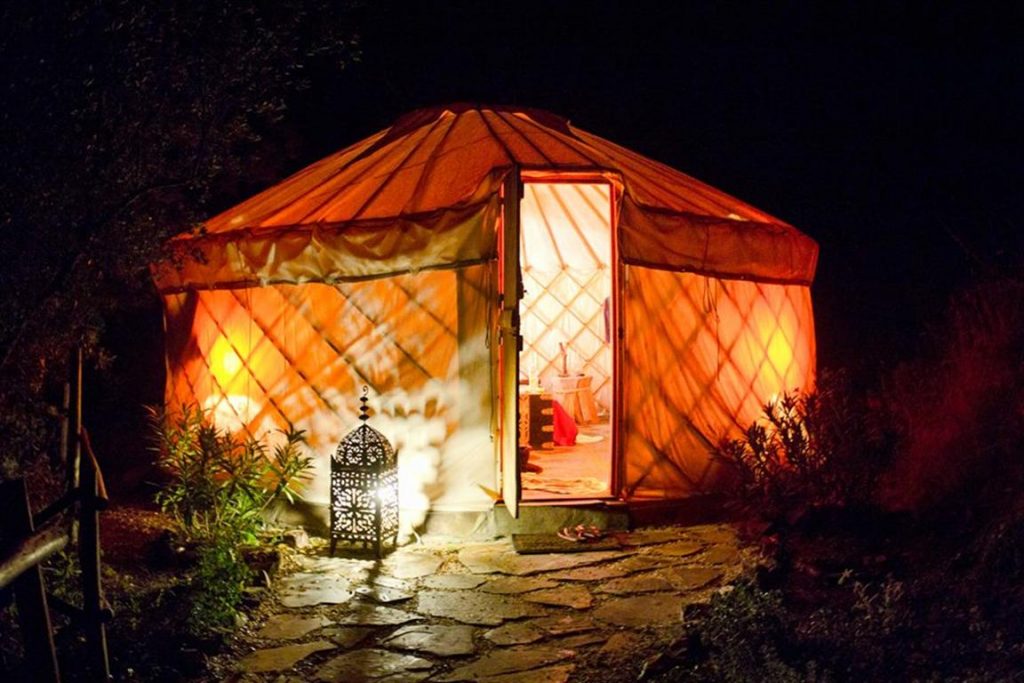 With rajasthani and indian tents scattered across a valley surrounded by woodlands and farms, Aterra offers eco-friendly camping in comfort.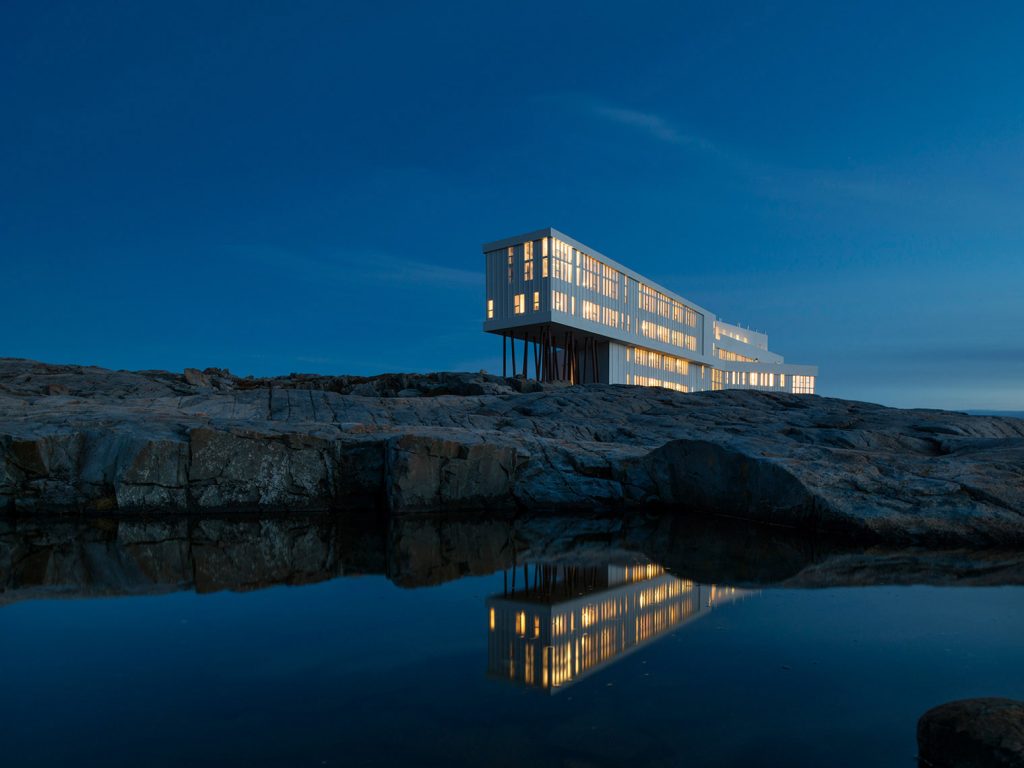 Stargazers will find Fogo Island Inn to be an amazing accommodation conspicuously lodged on a cliff at the edge of the world, in Newfoundland. You can spend your days here exploring icebergs, fishing for cod, going on ice excursions, skating, snow-shoeing, pond fishing and cross-country skiing.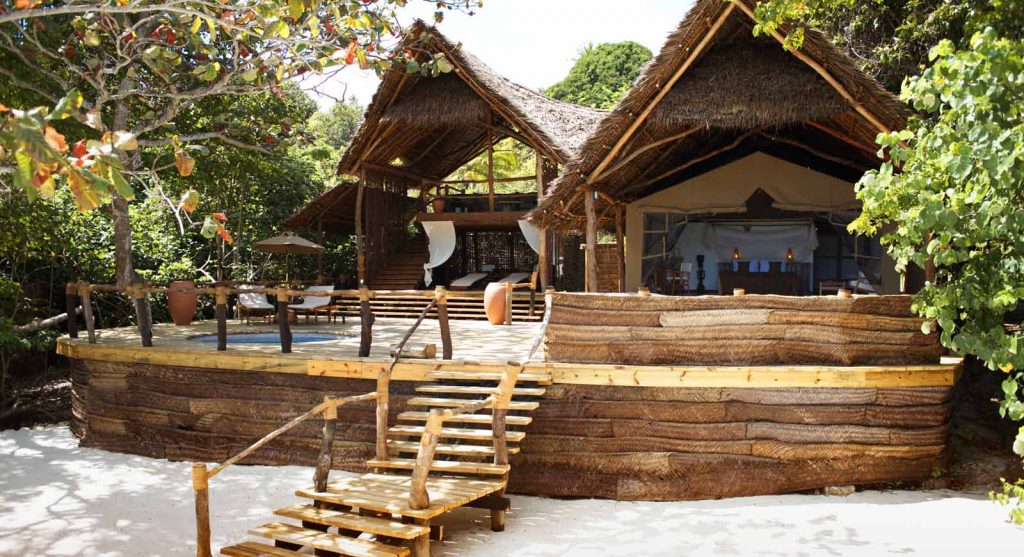 A secluded luxury accommodation that can only be reached by boat or plane from Zanzibar, Fundu Lagoon in Tanzania features tented rooms with thatched roofs on a sandy beach, with private pools and decks, extensive amenities and all-inclusive catering, and a host of leisure activities, such as sunset cruising, snorkelling, kayaking, windsurfing, and diving.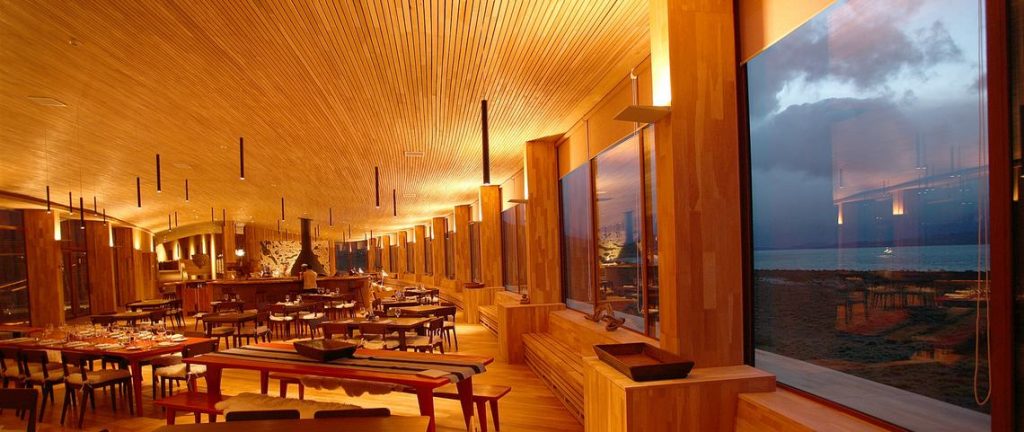 Located in Torres del Paine National Park, in Patagonia, Chile, amidst glaciers, lagoons, waterfalls, mountains and forests, Tierra Patagonia Hotel & Spa offers breathtaking views of the scenery with its panoramic windows.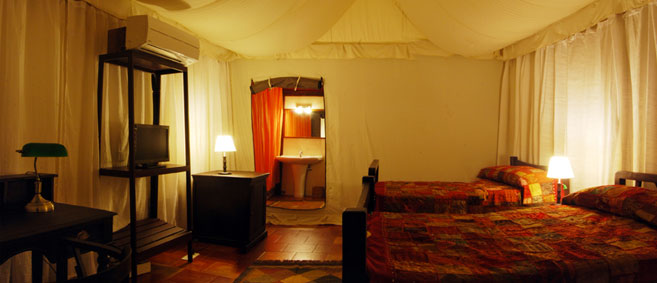 Grassroots is a resort featuring Swiss tents with all the little luxuries and amenities you could ever need. On a coffee property overlooking a tea plantation in Kerala, Wayanad, this resort is set along a river, next to an indigenous Adivasi community, with a view of the Banasura mountain range.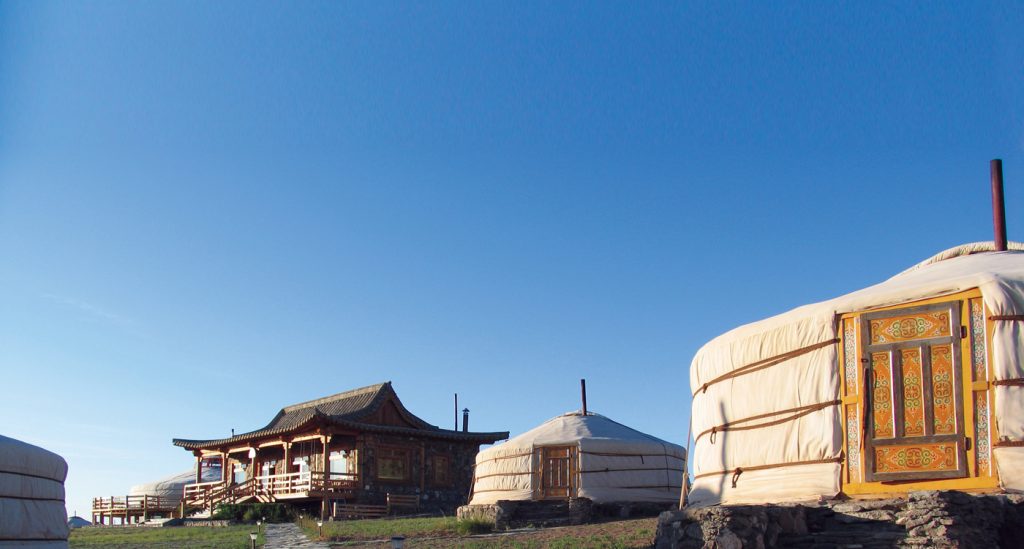 Twenty deluxe handmade gers, traditional nomadic Mongolian felt tents, with king-size beds, private bathrooms, wood stoves and hand-painted wooden furniture, all face the Gobi-Altai Mountains to the South and constitute the Three Camel Lodge settlement in Mongolia.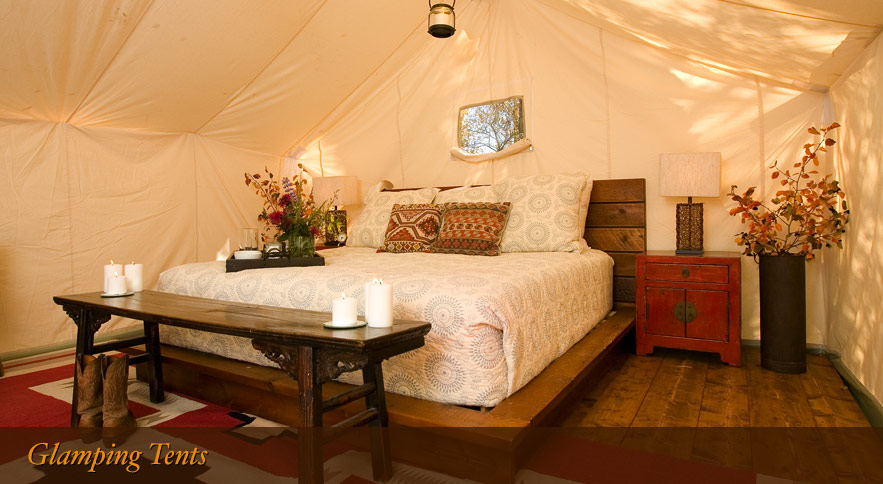 Jackson Hole luxury lodging is a unique experience, and the Fireside Resort in Wyoming offers its glampers king size beds, concierge, cleaning services, lush linens, butlers, spa products, luxury washrooms and more.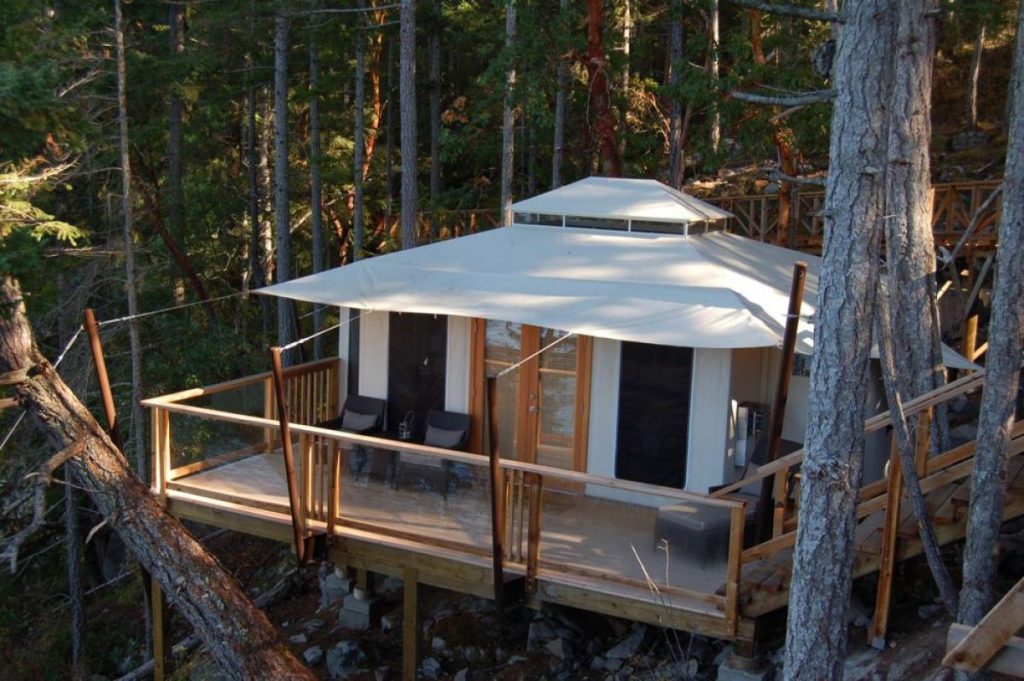 Tenthouse suites at the Secret Cove Resort in Canada come with heated floors, hydro-therapy tubs, shoji screens, fireplace, private veranda and king-size beds.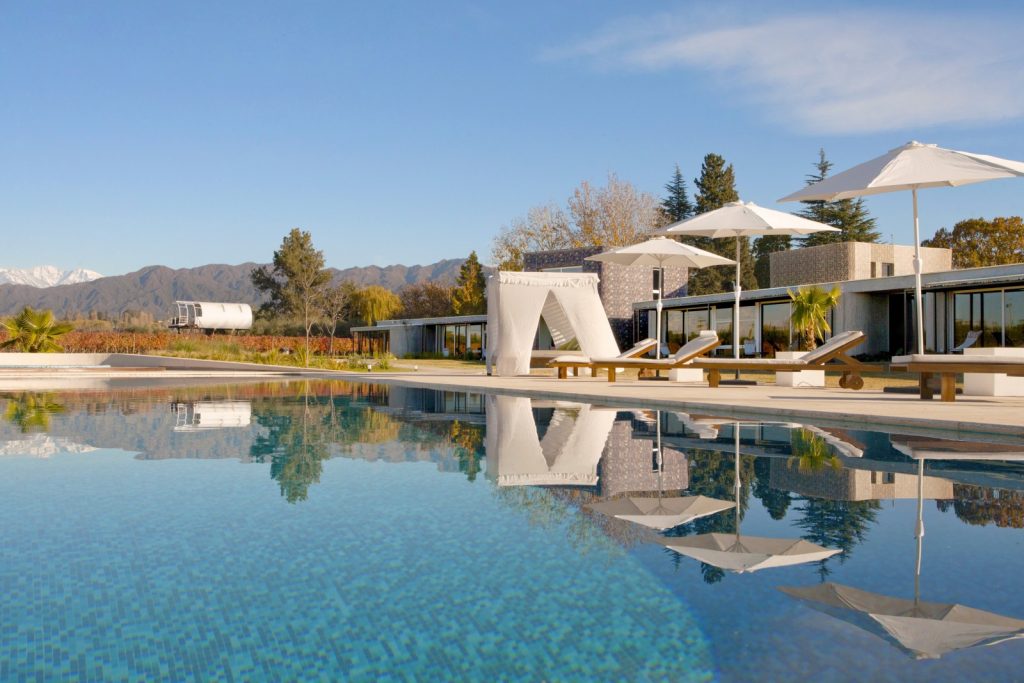 Suspended in a futuristic cocoon on stilts over a vineyard, the "Limited Edition" room offers breathtaking views of the Andes.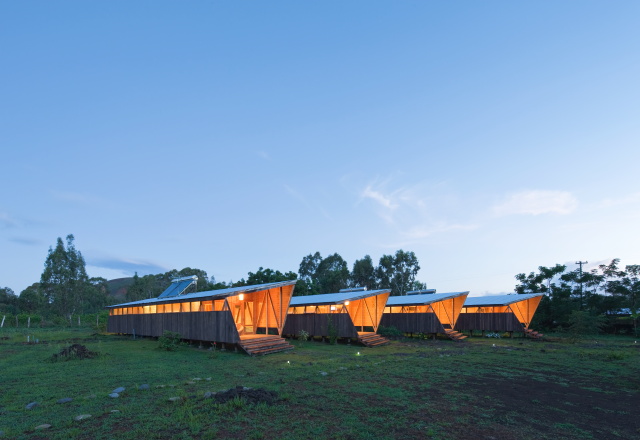 Easter Island cottages in Rapa Nui, 'the belly-button of the world', come with hammocks, large living areas, good-sized porches and all the basics.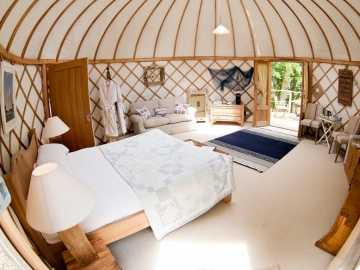 Island-crafted yurts on Priory Bay beach on the Isle of Wight are the ultimate in designer camping.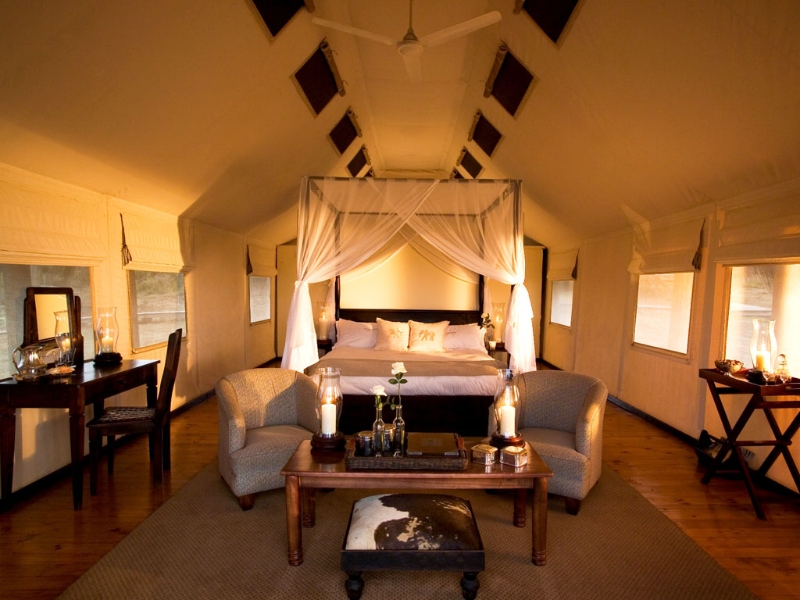 Gorah Elephant Camp's 11 lavish tented suites are decorated in the style of hunter hotels and come with private decks which give glampers panoramic views of the savannah, exposing them to the wildlife in an attempt to recapture the feel and excitement of the authentic safari.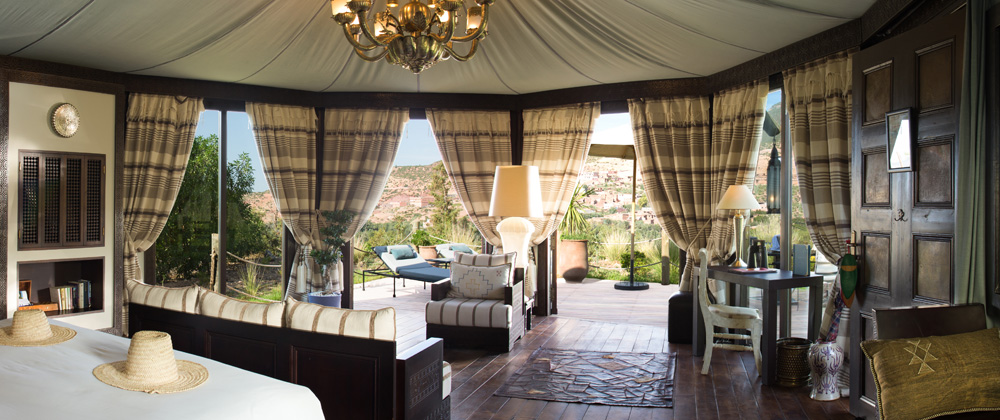 Berber Tents at Sir Richard Branson's Moroccan retreat are some of the most extravagant and stately in the world, with outdoor pools, king-size beds, large windows, spacious decks, handcrafted wooden furniture and the amenities and services of a luxury hotel.

Okuti camp in Moremi Game Reserve, Botswana, consists of seven mosasa (houses of reeds) on teak decks and with river views, richly decorated and nestled between trees.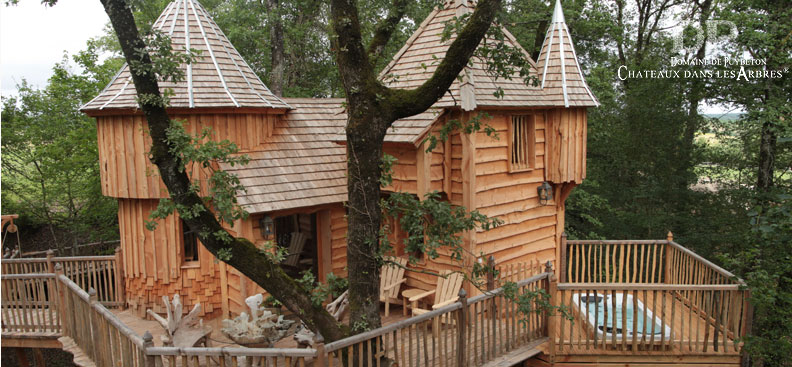 The Puybeton spa cabin is a castle for two in the heart of the forest, suspended on stilts and featuring an overflow spa with chromotherapy, a Finnish sauna, a double bedroom, Wi-Fi, LCD TV, iPod docking, and extensive amenities.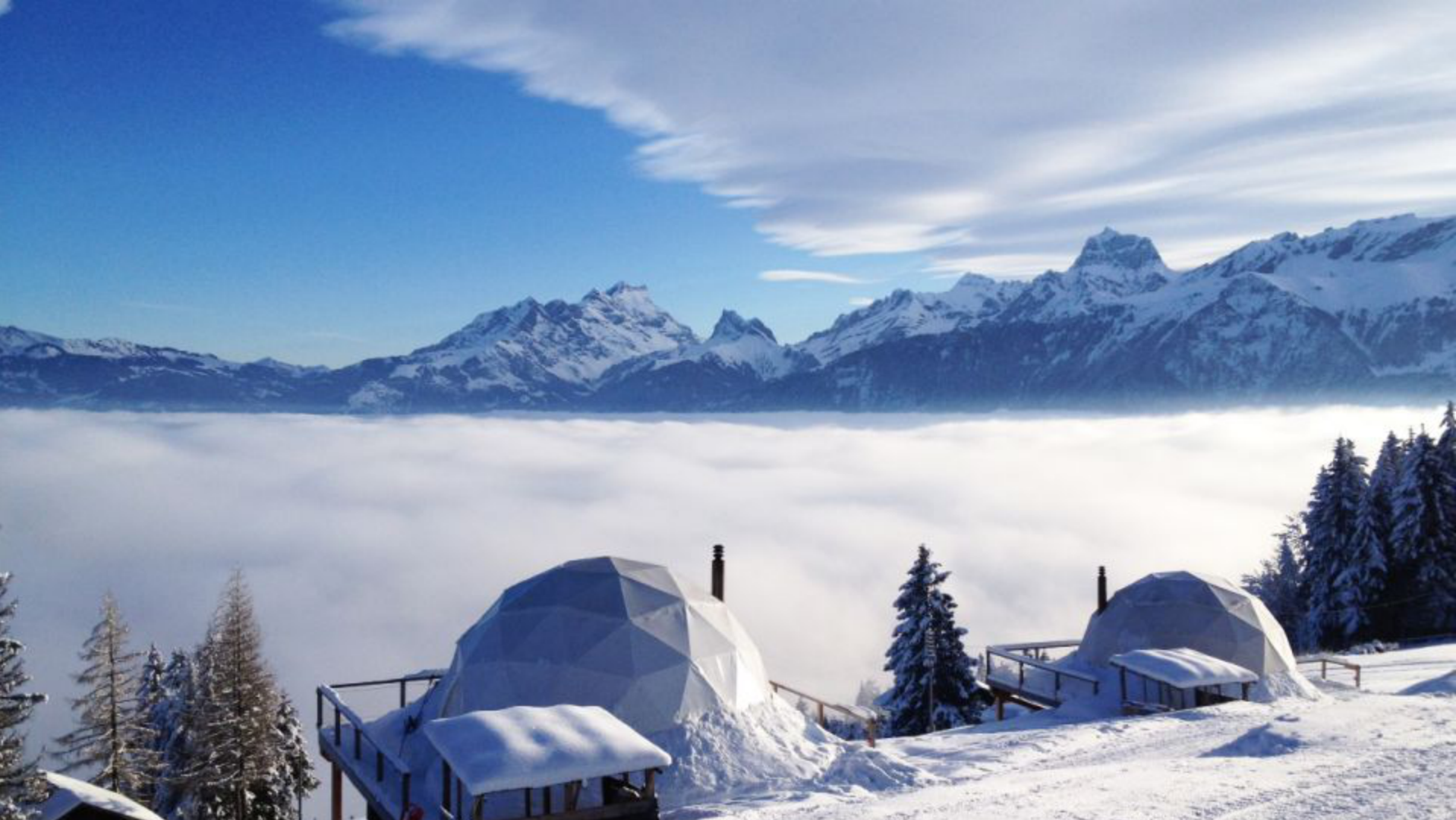 The Whitepod in Switzerland is an enchanting summer or winter lodge that can provide shelter for a couple or a small family on vacation. The Whitepod package includes breakfast, Wi-Fi, sauna access and leisure activities.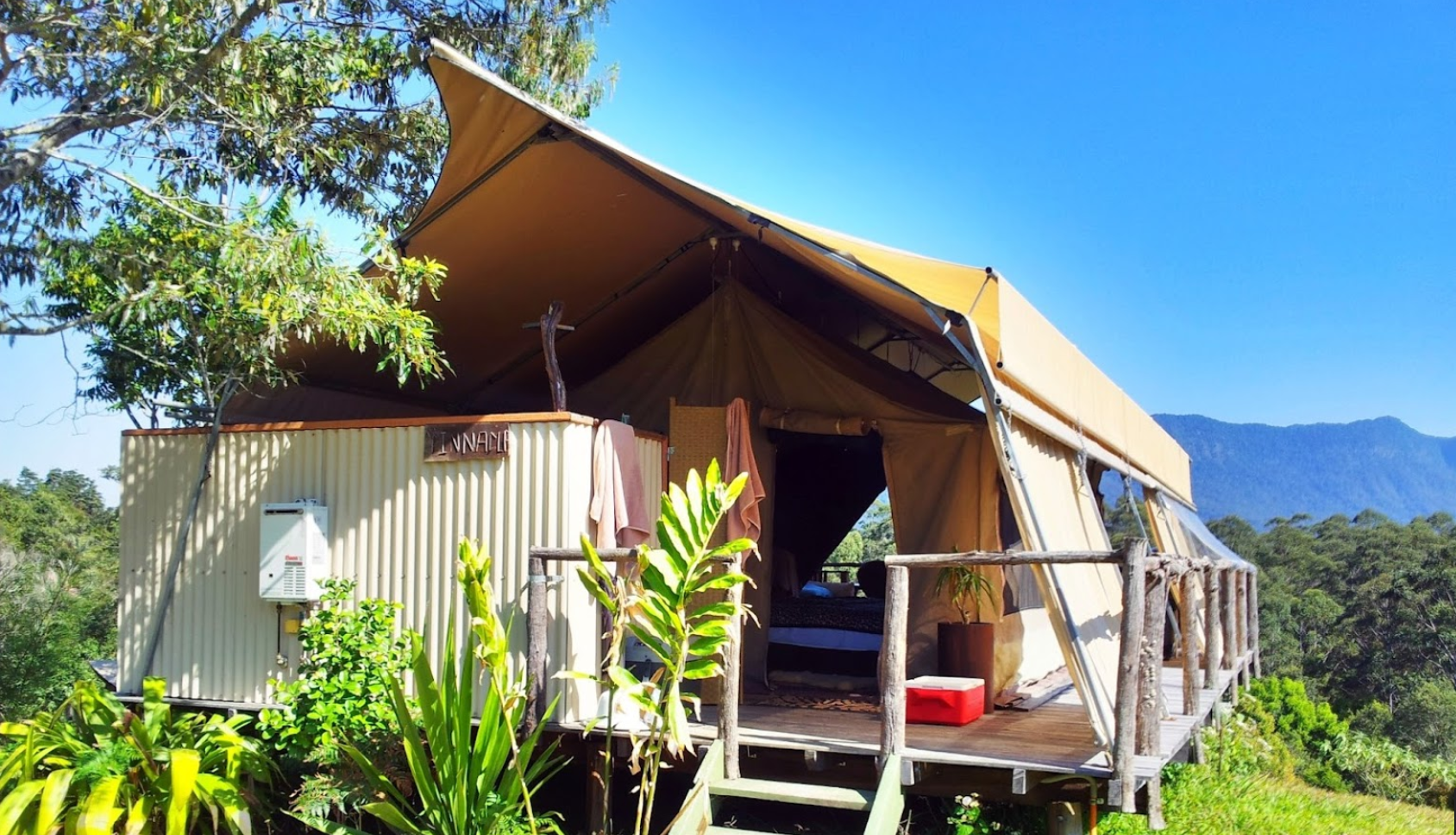 The Eco pavilions at Silk Pavilions, in Australia, allow you to explore the fauna and flora of the 100-acre bush land, rainforest and lakes of Mount Burrell while enjoying seclusion and tranquillity in tents designed with comfort and style in mind.
A wagon in a horse paddock would probably not be first on your list of glampsites this year, but Wagonstays in New Zealand have a one-of-a-kind, superb wagon that can lodge a couple in complete comfort. A double bed, a wooden shower cabin, a log stove, a settee and breakfast waiting for you in your wagon are some of the frills Wagonstays have to offer.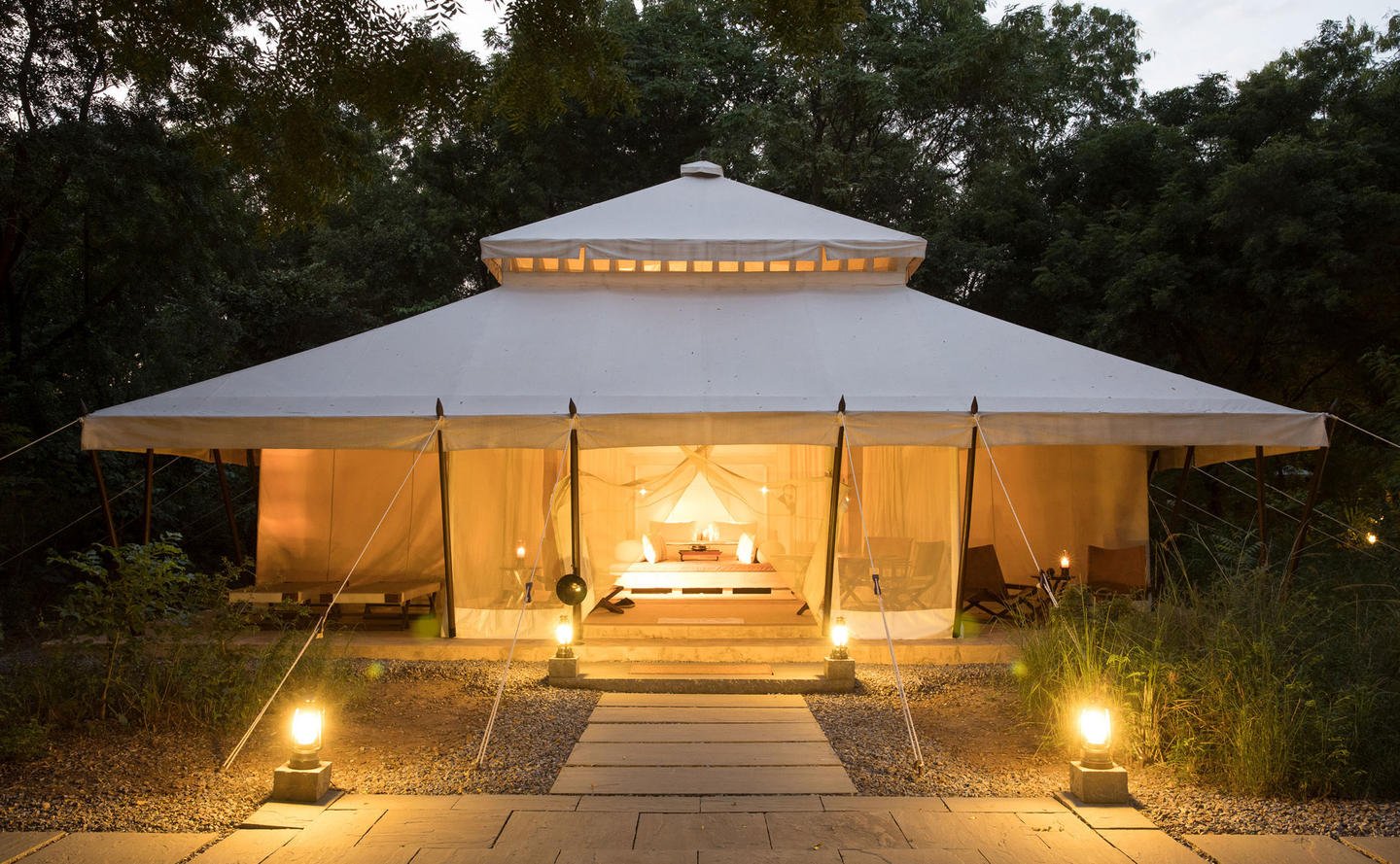 A wilderness camp in Ranthambore National Park, Aman-i-Khas offers ten luxury Moghul tents and twice-daily wildlife spotting excursions. Vanities, writing desks and daybeds are what sets this glampsite apart from the rest.

Prince Desert Camp in the desert of Rajasthan, India, is a mobile camp featuring two person tents set up daily for glampers travelling on camel back.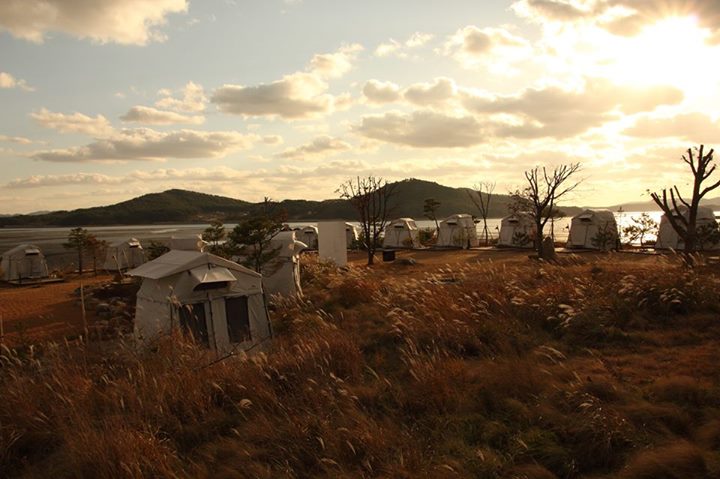 Raventree Glamping Resort is a glampsite in South Korea where guests can admire their natural surroundings while taking advantage of basic appliances and utensils, barbeques, campfires, large beds in the mezzanine area of the tents, spacious dining areas, and leisure activities such as kayaking, or releasing traditional wishing lanterns.