A wine cooler is a must have item for wine lovers. Wine coolers come in a number of different sizes, ranging from those that can chill just a single bottle to those that can chill dozens of bottles of wine at a time. When choosing a wine cooler, you want to make sure that you select a product that is large enough to meet your need. You may also want to choose a wine cooler that matches the style of the room you will place it in. Here is a selection of some of the leading wine coolers currently available.
SAMSUNG RW33EBSS1 WINE COOLER
This top of the range aluminium wine cooler can be easily adjusted to maintain optimal temperature zones from 3 to 18 degrees Celsius, depending on the type or types of wine that you select to store inside.
The Samsung RW33EBSS1 Wine Cooler is ideal for both red and white wines and the machine's special red and white wine settings mean that your favourite wines will be chilled to the perfect temperature every time.
The cooler comes complete with an easy to use electronic temperature control that imitates the conditions of the ideal wine cellar. The cooler is also equipped with a special low vibration system that is designed to reduce the impact from external impact as well as a three-layer UV protection coated door that protects your wine from UV radiation.
This tempered, double transparent door is easy to reverse if desired, while a radiant interior light provides you with a clear picture of what exactly what is waiting to be enjoyed inside.
DANBY 36 BOTTLE FREESTANDING WINE COOLER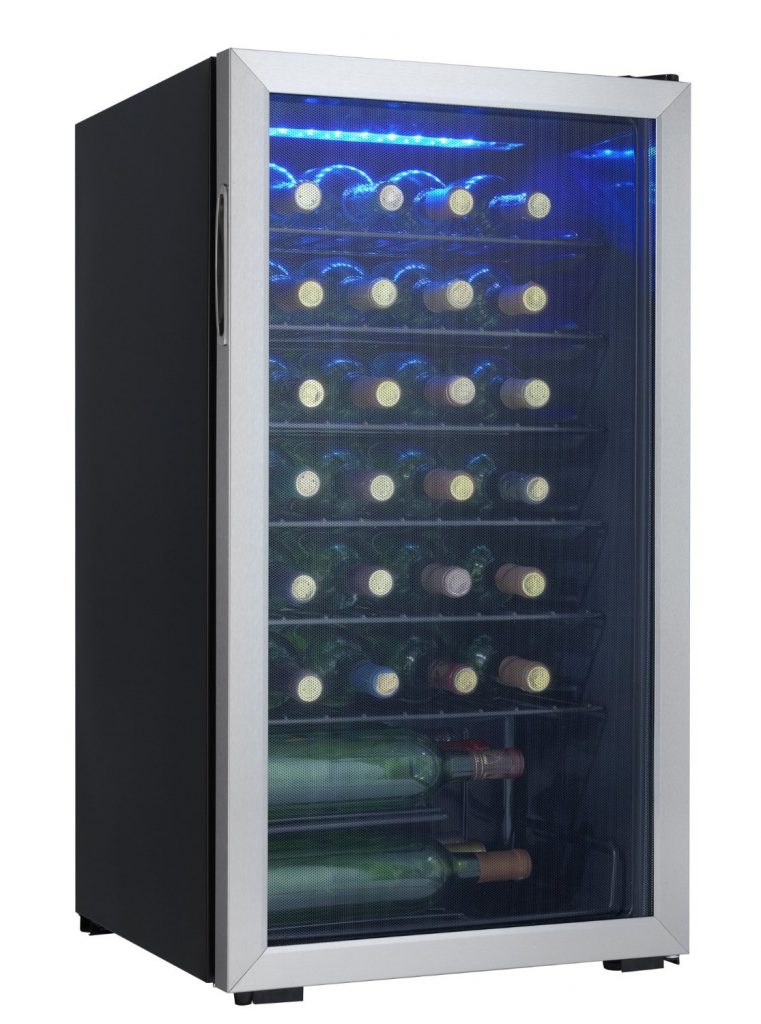 This free-standing wine cooler is designed to hold 36 bottles of wine, while the interior blue LED lighting shows off you wine to stunning effect without creating any extra heat.
The wine cooler comes complete with an attractive recessed pocket style handle and black wire shelving to firmly hold wine in place.
The tempered glass door features a stainless steel trim, which helps to protect wine from potentially harmful UV rays.
LIEBHERR WTES5872 WINE COOLER
This special triple temperature win cooler is perfectly suited to storing red wine, white wine or champagne, according to your own personal preference.
Savour the finest flavours of these special wines by setting the temperature to the exact degree desired. Setting the temperature is extremely easy and the Liebherr WTES5872 Wine Cooler offers a temperature range from +5°C to +20°C.
The wine cooler's cabinet provides the perfect conditions for long term storage of as many as 178 bottles of wine, which makes this the ideal accessory for wine collectors.
The interior LED lighting can be easily set either to come on when the door is opened or to remain on all the time. A special vibration damped compressor is included to prevent bottle chatter while protecting your wine for long periods of time.
There is a total of three specially activated charcoal filters, which purify the air coming into the cooler in order to obtain the ideal odour free quality, which is particularly useful for blocking cooking odours and other strong external odours.
The cooler features ten attractive handmade wooden telescopic shelves that easily pull out and are perfect for storing bottles of wine safely. A unique audible and visual warning signal is used to inform you in the case of a malfunction so that you can be sure that your wine is perfectly protected at all times.
WINE ENTHUSIAST SIX BOTTLE TOUCHSCREEN WINE COOLER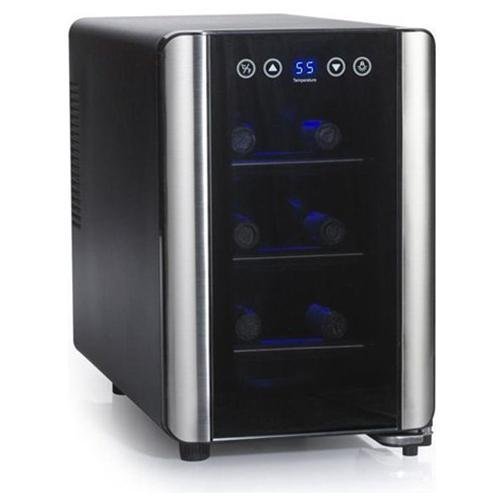 This portable six bottle wine cooler is portable and is ideal to take along to picnics or other special occasions.
The LED interior lighting provides perfect illumination without extra heat, while the adjustable temperature allows you to select the perfect temperature for your favourite wine.
This dynamic wine cooler is extremely energy efficient and features three pull out chrome shelves that are designed to hold standard sized bottles of wine, while people who want to store larger bottles of wine can choose to remove some of the shelves to provide extra storage capacity.
AEG SWD81800G1 INTEGRATED WINE COOLER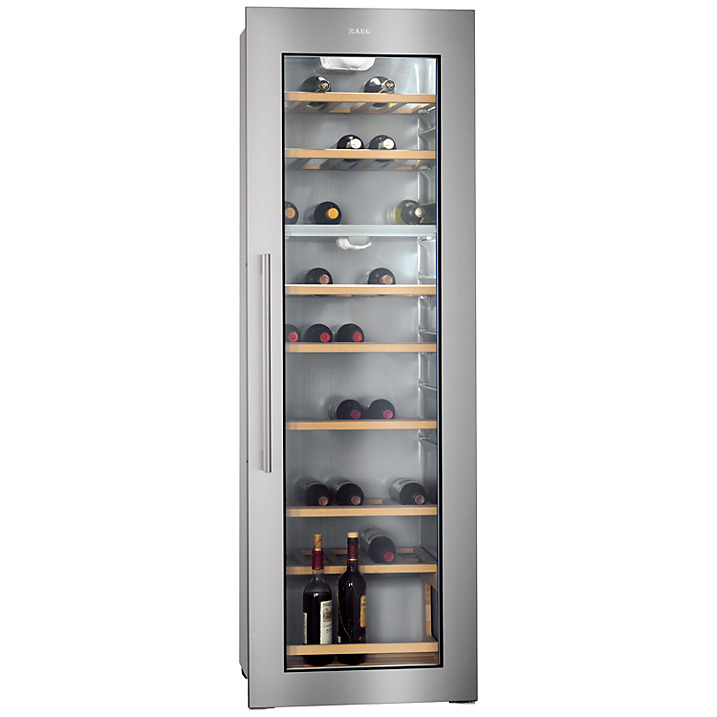 This wine cooler is ideal for wine connoisseurs who want to store their favourite wines for a long period of time. Two separately controlled sections provide perfect temperatures for both storing and serving wine in a single appliance.
The specially dedicated humidity level is carefully maintained throughout to prevent wine corks from drying out, while the cooling compartment's automatic defrosting ensures that there is no need to defrost this cooler, while wines are constantly kept in perfect condition.
This stylish wine cooler comes complete with six stylish wooden shelves, which provide plenty of storage space for as many as 98 standard sized wine bottles.
People who have a large collection of wine that they want to preserve and display in style are sure to love this wine cooler. The large glass door of the wine compartment is coated with a high quality UV filter, which protects wine from light damage while the anti-vibration system prevents vibrations from disturbing the wine.
This top of the range wine cooler also boasts easy to use controls, while it has been designed to add a touch of style and sophistication to any room.
This is one wine cooler that owners will want to display with pride.
SUNPENTOWN WC-20TL THERMOELECTRIC WITH TOUCH SENSITIVE CONTROLS TWENTY BOTTLE WINE COOLER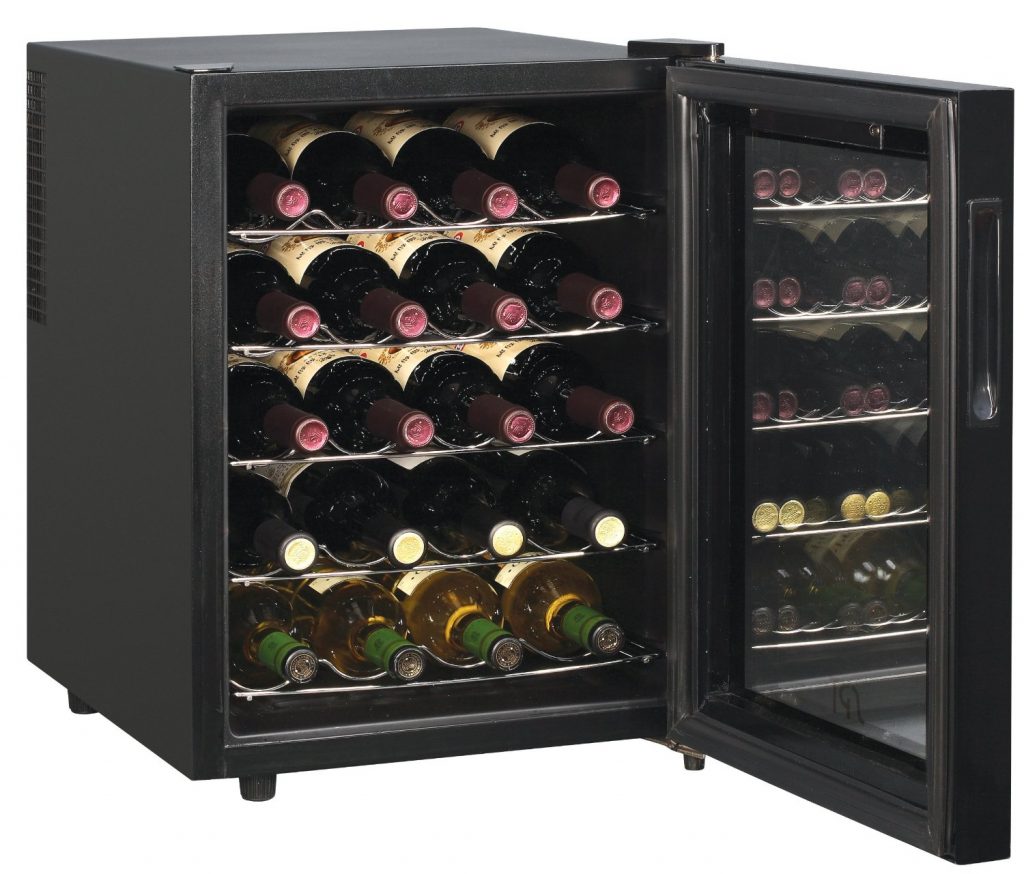 This attractive black wine cooler comes complete with a reflective glass door and touch sensitive controls.
The soft interior light has been designed to perfectly display all of the bottles of wine within, while the stylish mirror glass door features black trim to create a contemporary look that will work will in any room.
The cooler's innovative touch sensitive control panel features a special LED temperature display on the door, while the Thermoelectric Technology provides quiet operation with absolutely no vibration.
NEWAIR THERMOELECTRIC WINE COOLER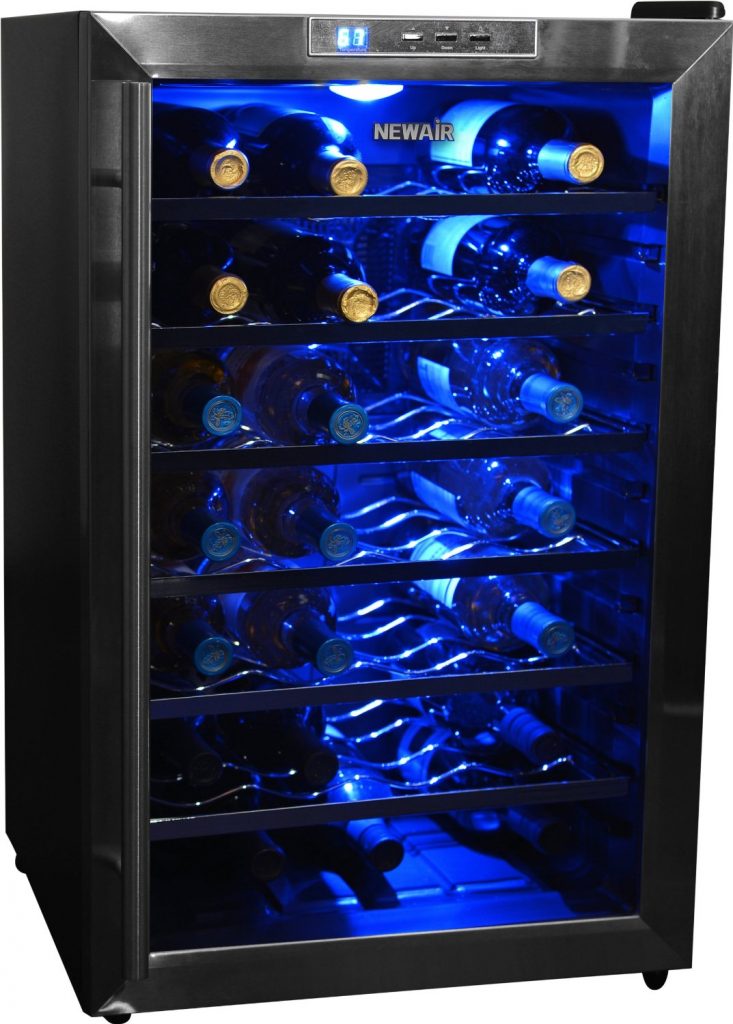 This stylish black wine cooler comes complete with chrome-plated wine racks that slide in and out smoothly.
The cooler's special thermoelectric cooling technology provides quiet operation and vibration-free storage to ensure that wine remains well rested.
The cooler comes complete with an easy to read digital temperature display that guarantees accurate temperature control. Store up to 28 bottles of wine or other tipples of your choice and keep them fresh and ready to drink for as long as you want.
The freestanding design of this eye catching wine cooler is ideal for small spaces and is easy to place in the home.