WHERE HIP MEETS HERITAGE: HIGH TEA WITH A TWIST
Mamor Means Ecstasy in Hungarian… This Tea Szalon is Aptly Named.
Quite a traditional at heart, for me, little can surpass an afternoon of cream tea in quaint English Tea Rooms, or the luxury of high tea in the Waldorf, yet there was something about a small Tea Szalon in the front of a terrace house in Fitzroy, Melbourne, that I could not pass by.
Having to leave my previous experiences of traditional English high tea behind, Mamor Chocolates and Tea Szalon was one of the most lavish tea rooms, and most decadent experiences for my tastebuds that a high tea has yet to provide.
It was founded and is run personally by one of Australasia's most innovative and passionate chocolatiers, who has made waves around the world with her Chocolate inventions.
It is a must for anyone visiting Melbourne wanting a high tea experience, with a Bohemian twist, and a personal (and chocolatey) touch.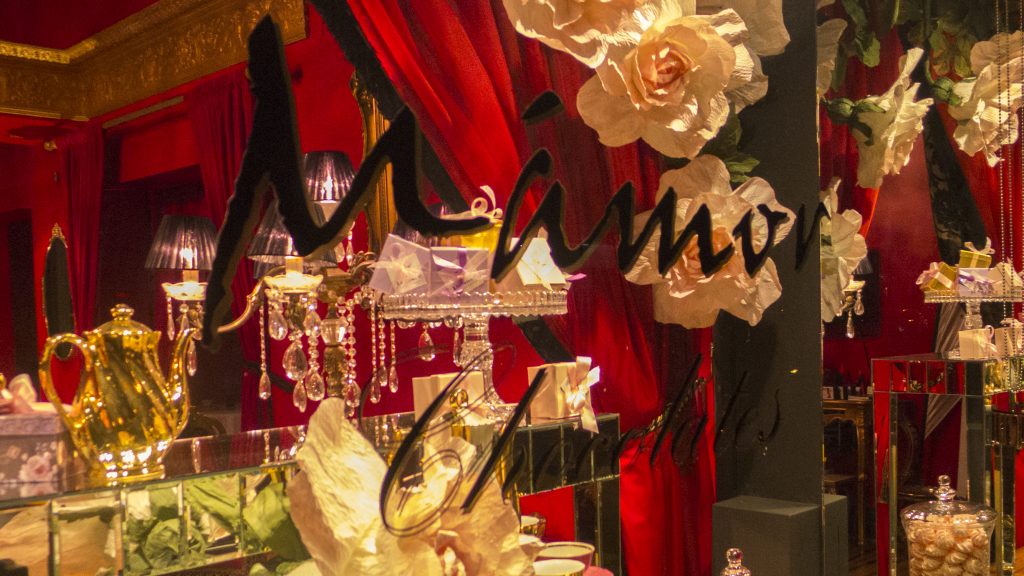 Although the Szalon seems hidden and out of place in an unexpected pocket of the city, on closer inspection I found out Mamor is conveniently located in the midst of Melbourne's cultural and chocolate heritage, right around the corner from the historical MacRobertson's chocolate factory who pioneered the Freddo Frog, Cherry Ripe and Snack bars now produced by Cadbury.
Entering the salon I was personally greeted by Hanna, seated, and brought a glass of bubbly in a gorgeous crystal glass whilst I waited for my high tea.
A group of four ladies seated near me were absolutely captivated by the food in front of them and the ooh-ing and aah-ing I overheard certainly increased my expectations.
Half expecting traditional sandwiches, cakes and scones I was very curious and excited when out came a tiered stand of Hungarian treats, and beyond delighted once I had the first taste.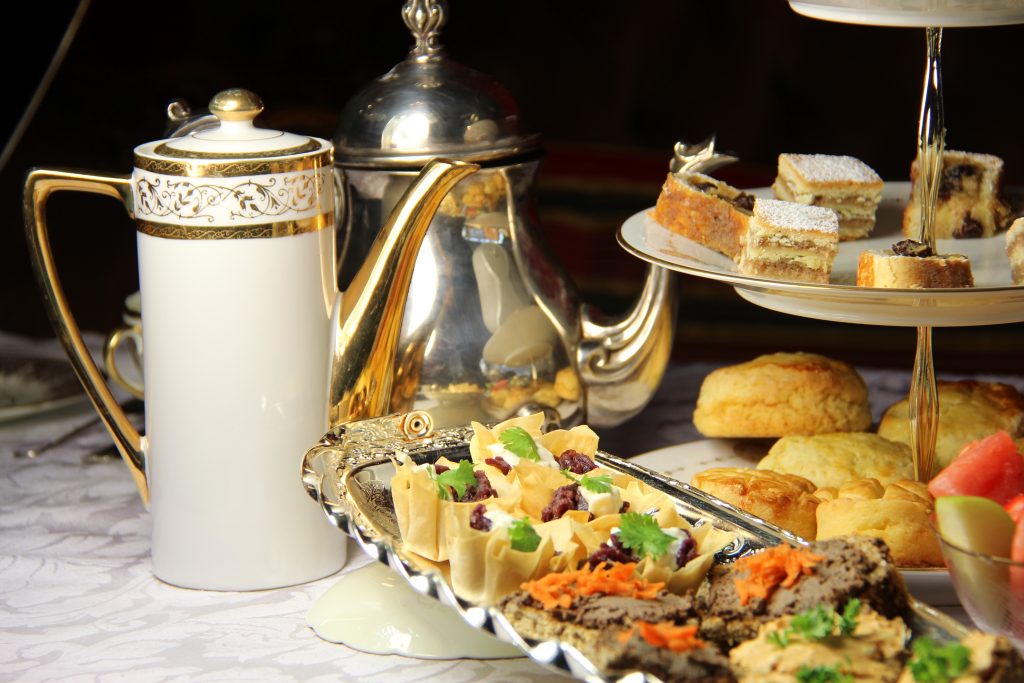 A perfect balance of savoury and sweet, with the traditional flavours of her home nation of Hungary with those we associate with traditional English high tea, Hanna has found a perfect harmony between her Hungarian heritage and the English tradition, and to top it off, she adds a splash of her exuberant personality to create a Bohemian cum Victorian Tea extravaganza.
"Melbourne really is a city which embraces and listens to other cultures. The people here have their own voice and decide what they like or want to try without having to be marketed to or told to do so by some big hit or celebrity; so we're very lucky that people have embraced the concept of Mamor, and the reception has been very positive."
Then there's the tea menu – almost too much to choose between, Hanna and Howard came to the rescue with recommendations based on my personal preferences.
A chocolate, chilli infused black tea was soon brought out to me – definitely recommended! A fresh fruit salad was brought out after I tackled my sweet and savoury dishes to cleanse the palate before I was provided with a chocolate menu to sample some of Hanna's inventions.
Almost fit to burst I couldn't leave without trying the rum and walnut sponge cake, the last of the courses on the high tea menu. Although the food was amazing, what stood out the most was the love, passion and care that had so evidently been put into it.
It's the warmth of afternoon tea at your Grandmother's house with all the luxury and grandeur of a bohemian Szalon.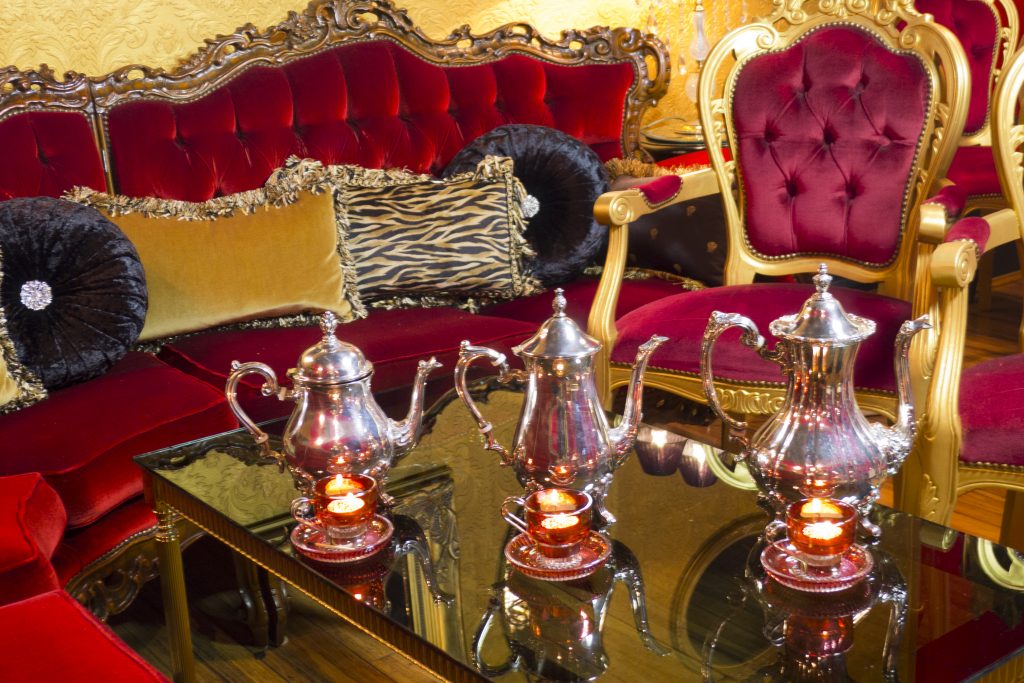 The place itself is inspired by late 19th Century Vienna and Budapest, lavishly garnished with ornate golden frames and mirrors, red and gold walls and black velvet curtains, and paired with antique english China and Silverware.
Yet the decor is only half of the beauty; the rest comes from Hanna herself. She takes such great effort and pride in adding that personal touch to every guest's tea experience, greeting them all warmly, cracking jokes and making sure they always feel looked after.
"If you want the experience you'll receive at the Windsor, then don't come here," she told me, "I like to sit and chat and laugh with my guests; that's just who I am, and that's a large part of my business".
With a PHD in Food chemistry, Hanna gave up the profession in 2003 whilst in New Zealand to make chocolate being taught by some amazing chocolatiers around the world.
Her and her husband Howard created a chocolate factory out of an ocean container, and inside she could bring her skills from the science to her passion for chocolate and her desire to create something incredible to be enjoyed by others.
"My basic philosophy is that everything can be upgraded and personalised… Chocolate is the ultimate pleasure-food. There will never be enough ways to indulge in this gorgeous elixir, or to personalise it, just like a perfume."
4 years ago, Australia was very lucky that Hanna decided to bring her Ocean container cum chocolate factory to Melbourne's ports where she continues to craft her chocolates completely by hand to sell in her Tea Szalon.
I don't know about you, but for me, everything (including high tea) is improved by good chocolate.
Her flavours are invented using her knowledge of food chemistry, and with no added sugar and only the finest strains of cocoa direct from the growers in Samoa you know you're in for a treat, and if you're in any doubt, the first bite will put your mind at ease.
Her signature chocolate, the cherry liquor, is inspired by the Hungarian monarchy and is brandied sour cherry in dark chocolate. Hanna explains the difference between certain cherries and why the sour cherry is used to create the specific flavour.
The chocolate's slogan is "drink it before you eat it" and when you pop that bad boy in your mouth and let the chocolate melt and the cherry liquor seep through you can tell why! Magnificent!
But if cherry isn't your thing, her extensive chocolate menu provides a little taste of heaven for every personality, from strawberry and pepper berry (sweet and delicious) to kangaroo salami (yes… smokey kangaroo meat with a dark ganache!) to my other favourite, the rosemary sea salt. With cocoa direct from Samoa and herbs growing fresh upstairs, these really are chocolates like none other!
Mamor chocolate and tea szalon, and everything it stands for is absolutely one of a kind. This is the kind of service, personal touch and expertise you will be hard pressed to find anywhere else.
A must visit for any chocolate or tea enthusiasts finding themselves up for an adventure in Melbourne.