Over the past few weeks, we've been exploring some of the best restaurants in Oxford city, along with some equally delicious establishments further afield in the gorgeous Oxfordshire countryside.
Whether you're just visiting Oxford, or are after some new recommendations, we hope to shine the spotlight on some of Oxfordshire's most impressive culinary haunts.
This list will continue to grow as we continue exploring. If you're a restaurant and think you fit the bill for this list, we're more than happy to hear from you – please send us a message via our contact page.
BRASSERIE BLANC, JERICHO
Nestled in the heart of Jericho, this restaurant was the very first Brasserie Blanc to open, over 18 years ago. Slightly apprehensive as we were aware Brasserie Blanc is a chain, we can honestly say we were truly impressed with everything about this restaurant.
The décor is minimal, modern and sophisticated, the food honest to its French heritage and inspiration, and the helpful, attentive service put the cherry on the cake.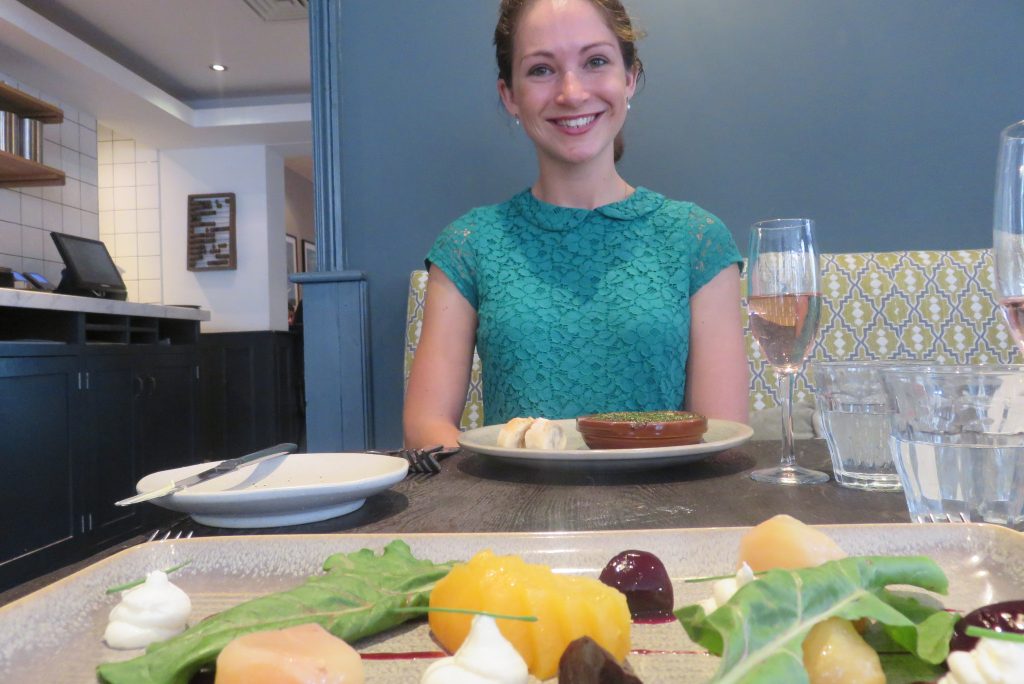 The Food:
For starters I opted for escargot, and my partner opted for a beetroot salad.
The escargot were up there with the best I have ever tasted, including those I've enjoyed in France. For a main dish, I enjoyed Scottish King Scallops with roasted fennel, cherry tomatoes and sauté potatoes and my partner had duck leg confit with tarbais bean and smoked garlic sausage cassoulet.
Both dishes were delicious. The scallops were tender, and the duck dish was decadently rich and full of flavour.
For dessert I enjoyed a chocolate souffle, and my partner opted for a classic tarte au citron. The tart was quite basic, but prepared well and very tasty. The chocolate souffle was cooked to perfection, and well partnered with a pistachio ice-cream.
You can see a full sample menu here.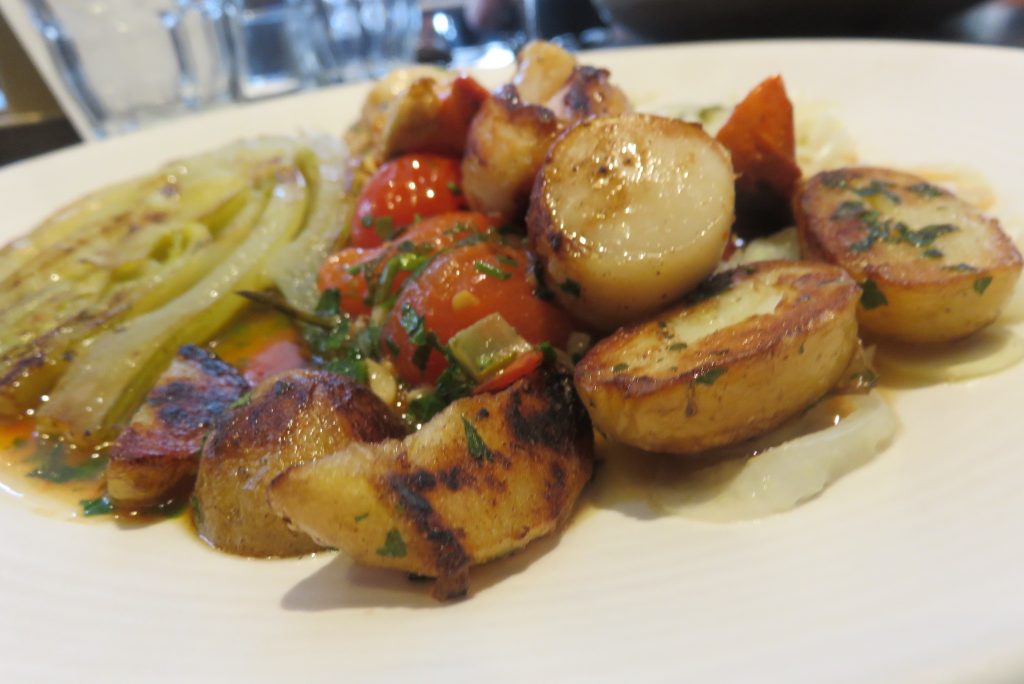 Prices:
For the quality of food and level of service offered, we found the prices very reasonable. Starters average £7, Mains start at around £11 and range up to £20, and desserts sit at about £6.
We would recommend budgeting £30-£35 per person (without drinks) or £55 per person with wine.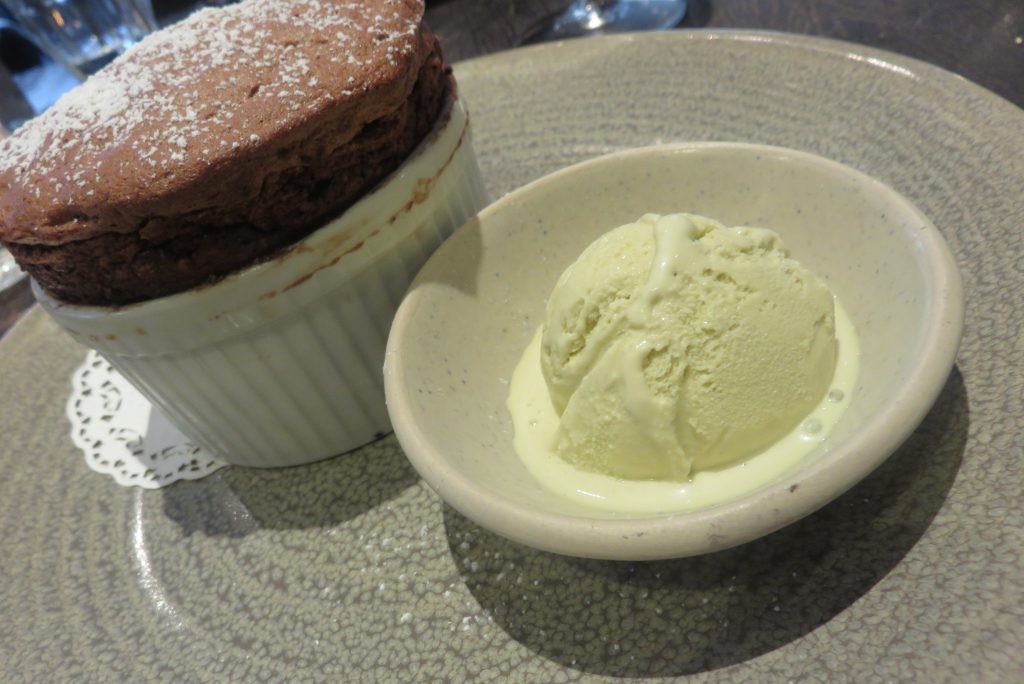 Occasion:
Brasserie Blanc is somewhere you could go for most occasions.
It's a timeless restaurant with a menu that would appeal to most. While we wouldn't recommend the restaurant in the evening for young children, we would recommend it for older family gatherings and occasions, business meetings and couples or friends wanting a casual, yet refined dining experience.
There is also a private dining room available for larger groups.
FALLOWFIELDS, KINGSTON BAGPUIZE
Fallowfields country house hotel and fine dining restaurant is located out in the village of Kingston Bagpuize, in the heart of the Oxfordshire Countryside. We enjoyed the restaurant's tasting menu during an overnight stay at the hotel.
The quality of the food, the obvious thought and preparation, and exceptional service made it one of the most impressive dining experiences we have had at a hotel. We'd recommend the restaurant as being worth the trip in its own right. An a la carte menu is available, but we'd recommend the tasting menu; just make sure you're hungry as the portion sizes are generous!
Food:
We enjoyed the tasting menu with flight of accompanying wines for dinner.
A cucumber and gin-and-tonic themed amuse bouche started us off, and was followed by a starter of fresh asparagus with poached egg and parmesan crust. Two meat dishes followed; A tender pork belly dish followed by a rich and gorgeously pink lamb and potato dish.
Each portion was accompanied with an expertly matched (and generous pouring of) matching wine.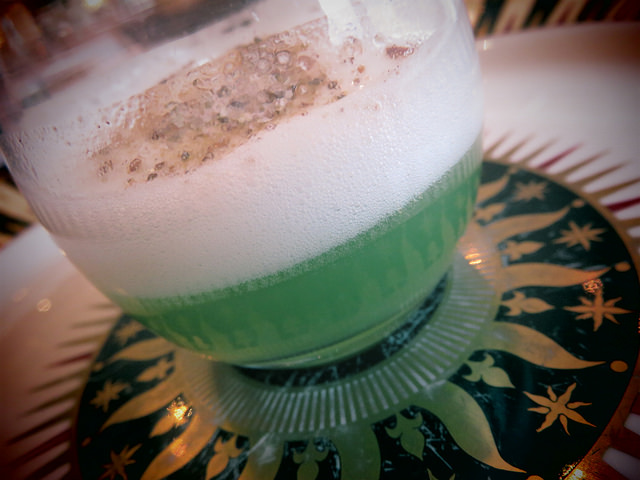 For dessert, I had requested an alternative to the set menu which was happily accommodated with any other dessert of my choice from the a la carte selection.
My partner thoroughly enjoyed his Chocolate Delice with peanut mousse and barley ice cream which was served with a sticky dessert red. And I was brought a sweet sparkling rosé to match my choice of garden rhubarb soufflé with Eton mess and barley ginger ice-cream.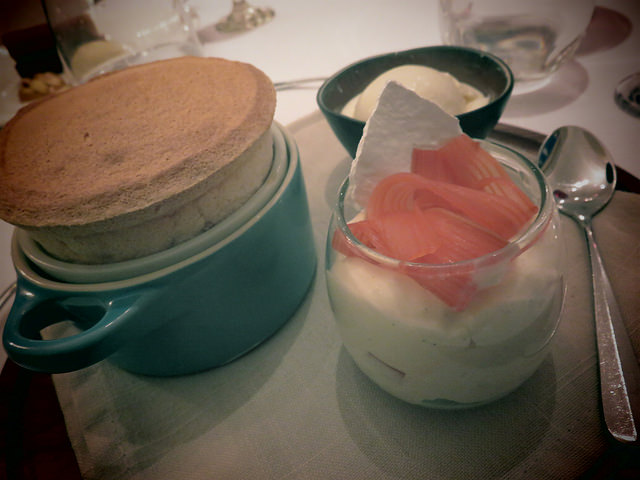 After dinner we were brought a plate of small homemade sweets, along with a box of handcrafted chocolates to choose from.
The tasting menu changes regularly, but you can see a sample menu here.
Prices:
Considering the generous portion sizes and that Fallowfields is a fine-dining restaurant awarded with three rosettes, we found the prices more than reasonable.
Entrees average £15, mains sit around £23 and desserts are a very reasonable £9; We'd recommend budgeting £70 per person for meal and wine.
At the time of our visit, a seven-course tasting menu was priced at £59, and flight of matching wines was an additional £32, with a micro flight available (totalling 175mls) for £14. The wines from the flight are also offered by the bottle at a 25% discount, just in case you take a particular liking to one and would like to take a bottle home with you.
Occasion:
Fallowfields is our pick for special occasion restaurant, but the food is definitely worthy of an occasion in its own right. The hotel is a popular venue for weddings, and would be a beautiful place for an anniversary meal and night away.
The hotel has function rooms, so the restaurant is perfect for a lunch venue during corporate events.
THE MOLE INN, TOOT BALDON
The Mole Inn is a pub and restaurant in a beautiful village in the Oxfordshire countryside, just 5 miles from the city. Not your typical pub grub, the Mole offers a sophisticated twist on well-loved traditional dishes, along with a selection of great wine, ales, and relaxed service.
The restaurant is very cosy, and even on a Monday night, the place ended up packed, so make sure you book in advance.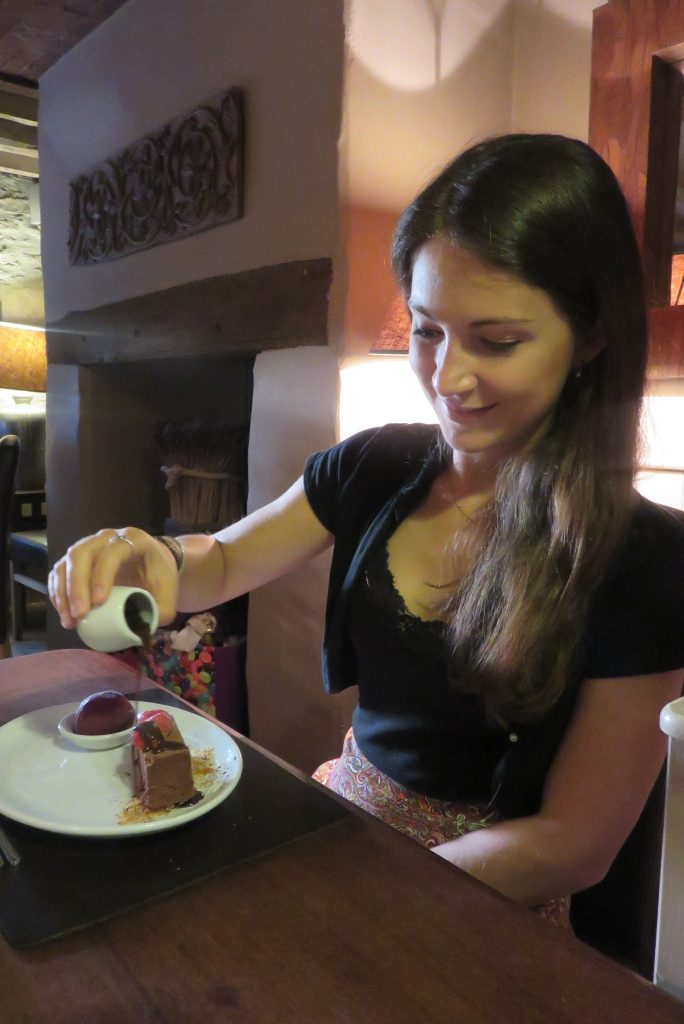 The Food:
For starters, I ordered the salad of Shredded duck & pork belly, with chilli, bean shoots, lime, and coriander. My partner opted for the Cream of Portobello mushroom soup with wild mushrooms, truffle cream, parmesan and ciabatta croutons. The salad was delicious, and a very large serving for a starter course. The soup, I was told, was also full of flavour, and happily enjoyed.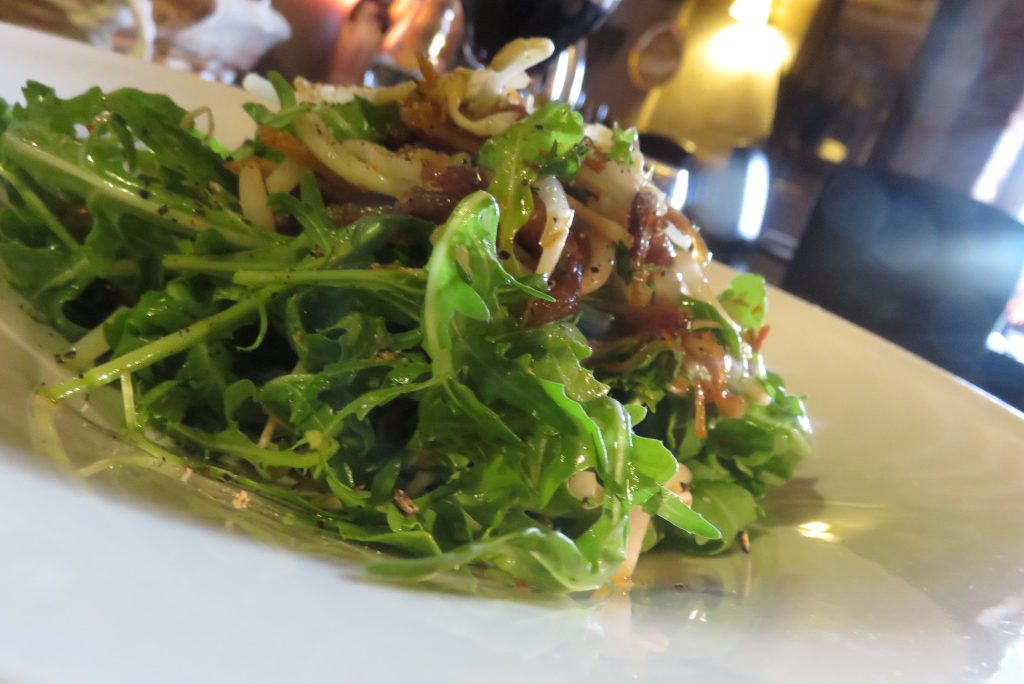 For our main course, we both opted for the pan-roasted cod, with crushed potatoes, rocket & spinach, slow baked tomatoes, tapenade and a raisin & pine nut dressing. This was a quirky spin on traditional cod and chips, and was very impressive. The cod had a delicate crispy layer of skin from the pan, and the raisin & pine nut dressing surprised us by complementing the fish beautifully.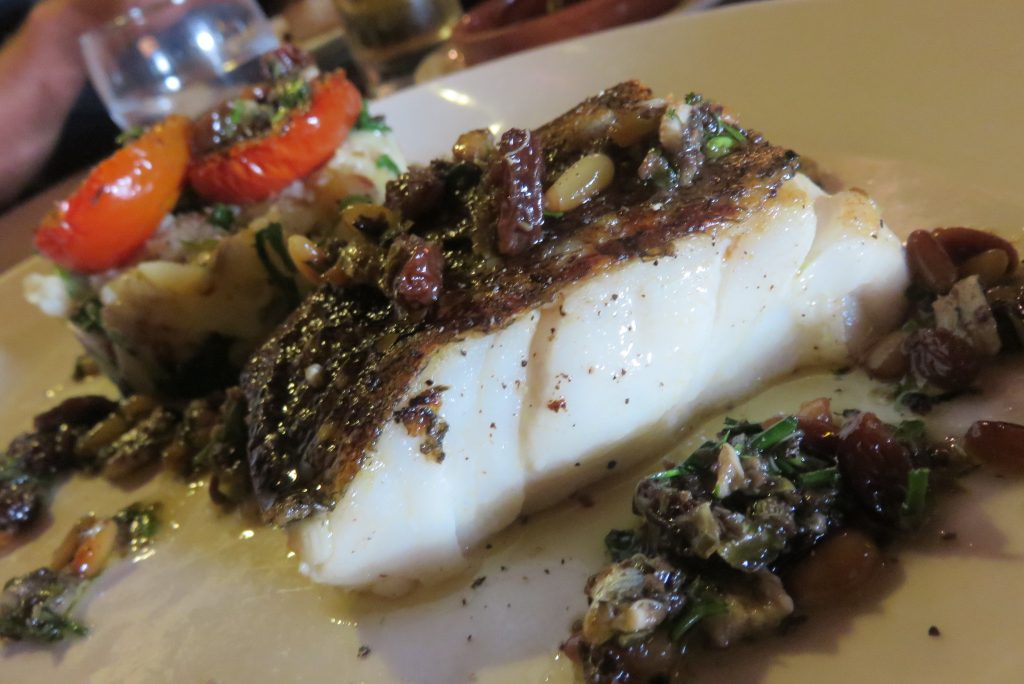 For dessert, I opted for the chocolate truffle mousse with digestive biscuits & hazelnuts, chocolate sauce & blackcurrant sorbet. My partner went for an iced banana & peanut praline parfait, peanut fudge sauce, glazed banana. Both desserts were amazing. The chocolate truffle mousse was delicious, but the blackcurrant sorbet stole the show in my dish. And, the banana and peanut parfait was a light dessert, with a satisfying blend of guilty flavours.
You can see the current menu here.
Prices:
Pubs out in the countryside tend to have higher prices than those more central, but the quality of the food and the cosy setting makes it worth it. Most starters are close to £8, mains range from £14.50 to £18, and desserts are mostly £7.
We'd recommend budgeting £35-40 per person for dinner without drinks, or £55 per person with wine.
Occassion:
The Mole Inn probably isn't your spontaneous "pop down to the pub for a bite" kind of dinner, but it's still relaxed and not a formal dining atmosphere. It's a good choice for casual occasions and celebrations where you want some good quality food. Just keep in mind that they do get very busy and a little noisy.
We'd suggest making a date night out of it with your other half, or going for a nice dinner out with friends and family.
CHERWELL BOATHOUSE, SUMMERTOWN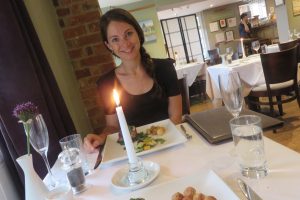 Cherwell Boathouse is a well-known Oxford restaurant, a particular favourite for its enviable spot on the river, in Summertown. The food is best described as creative simplicity, with a focus on fresh, and locally sourced seasonal produce. The restaurant also has an extensive, award-winning wine list. The service is very relaxed, making it a great place to go for a casual dinner. Enjoy the view with delicious food, and even better company.
The Food:
For my starter, I opted for the seared scallops which came served with a fruity mango & papaya salsa, oriental dressing and wild bed of fried noodles. My partner went for the veal sweetbreads, with pea purée, morel mushroom cream and chocolate mint, which was a creative combination that he thoroughly enjoyed. My scallops went well with the fruity salsa, and the fried noodles added an exciting array of textures.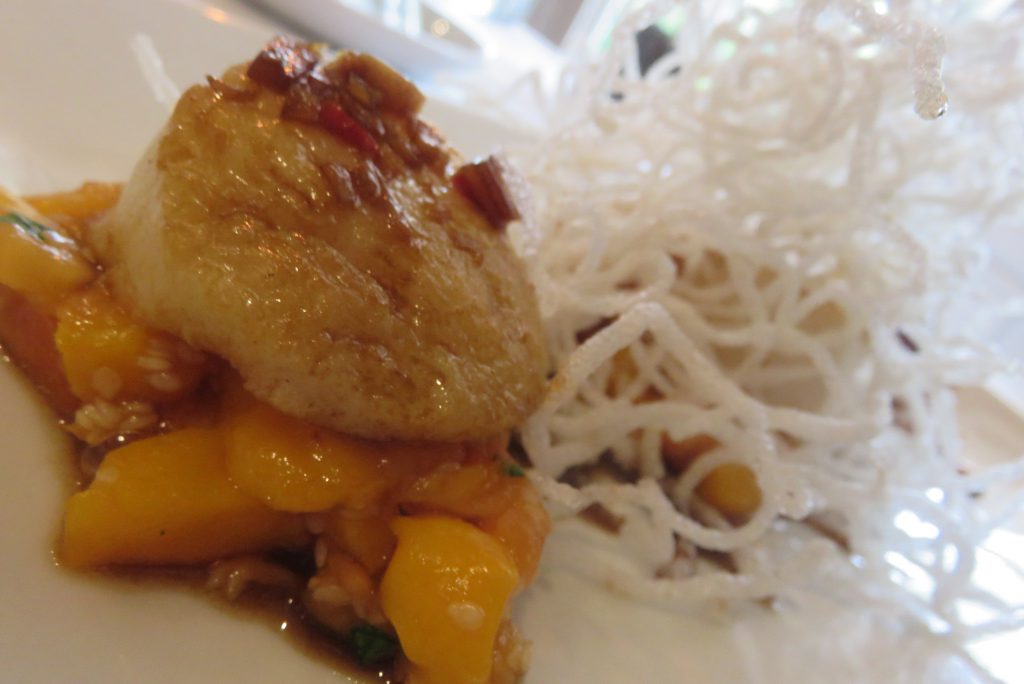 For a main, we both opted for the Oxfordshire rump of lamb, which was served pink with Parisienne potatoes, provençale vegetables with summer greens and salsa verde.
For dessert, my partner enjoyed a white chocolate and guava semi freddo with hazlenut and chocolate chip cookies, and I enjoyed a bitter chocolate and orange torté, which was serve with an orange sauce and sorbet.
We enjoyed all three courses, but both starters were definitely the most impressive of our selection, closely followed by the chocolate and orange torte.
You can see the current menu here.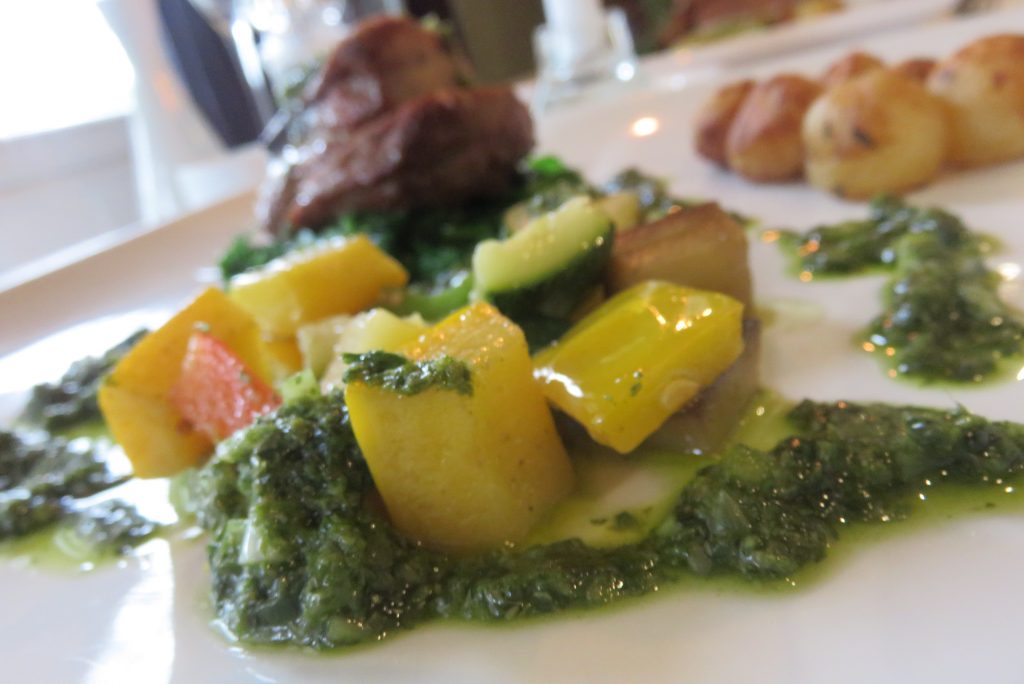 Prices:
The prices are very reasonable, with a great-value two or three course set-menu available for £22 and £27.75 respectively.
Most of the starters are £5.75, but range up to the scallops which are £10.50. The mains average around £18 and the desserts sit around £6.
We'd recommend budgeting up to £35 for three courses without drinks, or £50 per person with wine.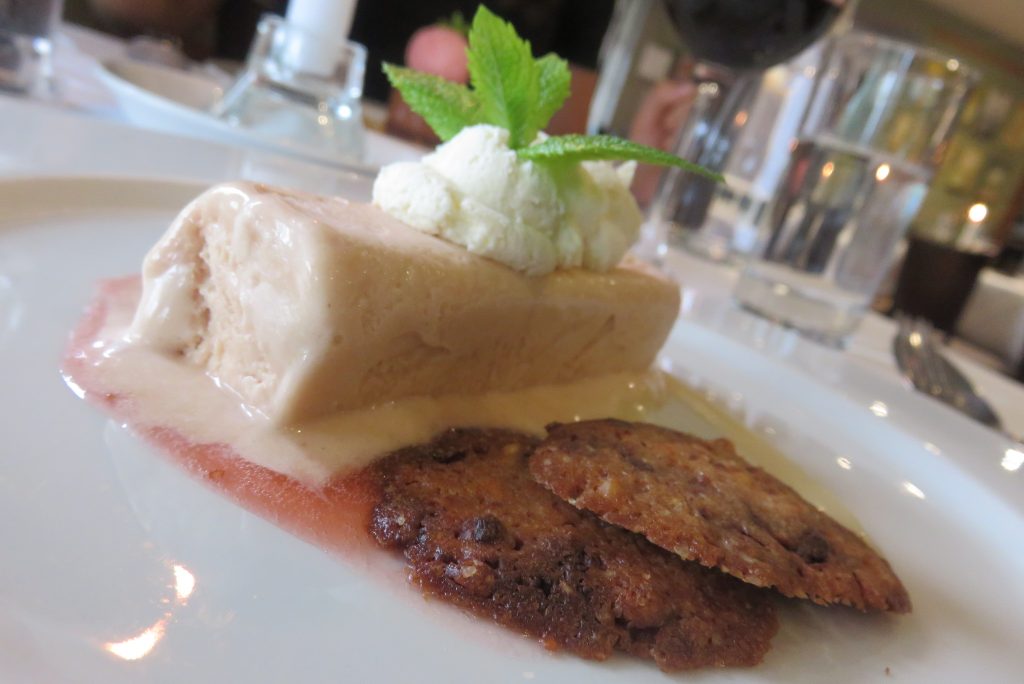 Occasion:
Based on our experience, it's a very relaxed and casual dining experience. It's a lovely location for lunch in the Summer, and for dinner we would say the environment is best enjoyed with the great company of good friends, colleagues or family. Cherwell boathouse welcomes children, and offers a separate children's menu.