AN EXCLUSIVE RESORT WHERE LUXURY IS ONLY A BENCHMARK
Hanging Gardens is a well known luxury resort near Payangan, a village about 20 minutes north of Bali's cultural centre, Ubud. The resort has been built on what was once a barren 45 degree hillside. With over three hectares of land featuring ancient trees, terraced gardens and jungle, Hanging Gardens Ubud is a natural paradise.
We were dropped at the Hanging Gardens' reception, at the top most point of the resort. After checking in, we were ushered into a funicular which took us gliding four levels down into the resort to the bar, with beautiful views of the valley on the way. Here we changed to a second funicular which carried us deep into the heart of the resort to the spa, located on the bottom level.
We were warmly and professionally greeted and given a seat. Fresh, icy-cold rosella tea was made and brought for us while we waited for our appointment. We were also given a mint and eucalyptus face towel. One of the spa reception staff came and checked which treatment we had booked into, confirming one hour balinese massages each. She then gave us samples of the three oil variations we could select from for our treatment, explaining the benefits of each.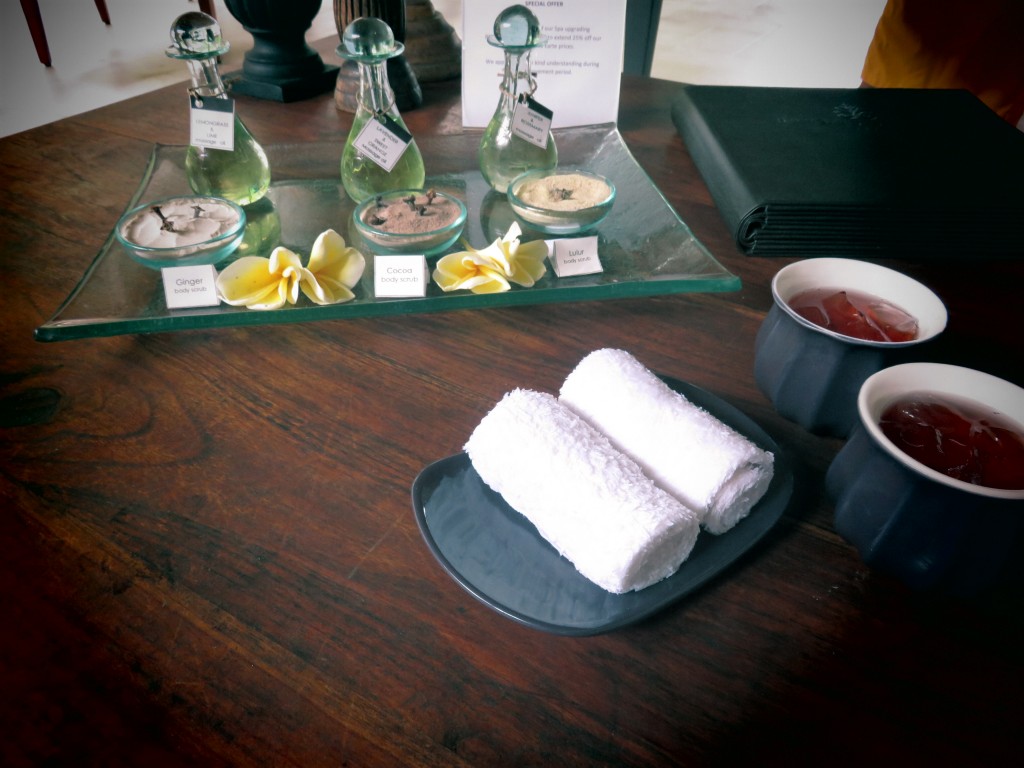 Our oils selected and teas sipped dry, we were taken to our own private spa villa, leaving our shoes and earthly worries behind us.
Stylish kimonos were offered for us to change into and security features were present in the changing room for valuable jewellery or belongings. The changing room itself was beautiful, featuring a rain shower and open air bath with spectacular views into the jungle.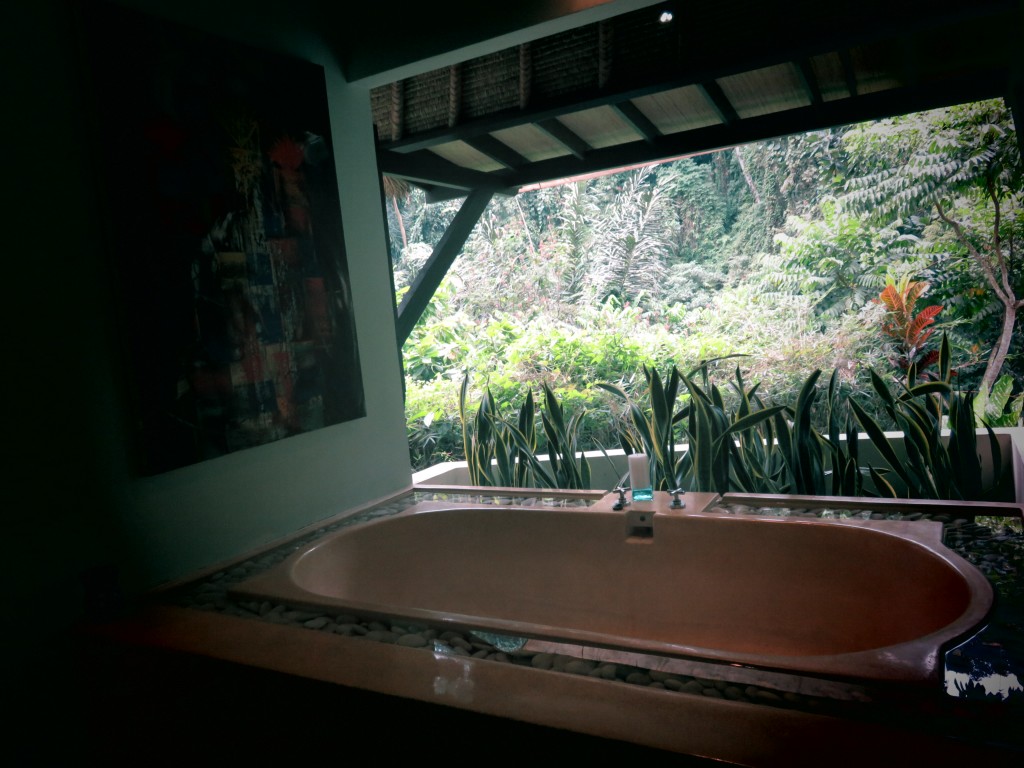 Wrapped up and ready to go we were led to the divan by the open air window and received a lush and refreshing foot bath. The spa therapists were not just professional, but absolutely lovely as well. They introduced themselves and talked to us by name the entire treatment, always making sure we were comfortable and at ease.
Laying down for the treatment, the natural sounds of the forest blended with the nature soundtrack playing softly in the room. It was impossible not to relax. The treatment was without a doubt the best I received in my time in Bali, and not far from the best treatment I have ever enjoyed.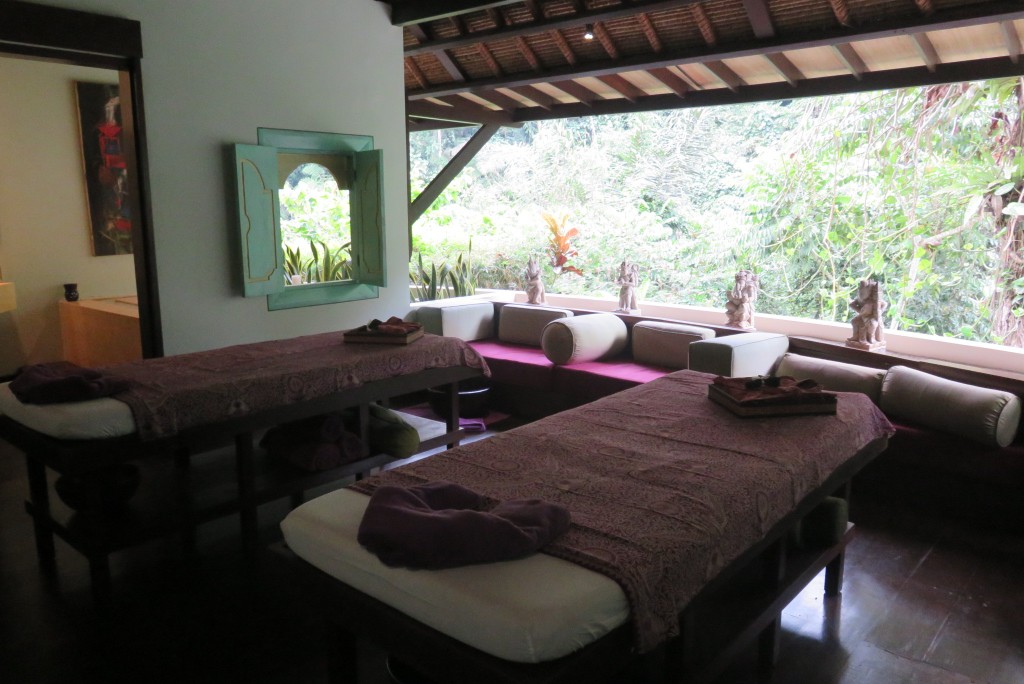 An hour later we couldn't help from smiling, and from a de-brief in the bathroom as we changed to leave, I found Marcus had enjoyed it just as much as I had.
Wishing us well our therapists guided us back to the spa reception where ginger tea was brought to us, made from ginger grown in the grounds. In fact, we found out that the spa selects only indigenous, all-natural ingredients to use for their treatments, and for the refreshments before and after.
Whilst we were sitting enjoying our tea we met Tanti, the new spa manager who was absolutely lovely and took me back to an un-occupied spa villa with permission to take some photos.
We asked if there would be a possibility of having someone show us around the estate a little more and Tanti happily called the marketing department. Soon after we were met by Nia, another newcomer to the Hanging Gardens team who asked if we would like to walk down to the river and up to the ancient temple at the top of the valley on the other side.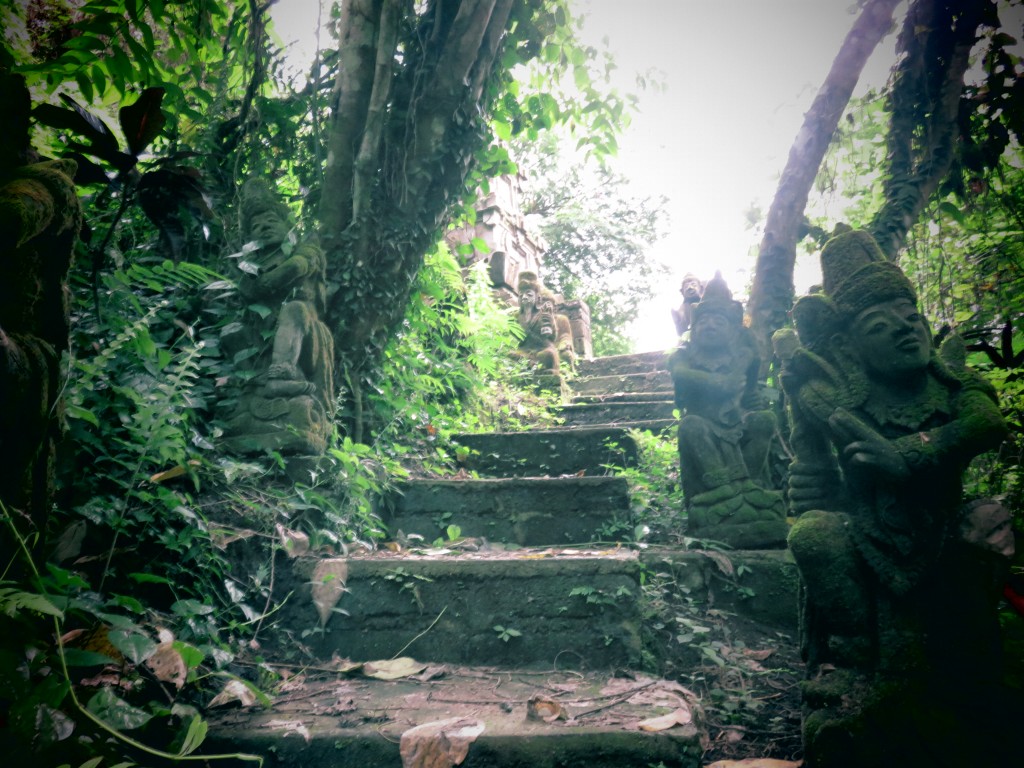 On the way Nia explained that the Resort is currently undergoing a large upgrade. The spa is being renovated and new villas are being built to accommodate larger groups. At the moment the resort contains 38 villas dotted over the different tiers of the resort. Most of these accommodate couples in the variety of suites, panoramic and river view villas. Six family villas feature two bedrooms and two bathrooms over two levels. All of the 38 villas contain their own private infinity pool.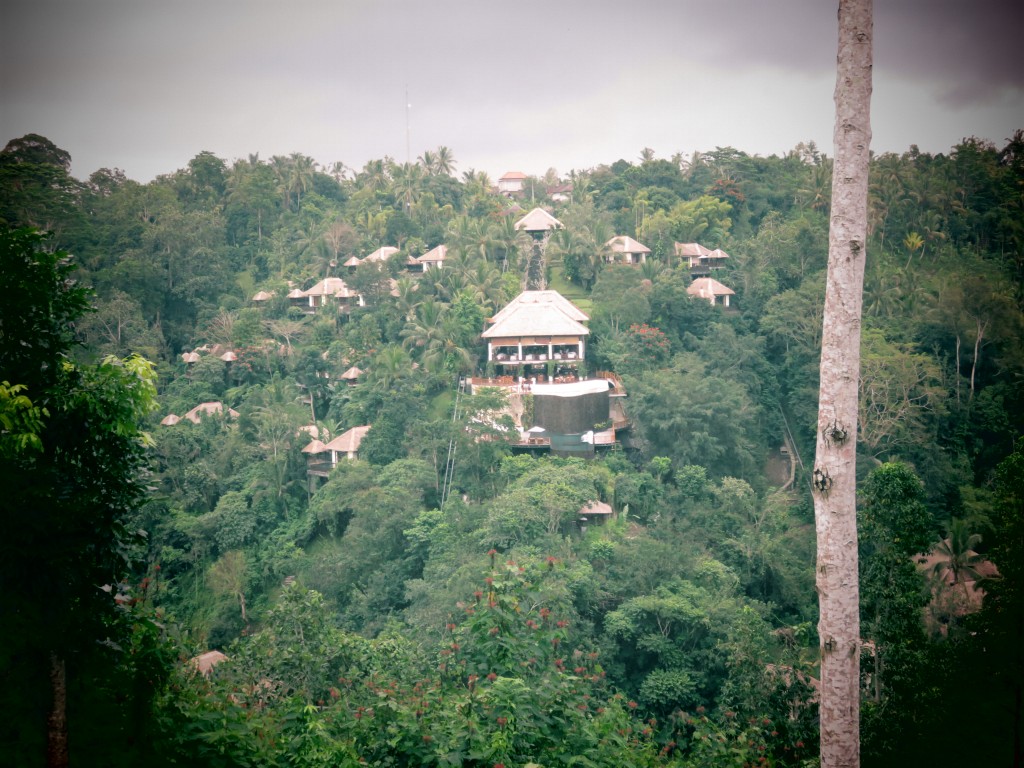 We passed areas by the river where Nia explained that picnic lunches are set up for guests and also that the Darem Segara temple that we were walking do can be prepared for romantic candlelit dinners.
Very few temples are open to non Hindus, and even less allow experiences such as a dinner to be consumed within their holy grounds, making it a truly unique experience.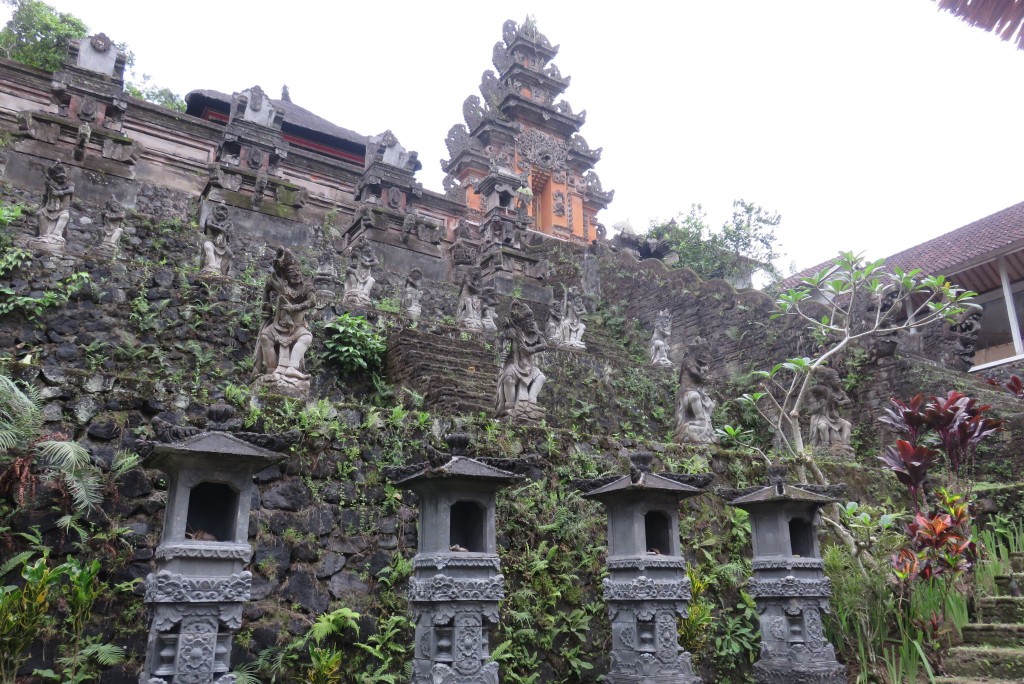 Couples who book the dinner enjoy a private butler who serves an exquisite gourmet dinner prepared by Hanging Gardens' Balinese Chef. After dessert you release a paper lantern with your wishes into the sky before a purification ritual involving a local Mangku (priest) who chants prayers to cleanse your soul. Returning back to the riverside deck, the evening is complete with a reflexology foot massage.
If $250 (US) per person is a bit of a stretch, other romantic dinner experiences are on offer, including "dinner under the stars" where a floating dock is set upon the lower level of the main pool. We decided to settle with trying their five star restaurant.
After enjoying the view of the resort from Darem Segara Temple, we had a car pick us up and take us back to reception where we headed down to the bar level to relax until our dinner reservation.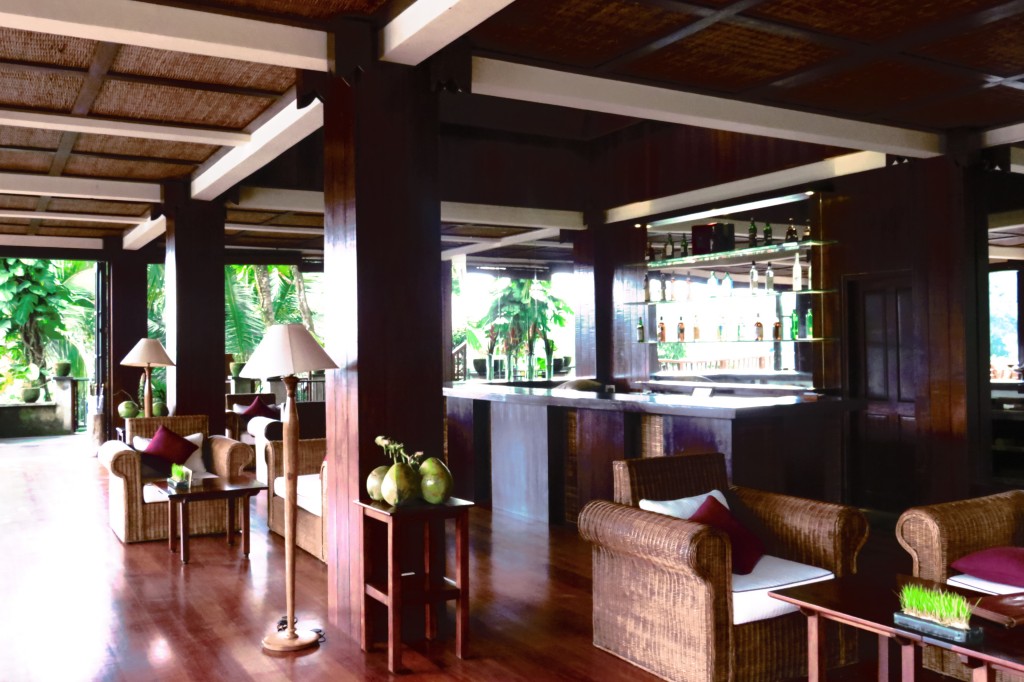 The bar's decor is elegant and modern, yet still compliments the natural surroundings. The menu is extensive, with wines, beers, spirits, cocktails and cocktails to suit all tastes. Delicious bar snacks are provided complimentary with all orders as well.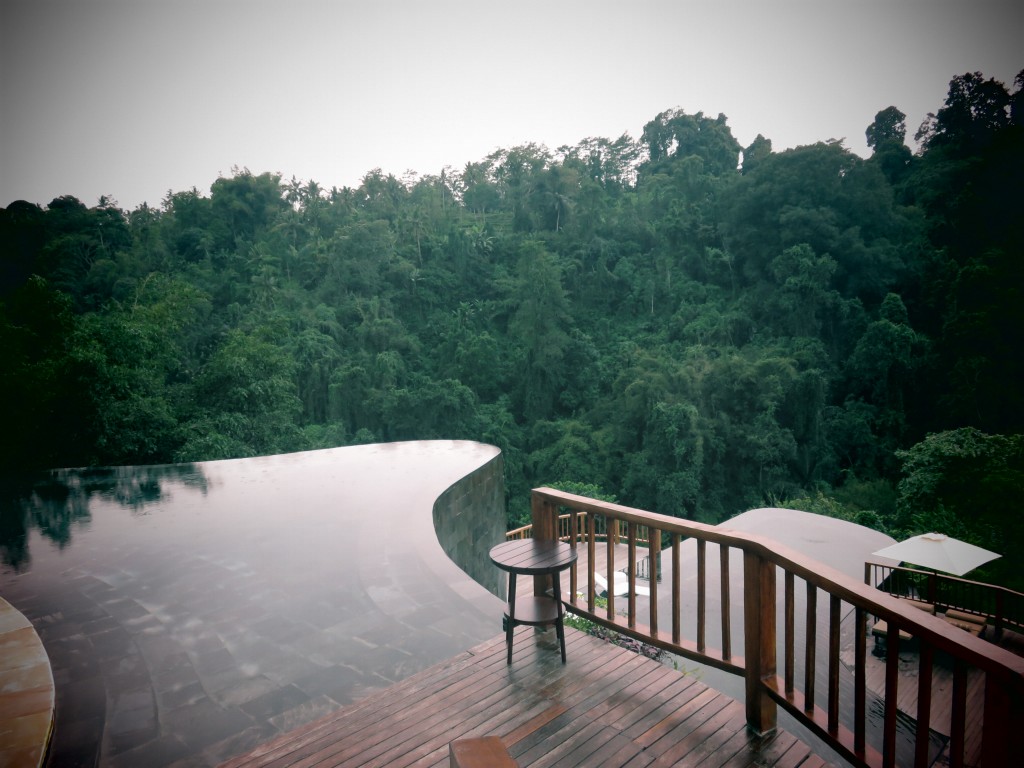 The pool is lined with stone and features a wall of solidified volcanic ash. The pool appears to be suspended in mid air over the surrounding jungle and was designed to replicate the contours of the steep terraced rice paddies, which are an iconic feature in Ubud. We were sat by the upper level, which has a large deck reaching out from the bar.
The lower level's deck is all but hidden from view which provides mush more privacy for more intimate occasions such as the dinner under the stars, and is also utilised for wedding ceremonies. Just after six the sky began to glaze over with pink hues from the sun set, and we made our way up a level to the restaurant.
Unfortunately, the weather turned on us and with the rain and cool breeze we decided to by-pass a swim in the world-famous, split-level infinity pool. Winning multiple awards for best pool in the world, Hanging Gardens' main swimming pool located at the heart of the resort is without a doubt its trademark feature.
We were seated at a table with a spectacular view looking down over the pool and across the valley to the now lit-up, Darem Segara temple.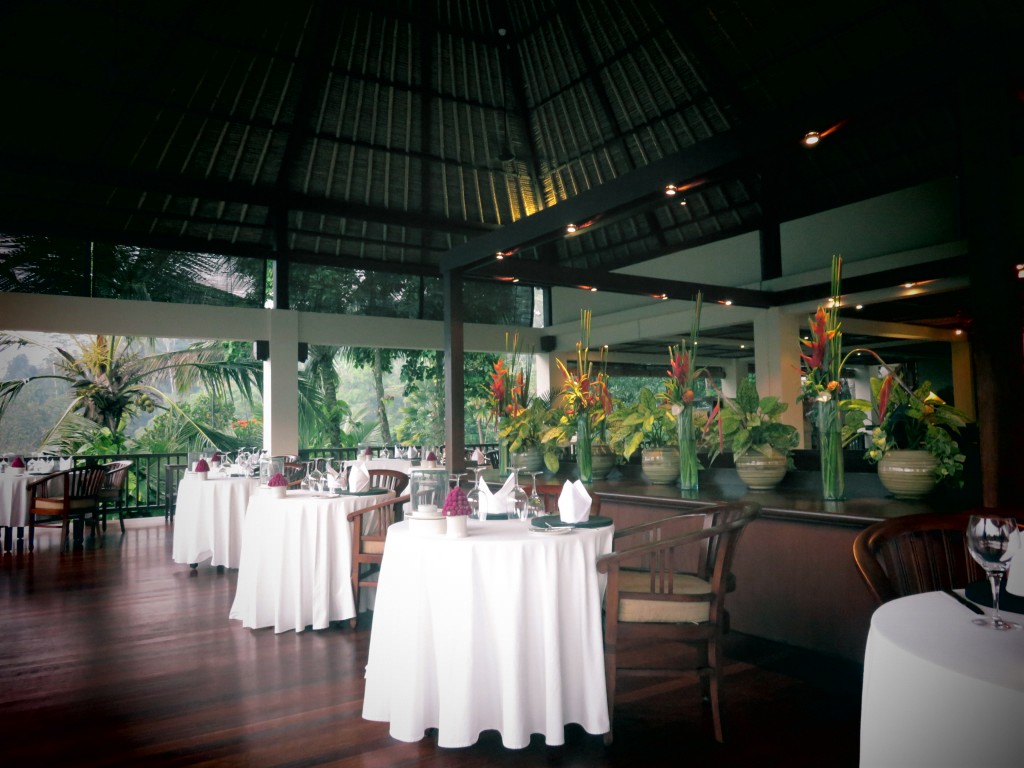 We were brought the wine list and were given time to browse before ordering a glass of red each. The food menu is incredible. After a week of traditional, and local style Balinese food, fine dining was a welcome change.
However it was nice to see that the menu had its inspiration from the traditional cuisine and used mainly local, organic ingredients. Meat was the only key ingredient which was imported. Hanging Gardens imports their meat from Australia.
Our choice of starters was Gado Gado for Marcus, and Duck Croquettes for myself. We received a complimentary palate teaser from the kitchen, before our entrees were brought out. Expecting very small portions, we were pleasantly surprised that the dishes were quite generous.
Presented beautifully, they were a perfect entree portion and were so good we ended up sharing. Next out came our mains, we had both chosen fish. Again, the food was absolutely gorgeous, and left just enough room for dessert.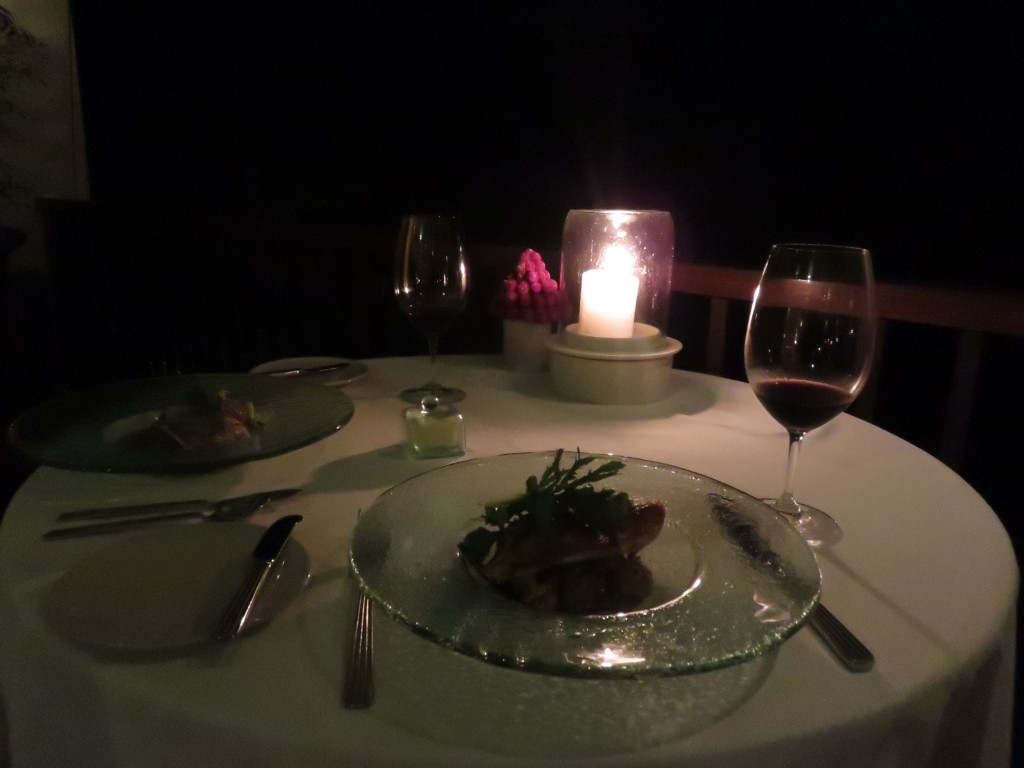 The dessert was the highlight of the meal for me. I had been indecisive and had almost chosen the flour less chocolate cake until a last minute decision spurred me to choose the spiced pumpkin brûlée. I was not disappointed. This time, I didn't want to share! Although Marcus seemed pretty content with his lemongrass panna cotta.
During dinner the wait and reception staff had been a big help in calling our scheduled transport to change the time of our pick up due to a delayed flight. With the reception manager coming directly to our table to explain the new arrangements to us, we had an extra half hour to enjoy the view and let our food settle before we bid Hanging Gardens goodbye.
This time we decided to forego to funicular and walk the 4 flights of now candlelit stairs to reception where our driver was waiting.
Our experience at Hanging Gardens made us quite sad we couldn't stay the night, if we return to Bali we will definitely be returning for longer. The resort has managed to attain a wonderful balance and coexistence with the surrounding natural landscape. This enhances guests' experiences without compromising on luxury. Hanging Gardens is without a doubt the destination for those who want to escape the beach resorts and be treated like royalty. Enjoy a secluded and exclusive holiday experience surrounded by all of Bali's natural wonder. Hanging Gardens is our pick of exclusive and romantic resort; perfect for couples, weddings and honeymooners.
For more photos of Hanging Gardens Ubud, visit our Flickr page