Martini glasses are truly iconic in terms of a casual night out on the town or an evening with friends. Not only is this glassware extremely attractive, but it can add an unforgettable ambiance to any room.
Choosing the best glass set can involve the number of people you expect to serve, your price range, and which types are able to match the other decor in the room.
Investing in a quality set of martini glasses is worthwhile from an aesthetic as well as a functional point of view. We've scoured the market to come up with this list of ten stunningly unique sets which are only a click away.
1. ORREFORS INTERMEZZO BLUE GLASSES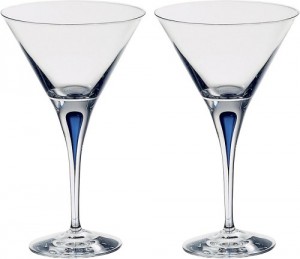 This set of two glasses is perfect for a discrete gathering or a romantic evening. A single drop of sapphire blue accentuates a slender stem; simultaneously embracing elegance and luxury. It should therefore come as no surprise that Orrefors is one of the most respected glass makers in the world.
2. CLASSIQUE MARTINI GLASSES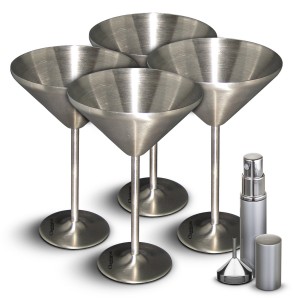 Available as a set of two or four units, these metallic glasses are equipped with an interior gel that can keep drinks ice cold for up to four hours.
Their stainless steel tone is ideal for a more contemporary environment while extra amenities such as an atomiser and even a martini instruction booklet are included. This set truly does represent the "one size fits all" mentality in terms of martinis.
3. WATERFORD CRYSTAL LISMORE DIAMOND GLASSES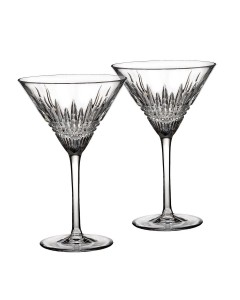 This set of two glasses is punctuated by their famous Waterford lead crystal manufacture. These units are also highlighted with handmade etching alongside a slender neck.
Such glasses are ideal for those wishing to embrace a classical appeal although they are just as appropriate for more modern and minimalistic tastes.
4. RIEDEL VINUM XL GLASSES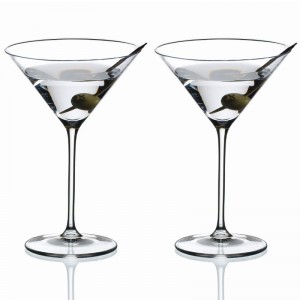 Considered to be some of the most beautiful glasses in existence, these units are supplied in a set of eight. 24 per cent lead crystal ensures unsurpassed levels of clarity while their minimalist appeal is perfect for the well-versed martini drinker.
As the name may hint, this oversized design is a popular choice for those who desire a more dramatic presentation within a formal or informal gathering.
5. SPIEGELAU SPECIALITY L&S DIAMONDS GLASSES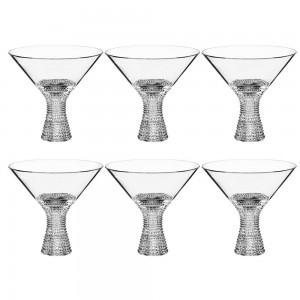 Available in sets of two, four or six, these amazing martini glasses add a bit of sparkle thanks to the diamond design found on the stem. An extra-wide base likewise signals a slight departure from more traditional shapes.
Such a set is perfect to bring shimmering beauty into any room. It should be noted that due to their delicate nature, it is recommended that these glasses are washed by hand.
6. SCHOTT ZWIESEL TRITAN DISTIL KIRKWALL MARTINI GLASSES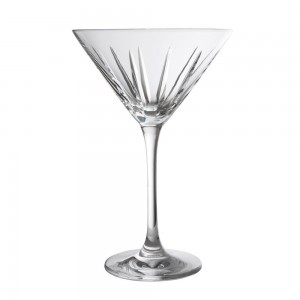 This set of six glasses is constructed with scintillating Tritan crystal. Such a material guarantees both clarity and durability. Vertical etching helps to accent their visual flair and unlike some other models, these glasses are perfectly safe to be used within a dishwasher.
Anyone who desires a robust and yet undeniably beautiful set of martini glasses will not be disappointed with this set.
7. IMPULSE GLAM MARTINI RUBY GLASS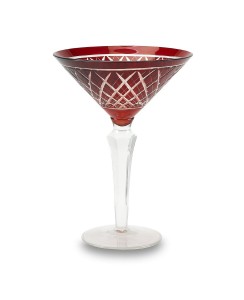 Why not add a bit of rich colour during an upcoming event? These hand-blown glasses are extremely unique in their design. A tapered neck and the use of pure coloured glass ensure that years of enjoyment are guaranteed.
Cross-hatch accents lend a further appeal to this option. These stylish glasses are available in sets of six.
8. RIEDEL VINUM EXTREME MARTINI GLASSES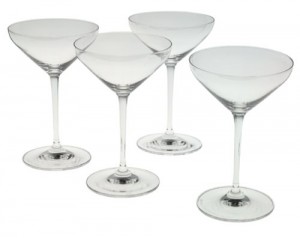 This set of two martini glasses has left nothing to chance in terms of form and function. Fashioned in Bavaria by expert glass makers, their seamless construction combined with a curved bowl will lend a bit of luxury to even the most casual of cocktails.
This model is also able to hold an appreciable amount of liquid; perfect for martini fans.
9. RIEDEL VITUS MARTINI GLASS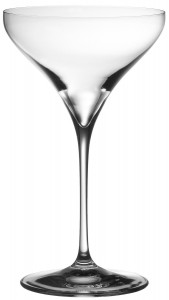 The generous bowl espoused within this design is ideal for those who enjoy a hearty martini. Thanks to a construction from lead crystal, these units boast a shimmering quality not often seen in other models.
An elegant height adds a further sense of visual allure. The Riedel Vitus Martini Glass is available in sets of two.
10. THE HOMAGE COMETE MARTINI GLASS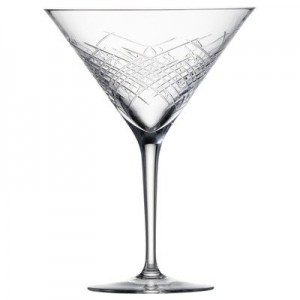 Doubling as a champagne flute, this amazingly detailed martini glass is offered in sets of two. Each is fashioned from mouth-blown crystal and able to comfortably hold up to ten ounces. These units are perfect for a party or an intimate gathering. Intricate scoring on the bowl provides an extra sense of bespoke flair.