London is home to some of Britain's (and the World's) most impressive restaurants. We've sampled some of the most highly esteemed restaurants in the capital, as well as seeking out some of its more tucked away culinary gems.
With such a wide variety of exceptional restaurants to choose from, we were particularly interested in restaurants that stood out, whether through entertainment, a unique dining experience, or simply amazing food.
This list will continue to grow as we continue exploring. If you're a restaurant and think you fit the bill for this list, we're more than happy to hear from you – please send us a message via our contact page.
AMAYA, KNIGHTSBRIDGE
Nestled in the heart of Belgravia, this Indian restaurant is absolutely worthy of its Michelin star. The food is served tapas style, and prepared and cooked in full view of the diners.
We loved the transparency of being able to see the food being prepared by the chefs and were fascinated watching the preparation of different traditional meals.
The wait staff was very attentive and friendly, taking care to explain both the premise of the restaurant, different dishes and to provide recommendations, which we couldn't fault.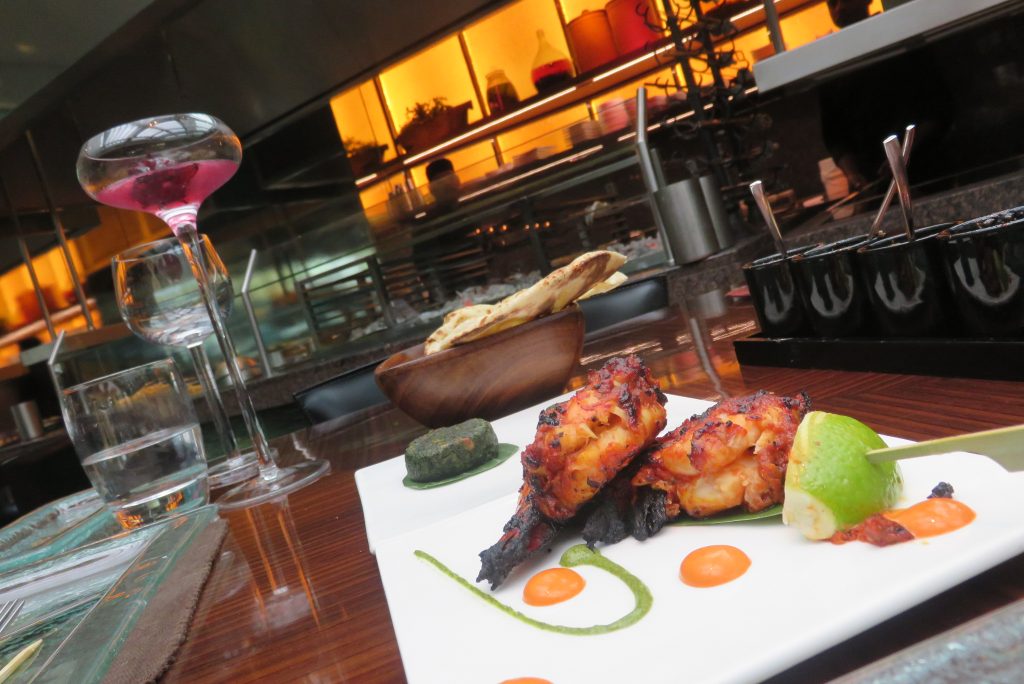 The Food:
We visited Amaya at lunch and we were recommended to order 5 to 6 dishes to share.
We opted for one of the pre-suggested tasting menus, called Amaya favourites. The menu changes constantly but during our visit the menu consisted of: 
Mandarin & goats cheese salad,
black pepper chicken tikka,
Spinach & fig tikki,
tandoori ocean wild prawn (which were enormous and absolutely amazing!),
tandoori chicken chop,
Smoked chilli lamb chop,
chicken biryani and naan with raita.
The food comes out when it is ready, tapas style, and this tasting menu provided an amazing variety of flavours showcasing each of the three traditional cooking styles.
For dessert, we shared the gulab jamun cheesecake. This was a miniature cheesecake with an actual gulab jamun in the centre; a quirky take on the Indian classic which was delicious.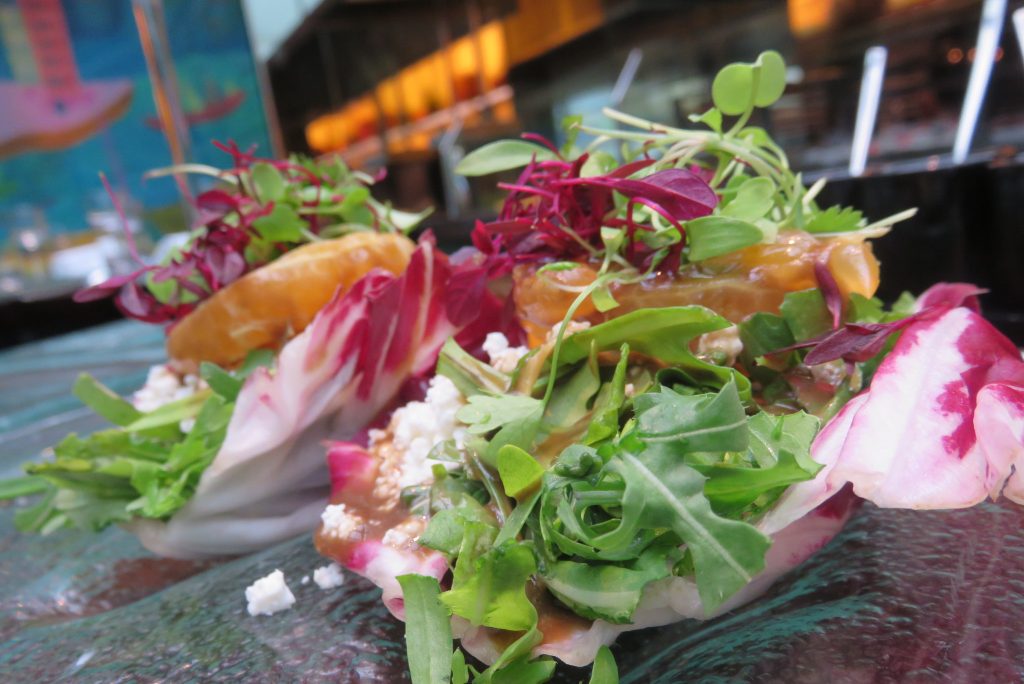 Prices:
For a central London restaurant, and considering the atmosphere and the quality of the food on offer, we found the prices very reasonable. Our tasting menu was the most expensive of the three and costs £37/person, but you could easily enjoy a filling lunch for £30.
For lunch we'd recommend budgeting £30-£40 per person which could include a glass of wine, or £60-£70 per person for the equivalent of the 3 course dinner inclusive of wine and service.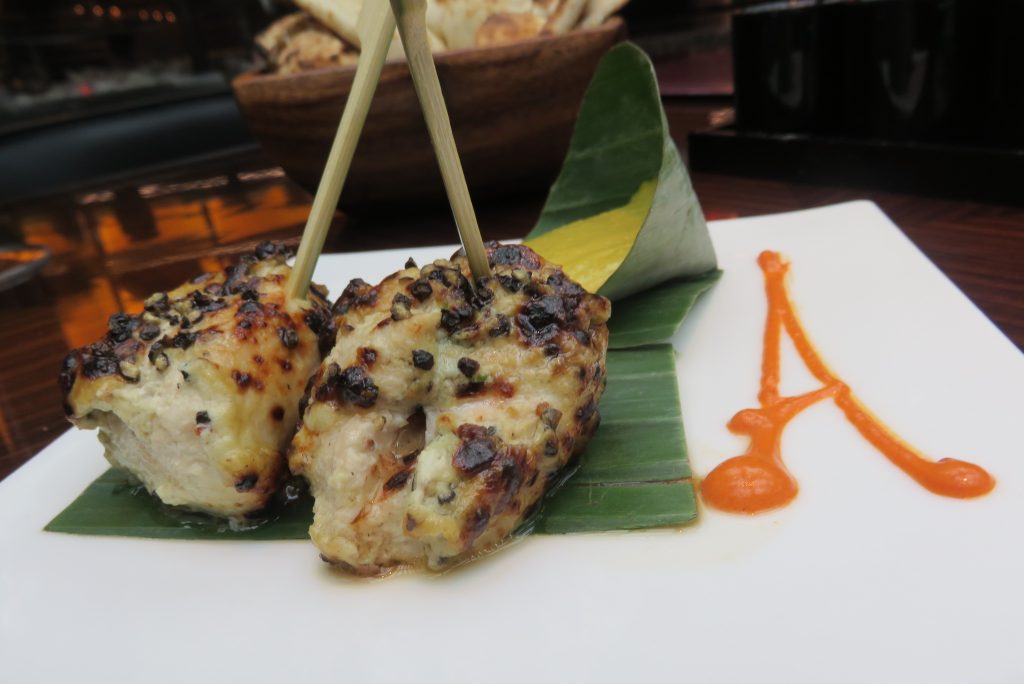 Occasion:
Amaya is a restaurant for any occasion. The tapas, sharing nature of the dishes provide a fun, communal atmosphere for groups enjoying a lunch or evening together, and the restaurant is appropriate for a romantic meal as well.
DINNER BY HESTON BLUMENTHAL, KNIGHTSBRIDGE
The aptly named "Dinner" by Heston Blumenthal is located within the Mandarin Oriental Hotel in central London, just steps away from Knightsbridge station is the Mandarin Oriental Hotel and overlooking Hyde Park.
I found it an utterly unique dining experience where your perception of food is challenged, allowing you to see individual ingredients, craftsmanship and history as integral parts of the dining process.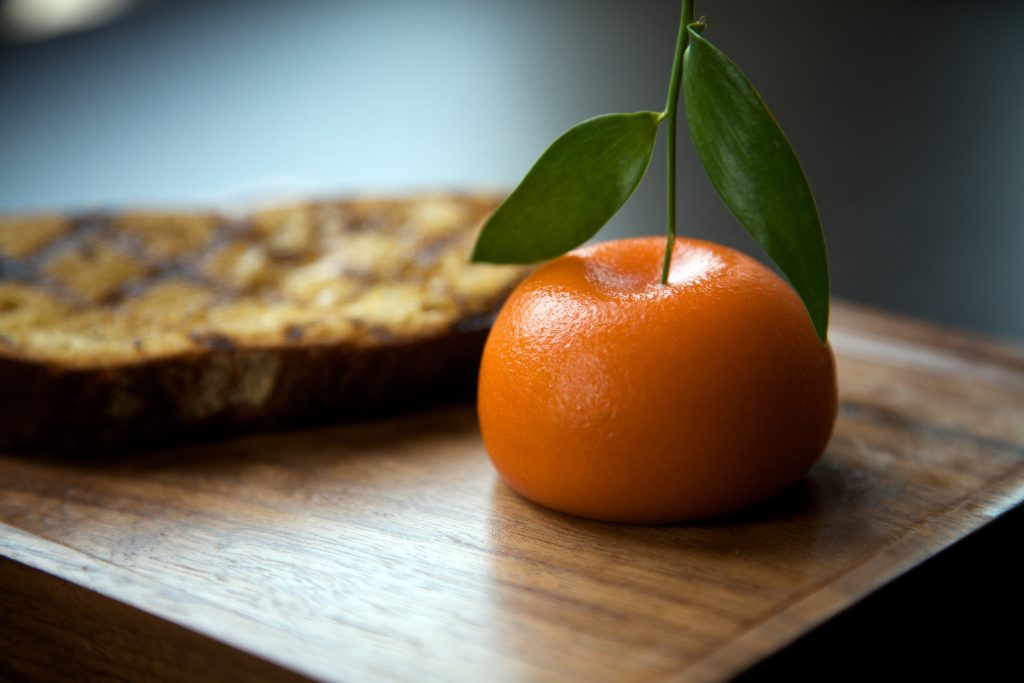 Food:
Out of the starters, I sampled the Meat Fruit, which is a mandarin, created from chicken liver parfait and served with grilled bread.
I also tried the savoury Porridge (c. 1660), which was prepared with parsley, fennel, garlic, girolles and topped with frogs legs; the Earl Grey Tea cured Salmon (c. 1730) served on a lemon salad with gentleman's relish, wood sorrel and smoked roe; and Frumenty (c. 1390) which was grilled octopus, served on a smoked sea broth with picked pulse and lovage.
Each of the starters was delicious and offered a new experience of the ingredients. The Earl Grey Salmon was a personal favourite. It looked beautiful, and the flavours were so delicate and balanced.
For a main I tried the Powdered Duck Breast (c. 1670) served with smoked confit fennel, spiced blood pudding and umbles.
This was an experimental dish for me, and while I didn't particularly enjoy it, I was glad to have been able to give it a go!
Having left just enough room for dessert I tried the restaurant's famous Tipsy Cake (c. 1810), served with spit-roasted pineapple.
I also tried small portions of the Brown Bread Ice Cream (c. 1830), served on salted butter caramel, pear and malted yeast syrup, and the tarte of strawberries (c. 1560) which was macerated strawberries, with orange blossom cream, chamomile and strawberry sorbet.
You can view the menu here.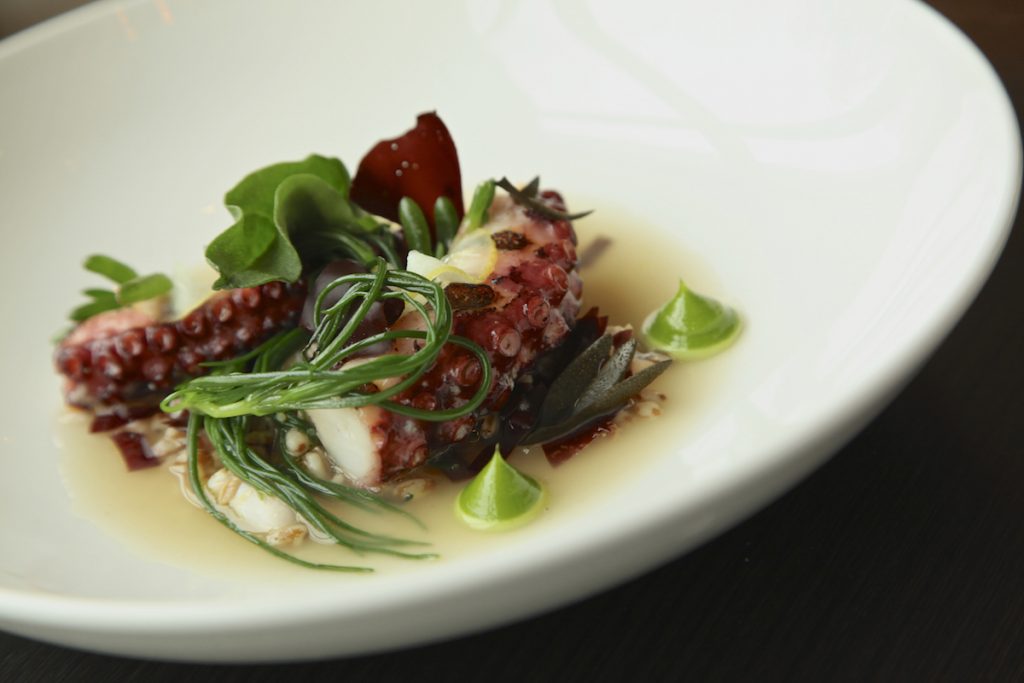 Prices:
Starters cost an average of £17.50, mains cost around £36 and desserts about £13.50. We'd recommend budgeting an average of £60 per person for a three-course meal without wine. I would recommend budgeting at least £80-£100 per person for the night, if drinking.
Occasion:
Dinner by Heston Blumenthal is a restaurant for people who truly appreciate food and who are willing to be a bit adventurous. It's a great date night for couples who are looking for something a bit different, and for friends celebrating a special occasion. 
The restaurant and atmosphere is not appropriate for children.
DANS LE NOIR, FARRINGDON
Dans le noir offers Londoners a completely unique dining adventure of eating and drinking in pitch darkness. We're talking about an absolute darkness that doesn't relent – a darkness where even after an hour you still won't be able to make out your hand placed an inch in front of your face.
The personal experience of voluntarily giving up your most relied-upon sense, and placing your trust with blind waiters who guide you through the labyrinth of curtains, tables and other diners is totally humbling.
Dans Le Noir achieves a remarkable and insular feat where societal customs and prejudices are diminished in the darkness. Etiquette is forgotten and labels of class, sex, race and age rendered meaningless in an environment where all are equal in their blindness.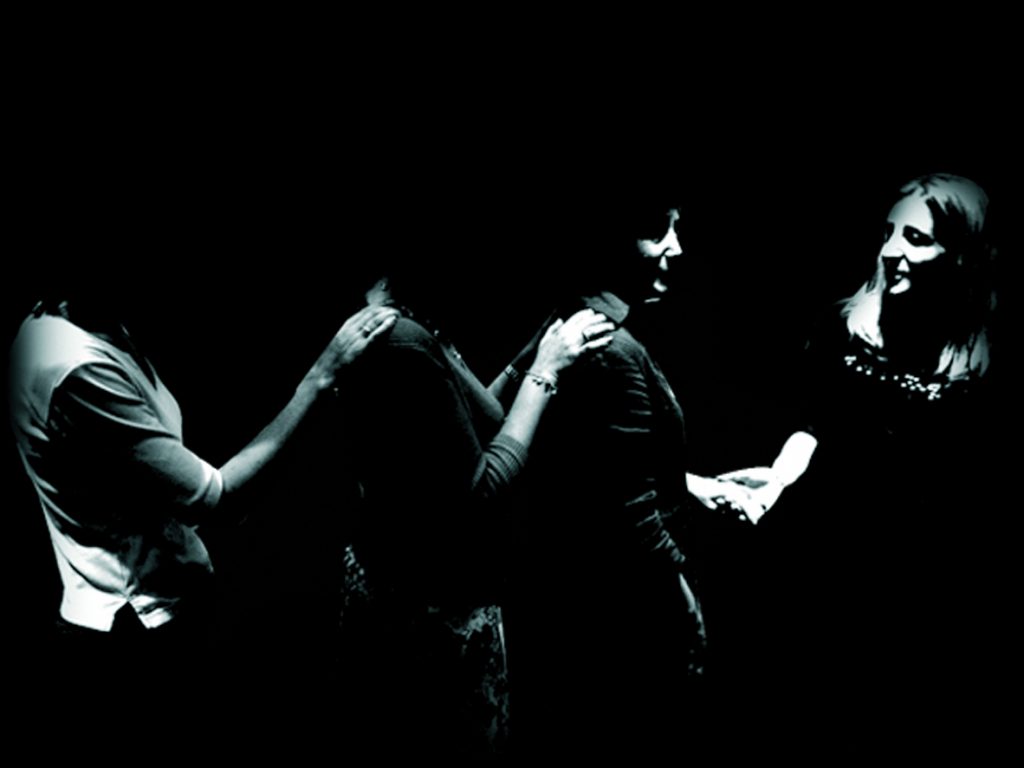 The Food:
There's an option of four surprise menus at Dans le Noir: Meat, fish, vegetarian and "chef's surprise". This is the extent of information you will have about the food placed in front of you until you try it. I selected vegetarian and my partner selected chef's surprise.
You can also select from a range of cocktails and red or white wine prior to entering the dining room.
Once we were seated at the table we were directed on how to find our cutlery, water glass and our glass for wine (not a wine glass, for obvious reasons). Our waitress explained how to top up our water by curling our finger over the lip of the glass to feel when it's full.
When our starter was brought out, I quickly realised my finesse with a knife and fork is not quite so hot when I can't see what I'm eating. I pretty soon converted to using my fingers, figuring it wasn't rude if no one could see me do it!
Like a small child, I explored the texture of my food, and apprehensively explored the flavours without any pre-conceived notions based on how the dish looked.
We both had a lot of fun guessing what each of our dishes comprised of, and even managed to come up with a system of sharing tastes of each others which consisted of a lot of "where's your hand?" "Okay, I'm passing you a fork" "Yep, I got it" "Woah, that's good" "where are you?" "oops I dropped it".
After dining, you're guided out of the restaurant back to the reception lounge and bar where you can re-adjust to the light before comparing your guesses to the actual menus.
We both did very well with our starters and dessert, but were very surprised with the details of our mains, showing that when sight is taken away, flavours and perception of food takes on a league of its own.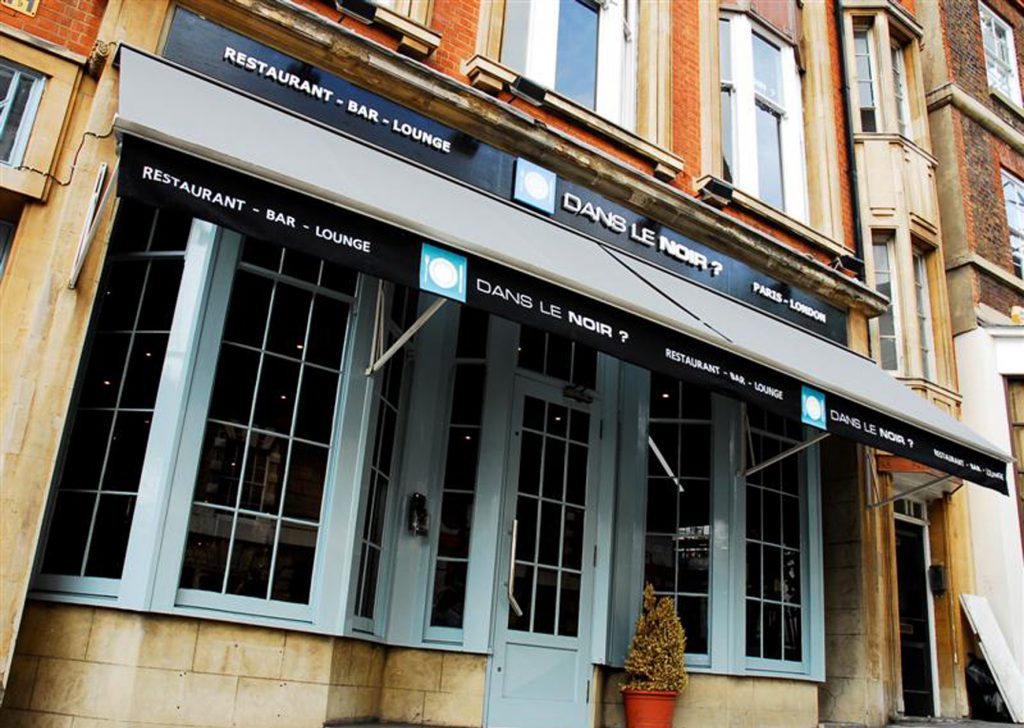 Prices:
The prices for a two course experience is £44, and for three courses is £52. A degustation package of three courses, two glasses of wine and a surprise cocktail is £69.
Occasion:
We'd recommend the experience as a great way of getting out of your comfort zone and gaining self-confidence.
Couples and small groups of friends will enjoy an adventurous night where communication throughout the evening is sure to take on a totally new dynamic.
It's an eye-opening way of exploring yourself, your relationship with other people as well as your relationship with food.
BEL CANTO, BAYSWATER RD
Bel Canto is London's only Opera restaurant. It's located opposite Hyde Park in Bayswater, a short stroll from Paddington station. The restaurant is a unique dining experience, with singing waiters who are professionally trained and burst into Opera at fifteen minute intervals.
The cuisine is French and well prepared, however it's definitely a restaurant you would select for the theatrical dining experience.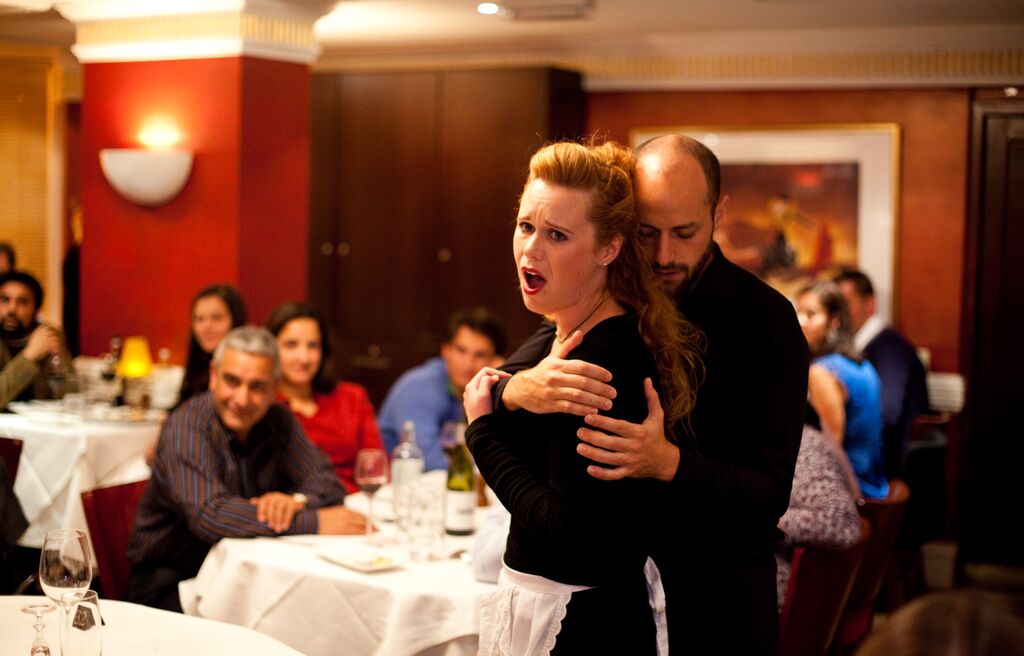 The Food:
For starters, we both opted for the home-made traditional "marble" duck Foie Gras, which was served with toasted brioche and fig chutney. The portion sizes were very generous, and the fig chutney was beautiful.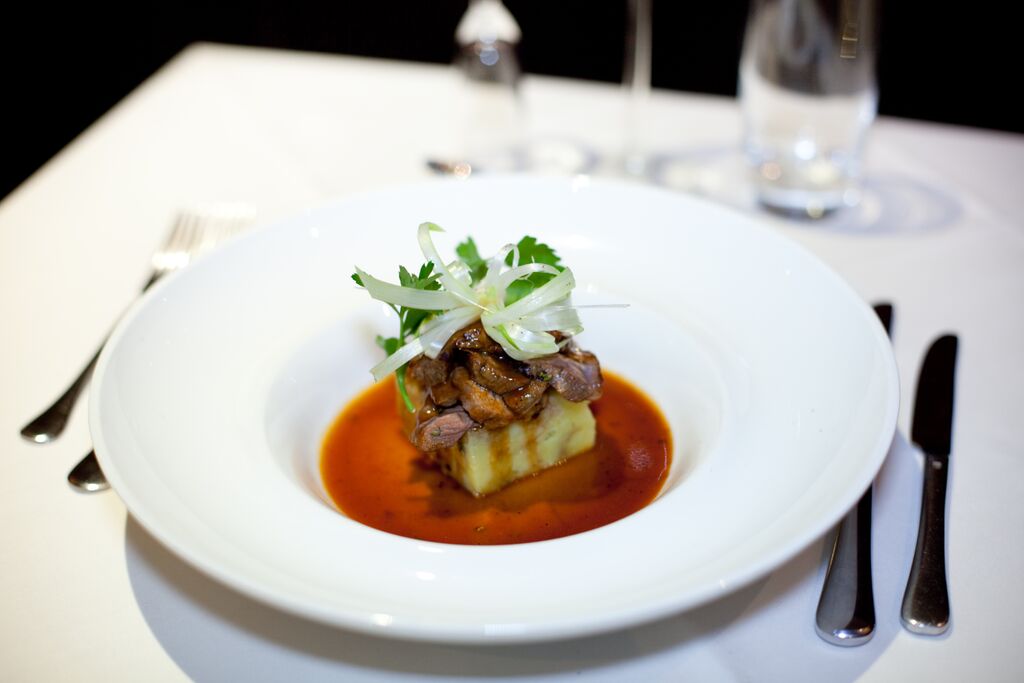 For mains, I selected the Corn-Fed Chicken Breast wrapped in brik pastry, served with mash potatoes with Spring onion, tomato and tarragon sauce.
My partner selected the Braised pork cheek, served with caramelised carrots, crushed potatoes and red wine jus. 
For dessert, I chose the guilt-inducing hot chocolate fondant served with salted caramel ice cream (which was definitely worth it).
My partner was well behaved and selected the lighter strawberry soup, which was strawberries in their own juice, served with raspberry sorbet, thyme biscuit and a touch of basil pesto.
He enjoyed this dessert, but admittedly was looking at my fondant with subtle envy.
You can see the current menu here.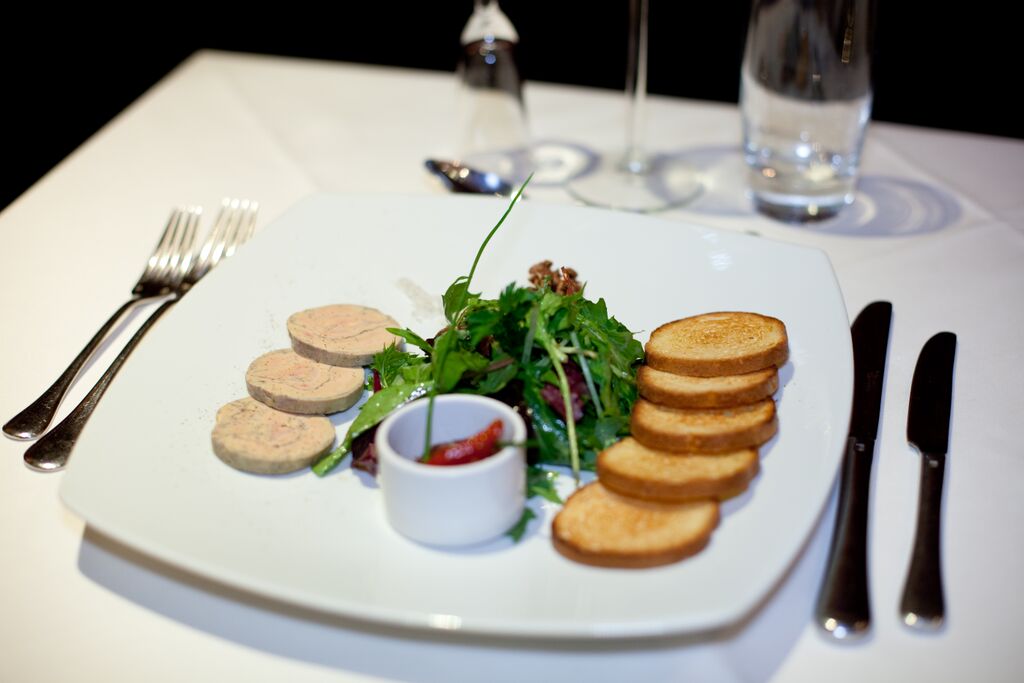 Prices:
Bel Canto offers two and three-course packages for the evening entertainment. The prices are £54 including a starter and main, or £59 with dessert as well.
These prices also include a glass of prosecco to toast with the Opera singers during "Libiamo" from "La Traviata".
Occasion:
Bel Canto is a great choice for anyone seeking some entertainment with their evening meal, and a must for any opera lovers. 
It's probably not the best choice if you're hoping to engage in in-depth or intimate discussion over dinner, as the singing takes place every fifteen minutes and continues throughout the night.
It is a fun option for birthdays, and we saw lots of groups and couples thoroughly enjoying themselves and the show.