Living in New York City has many appeals, not the least of which is access to some of the world's most prestigious artists, renowned chefs, and famous attractions. But sometimes an escape from the hustle and bustle of NYC life is in order.
I don't think there's a better juxtaposition to the city life then a weekend break somewhere remote and relaxing. Over the last few months I've discovered some incredible places where you can escape the city, rewind, and rejuvenate.
WOODSTOCK WAY – NY 12498
First on the list is Woodstock Way, a charming collection of cabins in Woodstock, New York. These classic cabins have a distinct balance between reminiscent coziness and modern amenities, inviting guests from all over the tri-state area to spend a few nights in the middle of Woodstock life.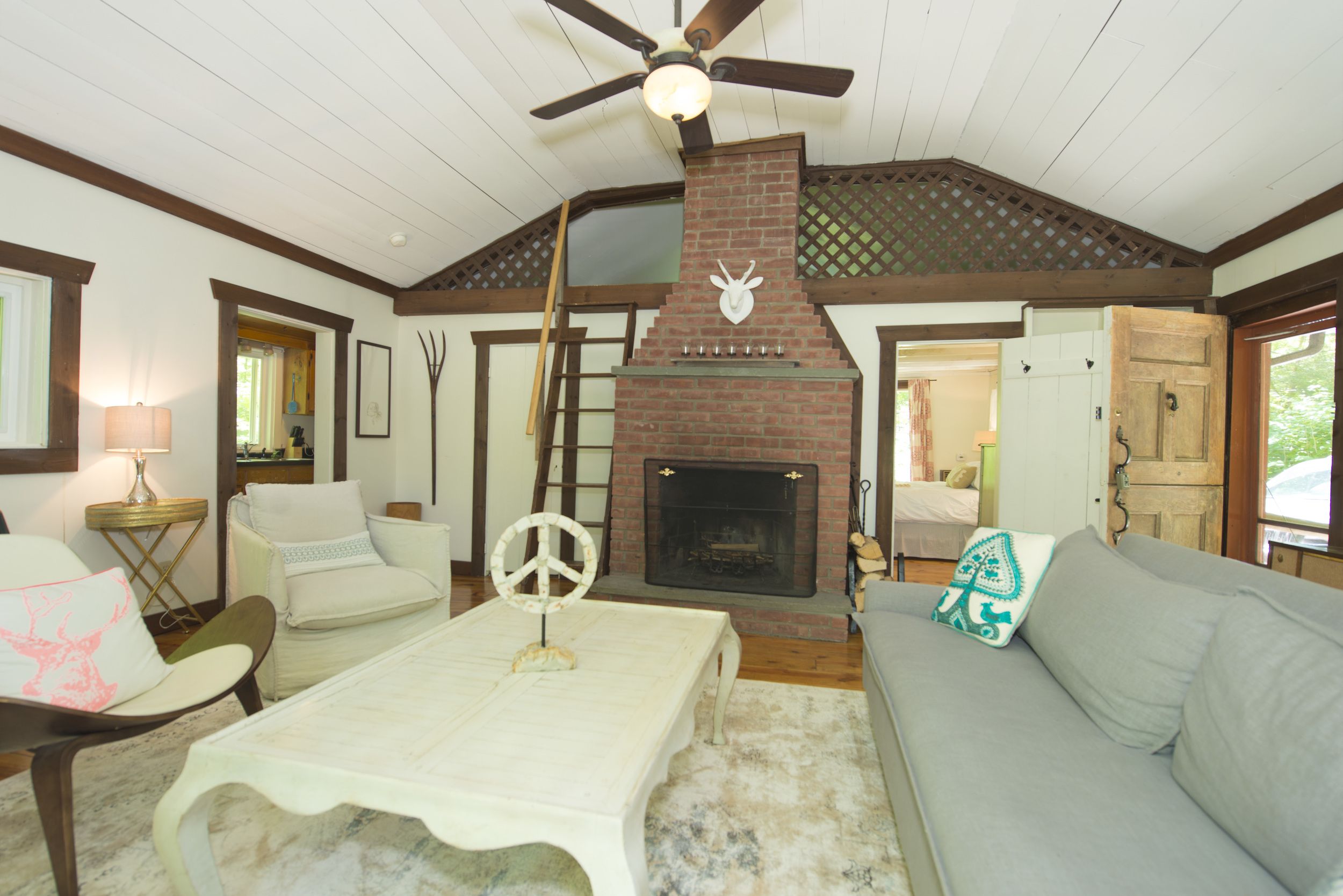 Check-In:
Upon arriving, we drove directly to our cabin and entered a pre-supplied code into the key safe at the door. No check-in required! It was an incredibly pleasant surprise and a sign of the level of simplicity and elegance that Woodstock has managed to attain.
I received a very friendly email shortly after arriving at our 3pm "check-in" time to see if everything was in order. It was non-intrusive gesture, indicative of the thought that has been put into the management of the retreat.
Accommodation & Location:
The cabin we stayed in was carefully renovated to reflect the classic Woodstock ethos – traditional wooden beams, mason jars in the kitchen, and even an artist's easel with a collection of oil paints, ready for any creative streaks we happened to enter.
And such streaks are easy to come by with the location. Woodstock Way is situated along a wandering river that stretches through the middle of town. It's just as tempting to get lost in a book at the local cafe as it is to sit by the river, feet dangling as you watch the water flow by.
A short (2 minute) walk to town reveals the real charm of Woodstock. A combination of picturesque art shops and unique restaurants provides plenty of room for exploration as the history and charm of Woodstock begins to outstretch in front of you.
We had a great time at a few spots in town, including Oriole 9, a relaxing and authentic cafe with eclectic, healthy options and very friendly staff. And if you're in the mood for something more exotic, there are plenty of options throughout town to fulfil whatever takes your fancy – From Italian, vegetarian, Indian, to a noodle bar (which happened to be one of our favorites!).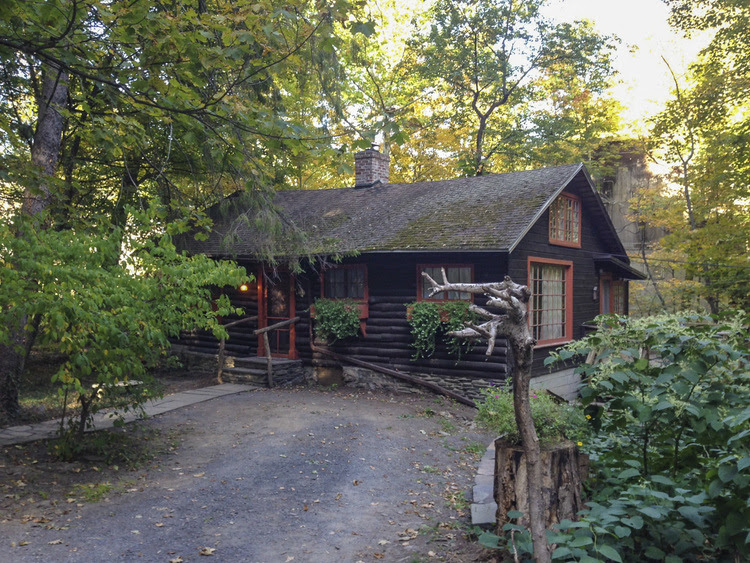 Summary:
In short, Woodstock Way provides the quintessential Woodstock experience with the creature comforts of home, all a few steps from a historic, eclectic town with wonderful people.
WHITEFACE LODGE – NY 12946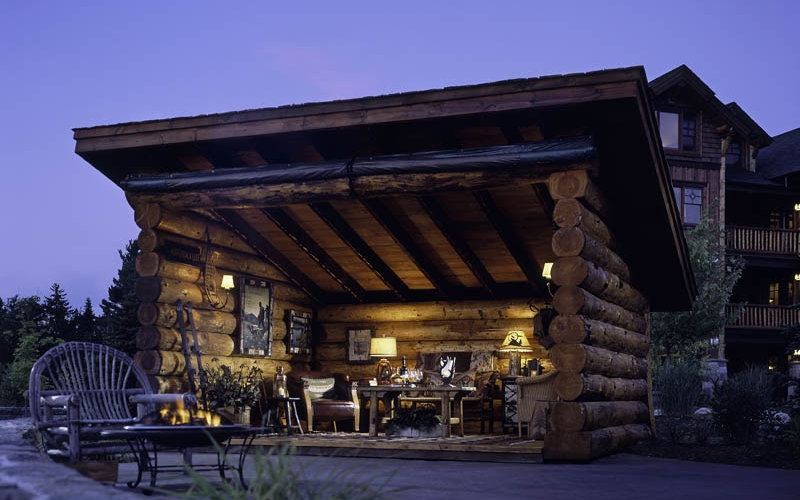 The Whiteface Lodge is situated right on Lake Placid, a few hours outside of New York City and away from the typical urban hustle and bustle. Boasting a unique rustic-luxury ambience, this resort was ranked near the top of our list for its location, amenities, and service.
Accommodation & Activities:
The rooms are beautiful, extremely clean, rustic, and comfortable in an unmistakable Adirondack style. Each room in the resort is and furnished with cozy furniture, and designed from the ground up to make you feel at home.
Built-in fireplaces and jacuzzis are the traditional favorite spots in the winter months, while summer months bring more outdoor activities, including swimming and water sports, hiking and biking.
Make no mistake about the winter months, however; while skiing and snowboarding are the traditional go-to sports, Whiteface Lodge also offers guests activities like Snowmobiling, Snowshoeing, Dog SLedding, and Tobogganing.
Dining:
No matter what the season, it's a great place to wind down. We particularly found the Whiteface Lodge restaurant, KANU, to be a particular pleasure, as the menu boasts delicious plates made with local ingredients – and all paired with a plentiful wine list.
After dinner you can enjoy the nightly campfire (complete with S'mores) with your family, or stop by the "Cigar & Cognac" outdoor Lean-To's for a more adult atmosphere. Needless to say, the facilities and surrounding landscape intertwine to create a truly immersive experience.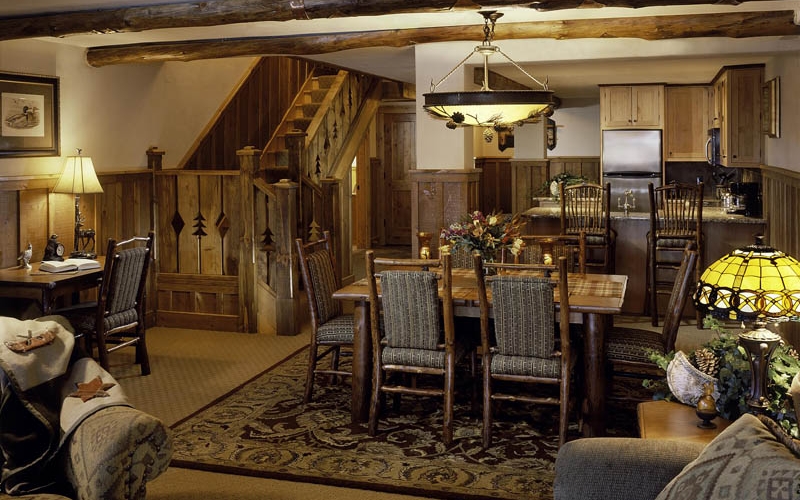 Summary:
One of the main differentiators of Whiteface Lodge is that you can make of it what you wish – from a family weekend trip to a romantic escape, Whiteface has something for everyone while offering enough space to create an intimate atmosphere.
SHINN ESTATE VINEYARDS & FARMHOUSE – NY 11952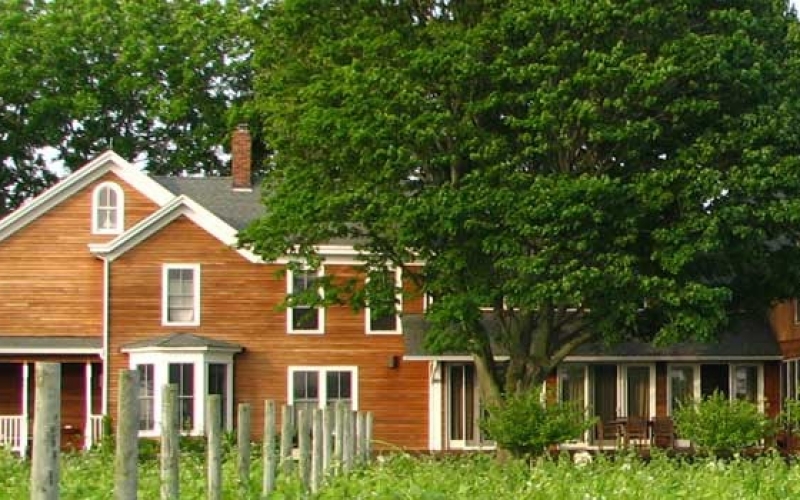 If you fancy wine tasting, good food, and relaxing on a weekend break, Shinn Estate Vineyards & Farmhouse is a perfect place
The farm is a quick two-hour drive from New York City and has the romantic charm of a luxurious bed and breakfast. The farmhouse itself has a modern style and it's in a fabulous country setting: a perfect home-base for your North Fork weekend getaway.
Accommodation & Facilities:
The rooms themselves are fabulous, with rustic decor, clean and comfortable amenities, and a beautiful view of the vineyards!
You'll love the complimentary wine tasting, cookies, and complimentary bottles of wine in the family room. The managers of the vineyard and B&B are incredibly accommodating and hands-on in every detail of your experience, from decoration to food preparation.
Customer service is superb and the staff are very friendly. In the morning, you will enjoy the delicious fresh breakfast made with local and organic ingredients.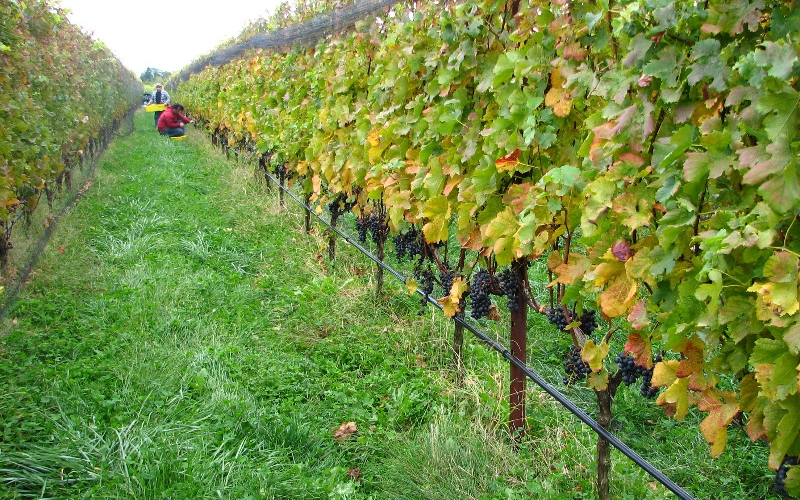 Location and Activities:
Want to get outside and experience the true charm of Shinn Estate? You can take a walk or bike ride in their acres of vineyards, visiting wineries and other landmarks along the way. You can also go fishing, embark on beautiful scenic cruises, and go kayaking with your family or significant other.
Once night falls, we recommend finding a quiet place to star-gaze, or stop by the spa for some well-earned rest and relaxation. End your night by enjoying a bottle of wine on the porch with some great food.
Summary:
Shinn Estates is a delightful departure from the hustle of New York City. It's a unique and serene escape in a startlingly beautiful area.
CHATHAM BARS INN – MA 02633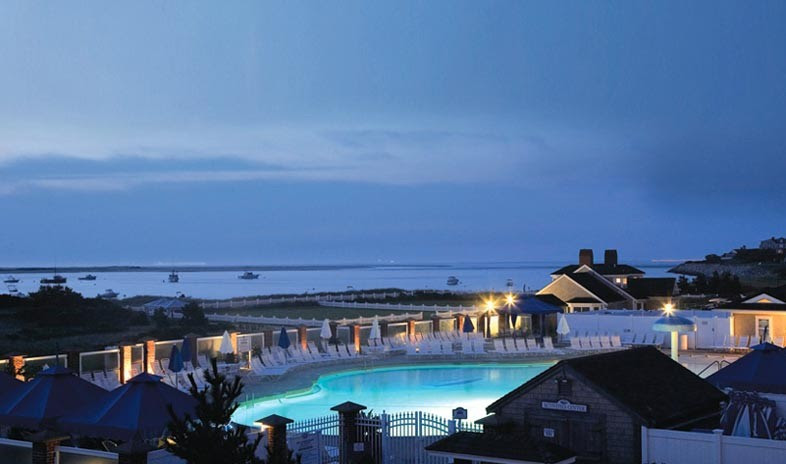 A few hours northeast of New York City lies the town of Chatham, Massachusetts.
Situated on the beach just a short drive from the center of town lies Chatham Bars Inn, a historic AAA four-diamond resort. The Inn recently underwent a $100 million renovation that has brought an entirely new level of luxury to the visitor experience.
Check-in:
Upon arriving at the resort, a complementary valet handled parking and bags, and check-in was an absolute breeze. We stayed in one of the beach-front cabins that overlooked a private shorefront and enclosed bay – a stunning view by any standard.
Accommodation:
The rooms were spacious and outfitted with the kind of detail you can only expect from a luxury resort of this caliber – L'Occitane toiletries, espresso machine, and quiet classical music playing from a Bose speaker were some of the subtle first impressions after entering our room.
Facilities:
It was only after leaving the room, however, that the real charm of Chatham Bars Inn shined. Myriad indulgences include spending time on the beach (just a 30 second walk from your front door), receiving unlimited rides to town in their fleet of BMW's, and enjoying a delicious meal over panoramic ocean views at their award-winning restaurant, STARS.
The number of ways to soak in the charm of a stay at Chatham Bars Inn is only matched by the instances of quality service you receive from their expert staff.
All aspects of your stay are carefully crafted so you just need to think about how to best experience the Chatham culture.
Summary:
Our stay at the Inn was one of relaxation and nostalgia for the traditional Cape Cod experience. If the idea of a luxurious, top-quality getaway experience on the East Coast is something you enjoy, Chatham Bars Inn is a safe bet.
MOHONK MOUNTAIN HOUSE – NY 12561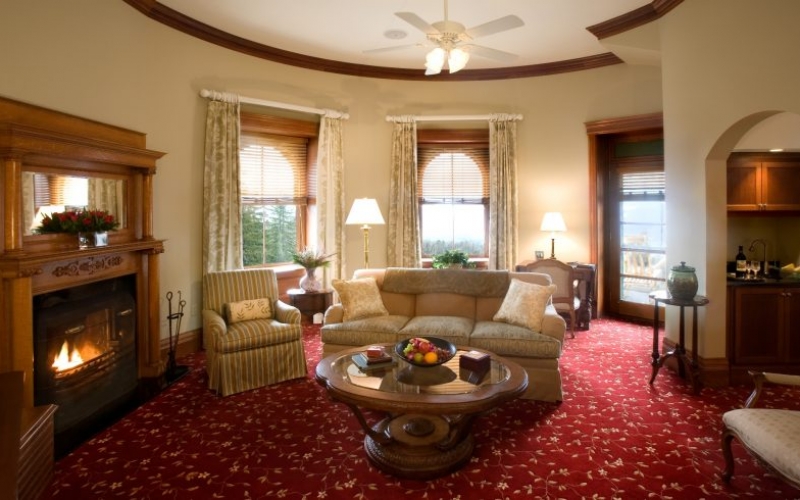 Less than 100 miles north of New York City, Mohonk Mountain House is situated on a picturesque lake with a stunning view of the surrounding countryside.
We arrived at the resort in the early morning and were amazed by the number of activities hosted by the Mountain House. You can immediately tell this is a place for families and anyone with a taste for exciting outdoor activities.
Check-in:
After walking into the lobby, we were accommodated with a refreshing welcome drink and a friendly staff, who gave a brief history and free tour of the house and facilities – and there's plenty to explore. From the lake waterfront to the spa to the dining options, Mohonk has put together a slew of daily activities you can jump into and start enjoying.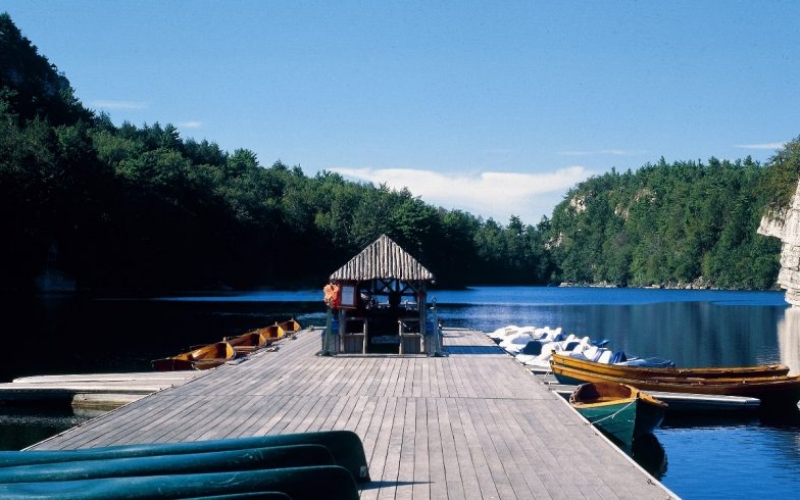 Facilities and Activities:
Biking is one of the best ways to explore and view the scenic view of the surrounding landscape. Mohonk Mountain House is situated directly against a tall ridge, and you can take a trail to the top, which offers a 360-degree view of the surrounding land (which covers the states of Pennsylvanie, New Jersey, and New York).
For bolder souls, the Mountain House has created a guided "rock scramble" through a boulder field on the cliff side of the ridge.
It's about a 45-minute excursion to the top of the ridge, but it affords some pristine views and unforgettable experiences as you climb and squeeze above, under, and around giant boulders (not for the faint of heart)!
As night rolls around, you can enjoy a ballroom dancing show and listen to live music as part of the nightly Mohonk Mountain House entertainment – definitely not to be missed! Mohonk also has an award-winning spa to relieve the excitement of an action-packed day.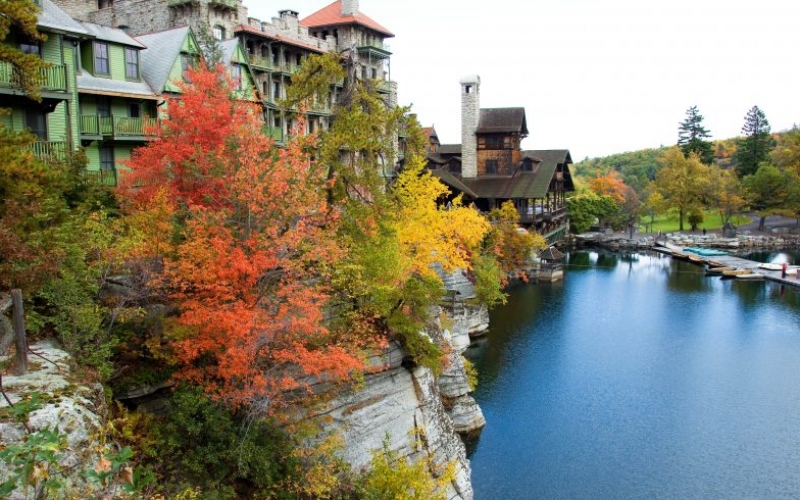 Summary:
Mohonk is a unique resort in that it's very secluded from the rest of New York City life, yet it's one of the closest and most accessible resorts we found. Whether you're looking for an outdoor adventure or want to take the family away for some quality time together, Mohonk Mountain House has the activities and amenities that will keep everyone happy and engaged for your whole stay.