There are thousands of luxury baby gifts out there for that special newcomer, and by all means we believe in a splash of luxury, but the list of toys and accessories we have found takes this level of luxury to a whole new level.
We've found 8 of the most valuable and most expensive toys in the world. From one of a kind, charity auctioned bears to diamond laid dummies, you won't believe these items, or their price tags, until you see them. So read on for a list of toys and accessories that for most of us, money can't buy.
Here they are, from most affordable to most expensive:
8. SUOMMO DODO DUMMY – DIAMONDS AND PURE GOLD – $40,800 (USD)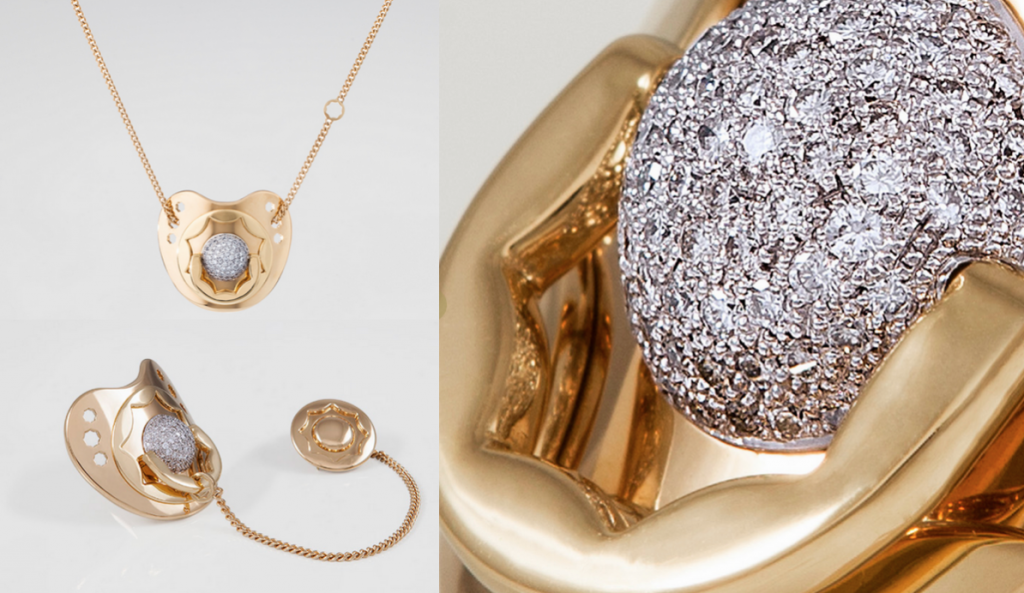 We've all heard that diamonds are a girl's best friend, but according to designer baby label, Suommo, they should be a new-born's best friend as well. This dazzling jewel is handcrafted from 18 carat gold and individually engaged diamonds in the shape of a pacifier.
What's more, the dummy comes with a baby chain, adult sized chain and brooch fastener to become a clip or pendant after removing the nipple. There is also an option for personalised engraving of up to 20 characters.
Available for €30,000 ($40,800 (USD) or £24,900), this dummy is boasted as the most expensive in the world. To put that into perspective, that's about the same amount as the average UK full-time salary.
7. STEIFF LOUIS VUITTON TEDDY BEAR €213,700 / £130,190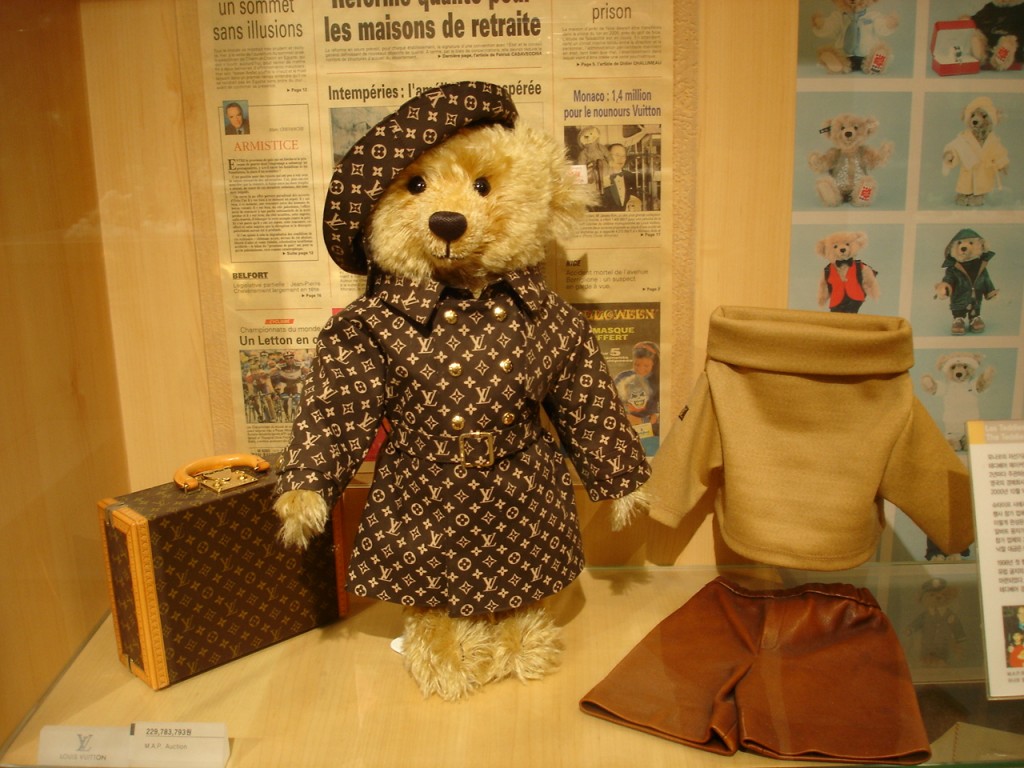 In 1880, a crippled German woman, Margarete Steiff founded Steiff GmbH, a factory for some of the first ever soft animals. 20 years later, her nephew designed the first ever plush bears with moveable parts.
Whilst Margarete was skeptical, the bears were noticed by an American trader who ordered 3,000. From here the bears began an unimaginable selling success in the States under the name "Teddy Bears", named after American president of the time, Theodore Roosevelt.
Since then, Steiff bears have been recognised as perhaps the most valued line of teddies in the world, with a 1905 manufactured Steiff bear named "Teddy Girl" sold at an auction in London, 1994, to a Japanese business man for a staggering £110,000 ($176,000 USD).
To top this, a charity auction in Monaco, 14th October 2000, saw the record beaten, with one-of-a-kind Steiff "Louis Vuitton" styled bear selling for €213,700.00 (according to Guinness World Records).
Other reliable sources place the USD value of the time at ~$195,000.00 and the GBP value at £130,190.00. The bear is frequently misquoted as having been sold for $2.1 Million, but I think that €213,700 is still pretty impressive for a teddy bear.
6. G.I JOE ORIGINAL PROTOTYPE – $200,000 (USD)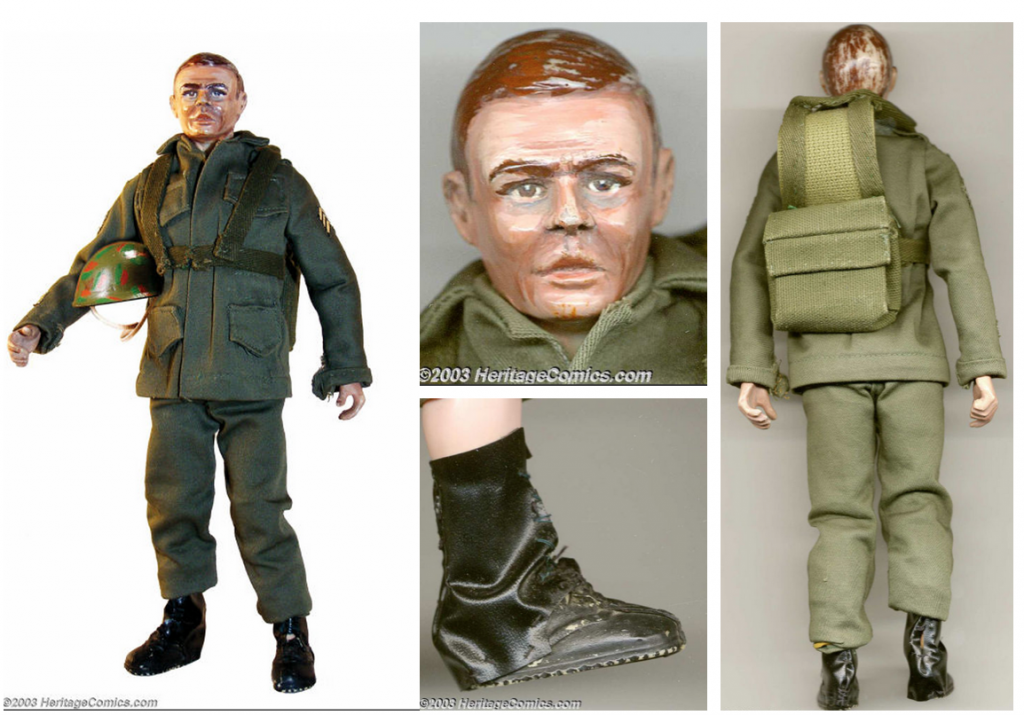 The G.I Joe line of the 1960's was the first line of "dolls" targeted at boys. The dolls were a huge success and revolutionised the toy industry. The name, G.I Joe (Government Issue, referring to soldiers), is even said to have been where the common name "Action Figure" was derived from.
In 2003, the original G.I Joe prototype (1963) was put forward for auction from the personal collection of Don Levine, the creator of the G.I Joe line.

The doll stands almost 12" tall, is made of a plastic body with wire-spring joints, a head which is hand painted and created from pulling a temporary mould from a carved wood original, and a hand sewn uniform and boots.
The prototype was put for a starting bid of $650,000 (later reduced to $250,000) at Heritage Galleries Auctions… with no takers. After the auction closed, Steve Geppi, CEO of Diamond Comic Distributors purchased the figure for $200,000, making it the most valuable action figure in the world, despite not selling for its asking price.
It now lives at the Geppi entertainment museum in Baltimore and there are rumours that Geppi may be putting good ol' G.I Joe back up for Auction.
5. SUOMMO DOLL'S BOTTLE – DIAMOND & ROSE GOLD – $136,000 – $272,000 (USD)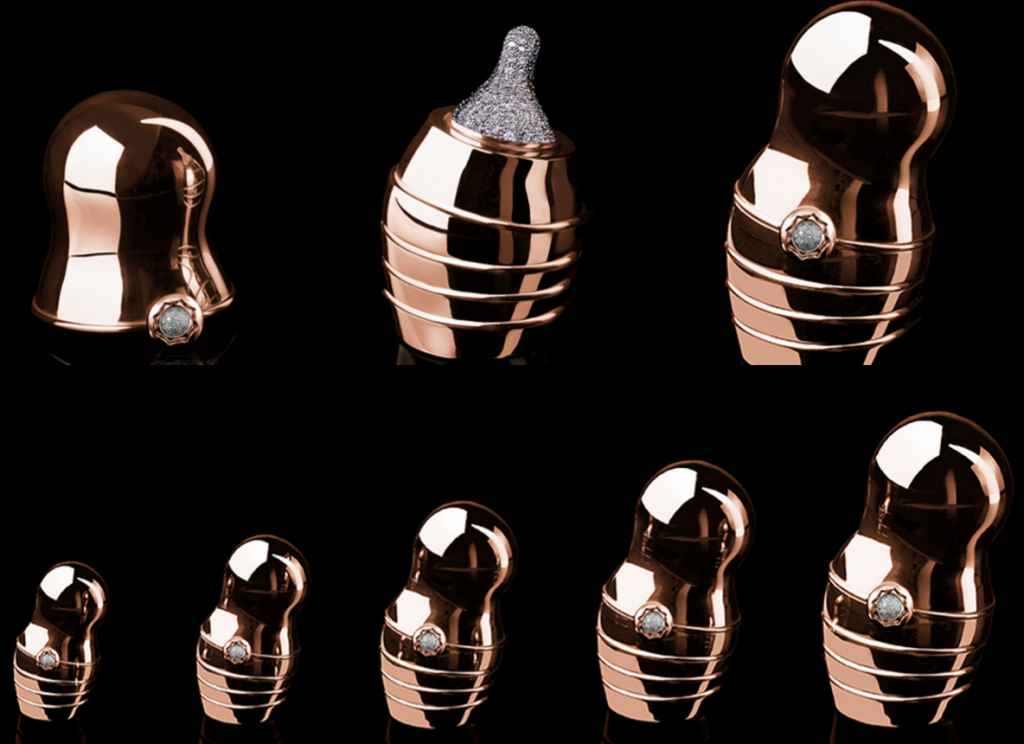 In case the diamond dummy wasn't enough for you, Suommo raise the bar with their set of 5 "doll bottles". Claiming to have "Beauty and Functionality", this diamond encrusted rose gold bottle will only set you back $136,000.00… and that's for the smallest, 25mL, size.
For the largest, 200mL capacity bottle, you're looking at $272,000! Don't worry though… that price includes your baby's name engraved… phew!
4. BARBIE BY STEFANO CANTURI – $302,000 (USD)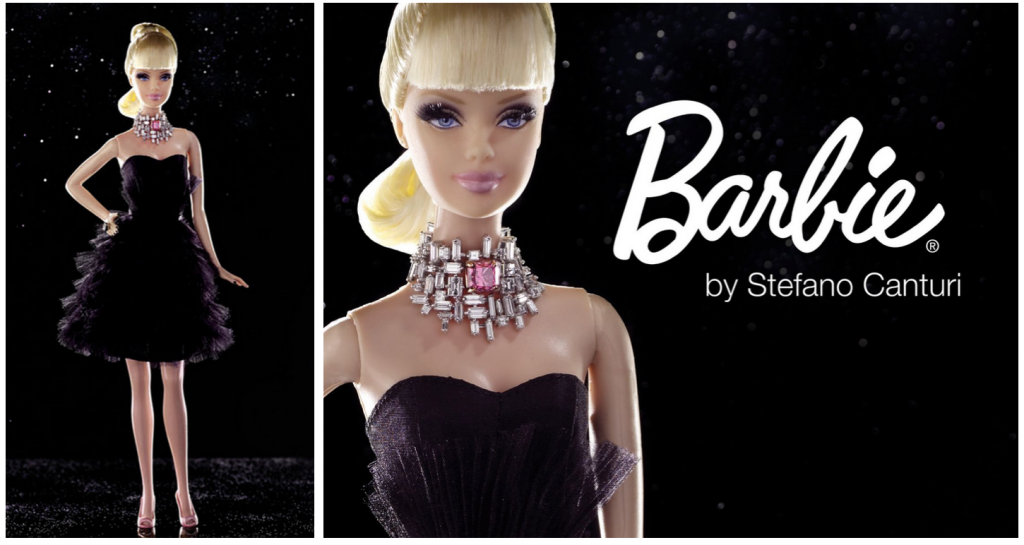 Renowned Australian jewellery designer Stefano Canturi was commissioned by Mattel to design the most valuable Barbie ever made.
This special, one of a kind, edition Barbie features an "uber chic up-do" extra long eye-lashes, modern nail varnish, pink peep toe stiletto heels and a glamorous black ruffle dress.
Her entire outfit was designed by Canturi to capture her iconic and timeless message. However it is the jewellery she adorns which makes this Barbie so valuable.
Around her neck she wears a cascading, white-diamond necklace off-setting a highly collectable, 1 carat Australian Argyle pink diamond.
Selling at an auction in New York for $302,000.00, this Barbie is indeed the most valuable Barbie in the world, and she's better dressed and jewelled than most of us real women. In saying that, 100% of the profits from her sale were donated to The Breast Cancer Research Foundation; A stunning Barbie doll for a very good cause.
3. COLEEN MOORE "FAIRY CASTLE" DOLL HOUSE – $500,000 (USD)
As a little girl I remember loving dolls' houses, although the dolls' houses I had looked nothing like this one!
This extraordinary house, called the "Fairy Castle", was crafted by Silent movie star, Coleen Moore, in 1928 with the help of set designer, Horace Jackson.
Made up of 12 rooms which unassembled into 20 pieces for transportation, the dolls house travelled around America during the Great Depression to raise funds for Children's charities reaching about $700,000 between 1935-39.
It is now featured at the Museum of Science and Industry in Chicago where it was donated in 1947. It was there that it was estimated to be worth almost $500,000, and probably much more today.
The dolls' house features a fairytale theme throughout with statues, murals and etchings of fairytale characters throughout the castle, including a painting by Walt Disney himself.
Keeping authentic, the kitchen utensils are made out of copper and the dining table is an exact replica of the one used in Queen Mary's doll house, on display in Windsor Castle. The house features 500 year old ornaments, including pure gold and diamond encrusted chandeliers.
It is said that by 1935 over 700 individuals had given their expertise to the castle's construction, including surgical instrument lighting specialists, jewellers and Chinese jade craftsmen. I'd be tempted to say, despite the price tag mentioned above, that this house has indeed become priceless.

2. GINZA TENAKA ROCKING HORSE – 150 MILLION (YEN)

In 2003 Japanese jewellery designer, Ginza Tenaka, designed a rocking horse carved out of a 30kg block of solid, 24 carat gold, as a tribute to the birth of Prince Hisahito.
Priced at 150 Million Yen (around $1.47Million (USD)), the horse was the only one made… until 2 years ago when Jay Z commissioned Ginza Tenaka to handmake a similar gold rocking horse for his and Beyonce's new-born daughter, Blue Ivy Carter.
Reports say that they purchased the horse for $600,000… So the price of 460 of these adorable real ponies.

1. GOLD LAMBORGHINI AVENTADOR LP 700-4 $7.5 MILLION (USD) PRE-AUCTION – $14 MILLION STARTING BID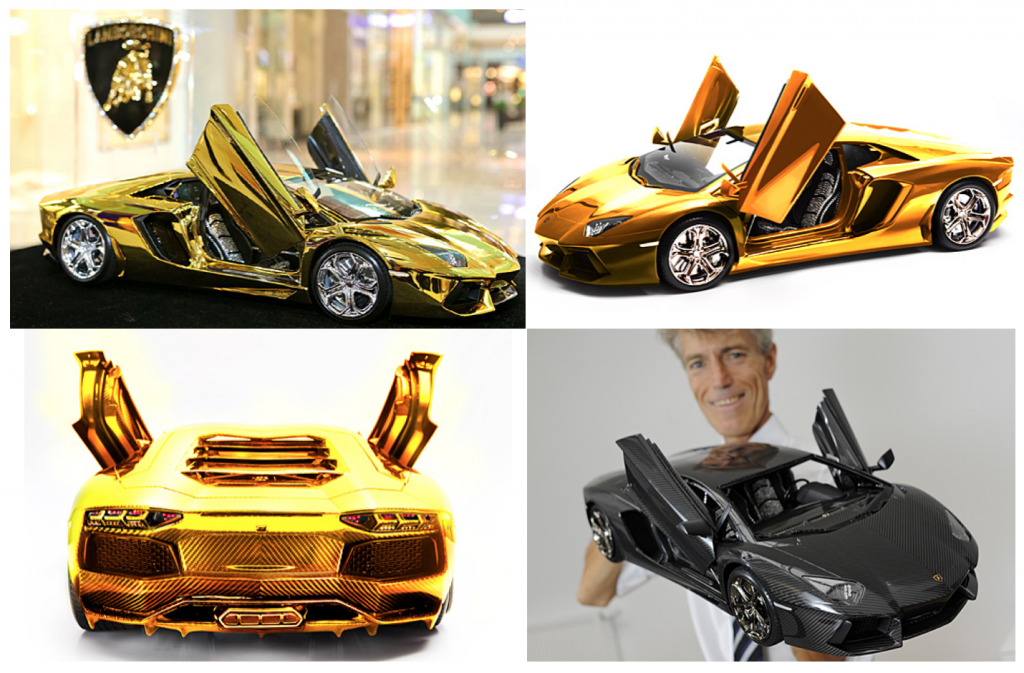 For the cost of about 18 real Lamborghini Aventadors you could be the proud owner of this 1:8 model replica!
How can a car 1/8th the size of the actual model be worth 18 times as much?
Engineer and man behind the magic, Robert Gulpen, aimed to create the world's most expensive model car, along with the world's most secure showcase and most luxurious logo (Which is displayed beside the model inside the showcase and is crafted entirely from precious gemstones).
Gulpen has succeeded on all three entries. For the first time ever in a model car, the body, hoods and doors are made of carbon formed in a conclave oven. For added exclusivity, a 1/1000 mm thread of solid gold has been wrapped around the fibres to achieve a unique design.
The rims are cast from solid gold and platinum, as well as the entire interior. High carat gemstones round off the model, most prominent encrusted into the seats, themselves cast from gold and platinum.
The photos above are prototypes for the tour and auction, with the actual model being customised in its colour and gem stone finish based on the winning bidder's desires. Oh and did I mention that $650,000 of the sale will be going to charity?
The doors open, wheels turn and the engine is supposedly a perfect replica! The materials used alone stack up to a staggering $2.6 Million (USD) and the finished model is undeniably gobsmacking.
Personally, though, I think I'd go for the real Aventador…
What do you think? Are these really worth the price tag?