Whether you're signing deals, jotting down your ideas, or simply indulging yourself in the lost art of penmanship, you can allow your personality to shine through with the pen you choose. A beautifully crafted luxury pen shows an appreciation for design and status, and also makes a perfect gift. Here are 32 of our favourites:
PARKER SONNET FOUNTAIN PEN, MEDIUM POINT, DARK GRAY WITH GOLD TRIM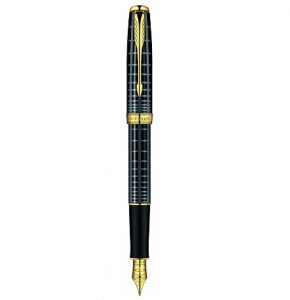 What's not to love about Parker pens? The Sonnet is one of Parker's most successful ranges – assembled by hand and individually quality checked, this elegant varnished multilayer metallic lacquer and black silk pen have a look of depth and timelessness. With its durable hand-polished and manually assembled gold-plated stainless steel nib, this is a pen you'll love.
MONTBLANC MEISTERSTUCK CLASSIQUE FOUNTAIN PEN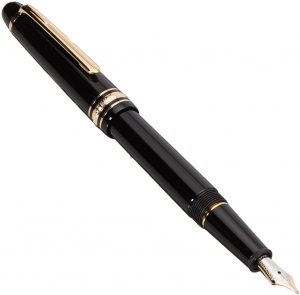 The MontBlanc Classique is a wonderful pen – it's a deep black precious resin with gold plate details and a 14 carat hand-crafted gold nib. The white star Montblanc emblem finishes off the design and marks this as a pen of distinction. It's light, and smooth across the page, allowing you to write to your hearts' content without fatigue.
TIBALDI BENTLEY GT FOUNTAIN PEN (BLUE)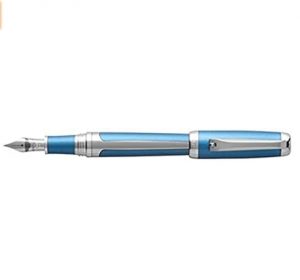 Tibaldi, Italian manufacturers of fine writing implements, have been producing limited edition pens honouring specific Bentley models since 2007, with each pen's features being inspired by the model it represents. This one is absolutely gorgeous – a handsome, sturdy, solid brass base with precious rhodium plating, a layered texture, and an 18 carat gold nib emblazoned with Bentley's logo.
WATERFORD LISMORE PLATINUM-PLATED FOUNTAIN PEN WITH 18K GOLD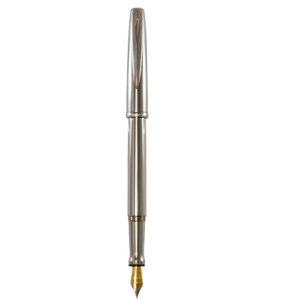 This elegant and well-balanced pen was inspired by the architecture of Lismore Castle, and the diamond and wedge cuts have been beautifully hand cut into the solid brass body plated with highly polished platinum. The pen has an 18 carat bi-colour gold nib, and a classic and timeless look.
DUNHILL SENTRYMAN BLACK RESIN GOLD PLATED FOUNTAIN PEN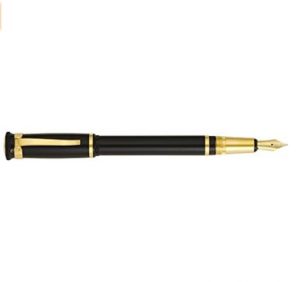 The unique shape of this precision engineered pen was inspired by the English pillar box. Constructed from black resin with gold plating on brass, with a medium 18 carat gold nib and a functional spring clip carrying the Alfred Dunhill logo, this clean-lined pen will also accept refill by cartridge or converter.
LAMY DIALOG 3 MATTE BLACK EXTRA FINE POINT FOUNTAIN PEN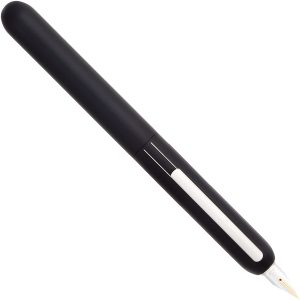 The Lamy Dialog 3 has a revolutionary design – the 14 carat bi-colour solid gold nib is housed within the barrel of the pen and can be extended or retracted by twisting the barrel – the convenience of a ballpoint with the sophistication of a fountain pen! When the pen is closed, the clip becomes available, and a ball valve closes and protects the nib end.
MONTEGRAPPA "LA TRAVIATA" LIMITED EDITION STERLING SILVER FOUNTAIN PEN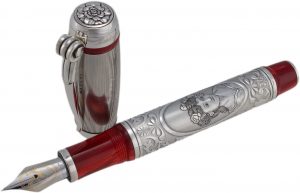 Montegrappa, previously called Elmo, have been making luxury writing implements for over a hundred years, and are known for their stunning limited edition collections. This sterling silver creation commemorating the opera 'La Traviata' is an absolute work of art hand-etched into the barrel. Use it as an inspiration to make your own art with its 18 carat gold nib and black ink.
DAVID OSCARSON JACQUES DE MOLAY MEDIUM FOUNTAIN PEN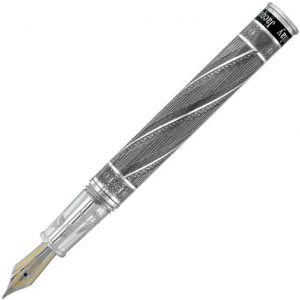 For real luxury, one of the David Oscarson limited edition pens is a must. This one commemorates Jaques de Molay, the last Grand Master of the Knights Templar, who is honoured by this exquisitely crafted pen. The pen's black and white chequered enamel evokes the floor of the Masonic temple and the clip is a miniature Templar sword, including de Molay's red stone.
CONWAY STEWART WELLINGTON ROLLERBALL CLASSIC GREEN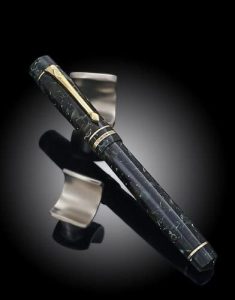 Although the Conway Stewart Wellington is a rollerball rather than a fountain pen, it's such a beautiful writing instrument that it deserves a mention. Honouring Sir Arthur Wellesley, the Duke of Wellington, this marbled light and dark green resin pen with polished gold trim has a substantial, classic look.
S.T. DUPONT MON DUPONT BY KARL LAGERFELD FOUNTAIN PEN BLACK & PALLADIUM
A collaboration between fashion designer Karl Lagerfield and S. T. Dupont has resulted in this timelessly elegant pen – it's made entirely of metal and has a steel nib. It's solid, heavy, and exquisitely shaped, combining a cylindrical bottle shape with the bevelled look of a hand-held fan, and writes beautifully.
PILOT NAMIKI NIPPON ART COLLECTION FOUNTAIN PEN, CHINESE PHOENIX DESIGN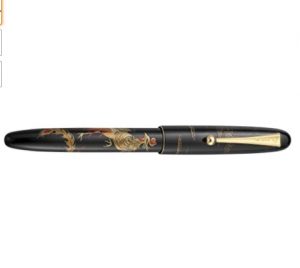 More pens that are in themselves exquisite works of art, Namiki's Nippon collection pens feature hira-maki-e technique artwork on gorgeously deep black lacquer with gold trim. This Chinese Phoenix design is of the mythical bird symbolic with virtuous rulers. Each of these beautiful pens comes in a traditional Oriental wooden gift box.
PELIKAN M400 FOUNTAIN PEN BLACK/GREEN MEDIUM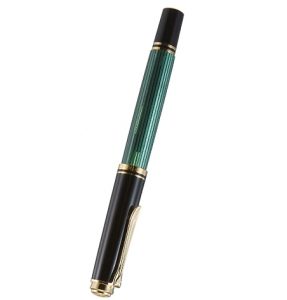 The Pelikan 400 range has been popular since 1950, and Pelikan originally pioneered and is famous for introducing the differentiated piston mechanism to fountain pen manufacture. This classic pen has a reputation for smooth writing, and is elegantly finished in black and dark green resin with 24 carat gold rings and a 14 carat gold nib.
CROSS TOWNSEND, QUARTZ BLUE LACQUER, FOUNTAIN PEN, WITH RHODIUM PLATED 18 KARAT GOLD NIB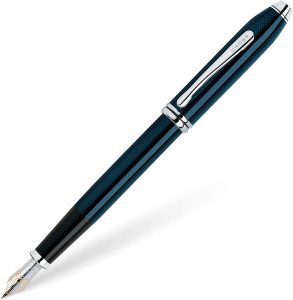 All Cross products are shipped in boutique-quality gift packaging and this elegant, balanced pen comes with two ink cartridges although you can also re-ink it with a converter. Its multiple layers of translucent lacquer create a very deep blue body which is finished in rhodium plating and it sports an 18 carat gold/rhodium nib.
SHEAFFER LEGACY WITH EXCLUSIVE INLAID NIB IN 18-KARAT GOLD FOUNTAIN PEN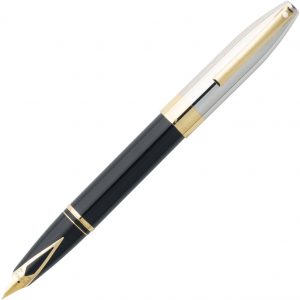 The 18 carat gold palladium-coated nib of this classic, wide, exquisitely crafted pen moves like velvet across the page. The Scheaffer Legacy range is deservedly popular among connoisseurs of beautiful writing instruments, and each pen is packaged in a luxury gift box. The palladium finish on this one is stunning.
ACME STUDIOS FRANK LLOYD WRIGHT TALIESIN 100TH ANNIVERSARY ETCHED SET, LIMITED EDITION

A fountain pen with a difference, this one has a converter with which you can interchange it with a rollerball. Packaged in a wooden presentation box and designed by Frank Lloyd Wright, this gorgeous limited edition pen commemorates the year Taliesin, Mr Wright's home, was founded.
GIULIANO MAZZUOLI DUCATI MINIOFFICINA END MILL FOUNTAIN PEN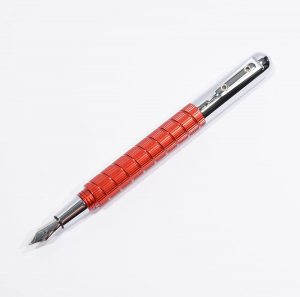 This chunky and compact pen, with distinctive Ducati red barrel, aluminium cap and stainless steel nib, is a must for lovers of fine engineering. The solid, hand-crafted cap screws onto the barrel, and it comes in a handsome gift box with a spare black ink cartridge.
CARTIER DIABOLO FOUNTAIN PEN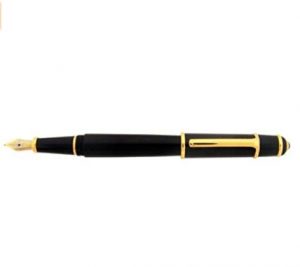 We really love anything produced by Cartier! This Diablo has an absolutely beautifully finished black composite body, an enhanced 18 carat gold nib, and is finished exquisitely in yellow gold. Your writing, with a pen like this, will be smooth as silk.
METROPOLITAN MUSEUM ART COLLECTION TIFFANY PINE BOUGH MEDIUM POINT FOUNTAIN PEN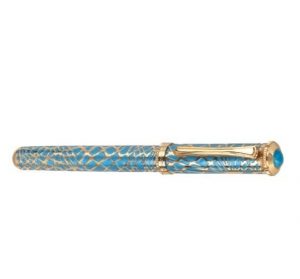 Another stunning piece of functional art, this pen commemorates, as part of the Met collection, artist and designer Louis Comfort Tiffany who worked primarily in iridescent Favrille glass. This beautifully elegant turquoise pen with brass detailing in a pine bough pattern is a fitting tribute.
PLATINUM LIMITED EDITION 3776 SHOJI DEMONSTRATOR FOUNTAIN PEN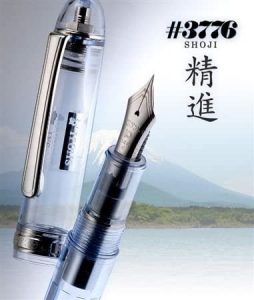 Platinum's limited edition Shoji pen celebrates Lake Shoji, reputedly the most beautiful of Mount Fuji's five lakes. Its strikingly unusual transparent light blue body is designed to reflect like morning light on water does. It's equipped with a 'slip and seal' cap that rotates when the cap is opened or closed, preventing evaporation and leakages.
VISCONTI IMPRESSIONIST VAN GOGH FOUNTAIN PEN – STARRY NIGHT BLUE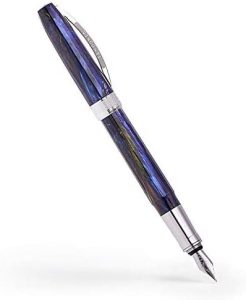 The Visconti pens celebrating specific works by Van Gogh are exquisite – each is painstakingly crafted to reflect the palette and mood of the work, has Van Gogh's name and the painting engraved on the pen, and comes in a beautiful presentation box with a reproduction of the painting. This Starry Night in blue is a masterpiece.
DELTA DOLCE VITA SLIM 14KT NIB FOUNTAIN PEN (ORANGE/BLACK)

This striking terracotta orange and solid black precious resin pen was lovingly hand-made and hand-turned in Italy, has a 14 carat gold nib and is individually boxed. With its classic lines and bold colouring it's certainly an eye-catcher, and is one of Delta's most popular products.
MONTEVERDE REGATTA AZURE FOUNTAIN PEN, BLUE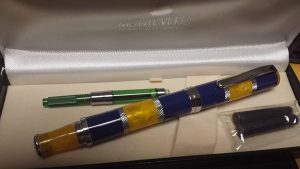 Another striking pen, the luxuriously heavy Monteverde Regatta boasts seven segments alternating between handcrafted acrylic resins and diamond-cut rings, giving this colourful pen a sculpted feel and comfortable grip. The iridium-tipped nib is German made, and you'll find it flowing across the page effortlessly.
ROTRING INITIAL SILVER BROAD POINT FOUNTAIN PEN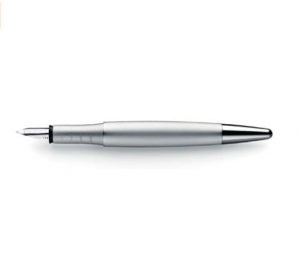 The sleek and contemporary Rotring Initial contrasts polished metals with high gloss cast acrylics to create a look that stands out from the crowd. This pen boasts a unique APC (air pressure compensation) System that will prevent leakages and drips, even at 30,000 feet.
CARAN D' ACHE CHEVRON GOLD PLATED ECRIDOR GOLD PLATED/RHODIUM COAT FOUNTAIN PEN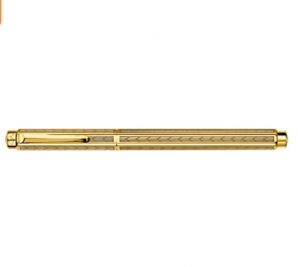 The chevrons on this Caran D'Ache pen are diamond engraved on all sides of the palladium-coated body, and complement the gold finish and the gold-plated steel nib. The perfection of its Swiss manufacture is exemplified in the beauty and the ink flow of this timeless writing implement.
FABER-CASTELL E-MOTION PURE BLACK FOUNTAIN PEN (BLACK)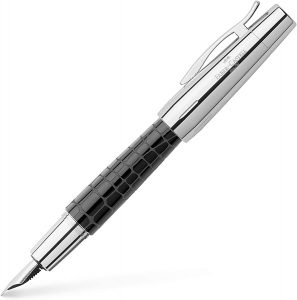 If you want a pen with a rugged and masculine look, look no further than this offering from Faber-Castell. The cigar shaped barrel is pure black on black resin, diamond-engraved for grip, and the nib is PVD coated black steel. The clip is sturdy (and black) and the pen will take a cartridge or converter refill.
KRONE MOLTEN FOUNTAIN PEN
Another bold and masculine pen, The Krone Molten, from the Fusion collection, is hand-crafted in Italy by master craftsmen. The finish is a stunning marbled Bordeaux resin in fiery colours flecked with sparkling gold, which with the brass fittings creates an extremely luxurious opulent look.
OTTO HUTT SILVER/BLUE DESIGN 01 PINSTRIPE FOUNTAIN PEN
The Otto Hutt Pinstripe is a must-have for the modern executive – created by German master craftsmen out of 925 silver and polished brass, the blue and silver ergonomic combination is elegant and beautiful. This pen comes in a premium presentation box, and is a very popular gift choice.
WATERMAN CHARLESTON BLACK GT FINE POINT FOUNTAIN PEN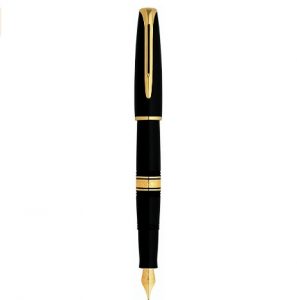 The Charleston range by Waterman are art deco classics, inspired by their 1939 Hundred Year Pen. Although the styling and design, with its hand-crafted fluted barrel and decorative band, is reminiscent of the Roaring Twenties, the functionality and technology of this pen is completely modern. Sporting an 18 carat gold nib, you can refill this pen with cartridges or converters.
SAILOR 1911L BLACK W/GOLD ACCENTS 21KT FOUNTAIN PEN BROAD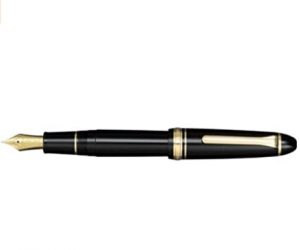 Sailor introduced its 1911 range over thirty years ago, in honour of its foundation year. This perennially popular pen with its 21 carat nib and carefully crafted black resin body will make an elegant and refined addition to your collection.
AURORA IPSILON DELUXE FOUNTAIN PEN BLUE W/ CHROME PLATED TRIM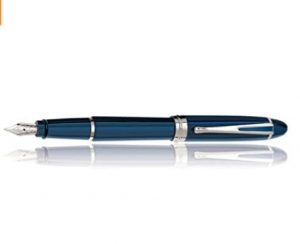 The pens in the stylish and popular Aurora Ipsilon range, this one in a lovely deep blue resin, are characterised by their distinctive Y-shaped clips in polished chrome and their tapered rounded barrels designed for ease and comfort. Matching roller ball and ballpoint pens are available, why not buy the whole set?
TACCIA SAVANNA FOUNTAIN PEN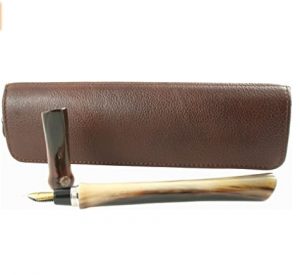 These unique pens are handcrafted from sustainably harvested buffalo horn. Each is artistically crafted into a flowing budding tree branch shape, and individually polished, creating an arresting fusion design honouring both animal and plant life. Each is fitted with a two-tone nib, available in fine, medium, or broad, and there's also a matching rollerball.
JEAN PIERRE LEPIN TITANIC BLACK PINK GOLD FINISH FOUNTAIN PEN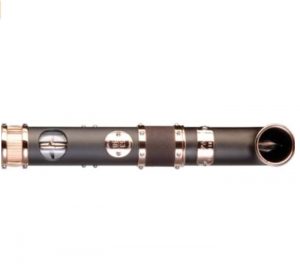 Lastly, for a really novel luxury pen right up there at the top of the scale, take a look at the Jean Pierre Lepin Titanic range. These pens are made from certified fused steel both from the shipyard where the Titanic was built, and the actual wreck. This hugely complicated pen boasts propellers, portholes, pistons, rivets, engravings – you name it – and each is a unit of a strictly limited edition.
With pens like these at hand, you'll never want to stop writing. Who knows, maybe your love affair with your new pen will lead to that manuscript you've always felt you have hidden inside you?