A dog may be a man's (or woman's) best friend, and a cat may act like they're royalty but we think that these 10 ridiculous pet products go a few steps too far. Have a look and see what you think: Are these 10 luxury pet accessories utterly ridiculous or simply harmless pampering?
1. LA COLLECTION DE BIJOUX

Diamonds are a girls best friend… and dogs are man's best friend… so why not marry the two together?
La Collection de Bijoux is a series of diamond dog collars made by "I love dog diamonds".
There are six collars in the collection including The dog collars featured above; La Cherie, Amour Amour, and Amour de la Mer (left to right).
Amour Amour is 52-carats and has been dubbed "the Bugatti of dog collars" by Forbes Senior Editor, Matt Miller. At $3.2 Million (USD) Amour Amour is the World's Most Expensive dog collar.
A little bit over-kill? We think so.
2. SWAROVSKI CRYSTAL DOG SNEAKERS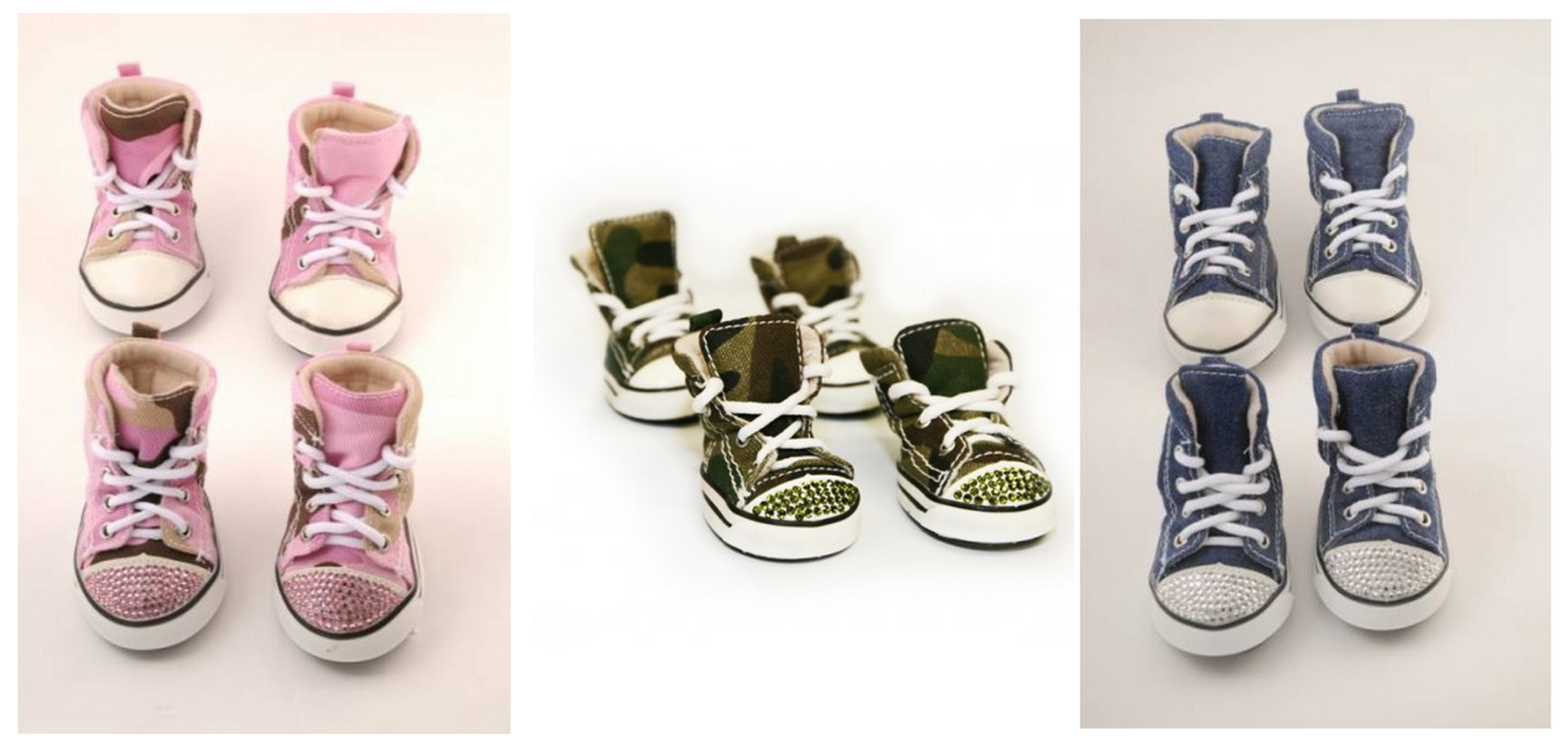 In case putting tiny shoes on your poor dog isn't pampering it enough – you can now get Swarovski crystal bling dog sneakers, a set of four teeny sneakers with Swarovski crystals on the rubber toes of the two front feet… I mean… paws.
3. PET STROLLER
No these aren't for the children, they really are for dogs. This specific model is called the NV No Zip Pet Stroller and even features an elevated "paw rest" for your pampered pooch to support themselves on for a full, panoramic view through the stroller's windows.
Call me old fashioned but I'm a firm believer that "walking the dog" means getting the dog to do the walking, isn't that the whole point?
4. FAUNA SAUNA

I don't know anyone with a sauna in their house, but it appears for $450-$550 you can get one for your pet!
Fauna Sauna offer 3 designs to choose from: The Regent, The Pierre and The Carlyle. (Featured above, Left to Right).
The beds all are constructed from wood, with radiant heat panels incorporated into the sides, and in the case of the Pierre, the back of the bed. As the cushion/mattress itself is not heated, your pets are in no direct contact with heat, ensuring a healthy dose.
What ever happened to pets lounging in the sun?
Now I do have to admit, these saunas have some merit! Claiming to relieve arthritic pains, stiffness, joint or other injuries, hip dysplasia, skin irritations, infections and hot spots, there may be more to these beds than a simple luxury item.
5. EIFFEL TOWER DOG BED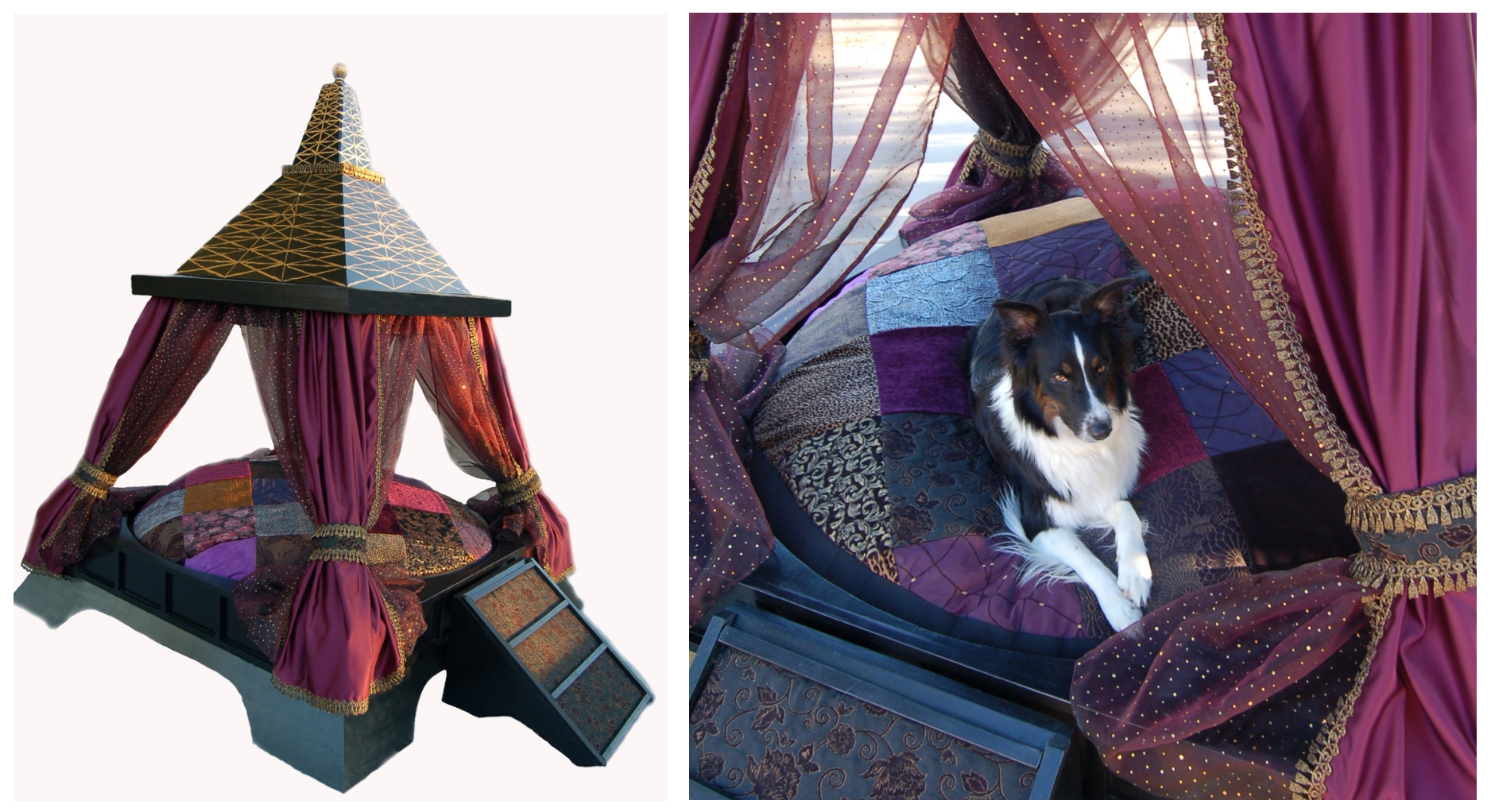 With 4″ of foam foundation topped with another 4″ of pillowing, this bed is fit for a king, let alone a canine. The bed spread itself is worth a fortune, with a rich melody of 12″ squares of varying velvets and plush fabrics costing up to $97.00 a yard.
The bed is adorned with throw pillows, because, you know, dogs love their throw pillows.
The ceiling of this haven is vaulted and apparently high enough for a human to stand under. The structure itself is made primarily out of maple and painted in a gloss black lacquer, except the top, which is hand painted with gold leaf to emulate the Eiffel Tower and also bejewelled with Swarovski crystals.
Also handy to know is that it can be customised! Enclose the bed with glass, add some air conditioning or even add some lighting and electrical facilities for when dog's develop opposable thumbs!
In case you're interested, the bed is on sale for $10,000 (USD)… What a bargain.
6. BEER FOR DOGS

Lower down on the market there's the latest craze of beer brewed for dogs. After all, man's best friend should be able to share a cold one with us… right?
Apparently water in the dog bowl is just not cutting it these days, with a few different varieties of dog beer available in the United States and Australia. Don't be too outraged though, the beers are all alcohol free, and non (or low) carbonated so they're safe for canine consumption. One we've found is even beef flavoured…
7. WEDDING CHAPEL DOG HOUSE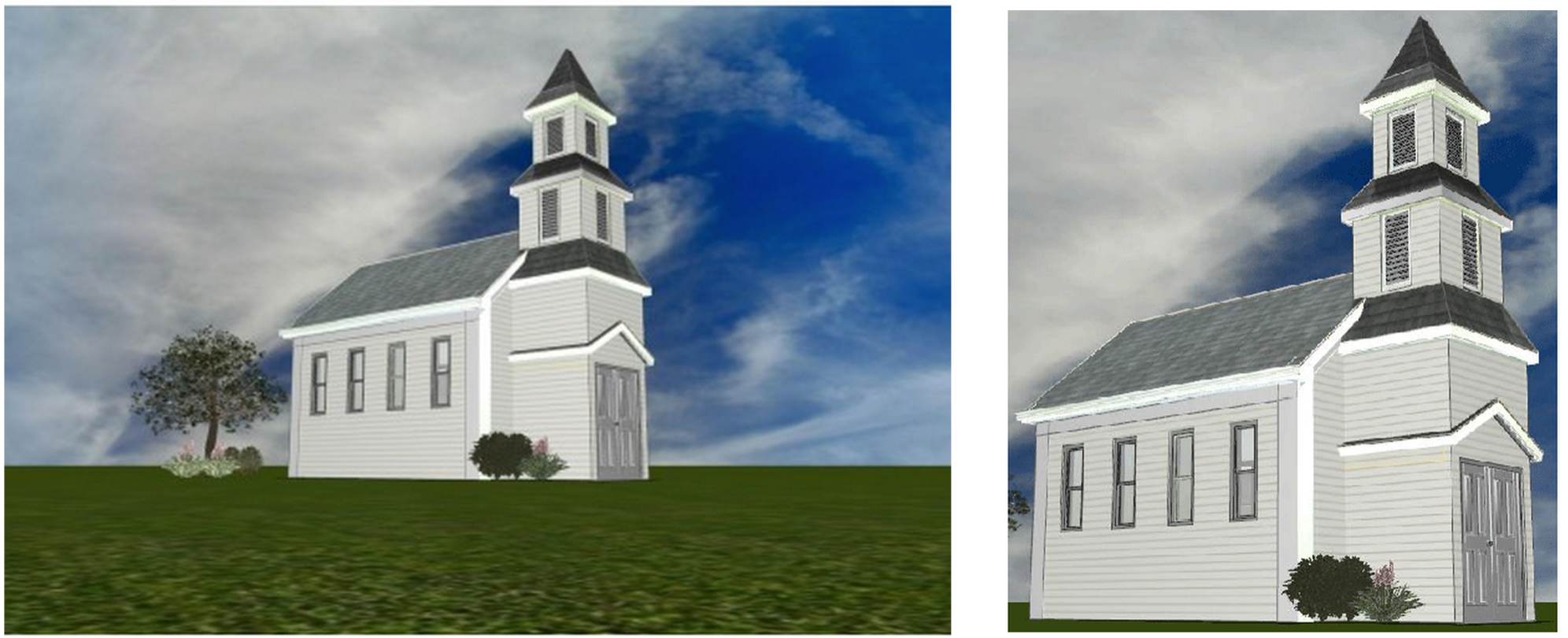 Planning on marrying your pup off? Why not buy a $30,000 dog chapel to host the ceremony! (Don't worry, the website accepts Pay Pal).
Starting with a $500 bespoke consultation, you could be on your way to being the proud owner of your very on pooch sized, made to order chapel (based on the concept drawings above). I couldn't find any photos of a constructed one of these, which might be saying something…
8. BIRTHDAY SPRINKLES DOG TUTU HARNESS DRESS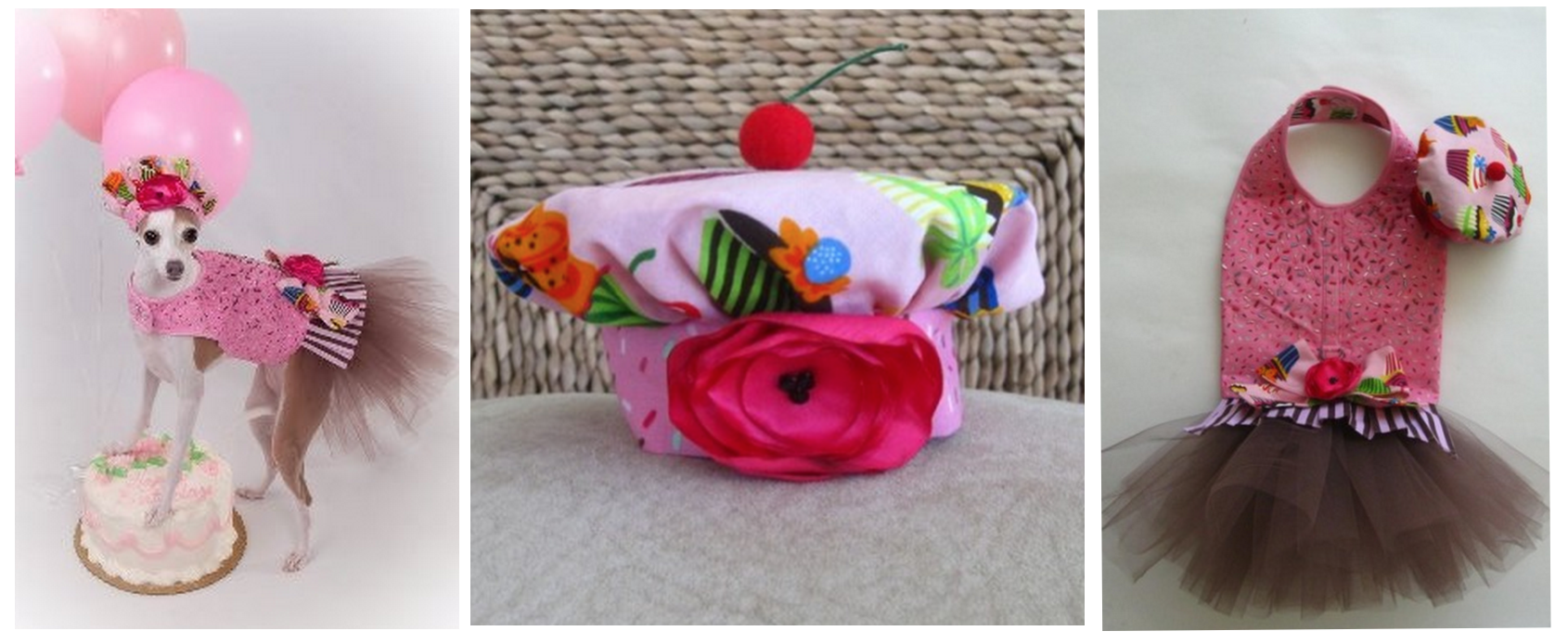 Wondering what to do for your dog's birthday? How about forcing it to wear this ridiculous cupcake inspired tutu harness dress with matching hat?
The dress is made from pink "sprinkle" fabric and embellished with hand beading. To top this off there's also a striped brown and pink skirt to replicate a patty case which sits over a fluffy chocolate brown tutu. For practicality there's even a D-ring for leash attachment, because I can only imagine a pup being desperate to be seen in public wearing such a get-up… Want to play dress ups? I've heard that's what dolls are for.
9. SWAROVSKI CAT FLAP

Forget your standard cat flap, for £1,000 you can have a Swarovski studded cat flap! Fitted with 1000 crystals, this flap made waves in 2009 when it was launched by Hertfordshire based company, Doors4Paws.
If £1000 to attach to a cat sized entrance to your home is a little bit far fetched, the same company make much more reasonably priced, and still adorable, flaps including the one featured above centre, "The Priory", for £24.99.
10. HILTON PALACE

This post would not be complete without a look at the replica of her own mansion which Paris Hilton had made for her dogs.
It's 2 stories tall, with a winding staircase, chandelier, functioning heating and air conditioning, and most recently, an upgrade to a flat screen TV!
Pictures can not express the extent to which these dog's have been pampered.
So what do you think? Feel free to leave a comment below about any other ridiculous pet products we've missed that you think should be included, or if you'd like to leave a comment in favour of pampering your pooch or feline friends, feel more than welcome to do so!