Luxury, all-inclusive resort, Atmosphere Kanifushi Maldives is the sole resort on Kanifushi Island in the spectacular, and sparsely populated, Lhaviyani atoll. Quite new, having only opened in December 2013, the resort is surrounded by lush green vegetation, 2km of uninterrupted, pristine, white sandy beaches and an expansive turquoise lagoon.
This month, Just Veg, one of the Atmosphere's three gourmet restaurants, topped TripAdvisor's ranking of 249 restaurants across the Maldives.
We wanted to find out a bit more about the food, and what was making it such a hit with diners.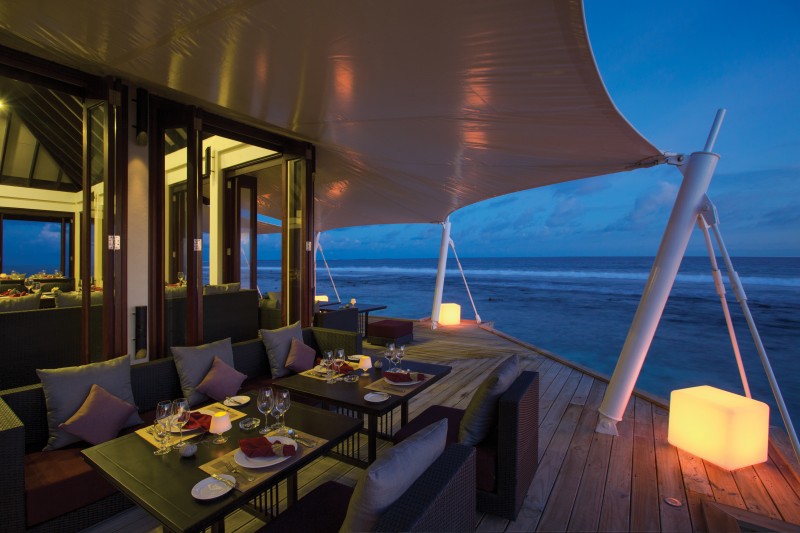 PIONEERING VEGETARIAN CUISINE
Opening in 2014, Just Veg was the Maldives' first purely vegetarian restaurant.
The restaurant aims to redefine contemporary non-meat cuisine by experimenting with original and surprising flavour combinations.
With an inspired mix of mouth-watering Mediterranean, Arabic and Indian meat/fish-free cuisine, the resort says that "foodies have flocked to taste the delicious dishes on offer". The fantastic online ratings would also attest to their success in achieving this.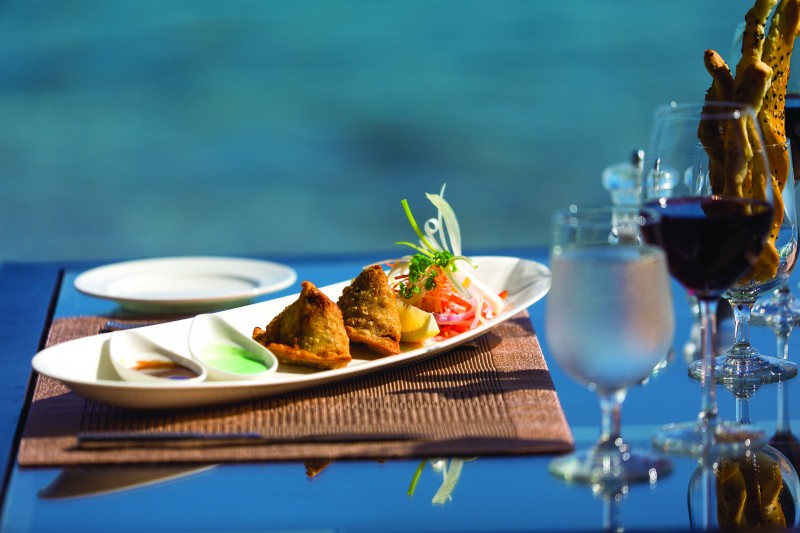 Mains on the menu include Blue Cheese Penne, Punch Ratna, Maldivian Locavore curry and Paneer Tikka Masala, and delectable desserts include Basil & Berries and Nutellamisu. All of which can also be enjoyed as part of Atmosphere's all-inclusive Platinum Plus plan.
Abhilash Cherian, the restaurant's Food & Beverage Manager said: "It's truly an honour to have received this accolade from our guests.
Our vision for Just Veg has always been about defying the stereotype of vegetarian food as bland and this number one ranking has proven that meat-free food can delight the discerning palates of devout vegetarians and committed carnivores alike."
AN INTERVIEW WITH THE HEAD CHEF
If you want to understand a restaurant and its cuisine, we think the best person to talk to is the one who creates the dishes.
Head chef of Atmosphere Kanifushi Maldives, Olivier Portret, received his H.N.D in Catering and Hotel Management in 1998 at the renowned Lycee Hotelier de Blois in France.
Since then he has worked all over the world widening his culinary experience and palate, including North America, Africa, Europe and the Middle East.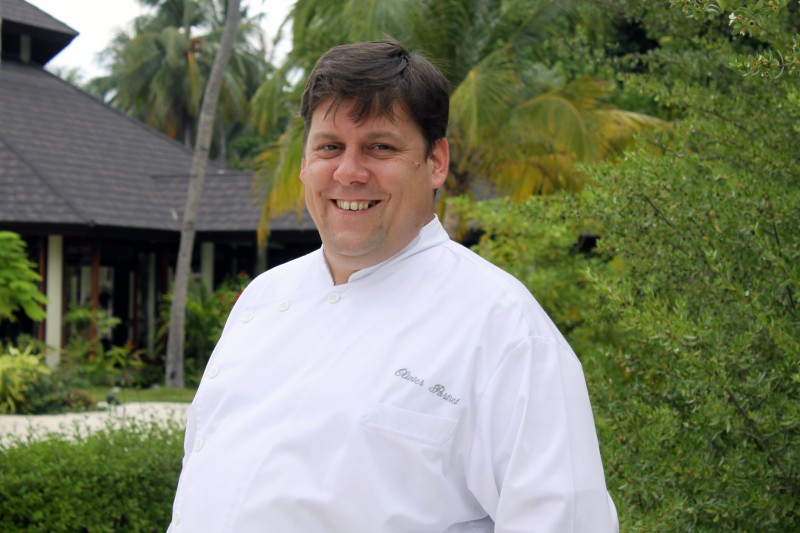 We asked him for his time to answer a couple of our questions about Just Veg and its success:
What makes Just Veg's menu unique?
The concept of pure vegetarianism in the Maldives is still uncommon, making our blend of foods and menu unique. The Maldives is a crossroads of many cuisines and cultures and we cater for guests from all over the world.
Do you think vegetarian dining is increasing in popularity or demand? What do you attribute this to?
Yes it is increasing. There is a rising awareness of the need to preserve the environment by being eco-friendly, avoiding meat which requires the use of extensive production of food and antibiotics.
Can you explain the importance of ambiance in a dining environment?

It is part of the overall dining experience. I think it's important that guests should feel comfortable, but that they're also offered the opportunity to try something new and different.
What do you think you can attribute Just Veg's popularity and wonderful reviews to?
Location over the water with nice views, as well as the quality of the service and food. It is also included in the resort's Premium All-Inclusive Platinum Plus Plan so people trying the food out of curiosity are happily surprised. We have had several non-vegetarian guests at the resort who have eaten lunch or dinner (sometimes both!) every day at the restaurant during their stay.
Are there any local dishes or ingredients that are unique to the Maldives? If so, can you explain what they are?
We use vegetarian products such as the "kopi fayi" which is a local leaf similar to cabbage and also "dhiya ha kuru" which is the juice from the coconut blossom cooked and reduced, used as a sweetener.
What's your favourite ingredient to use?
I really like mushrooms and I used to go into the forest myself to find and harvest them. But I don't really have a favourite ingredient, I like variety.
What's your favourite entree, main and dessert on the menu?
This is a very subjective question.
In terms of entree, the island salad is refreshing and uses an interesting combination of exotic ingredients like quinoa, avocado, green mango and island-grown papaya.
Of our appetisers, "Solaris" is our signature dish; a combination of caponata & tapioca terrine topped with cantaloup melon sorbet, served with a carrot orange sauce scented with extra virgin olive oil. Our hearty samosa is a nice fusion of flavours as well.
For the main course, the Maldivian locavore curry really showcases the local flavours.
Then for the desserts, I personally like the red berries with Thai basil and rosewater litchi sorbet.