Taking pride of place in heart of London's West End, Sofitel St James is a luxury hotel offering where the welcome is as warm as the building is grand.
Sofitel St James is a 5-star luxury hotel located on Waterloo St, a couple of minutes walk from the buzzing theatre and restaurant district of Piccadilly Circus, and a short stroll away from St James Park and Palace, Buckingham Palace, and King Street's famous auction house, Christies.
The building is a magnificent example of neoclassical architecture and fits seamlessly into its surroundings of neighbouring Grade-II listed buildings.
The Balcon restaurant is open to hotel guests and the public, service a fusion of French and British cuisine, and the adjacent bar is also open to guests 7 days a week. Sofitel St James also has its own award-winning spa, with three floors of treatment rooms offering a range of packages to de-stress and relax.
ACCOMMODATION
Sofitel St James is made up of 183 rooms and suites. In contrast to the old-world elegance and grandeur of the building, the interior of the hotel and its rooms has been furnished and decorated with an air of sleek and modern French style.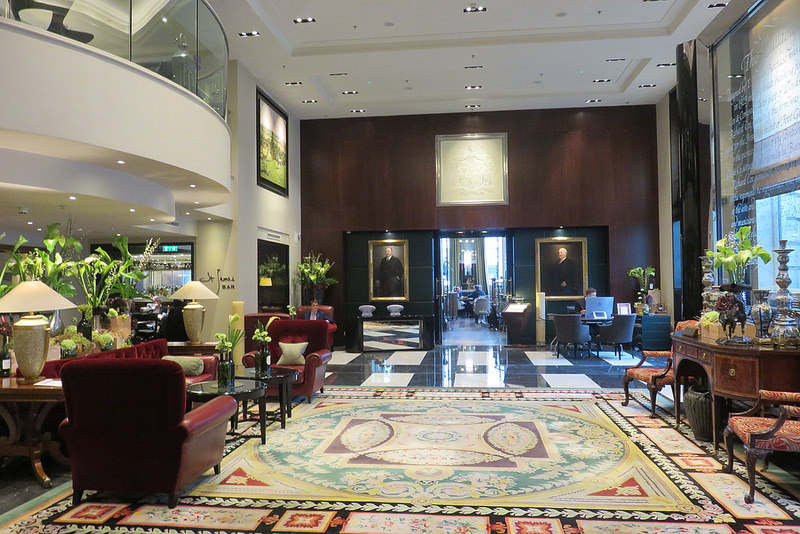 Each room features high ceilings, tall windows, and deep mahogany furnishings – the rooms are free of clutter, instead boasting classy minimalism. As well as the standard tea and coffee facilities, hairdryer and ironing board, additional facilities within all rooms include HD flat-screen televisions with complimentary movie library, Wi-Fi, iPod docking stations, and laptop safes.
The rooms range from convenient classic rooms which span a comfortable 23 m², to sightly more spacious superior rooms, to luxury, and premium luxury king size rooms. The three suite types on offer are junior suites, prestige suites, and the luxurious 109 m² opera suite.
When we arrived at the hotel, we were greeted warmly by the doorman, before walking into the high-ceilinged, spacious lobby area which boasted striking flower displays and a chequered black and white tiled floor covered with an elaborate Persian rug.
At the reception desk we were served immediately, and a welcome juice of fresh mixed fruit was also brought to us as we provided details of our reservation, and any requirements for the evening. The gentleman who checked us in then accompanied us to our room on the second floor, pointing out hotel amenities along the way.
Helping us into our classic room, he provided useful details of where we could find the hairdryer, how to operate the climate control, and details of room service. Just before he left, a tray of complimentary water and macaroons was brought for us to enjoy as we settled in.
The room was simple, yet stylish – with quirky wallpaper in the entry-way, and four, square black and white prints by the side of the bed. There was a mahogany dressing table, with a mirror that lifted from the top of the table, iPod dock on the bedside table, and plenty of cupboard space.
The ensuite bathroom featured black and white marble bench tops, chequered tiles, and chrome fittings; with a full size bathtub, large vanity and separate shower with rainforest head. There were two fluffy bathrobes provided, along with a range of Hermes toiletries.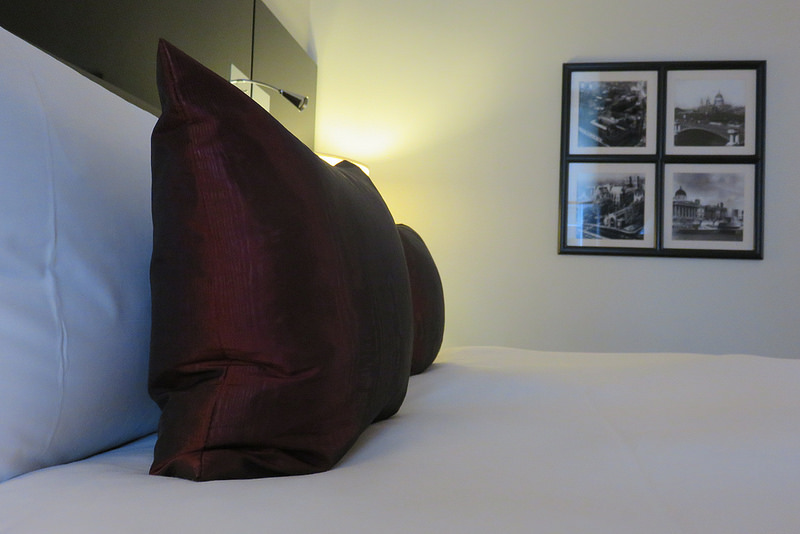 We spent some time settling in to the room before we got ready for our evening plans and made our way out. Upon returning very late that evening, the night porter greeted us, and we entered our room to find that a turn-down service had been undertaken.
I made a call to the reception desk to confirm the time breakfast was offered until, and my partner called room service for a light snack which was swiftly brought up and laid on the bed for us, and we enjoyed this before drifting off to sleep for the night.
Throughout the entire day, the service from all staff was exceptional.
BREAKFAST
Breakfast is served in the Balcon restaurant, located on the ground floor through the lobby. Staying overnight on a weekday, breakfast is served from an early 6:30am to a leisurely 11am.
On Saturdays it is served from 7 – 11:30 and Sundays until a generous 12:30pm. The restaurant is sleek and open plan, with an ornate balcony taking pride of place above the bar.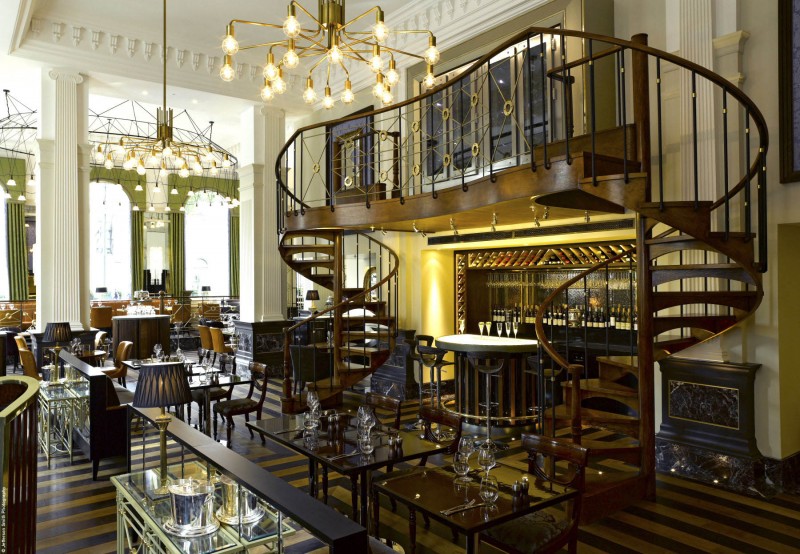 We enjoyed a lazy lay-in, and made our way down to the Balcon restaurant at around 10:30. Again, we were very warmly greeted and taken to a table where our waitress took our tea and coffee order and explained where we could find sweet and savoury continental selections. She also explained that the hot buffet had been cleared, but that anything that we would like to order would happily be prepared fresh in the kitchen, along with any selection from the a la carte menu.
We started with a range of pastries and fresh fruit, and enjoyed fresh fruit and smoothies before I ordered tomatoes, spinach and homemade hash brown from the hot buffet, and my partner ordered poached eggs. This was all delicious. Following breakfast, we enquired about the selection of sweet cakes we noticed as we walked in. These had also been cleared so the waitress brought out a generous boxed selection for us.
SUMMARY
In terms of service, Sofitel St James is one of the most impressive hotels I have had the pleasure of staying in. Staff manage to balance sophistication and professionalism, with genuine warmth and helpfulness.
The building itself is absolutely magnificent, and its location in the West End makes it a perfect base for visitors wanting to explore this stunning area of London, and is ideal for those planning a night at the theatre. Onsite meeting and room facilities, as well as the St James bar and Balcon restaurant also mean that the hotel is perfectly equipped for corporate stays too.